MTB index page for all MTB content
Australian MTB Series 2006 - NE
Yellowmundie, NSW, October 21, 2006
Elite Men outnumbered by Women's field
The 'real' Shaun Lewis leads out the field
Photo ©: Evan Jeffery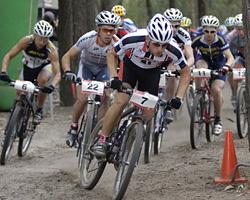 Two sprint finishes decided winners in the elite races of the Olympic Cross Country at Yarramundi today. Women's winner by a tyre width, Zoe King (Manly) passed National Marathon Champion, Tory Thomas (Mt Beauty), to win the first round of the National Series. The 29-year-old slipped past Thomas on the finish line, after Thomas suffered cramps in the final of four laps.
In a repeat performance in the men's race, Aiden Lefmann (Harbord) beat Canberra's Dylan Cooper by a bike length. Cooper, 27, lead for the first two of six laps and had the fastest lap of 21 minutes 11 seconds. The 23 year-old Lefmann surged in the final two laps to pass mid-race leader Matthew Fleming (Helensburgh). Cooper passed Lefmann in the final kilometre but in the final 200 metres Lefmann outsprinted Cooper. Matthew Fleming placed third just 14 seconds behind Cooper. Athens Olympian, Sid Taberlay was in the top placings throughout the race a finished a creditable sixth.
Zoe King staying smooth over
Photo ©: Evan Jeffery

"I'm just stoked," Lefmann said. "Like Zoe (King) I was just looking for a top 10 finish. Then it all went better than I thought!"
Third in the women's race was United Kingdom's Caroline Jackson (Mt Waverley) now based in Melbourne.
For the first time ever in mountain biking history in Australia the number of women competing exceeded the number of elite men. Fourteen women from the 'Dirt Roads to London' program run by the AIS raced at their National Series event. The winner of the elite women's race, Zoe King is part of the program.
One elite rider, Garron Hutchison-Menzer from Chatswood was airlifted to hospital on a Careflight helicopter and his condition is unknown at this stage.
Photography
For a thumbnail gallery of these images, click here
Images by Evan Jeffery
Results

XC Elite Men
1 Aiden Lefmann                      2.10.08
2 Dylan Cooper                          0.01
3 Matthew Fleming                       0.15
4 Shaun Lewis                           1.26
5 Ben Henderson                         3.04
6 Sid Taberlay                          3.12
7 Ben Mather                                
8 Lachlan Norris                        3.56
9 Shaun Lewis                           4.48
10 Brian Price                          6.35
11 Phillip Orr                          7.21
12 Andrew Blair                         7.55
13 Warren Burgess                       9.14
14 Shane Paton                          9.25
15 adam freeman                         9.38
16 Scott Liston                        15.11
17 James Devonshire                    15.43
18 Tim Retchford                       19.35
19 Jason English                       20.18
20 Chris Winn                          20.44
21 Angus Harding                       22.02
22 Joel Donney                         22.32
23 Joey Esterhausen                    27.54
24 Nick Both                          +1 lap     
25 Luke Graydon             
26 Murray Spink             
27 Cal Britten              
DNF Andrew Crawley Crawley     
DNF James Williamson           
DNF Daniel Mackay

XC Elite Women               
1 Zoe King                           1.43.19
2 Tory Thomas                           0.00
3 Caroline Jackson                      1.44
4 Jenni King                            2.11
5 Renee Fortunato                       4.07
6 Rowena Fry                            4.30
7 Lindsay Gorrell                       4.46
8 Jill Burston                          5.03
9 Kimberley Fleming                     5.20
10 Rebecca Hendeson                     7.42
11 Leonie Aisbett                       7.59
12 Katherine O'Shea                     9.51
13 Imogen Smith                        10.15
14 Rebecca Armstrong                   10.29
15 Maria Papadopoulos                  11.29
16 Claire Haugh                        12.26
17 Therese Rhodes                      12.59
18 Julie Blake                         13.28
19 Erica O'Brien                       14.16
20 Rachel Rademaker                    15.05
21 Alexis Barnes                       15.06
22 Rosemary Barnes                     16.53
23 Claire Graydon                      20.15
24 Kath Bicknell                       20.27
25 Kelly Linaker                       25.27
DNF Niki Fisher                                
DNF Mary Fien                    
DNF Gracie Elvin


XC Expert Men                     
1 Andrew Lumley                      1.58.22
2 Troy Glennan                          3.07
3 Dylan Wolsky                          4.45
4 Stuart Lowndes                        7.16
5 Cam Winn                              7.21
6 David Krusza                          9.13
7 Josh Carlson                         10.14
8 Paul Traynor                         10.14
9 Daniel Watson                        13.45
10 Paul Perry                          17.27
11 Travers Ingram                      19.17
12 Brad Cox                            24.19
13 Angus Kirkpatrick-Jones             25.50
14 David Strong                        44.15
DNF Jerome Smith                      
DNF Bevan Spaull                      

XC Under 19 Men               
1 Paul Van Der Ploeg                 1.28.53
2 Benjamin Dyball                       4.59
3 Daniel Hallam                         5.28
4 Robbie Hucker                         9.20
5 Luke Knox                            13.03
6 Mark Flood                          +1 lap
7 Ashley Harvey                
DNF Mark Tupalski                 
DNF Charlton Durie                
DNF Scott Chancellor              
DNF James Mowatt                  
DNF Nathan Haas                   

XC Masters Women      
1 Sally Watt                           57.41
2 Alison Forbes                         7.57
3 Diane Perry                           8.56
4 Nikki Caldwell                       35.42

XC Veteran Women       
1 Louise Cook                        1.25.39
2 Nicole James                          2.19
3 Anthea Dare                          23.03
4 Fiona Bowyer                         25.06

XC Under 19 Women    
1 Kelly Hughes                       1.41.40

XC Under 15 Women    
1 Micaela Hogan                      1.18.53

XC Sport Women               
1 Amy Bardley-Smith                  1.06.12
2 Sarah O'Callaghan                     9.04

XC Super Masters Men        
1 Kevin Jones                        1.17.13
2 Mark Walters                          0.24
3 Geoff Dyball                          2.28
4 Neil Lumley                           6.08
5 Gerry Van Der Ploeg                   9.09
6 John Forbes                          20.27
7 John Graydon                         33.13
8 Russ Baker                           44.28
DNF Roger Cull                  

XC Masters Men           
1 Graeme Allbon                      1.11.30
2 Mark Hardy                            1.57
3 Con Toparis                           3.32
4 Paul Darvodelsky                      3.40
5 Scott McDermot                       10.24
6 Micheal Reid                         13.37
7 Mark Harris                          16.02
8 Tetsundo Kato                        18.31
9 Gary Pitt                            23.59
10 Roger Campbell                      26.32
11 Dave Lynch                          26.39

XC Veteran Men          
1 Mark Fenner                        1.34.40
2 Dean Megahey                          1.31
3 Liam O'Dea                            1.32
4 Ian Kelly                             3.33
5 Paul Clancy                           6.49
6 David Taylor                          7.12
7 Leo Assandri                          9.05
8 Scott Campbell                       10.52
9 Neil Barlow                          13.40
10 Matthew Lees                       +1 lap     
DNF Michael McCort          
DNF Glen Allbon             
DNF Troy Bailey             

XC Under 15 Men           
1 Timothy McMillan                     56.43
2 Ben Forbes                            3.09
3 brendan pitt                          9.57
4 Jordan Lynch                         12.29
5 Eaden Lynch                          37.45

XC Under 17 Men          
1 Michael Baker                      1.15.55
2 stephen Pitt                          2.10
3 Brendan Johnston                      5.51
4 Jesse Dillon                          9.06
5 Alex Wagner                          14.38
6 Liam Melville                        15.31
7 Benjamin Holder                      17.02
DNF Simon Campbell           

XC Recreational Men    
1 Clayton Mumford                    1.17.32

XC Sport Men                
1 Brendan Rowe                       1.15.03
2 Darren Smith                          2.57
3 Jason Holm                            3.22
4 Scott DeMestre                        5.28
5 Fabien Guerrero                       7.47
6 Craig Armour                          8.45
7 Matthew Renolds                       9.43
8 Hendrik van Calcar                   14.02
9 Darren Hamilton                      16.20
10 Rob Parbery                         19.53
11 Iain Davidson                       21.58
DNF Dean Ashley                 
DNF Dale Collins