MTB index page for all MTB content
NORBA US national series #7 - NE
Snowshoe, WV, USA, August 18-21, 2005
Main Page Results Overall standings Previous Race Next Race
Race 3 - August 20: Cross-country
Kabush and Vanlandingham take XC honours
By Steve Medcroft in Snowshoe
Geoff Kabush (Team Maxxis) and Shonny Vanlandingham (Luna Chix) cruised through the West Virginia mud to win the NORBA cross country races at Snowshoe Mountain Resort. In both races, early challengers set the pace while the veteran and defending NORBA series champions stalked just behind until the last laps.
Women's race
Shonny Vlandingham takes the win
Photo ©: Marek Lazarski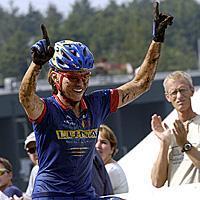 Vanlandingham was fifteen seconds behind Willow Koerber (Subaru-Gary Fisher) through the first feed zone. "I've been looking forward to these races all year because this is what I ride," Koerber, who's originally from North Carolina and now lives in Whistler, B.C. said at the finish. "I gave it all I had on the downhill. I couldn't really see anyone for a while.
"I really flailed on the first lap," Vanlandingham said. "I came out of the woods (about halfway through the lap) in sixth or seventh and Willow had a huge gap." But Vanlandingham pressed on the climbs, found her rhythm and reeled Koerber in.
"All of sudden I look behind me and there was Shonny," Koerber said. "I was like 'God, where did she come from?' I just tried to stay ahead of her." Vanlandingham worked to keep Koerber in view. "She (Koerber) was so strong on the downhills and technical sections; I just sat back and let her lead."
Vanlandingham waited to move until the final long climb. "I attacked and got a little gap and managed to hook her off."
Koerber says her first NORBA podium was within her grasp but the Luna Chix rider was just too strong. "I stayed ahead of her just a little then she just rode around me like she was doing a time trial; she didn't even look at me. I just could not get on that wheel."
Vanlandingham's win places her firmly in charge of the NORBA series title; she has enough points when the drop is factored in to win the series. But she's not safe - since she DNF'd in the season opener in Waco, Texas (the race she'll have to use as her drop), she needs to place well in Mount Snow to secure the championship. "You never know what can happen in the final race so I have to be on my game."
Men's race
In the men's race, Harrisonburg, Virginia's Jeremiah Bishop (Trek/VW) was the early aggressor. Through the first feed zone, Bishop, who won Thursday's marathon race, had a twenty-second advantage over a chase group that included Kabush, Barry Wicks (Kona - Les Gets), Adam Craig (Giant) and Todd Wells (Mongoose - Hyundai).
Bishop says he felt comfortable on an early, technical trail. "Most people were running it and I was able to ride the whole thing," Bishop said at the finish. "I rode by everybody."
Only Kabush could bridge to Bishop though the first feed zone. "Jeremiah is a really good mountain biker and he was flying on the descents," Kabush said. "But I just rode within myself and worked with the group, watching the lines, trying to find the fastest way though everything."
Kabush was close behind Bishop into the third lap. "I flatted," said Bishop. "I ran for about a mile and a half and was somehow holding him off."Bishop's CO2 canister had fallen off his bike on the first lap which meant he had no way to refill the flat tire. But he remembered the spot where the can had fallen ran to it. It was still there," he said. "I grabbed it and hit the CO2."
But Kabush had already taken the lead and momentum was on his side. "I had saved myself for the last lap," Kabush said. "So when were together with one lap to go and Jeremiah flatted, I was still feeling comfortable. It was nice; I was able to ride it in for the win."
Full results to follow
Photography
For a thumbnail gallery of these images, click here
Images by Marek Lazarski/ www.lazarskiphoto.com
Images by Steve Medcroft/Cyclingnews.com
Results
Men
 
1 Geoff Kabush (Can) Team Maxxis                     2.19.10.58
2 Jeremiah Bishop (USA) Trek/Vw                         2.02.55
3 Adam Craig (USA) Giant                                6.17.89
4 Barry Wicks (USA) Kona/Les Gets                       7.35.77
5 Chris Eatough (USA) Trek/Vw                           8.15.54
6 Chris Sheppard (Can) Haro Bicycles                    9.02.06
7 Peter Wedge (Can) Kona/Les Gets                      11.48.09
8 Roland Green (Can) Kona/Les Gets                     11.48.55
9 Mathieu Toulouse (Can) Team Maxxis                   11.57.50
10 Nick Waite (USA) U23 National Team                  17.22.04
11 Seamus McGrath (Can) Haro Bicycles                  17.26.66
12 Trent Lowe (Aus) Subaru-Gary Fisher                 19.09.06
13 Charles Pendry (USA) Inland -Btd                    21.38.14
14 Brent Miller (Aus) Wtb/Fox Shox/Santa Cruz          22.32.79
15 Thomas Turner (USA) Cannondale Pro Mtb Team         23.29.57
16 Dylan Cooper (Aus) Ausnatlteam                      24.19.05
17 Jason Sager (USA) Team Hotel San Jose               27.11.45
18 David Duvall (USA) Trek/Vw E Coast                  28.18.74
19 Charles Storm (USA) Inlandconst/Btd                 33.00.57
20 Joshua Powers (USA) Red Rock Racing                 35.30.10
21 Adam Snyder (USA) Balance Bar/Devo                  36.08.89
22 Mark Weir (USA) Wtb/Fox Shox/Santa Cruz             38.20.21
23 Thomas Spannring (Aus) 1800 Contacts/Jans           39.03.27
24 Todd Helmick (USA) Trek-Vw                          39.27.93
25 Eric Ransom (USA) Tamarack Resort/Intense           41.06.07
26 Nick Martin (USA) Trek-Vw                           41.50.90
27 Robert Cotton (USA) Structural System               42.23.04
28 Joey Thompson (USA) Balance Bar/ Devo               46.06.96
29 Samuel Koerber (USA)                                46.51.62
30 Jesse Jakomait (Can) Dark Horse/Giant               48.41.48
31 Troy Wells (USA) Kona/Easton/Cca/Sra                49.44.82
DNF Brian Schworm (USA) Pedal Power                            
DNF Carl Decker (USA) Giant                                    
DNF Todd Wells (USA) Gt/Hyundi                                 
DNF Jeremy Horgan-Kobelski (USA) Subaru-Gary Fisher            
DNF Eric Jones (USA) Biogen-Idec                               
DNF Andy Mills (USA) Trek-Vw                                   
DNF Christopher Phillips (USA) Gary Fisher                     
DNF Daniel Matheny (USA) Wood-N-Wave                           
DNF Andrew Freye (USA) Oakley                                  
DNF Matt Douglas (Can) 3 Rox Racing                            
DNF Daniel McConnell (Aus) Aus Natl Team                       
DNF Shaun Lewis (Aus) Ausnatlteam                              
DNF Nicholas Stevens (GBr) Fuentes Design/Waltwor              
DNF Daniel Corum (USA) Paceline Bikes                          
DNF Greg Lewis (USA) Healthfx/Cwc                              
DNF Bryan Fawley (USA) Wheelsinmotion/Kenda                    
DNF Earl Bradley (USA) Southeast Trek-Vw/Jbl                   
DNF Christian Favata (USA) Campmor/Hutchinson                  
DNF Jorel Hendershot (USA) Cannondale Mtn Bike                 
 
Women
 
1 Shonny Vanlandingham (USA) Luna Womens Mtb Team    1.47.42.41
2 Willow Koerber (USA) Subaru-Gary Fisher               1.43.82
3 Katerina Hanusova (Cze) Luna Womens Mtb Team          5.09.48
4 Alison Dunlap (USA) Luna Womens Mtb Team              5.32.04
5 Dara Marks-Marino (USA) Ford/Specialized              6.17.86
6 Susan Haywood (USA) Trek-Volkswagen                  11.52.93
7 Kelli Emmett (USA) Ford/Specialized                  14.26.20
8 Heather Irmiger (USA) Tokyo Joes/Golite              15.21.07
9 Georgia Gould (USA) Tamarack                         16.47.10
10 Kathy Sherwin (USA) Biogen-Idec                     18.38.43
11 Jenna Zander (USA) Cannondale                       19.30.08
12 Emma Colson (Aus) Aus Natl Team                     21.29.41
13 Nina Baum (USA) Cannondale                          22.19.54
14 Sara Bresnick-Zocchi (USA) Ford/Specialized         23.40.15
15 Laura Bowles (USA) Cannondale                       25.48.04
16 Zephanie Blasi (USA) Kenda/Dt Swiss/Gu              27.47.81
17 Heather Svahn (USA) Reno Wheelman/Theback           28.48.13
18 Caitlyn Tuel (USA) Penn State                       28.53.75
19 Trudi Franzel (USA) Scott Usa                       29.08.72
20 Lea Davison (USA) Balancebar/Devo                   29.49.17
21 Kristy Mantz (USA) Snowshoe/Dirtbean.Com            30.36.53
22 Cassandra Perkins (USA) Land Rover Touring Spor     32.19.06
23 Theresa Richardson (USA) Cannondale Mtn Bike Tea    33.14.82
24 Niki Fisher (Aus) Aus Natl Team                     34.48.12
25 Shannon Gibson (USA) Crazy Cat Cyclery/Yeti G       35.50.20
26 Cassie Smith (USA) Specialized Wamsley Cycl         37.41.94
27 Rebecca Gross (USA) Sun And Ski Sports              41.00.28
28 Kimberly Flynn (USA) Defeet                         42.53.08
29 Amanda Mckay (USA) Biowheels                      1.01.07.01
30 Alicia Hamilton (USA) Dark Horse/Giant            1.01.23.10
31 Chenoah Hendershot (USA) Cannondale               1.06.55.49
DNF Mandi Riddle (USA) Snowshoe Racing/Dirt Bea                
DNF Sue Abbene (USA) Biogen-Idec                               
DNF Kristi Lewis (USA) Sun & Ski Sports                        
DNF Kerry Barnholt (USA) Subaru-Gary Fisher                    
DNF Niki Gudex (Aus) Aus Natl Team                             
 
Junior men
 
1 Daniel Johnston (Aus) Australian     2.56.14
2 Cal Britten (Aus) Aus Natl T            0.36
3 Mitchell Peterson (USA) Balance Ba      6.06
4 Dan Wilson (USA) Dirty Harr            10.24
5 Aaron Snyder (USA) Tailwind            11.20
6 Bradford Perley (USA)                  14.26
7 Scott Stewart (USA) Main Stree         17.24
8 Joel Healy (Aus) Australian            20.05
9 Alex Ryan (USA) Paceline B             21.27
10 Travis Mann-Gow (USA) Bliss Raci      23.03
11 Andrew Will (USA)                     26.42
12 Taylor Mcclain (USA) Visitpa.Co       27.16
13 Cory Hancock (Can) Baycycle/3         32.30
14 Paul Davis (USA) Tri Power            33.43
15 David Scherp (USA) Bikers Edg         38.37
16 John Purvis (USA) Nwa Bushme          43.12
17 John Benoit (USA) Cw-X                45.04
18 Joseph Adams (USA) Bliss Raci         49.52
19 Austin Carroll (USA) Balance Ba       52.43
20 Travis Livermon (USA) Pacesetter    1.00.52
21 Matthew Rotoff (USA) Paceline B     1.07.40
22 Kyle Hammaker (USA) Trek Vw         1.07.52
23 Caley Fretz (USA) Bliss             1.08.32
DNF Andrew John Arthur (Aus) Aus Natl T       
DNF Trevor Dericks (USA) Skylands C           
DNF Matt St. Marie (USA) Sycamore C           
DNF Shane Gouldthread (USA) Ultimate S        
DNF Gary Millburn (Aus) Australian            
DNF Ryan Owens (USA) Bikes Unli               
DNF Alex Cox (USA) Indiana Cy                 
DNF Steven Gordon (USA) Bike Stop             
DNF Andrew Wilson (Can) 3 Rox Raci            
DNF Norris Lachlan (Aus) Australian