MTB index page for all MTB content
Results and Reports from Australia
Promoters wishing to submit results should send them to cyclingnews
12th Mitta Mitta to Mount Beauty
October 31, 2004
Mitta Mitta to Mount Beauty
By Andrew Hughes
The Mountain
Photo ©: Raechel Hughes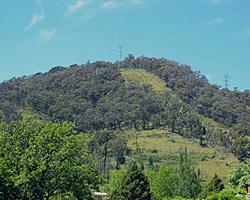 Sunday October 31 marked the 12th running of the Mitta Mitta to Mount Beauty mountain bike race held in the picturesque Kiewa Valley region of north-eastern Victoria.
The 55km course is one of the toughest on the local calendar. The route for the "Mitta to Mount Beauty" starts from the Mitta Caravan Park, climbs up the valley of Scrubby Creek (7km at roughly 6%) and crosses the north face of Mt Bogong (Victoria's highest mountain at 1986m) through Trappers Gap (10km at 5%), before descending along the valley of Mountain Creek with the last 10km being on the Kiewa Valley Highway before the finish by the swimming pool in Mount Beauty.
With 37km of dirt road, 18km of bitumen, 840 vertical meters of climb and 740 meters of descent, the Mitta is a unique scenic and riding experience. One of the most picturesque sights in mountain bike racing is when riders turn onto Scrubby Creek Rd and see the sight of rolling green dairy paddocks with the backdrop of a snow covered Mt. Bogong.
Race day saw 136 competitors line up to tackle the 55km course in brilliant sunshine of 26 degrees. These conditions, added with little or no wind, had some anticipating that the lead finishers would come close to shaking the race record of 1.45.46 set in 2002 by Murray Spink. The warm conditions also had race organisers warning competitors of the presence of some slippery customers towards the summit of the climb of Trappers Gap.
This year the race started from the tee of the first hole of the Mitta Mitta race course, which led to a drag race to the start of the first bitumen section of road. A fast pace was set up front early, and it wasn't long before an elite bunch formed at the head of the race.
Eventually two riders emerged to sort out the victory between themselves: Daniel Van der Ploeg and Shane Paton. It was Van der Ploeg who emerged the victor at the finish line in Mt Beauty in a time of 1.53.55, his first time atop the podium after many years of top 10 finishes.
Special thanks go to all the race organisers and corner marshals, especially Peter Panozzo who started last and then rode at the back of the field to offer words of encouragement to the social riders. The sag wagon team also did an excellent job, ensuring that all riders who were unable to complete the race were well looked after.
Photography
Images by Raechel Hughes
Results, 55 km

1 Daniel Van der Ploeg (Vic)    1.53.55
2 Shane Paton (ACT)                0.33
3 James Devonshire (ACT)           4.17
4 Cal Britten 1st U19 (Vic)        4.39
5 David Steinhauser (Vic)          5.35
6 Mark Van der Ploeg (Vic)         5.36
7 Chris Steffanoni (Vic)           6.25
8 Rob Meharry (Vic)                7.09
9 Errol Flemming 1st M40 (NSW)     8.24
10 Paul Clancy (NSW)               8.59

Local results 2004