MTB index page for all MTB content
10th Crocodile Trophy - NE
Australia, October 16-31, 2004
Main Page Results Gatorade Dream Team diary Previous Stage Next Stage
Stage 6 - October 23: Wollogorang - Hell's Gate, 59 km
Kiechle wins Stage 6 of Crocodile Trophy
Hansen retains leaders jersey
By John-Michael Flynn at Hell's Gate, Australia
Lars Erik Johnson (USA)
Photo ©: Mark Watson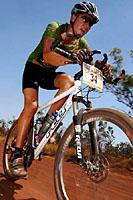 Hell's Gate, a tiny hamlet consisting of a petrol station and camping ground takes its name from Australia's wild colonial origins. According to the history books the outpost near the Queensland border was the last place the safety of travellers could be assured by police, before they headed off into the unknown of what is now the Northern Territory. In name at least, it proved a perfect finishing point for today's sixth stage of the 2004 Crocodile Trophy.
In theory the race should get easier as it heads into Queensland and more importantly towards Australia's East Coast...And one thing is certain, the past week has been nothing but hell for competitors in the world's toughest mountain bike race.
As if searing heat, dust and corrugations weren't enough, today riders were confronted with bushfires, figuratively speaking 'the fires of hell', as they set off on what was supposed to be the easiest (59km) stage of the event so far. It was a day which proved to be a breakthrough for German Martin Kiechle, who despite suffering two flat tyres in the furnace like conditions, built on his solid start to the Crocodile Trophy by claiming a stage win.
It's amazing what a difference a day makes. Yesterday Kiechle was a bloodied mess after a rock thrown from a bike slammed into his nose. Today the German who lives near Munich and races with the Dampele - Matis Mountain bike Race team was all smiles.
"I was lucky, I have two punctures, the first one just ten kilometres before the finish," Kiechle said. "I just changed the tube, then the second one I filled it with the pump, all three kilometres and luckily went with a little gap in between."
The former cross-country runner almost needed to put the skills of his previous career into use as the finish line approached. The German getting home just over a minute and forty seconds ahead American Lars Erik Johnson (Gatorade Dream Team) and Austrian Mario Amman (Baustoff + Metall).
A difficult race to follow
From the outset today's race wasn't easy to follow, especially from a riders perspective, with competitors previously ruled out of contention in the General Classification allowed to start with their teammates. The first major move of the day came from Australian James Grant, who launched an attack fifteen kilometres into the race. His move was a deliberate one to upset Italian Alberto Elli, the sole rider from the big-name Gatorade team still in contention for overall race honours.
Grant sought permission from his team leader Adam Hansen (overall race leader) to make the move, which resulted in yet another controversial incident in the Crocodile Trophy of 2004. "I attacked past him, I attacked over the top of Alberto which was pretty cool," the ever smiling Grant said.
Elli's response was to hold onto the side mirror of a support vehicle as if to gain an advantage, clearly a joking gesture witnessed by this reporter, but nonetheless one which earned an official caution to add to his growing list. "I hear that Alberto needs to hold onto trucks to keep up with me these days," Grant quipped when told of the incident which occurred behind him. "It's pretty much like a dream come true to not only be riding with players, riders of this level but to be actually attacking the players at this level is really good."
There was more controversy when Belgian Christophe Stevens and Italian Marzio Deho, both out of G.C. contention were sent up the road to reel Grant in. More official cautions resulted though no disqualifications, but several riders including Austrian Gerhard Gulewicz, a tower of strength on this tour were seriously unimpressed.
"Today the race was not so funny about the riders who are not in the classement (G.C.) who are out of the result," Gulewicz said. "They pushed all the time and the field was very nervous and nobody knows what was going on, was not so funny today."
In better spirits was American Lars Erik Johnson of the Gatorade green machine. Finally coming good after days on end of absolute suffering, Hell's Gate proved more of a purgatory for the Idaho boy. "It was just another time trial today, (laugh) hot sun, sand the corrugations, wouldn't call it a joy ride but it was good, good," Johnson said from the comfort of his campsite.
The rider who suffered heat stroke during stage three, finally acclimatised. "The last two days haven't been as long and as gruelling, temperatures haven't been as much of a factor and the roads haven't been as bad as the first few days, keeps the speed higher."
But like everyone The Gatorade rider is wary of tomorrow's 177 kilometre stage from Hell's Gate to Burketown which will be 'hellish' to say the least as the gruelling event heads into its second week. "Tomorrow's going to be harder it's a longer stage, the heat's going to be a factor because we're going to be riding through the hardest part of the day."
Mountain bike Race or Road Race?
One of the toughest questions to answer about the Crocodile Trophy is exactly where it sits as a race. Riders agree it is the world's toughest, but the world's toughest what? Enjoying a massage this afternoon it was a question Austrian Gerhard Gulewicz contemplated at length.
A specialist in one day races, and a high level competitor in mountain biking's popular 24 hour races, Gulewicz rates this event tougher than anything else he has attempted. "It's easier to ride a 24 hour race than one of these races," Gulewicz said. "I'm a mountain biker and this is a road race, if it's a mountain bike race you can go your own speed, go up from the hill and go down from the hill and nobody can follow you."
There will be few hills on the Crocodile Trophy in coming days. Just endless miles of flat, dry, dusty roads in outback Queensland, until the race eventually reaches the coast and riders take on the CREB track between Cooktown and Daintree. The serious mountain bikers are looking forward to that stage and in the meantime they're hanging on.
It could be a long wait...if they make it.
Photography
Images by Mark Watson/mwphotography.com.au
Results
1 Martin Kiechle (Ger)                                        1.56.00
2 Lars Erik Johnson (USA) Gatorade Dream Team 2                  1.45
3 Mario Amann (Aut) Baustoff + Metall 1                          1.49
4 Sibl Radoslav (Cze) Team Sport Nora                            4.59
5 Perry Moerman (Bel) Gatorade Dream Team 2                      8.03
6 Thomas Moderbacher (Aut) skinfit TEAM AUSTRIA                  9.34
7 Ondrej Fojtik (Cze)                                            9.37
8 Adam Socha (Aus)                                               9.42
9 Gerhard Gulewicz (Aut) bikestation-salinenimmobiloen.com       9.43
10 Willi Wagner (Aut) Team Hervis NÖ 1                           9.44
11 Tilo Koch (Ger)                                               9.50
12 Andrew Wegener (Aus)                                          9.53
13 Adam Hansen (Aus) Cairns Coconut Caravan Resort               9.55
14 Alberto Elli (Ita) Gatorade Dream Team 1                      9.56
15 James Grant (Aus) Cairns Coconut Caravan Resort               9.59
16 Andreas Dünn (Ger) Baier-Qantas-German A.                         
17 Robert Hotter (Aut) Team Sport Nora                               
18 David Woods (Aus) Cairns Coconut Caravan Resort              10.26
19 Peter Dammerer (Aut) Team Hervis NÖ 1                        10.54
20 Salvatore Paolo Albano (Ita) Pedale Tarvisiano               15.52
21 Jochen Doll (Ger)                                            21.53
22 Loris Macor (Ita) Pedale Tarvisiano                          29.59
23 Giancarlo Schoemberg (Ita) Pedale Tarvisiano                 32.02
24 Anita Waiß (Aut) skinfit TEAM AUSTRIA                        38.28
24 Andreas Mühlbacher (Aut) skinfit TEAM AUSTRIA                     
24 Stephan Adelsmayr (Aut) Drahteselklinik                           
24 Peter Raymann (Aut) Team Hervis NÖ 2                              
24 Hans Weber (Aut) Team Fluxus                                      
29 Toru Watanabe (Jpn) Team Sport Nora                          42.50
 
Women
 
1 Anita Waiß (Aut) skinfit TEAM AUSTRIA                       2.34.28
 
 
General Classification after stage 6
 
1 Adam Hansen (Aus) Cairns Coconut Caravan Resort            29.51.31
2 Ondrej Fojtik (Cze)                                           37.38
3 Martin Kiechle (Ger)                                        1.18.26
4 Alberto Elli (Ita) Gatorade Dream Team 1                    1.18.30
5 Sibl Radoslav (Cze) Team Sport Nora                         1.23.39
6 Robert Hotter (Aut) Team Sport Nora                         3.12.16
7 Gerhard Gulewicz (Aut) bikestation-salinenimmobiloen.com    3.13.08
8 Andreas Dünn (Ger) Baier-Qantas-German A.                   3.15.20
9 Tilo Koch (Ger)                                             3.22.24
10 James Grant (Aus) Cairns Coconut Caravan Resort            4.21.22
11 Andrew Wegener (Aus)                                       4.49.45
12 David Woods (Aus) Cairns Coconut Caravan Resort            4.51.46
13 Adam Socha (Aus)                                           5.25.19
14 Salvatore Paolo Albano (Ita) Pedale Tarvisiano             6.09.29
15 Thomas Moderbacher (Aut) skinfit TEAM AUSTRIA              6.10.18
16 Peter Dammerer (Aut) Team Hervis NÖ 1                      6.40.43
17 Willi Wagner (Aut) Team Hervis NÖ 1                        6.43.50
18 Mario Amann (Aut) Baustoff + Metall 1                      6.45.54
19 Lars Erik Johnson (USA) Gatorade Dream Team 2              7.09.04
20 Perry Moerman (Bel) Gatorade Dream Team 2                  8.58.20
21 Loris Macor (Ita) Pedale Tarvisiano                        9.15.34
22 Anita Waiß (Aut) skinfit TEAM AUSTRIA                      9.31.59
23 Jochen Doll (Ger)                                         10.20.50
24 Hans Weber (Aut) Team Fluxus                              10.52.50
25 Andreas Mühlbacher (Aut) skinfit TEAM AUSTRIA             11.19.12
26 Peter Raymann (Aut) Team Hervis NÖ 2                      12.27.52
27 Giancarlo Schoemberg (Ita) Pedale Tarvisiano              12.36.59
28 Toru Watanabe (Jpn) Team Sport Nora                       12.42.03
29 Stephan Adelsmayr (Aut) Drahteselklinik                   14.24.16
 
Women's Classification
 
1 Anita Waiß (Aut) skinfit TEAM AUSTRIA                      39.23.30
 
Points Classification
 
1 Adam Hansen (Aus) Cairns Coconut Caravan Resort                  80 pts
2 Alberto Elli (Ita) Gatorade Dream Team 1                         50
3 Ondrej Fojtik (Cze)                                              40
4 Martin Kiechle (Ger)                                             39
5 Sibl Radoslav (Cze) Team Sport Nora                              27
6 Robert Hotter (Aut) Team Sport Nora                              20
7 Jurgen Van de Walle (Bel) Gatorade Dream Team 1                  17
8 Lars Erik Johnson (USA) Gatorade Dream Team 2                    15
9 Marzio Deho (Ita) Gatorade Dream Team 1                          10
9 Mario Amann (Aut) Baustoff + Metall 1                            10
11 Gerhard Gulewicz (Aut) bikestation-salinenimmobiloen.com         2
11 Perry Moerman (Bel) Gatorade Dream Team 2                        2
 
Teams Classification
 
1 Cairns Coconut Caravan Resort                              99.48.36
2 Team Sport Nora                                             7.04.20
3 skinfit TEAM AUSTRIA                                       16.47.26
4 Pedale Tarvisiano                                          17.47.59