MTB index page for all MTB content
10th Crocodile Trophy - NE
Australia, October 16-31, 2004
Main Page Results Gatorade Dream Team diary Previous Stage Next Stage
Stage 5 - October 22: Robinson River - Wollogorang, 157 km
Hot...Hot...Hotter
Austrian wins Stage 5 of Crocodile Trophy
By John-Michael Flynn in Wollogorang, Northern Territory Australia
Robert Hotter took the bull by its horns
Photo ©: Mark Watson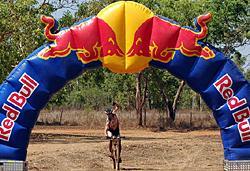 Austrian Robert Hotter, a 35 year old cyclist who once dreamed of a professional career, set himself a long term goal of winning a stage of the Crocodile Trophy. Today Hotter's dream became reality as he crossed the finish line in Wollogorang to win stage 5 of the world's toughest mountain bike race.
"I think it's the best moment in my life," Hotter said while being hosed down after the stage win. "I really tried hard last year to win a stage here, it's really something extraordinary to win it coming with Elli and Hansen it's just incredible."
How it unfolded
Things die out here...
Photo ©: Mark Watson

The main bunch strung out
Photo ©: Mark Watson

Time to pull out
Photo ©: Mark Watson

Time to get pumping.
Photo ©: Mark Watson

Austrian Gerhard Gulewicz
Photo ©: Mark Watson

Hotter's win came at the end of another tiring 149 kilometre stage of the Crocodile Trophy, which traced the Savannah Way along the Gulf of Carpentaria towards the Queensland-Northern Territory border. Racing in slightly cooler conditions than previous stages, though still bitterly hot by European standards, the pace was light for the first part of today's stage.
Italian Salvatore Paolo Albano launched an early solo attack, a suicide break in a race of this nature, but noble nonetheless and effective at least for a few kilometres as his competitors gave chase. In the main bunch, the leading contenders on General Classification including Adam Hansen (Cairns Coconut Caravan Resort), Alberto Elli (Gatorade Dream Team) and Ondrej Fojtik continued their jostling.
The first major incident of the day came when Hansen took a spill at the Calvert River Crossing and fell hard onto rocks. He was quick to recover, not because of the crocodile warning signs posted nearby, but because Elli launched an immediate attack. "Alberto attacked on the hill when I was down and I caught him and then there was four of us and then I was bouncing on my tyre," Hansen said while describing the incident.
More drama was to come when Hansen realised his tyre was deflating. Fortunately team-mate James Grant, one of the success stories of the Croc Trophy so far was up there with the leaders and gave Hansen his rear wheel. "I was doing fishtails down the road, I had a flat tyre and did a wheel change with James," Hansen said at stage end. "Alberto turned around, he waited for the Czech guy and they both hammered it for a while."
But Glory today wasn't to go the way of Elli, the Czech or Hansen. Instead it was Robert Hotter, a model of consistency on the Crocodile Trophy, who triumphed in the end.
Beyond his own expectations, Hotter was able to match the pace of the two leading riders in the Crocodile Trophy, using his mountain bike skills to great effect when the race passed through a creek bed one kilometre from the finish. "Finally there was kind of mountain bike downhill section just bit more than 1 kilometre from the line and I went down very quickly hoping that I wouldn't get punctured," a jubilant Hotter said upon crossing the finish line. "I was really taking the whole risk and moving up very quickly and then I did it."
The rider from Austrian team Sport Nora, dedicated the win to his support crew: "I also want to say thank you to my girlfriend for supporting me with a lot of camping stuff which is important part here because when you spend the night in a good way you really get stronger from day to day."
Another tough day on the road
There may have been cooler temperatures and less attrition on today's stage of the Crocodile Trophy, but there were still plenty of stories of riders doing it incredibly tough in the Australian Outback. German rider Martin Kiechle, who has toiled hard in this race was looking strong early in today's stage before a rock flew up into his face, leaving him with a bruised and bloodied nose. Kiechle received support from the Crocodile Trophy Media Vehicle, but the incident shook his confidence.
It would seem the confidence of Alberto Elli may have also taken a dent, despite him finishing in front of Adam Hansen in the run to the finish today. His admission post-stage, perhaps the most telling of the race so far, following a more intelligent ride by the Australian, who made the Italian do all the work in today's breakaway.
"Hansen is too much, he's much too strong this year and there are not too many technical stages, just flat wide roads."
Tomorrow the Crocodile Trophy heads to Hell's Gate, another remote community across the Queensland border. It's the shortest stage of the Crocodile Trophy so far at just 59 kilometres, a welcome relief for the riders, who one and all are talking about a rest day when the tour caravan reaches Burketown.
Photography
Images by Mark Watson/mwphotography.com.au
Results
1 Robert Hotter (Aut) Team Sport Nora                         5.50.25
2 Alberto Elli (Ita) Gatorade Dream Team 1                       0.56
3 Adam Hansen (Aus) Cairns Coconut Caravan Resort                1.00
4 Ondrej Fojtik (Cze)                                            7.36
5 Gerhard Gulewicz (Aut) bikestation-salinenimmobiloen.com       7.35
6 Salvatore Paolo Albano (Ita) Pedale Tarvisiano                 9.40
7 Lars Erik Johnson (USA) Gatorade Dream Team 2                 13.54
8 Martin Kiechle (Ger)                                          20.36
9 Mario Amann (Aut) Baustoff + Metall 1                              
10 Tilo Koch (Ger)                                                   
11 Andreas Dünn (Ger) Baier-Qantas-German A.                         
12 Sibl Radoslav (Cze) Team Sport Nora                               
13 James Grant (Aus) Cairns Coconut Caravan Resort              41.20
14 Thomas Moderbacher (Aut) skinfit TEAM AUSTRIA                41.25
15 Andrew Wegener (Aus)                                         41.26
16 Peter Dammerer (Aut) Team Hervis NÖ 1                        55.10
17 David Woods (Aus) Cairns Coconut Caravan Resort            1.02.33
18 Perry Moerman (Bel) Gatorade Dream Team 2                  1.08.10
19 Adam Socha (Aus)                                           1.17.03
20 Willi Wagner (Aut) Team Hervis NÖ 1                        1.29.51
21 Loris Macor (Ita) Pedale Tarvisiano                        1.33.03
22 Jochen Doll (Ger)                                          1.44.27
23 Anita Waiß (Aut) skinfit TEAM AUSTRIA                      2.04.50
24 Andreas Mühlbacher (Aut) skinfit TEAM AUSTRIA                     
25 Peter Raymann (Aut) Team Hervis NÖ 2                       2.06.33
26 Stephan Adelsmayr (Aut) Drahteselklinik                    2.08.50
27 Giancarlo Schoemberg (Ita) Pedale Tarvisiano               2.09.19
28 Toru Watanabe (Jpn) Team Sport Nora                        2.18.14
29 Hans Weber (Aut) Team Fluxus                               2.24.38
DNF Wolfgang Kristinus (Aut) Baustoff + Metall 1                     
DNF Thomas Pichler (Aut) Team Hervis NÖ 1                            
DNF Marzio Deho (Ita) Gatorade Dream Team 1                          
DNF Jurgen Van de Walle (Bel) Gatorade Dream Team 1                  
DNF Robert Dold (Aut) Baustoff + Metall 1                            
DNF Christophe Stevens (Bel)                                         
DNF Wilhelm Stapper (Ger) Baustoff + Metall 2                        
DNF Kim Proctor (Aus) SOHO                                           
DNF Manuel Pino (Spa)                                                
DNF Charles Blanc (Fra)                                              
 
Women
 
1 Anita Waiß (Aut) skinfit TEAM AUSTRIA                       7.55.15
 
General Classification after stage 5
 
1 Adam Hansen (Aus) Cairns Coconut Caravan Resort            27.45.36
2 Ondrej Fojtik (Cze)                                           37.56
3 Alberto Elli (Ita) Gatorade Dream Team 1                    1.18.29
4 Sibl Radoslav (Cze) Team Sport Nora                         1.28.35
5 Martin Kiechle (Ger)                                        1.28.36
6 Robert Hotter (Aut) Team Sport Nora                         3.12.17
7 Gerhard Gulewicz (Aut) bikestation-salinenimmobiloen.com    3.13.20
8 Andreas Dünn (Ger) Baier-Qantas-German A.                   3.15.16
9 Tilo Koch (Ger)                                             3.22.29
10 James Grant (Aus) Cairns Coconut Caravan Resort            4.21.18
11 Andrew Wegener (Aus)                                       4.49.47
12 David Woods (Aus) Cairns Coconut Caravan Resort            4.51.15
13 Adam Socha (Aus)                                           5.25.32
14 Salvatore Paolo Albano (Ita) Pedale Tarvisiano             6.03.32
15 Thomas Moderbacher (Aut) skinfit TEAM AUSTRIA              6.10.39
16 Peter Dammerer (Aut) Team Hervis NÖ 1                      6.39.44
17 Willi Wagner (Aut) Team Hervis NÖ 1                        6.44.01
18 Mario Amann (Aut) Baustoff + Metall 1                      6.54.05
19 Lars Erik Johnson (USA) Gatorade Dream Team 2              7.17.24
20 Loris Macor (Ita) Pedale Tarvisiano                        8.55.30
21 Perry Moerman (Bel) Gatorade Dream Team 2                  9.00.12
22 Anita Waiß (Aut) skinfit TEAM AUSTRIA                      9.03.26
23 Jochen Doll (Ger)                                         10.08.52
24 Hans Weber (Aut) Team Fluxus                              10.24.17
25 Andreas Mühlbacher (Aut) skinfit TEAM AUSTRIA             10.50.39
26 Peter Raymann (Aut) Team Hervis NÖ 2                      11.59.19
27 Toru Watanabe (Jpn) Team Sport Nora                       12.09.08
28 Giancarlo Schoemberg (Ita) Pedale Tarvisiano              12.14.52
29 Stephan Adelsmayr (Aut) Drahteselklinik                   13.55.43
 
Women's General Classification
 
1 Anita Waiß (Aut) skinfit TEAM AUSTRIA                      36.49.02
 
Points Classification
 
1 Adam Hansen (Aus) Cairns Coconut Caravan Resort                  80 pts
2 Alberto Elli (Ita) Gatorade Dream Team 1                         50
3 Ondrej Fojtik (Cze)                                              40
4 Sibl Radoslav (Cze) Team Sport Nora                              22
5 Robert Hotter (Aut) Team Sport Nora                              20
6 Martin Kiechle (Ger)                                             19
7 Jurgen Van de Walle (Bel) Gatorade Dream Team 1                  17
8 Marzio Deho (Ita) Gatorade Dream Team 1                          10
9 Gerhard Gulewicz (Aut) bikestation-salinenimmobiloen.com          2
 
Team's Classification
 
1 Cairns Coconut Caravan Resort                              93.30.16
2 Team Sport Nora                                             6.36.52
3 skinfit TEAM AUSTRIA                                       15.51.16
4 Pedale Tarvisiano                                          17.00.26