MTB index page for all MTB content
NORBA NCS Series #1 - E1
Waco, TX, USA, March 11-14, 2004
Main Page Results Previous Race Next Race
Race 2 - March 12: Time Trial - 3 miles
Canadians start the ball rolling
Seamus McGrath (Can)
Photo ©: Mike Gladu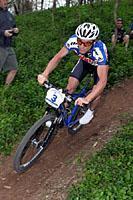 Seamus McGrath (Haro/Lee Dungarees) and Alison Sydor (Rocky Mountain) started the season in good form today winning the 3-mile time trial. This puts them in the lead of the three-stage race in Waco this weekend.
On a fast course that started on pavement and was a mixture of fast windy single track and paved road, McGrath won the event by three seconds from his fellow countryman Ryder Hesjedal (Gary Fisher Subaru) who placed a strong second in the Cross Country World Championships last year. Horgan Kobelski (RLX Ralph Lauren) took third. Vying for an Olympic spot against a strong line up of Canadians, McGrath is headed in the right direction.
In the women's event, three time World Champion, Sydor, who also came home with a silver medal from the Cross Country World's last year, is back in fine form and took the prologue today also by three seconds from another Canadian Kiara Bisaro (Gears Racing). Alison Dunlap (Luna Chix), who is pushing against the odds to get back her chance to take the only Olympic position for the US women, came in with the third fastest time.
The next stage of the event is tomorrow's short track where the pros will race 30 minutes plus three laps.
Photography
Images by Mike Gladu/www.velodrome.com
Results

Pro Men
 
1 Seamus McGrath (Haro Bikes)           12:23.8
2 Ryder Hesjedal (Subaru-Gar)           12:26.5
3 Liam Killeen (Subaru/Gar)             12:35.5
4 Jeremy Horgan-Kobelski (RLX Ralph)    12:36.7
5 Max Plaxton (Rocky Mtn)               12:37.2
6 Andreas Hestler (Rocky Mtn/)          12:40.6
7 Roland Green (Trek/Volks)             12:41.3
8 Jason Sager (Thunderbird Motel)       12:47.0
9 Chris Sheppard (Haro)                 12:47.1
10 Alan Obye (U23 Nation)               12:47.4
11 John Devine (U23 Nation)             12:51.5
12 Todd Wells                           13:00.3
13 Geoff Kabush (Maxxis)                13:04.1
14 Derek Wilkerson (Specialize)         13:04.3
15 Sam Schultz (U23 Nation)             13:04.6
16 Mathieu Toulouse (Gearsracin)        13:05.9
17 Peter Wedge (Kona/Clark)             13:09.0
18 Jeremiah Bishop (Trek/Vw)            13:10.3
19 Jesse Jakomait (Gearsracin)          13:12.5
20 Brian Astell (Ind Fab)               13:12.6
21 Nick Waite (U23 Nation)              13:12.7
22 Cesar Grajales (Maxxis)              13:13.2
23 Douglas Ryden (Pro Cyclin)           13:14.2
24 Steve Tilford (Moots/Shim)           13:16.7
25 Frank Mapel (Specilized)             13:16.9
26 Barry Wicks (Kona-Clark)             13:21.2
27 Chris Eatough (Trek/Vw)              13:22.9
28 Doug Swanson (Trek/Vw)               13:25.3
29 Brent Brookwalter (Balance Ba)       13:25.6
30 Nick Ranno (Trek Rocky)              13:26.2
31 Mike West (Giant Oso)                13:27.4
32 Bart Gillespie (Biogen-Ide)          13:28.4
33 Brent Miller (Bianchi)               13:28.7
34 Jay Henry (Specialize)               13:29.2
35 Josh Bezecny (Dean Bicyc)            13:31.0
36 Travis Brown (Trek/Volks)            13:31.2
37 Cody Peterson (3 D Racing)           13:33.6
38 Mark Weir (Wtbsantacr)               13:35.3
39 Kris Sneddon                         13:36.4
40 Eric Jones (Biogen-Ide)              13:40.5
41 Brandon Ott (Tailwind)               13:40.7
42 Thomas Turner (Cannondale)           13:43.9
43 Charles Storm (Btd Racing)           13:44.6
44 Ryan Trebon (Konaclarks)             13:46.2
45 Charles Pendry (Btd Racing)          13:47.0
46 Tristan Schouten (Pcw Cyclin)        13:47.3
47 Edward Ceccolini (Titus/Maxm)        13:47.3
48 Rob Scott (Cannondale)               13:47.6
49 Nathan Phillips (Solar Ecli)         13:48.5
50 Scott Wingo (123Bikes.C)             13:54.6
51 Evan Plews (E-Caps/Rud)              13:55.3
52 Damian Calvert (Cannondale)          13:58.3
53 Jimi Mortenson (Specialize)          14:03.3
54 Bryan Fawley (Team Wv Bo)            14:04.0
55 Eric Atwood (Bri Cyclin)             14:05.6
56 Earl Bradley (Se Trek)               14:07.9
57 Perry Paolini (Balance Ba)           14:10.7
58 David Binker                         14:11.1
59 Mitch Moreman (Hassle Fre)           14:17.7
60 Nat Ross (Subaru- Ga)                14:17.7
61 Patrick Bush (Clif Bar/T)            14:23.0
62 Joshua Powers (Speedbikes)           14:23.8
63 Amon Pease (Intense)                 14:23.9
64 Adam Hoppe (Ochsner)                 14:24.7
65 Dave Wiens (RLX Ralph)               14:25.5
66 Warren Gravely (Dean Bicyc)          14:26.1
67 Billy Holmes (Intense Cy)            14:36.4
68 Clint Muhlfeld (Big Mounta)          14:40.4
69 Nathan Winkelmann (Bike Lane)        14:43.4
70 Ariel Lindsley (Subaru/Gar)          14:44.7
71 Dan Swanson (Nature Val)             14:48.9
72 Jesse Rients (Penn Cycle)            15:04.0
73 Wade Bootes (Trek/Volks)             15:09.2
74 Christopher Phillips (Balance Ba)    15:27.4
75 Branden Morvant (Nobc)               16:12.1
DNF Jacob Fetty (John Deere)
DNF Adam Craig (Giant/Pear)
DNF Eric Ransom
 
Pro Women
 
1 Alison Sydor (Rocky Mtn)              14:23.8
2 Kiara Bisaro (Gearsracin)             14:26.3
3 Alison Dunlap (Luna Women)            14:36.9
4 Katerina Hanusova (Luna Women)        14:39.4
5 Susan Haywood (Trek-Volks)            14:49.6
6 Chrissy Redden (Subaru-Gar)           15:00.0
7 Willow Koerber (RLX Ralph)            15:03.2
8 Kelli Emmett (Specialize)             15:15.7
9 Gretchen Reeves (Rocky Mtn)           15:25.9
10 Trish Sinclair (Gearsracin)          15:26.8
11 Jimena Florit (RLX Ralph)            15:31.7
12 Kerry Barnholt (Subaru-Gar)          15:32.3
13 Dara Marks-Marino (Ford Racin)       15:35.8
14 Jennifer Todd (Cannondale)           15:38.5
15 Sarah Noble (Rocky Mtn)              15:39.1
16 Heather Irmiger (Tokyo Joes)         15:41.0
17 Shonny Van Landingham (Luna Women)   15:44.4
18 Kimberly Anderson (T-Mobile)         15:48.6
19 Erin Winter (Orbea)                  15:59.9
20 Julie Emmerman ()                    16:00.5
21 Tonya Laffey (Mtbchick.C)            16:00.7
22 Kristy Mantz (P Towne Ra)            16:06.9
23 Judy Freeman (Cannondale)            16:08.7
24 Jenny Copnall (Subaru-Gar)           16:09.3
25 Jennifer Wilson ()                   16:13.4
26 Lisa Matlock (Ford)                  16:14.4
27 Kathy Sherwin (Cannondale)           16:14.9
28 Nicole Habay (Speed Bike)            16:15.5
29 Rhonda Quick ()                      16:17.4
30 Nina Baum ()                         16:31.5
31 Sally Warner (Biogen-Ide)            16:32.4
32 Shannon Tupa (Tokyo Joes)            16:46.4
33 Kristi Lewis (Sun & Ski)             16:48.5
34 Catherine Walberg (Kenda)            16:48.9
35 Alexandra Robinette (Bicycle Sp)     16:49.3
36 Abigail Hippely (Klein Mave)         16:51.4
37 Josie Beggs (Starbucks-)             16:52.0
38 Hana Fiserova (Mtbchick.C)           16:55.9
39 Shari Hausbeck ()                    16:57.0
40 Alicia Hamilton (Giant/ Dar)         17:09.2
41 Becca Blay (Team Dean)               17:10.2
42 Mandi Riddle (Team Wv Bo)            17:11.8
43 Kimberly Flynn (Defeet)              17:12.6
44 Ellen Carroll (Atlanta Pr)           17:15.9
45 Rachel Massey ()                     17:19.5
46 Lora Heckman (Laurel St)             17:34.9
47 Michele Niles-Benedetti ()           18:02.2
48 Jessica Kisiel ()                    18:28.2
49 Darcy Cornell-Foley (Jansko Whe)     18:34.4
50 Leslie Gilmore ()                    18:44.2
51 Lisa Peck (Biogen-Ide)               18:50.4