MTB index page for all MTB content
NORBA NCS Series #1 - E1
Waco, TX, USA, March 11-14, 2004
Race 1 - March 11: Marathon - 60miles
Charlie Storms home, Robinette wins in her home state
Charles Storm (USA)
Photo ©: Mike Gladu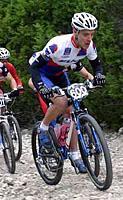 After driving 20 hours from North Carolina yesterday to make it in time for his first ever MTB marathon, Charlie Storm (Fuji BTD Racing) surprised all by taking the win from an impressive line up. Although succesful in the cross scene, placing 14th is last years US Cross Nationals, up until now Storm has been limiting his MTB racing to the local scene and is new on the national MTB circuit.
Today he went out hard to take the lead and when he came through the finish area at the end of the first lap, he already had 20 minutes on three chasing riders. The marathon was a 60mile race on the Broken Oak Ranch in Waco, Texas consisting mainly of rolling fire trails with a bit of single track thrown in and of course the horses to dodge if you happened to come across one on the working ranch.
By the end of the three laps Storm had held his lead to take the race by 10 minutes with Jason Sager (Thunderbird Motel) coming in solo to take second place minutes in front of Chris Eatough (TREK Volkswagen). At the end of the race Storm said that despite the fact that this was his first marathon, he came here to win or at least being in the top few riders. "I wanted to have a good performance that would help me make the worlds team."
This performance will certainly help, however the main selection races for World's are Big Bear and West Virginia.
Alexandra Robinette (USA)
Photo ©: Mike Gladu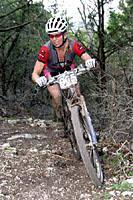 In the women's race it was local rider Alexandra Robinette from Austin who took a win in front of her home crowd. This was also a new experience for Robinette being the first long distance race for her. Attacking on the single track early in lap two, Robinette took the lead and held it for the remaining 40 miles.
"It was hard to get away on the jeep roads," she said, "so my only option was the single track. I was a little bit worried about holding the others off for 40 miles as it was a brutal course."
Robinette did however manage to hold them off, winning by four and a half minutes from fellow Texan Leslie Reuter, with Colorado rider Abigail Hippely (Klein) taking third place.
Read the feature: Calm before the Storm by Charles Storm
Photography
Images by Mike Gladu/www.velodrome.com
Results

Open Men
 
1 Charlie Storm (Fuji BTD Racing)        3.58.29
2 Jason Sager (Thunderbird Motel)          10.31
3 Chris Eatough (TREK Volkswagen)          15.23
4 Tinker Juarez (Siemens Cannondale)       17.14
5 Adam Salladin (Downey)                   17.43
6 Todd Helmick (Trek Volkswagen)           19.50
7 Mark Weir                                20.15
8 Cameron Chambers (Subaru Gary Fisher)    23.52
9 Michael Janelle (Tokyo Joes)             25.35
10 Dave Wiens (RLX Ralph Loren)            28.31
11 Nat Ross                                29.27
12 Jimi Mortenson                          35.49
13 Michael McCalla                         36.22
14 Robbie Robinette                        43.49
15 Arial Lindsley                          47.18
16 Kip Biese                               54.35
DNF Todd Tanner                                 
 
Men 19-29
 
DNF Michael Winegar                             
 
Men 30-39
 
1 Edward Moreadith                       4.22.53
2 Bart Beddingfield                         0.18
3 Brent Thompson                            4.39
4 Patrick West                              5.53
5 Kevin Vincent                            12.25
6 Chris Hamilton                           15.03
7 Kenneth Kisiel                           15.16
8 Richard McAfee                           31.25
9 Chris Burke                              37.16
10 Tony Deore                              38.45
11 Kenneth Kelly                           40.22
12 Andrew Baker                            44.08
13 Charles Covill                          47.58
14 Grant Clayton                           53.20
15 Bill Duckworth                          56.36
16 Mike Hillenbrand                      1.02.02
17 Scott Long                            1.05.51
18 Craig Lesley                          1.06.35
19 David Matthew                         1.07.42
20 John Renaud                           1.23.16
21 Brad Barnes                           1.29.21
22 William Moritz                        1.32.50
23 Stephen Curtner                       1.34.38
24 Joseph Fried                          1.44.24
25 Lenny Smith                           2.02.11
26 Jim Thoma                             2.21.47
DNF Alex Arumi                                  
DNF Garth McCann                                
DNF Rich Visscher                               
DNF Ryan Spates                                 
DNF John McCarey                                
 
Men 40-49
 
1 Max Miley                              4.20.17
2 Jordan Chaney                             4.03
3 Jerry Hutchinson                         22.50
4 Michael Vanrandwyk                       25.10
5 Terry Mathison                           33.21
6 Buddy Mendias                          1.09.37
7 Pete Masiel                            1.14.31
8 Mark Landeck                           1.27.28
9 Doug Sprado                            1.32.39
10 Kelly Steward                         1.50.26
DNF Cary Duke                                   
DNF Brian Doddson                               
 
Men 50+
 
1 David Appleton                         4.31.42
2 Andy Kathan                              36.49
3 John Lilly                             1.39.47
4 Marlin Duke                            1.58.01
 
Open Women
 
1 Alexandra Robinette                    4.31.49
2 Leslie Reuter                             4.25
3 Abigail Hippely (Klein)                  12.12
4 Jessica Kisiel (MTB Chicks)              22.36
5 Hillary Harrison (Kenda Tire)            32.24
DNF Shannon Tupa (Tokyo Joes)                   
 
Women 30-39
 
1 Catherine Marchak                      6.42.48
 
Women 40+
 
1 Bonni Casteel                          5.47.21
DNF Mary Lessor (Mad Duck)                      
 
Overall
 
1 Charles Storm                          3.58.29
2 Jason Sager                              10.31
3 Chris Eatough                            15.23
4 David (Tinker) Juarez                    17.14
5 Adam Salladin                            17.43
6 Todd Helmick                             19.50
7 Mark Weir                                20.15
8 Max Miley                                21.48
9 Cameron Chambers                         23.52
10 Edward Moreadith                        24.24
11 Bart Beddingfield                       24.42
12 Michael Janelle                         25.35
13 Jordan Chaney                           25.52
14 Dave Wiens                              28.31
15 Brent Thompson                          29.03
16 Nat Ross                                29.27
17 Patrick West                            30.17
18 David Appleton                          33.14
19 Alexandra Robinette                     33.21
20 Jimi Mortenson                          35.49
21 Michael McCalla                         36.22
22 Kevin Vincent                           36.49
23 Leslie Reuter                           37.46
24 Chris Hamilton                          39.27
25 Kenneth Kisiel                          39.40
26 Robbie Robinette                        43.49
27 Jerry Hutchinson                        44.38
28 Abigail Hippely                         45.32
29 Michael Vanrandwyk                      46.58
30 Arial Lindsley                          47.18
31 Kip Biese                               54.35
32 Terry Mathison                          55.10
33 Richard McAfee                          55.49
34 Jessica Kisiel                          55.57
35 Chris Burke                           1.01.40
36 Tony Deore                            1.03.09
37 Kenneth Kelly                         1.04.46
38 Hillary Harrison                      1.05.45
39 Andrew Baker                          1.08.32
40 Andy Kathan                           1.10.02
41 Charles Covill                        1.12.22
42 Grant Clayton                         1.17.44
43 Bill Duckworth                        1.21.00
44 Mike Hillenbrand                      1.26.26
45 Scott Long                            1.30.15
46 Craig Lesley                          1.30.59
47 Buddy Mendias                         1.31.25
48 David Matthew                         1.32.06
49 Pete Masiel                           1.36.19
50 John Renaud                           1.47.40
51 Bonni Casteel                         1.48.52
52 Mark Landeck                          1.49.16
53 Brad Barnes                           1.53.46
54 Doug Sprado                           1.54.27
55 William Moritz                        1.57.14
56 Stephen Curtner                       1.59.02
57 Joseph Fried                          2.08.48
58 Kelly Steward                         2.12.14
59 John Lilly                            2.13.01
60 Lenny Smith                           2.26.35
61 Marlin Duke                           2.31.15
62 Catherine Marchak                     2.44.19
63 Jim Thoma                             2.46.11
DNF Todd Tanner                                 
DNF Michael Winegar                             
DNF Alex Arumi                                  
DNF Garth McCann                                
DNF Rich Visscher                               
DNF Ryan Spates                                 
DNF John McCarey                                
DNF Cary Duke                                   
DNF Brian Doddson                               
DNF Shannon Tupa                                
DNF Mary Lessor