MTB index page for all MTB content
XC World Cup #3 - CDM
Fort William, Great Britain, June 5, 2004
Cross Country action in Scottish Highlands
By Chipps Chippendale in Fort William
Gunn-Rita Dahle (Multivan Merida Biking Team)
Photo ©: Chipps Chippendale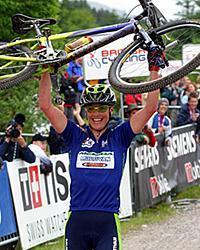 Thousands of mountain bike fans made it up to the Highlands of Scotland this weekend for the third XC World Cup of the year and the opening round of the downhill and four-cross events. The first triple-header of the year took place in the shadow of Ben Nevis, Britain's highest mountain and considering the distance of Fort William from the rest of the UK, the thousands of fans lining the course was a great indication that mountain bike racing is still alive and well in the UK.
Gunn-Rita makes it three for three
Gunn-Rita Dahle secured her third win of three World Cup races this year at Fort William. On a very tough, technical (but dry) course, she led from the start and never really looked in any danger of losing her lead. The only real danger would have been from a puncture or a fall on the technical bits of the course - of which there were many. The course has been added to since last year - a popular course with the 'real' mountain bike racers but not so popular among the less technically gifted.
Canadians Kiara Bisaro and Alison Sydor sprint for third place,
Photo ©: Chipps Chippendale

While her lead was never really in danger, behind her there was a bunch of Canadians battling it out, with Marie-Helene Premont coming in second at 1'46 and a sprint for third, which saw Kiara Bisaro pipping Alison Sydor for the line. Gunn-Rita's nearest rival in the overall points, Irinia Kalentiva was fifth.
This leaves Gunn-Rita in a confident first place in the UCI rankings.
Siemens/Cannondale dominate again
Christoph Sauser (Siemens Mobile Cannondale)
Photo ©: Chipps Chippendale

A Siemens/Cannondale pair of riders led the five lap men's race while behind them there was all sorts of pandemonium with a start line crash involving some of the riders. Roland Green missed it, but then got nailed by a spectator who stumbled into his path, putting Green out of the race in the first kilometre.
Christoph Sauser and Roel Paulissen soon opened a gap and, though pursued by Filip Meirhaeghe in third, only saw each other for most of the race. Behind Meirhaeghe though was a chasing pack of six riders, including Under 23 points leader Liam Killeen, Jean Christophe Peraud and Jose Antonio Hermida.
In the end Sauser opened up a lead of over a minute on Paulissen for a convincing win. Paulissen in turn was over a minute ahead of Filip in third. And Liam Killeen turned in a great performance to beat Peraud to the line.
The Four Cross race is next.
Photography
Images by Chipps Chippendale
Results
1 Christoph Sauser (Swi) Siemens Mobile Cannondale    1.59.32
2 Roel Paulissen (Bel) Siemens Mobile Cannondale         1.24
3 Filip Meirhaeghe (Bel) Specialized                     2.33
4 Liam Killeen (GBr) Subaru-Gary Fisher                  3.30
5 Jean-Christophe Peraud (Fra) Lapierre International    3.32
6 Jose Antonio Hermida (Spa) Multivan Merida             3.35
7 Lado Fumic (Ger) Team-T-Mobile                         4.05
8 Ralph Naef (Swi) Multivan Merida                       4.11
9 Bart Brentjens (Ned) Team-T-Mobile                     4.15
10 Sid Taberlay (Aus)                                    5.16
11 Manuel Fumic (Ger) Team-T-Mobile                      5.50
12 Cedric Ravanel (Fra) Team Orbea                       5.58
13 Ryder Hesjedal (Can) Subaru-Gary Fisher               6.06
14 Marek Galinski (Pol) Team Orbea                       6.15
15 Philip Tavell (Swe) Multivan Merida                   6.31
16 Jakob Fuglsang (Den)                                  7.07
17 Christoph Soukup (Aut)                                7.15
18 Inaki Lejarreta Errasti (Spa) Team Orbea              7.19
19 Fredrik Kessiakoff (Swe) Siemens Mobile Cannondale    7.48
20 Bas Peters (Ned)                                      7.51
21 Jeremy Horgan-Kobelski (USA)                          8.27
22 Nicolas Filippi (Fra) Lapierre International          8.38
23 Chris Jongewaard (Aus)                                8.44
24 Mathieu Toulouse (Can)                                8.58
25 Josh Fleming (Aus)                                    9.01
26 Jeremiah Bishop (USA) Trek-Volkswagen                 9.23
27 Peter Riis Andersen (Den)                             9.30
28 Carsten Bresser (Ger) Ralph Denk Racing Team          9.35
29 Michael Weiss (Aut) Ghost International Racing        9.47
30 Trofimov Yury (Rus)                                  10.29
31 Stefan Sahm (Ger) Team-T-Mobile                      10.45
32 Wolfram Kurschat (Ger)                               10.49
33 Erwin Bakker (Ned)                                   10.53
34 Adam Craig (USA)                                     11.06
35 Thys Al (Ned)                                        11.16
36 Martin Gujan (Swi)                                   11.36
37 Tim Bohme (Ger)                                      11.40
38 Andreas Dilger (Ger)                                 11.43
39 Silvio Bundi (Swi)                                   11.45
40 Nick Craig (GBr)                                     11.46
41 Simon Richardson (GBr)                               11.49
42 Craig Gordon (Aus)                                   11.54
43 Ruben Ruzafa Cueto (Spa)                             12.14
44 Frederic Frech (Fra)                                 12.20
45 S. Mantecon Gutierrez  (Spa)                         12.27
46 Jimmy Tielens (Bel)                                  12.45
47 Seamus Mcgrath (Can)                                 12.47
48 Marx Till (Swi)                                      12.57
49 Martin Kraler (Aut) Ralph Denk Racing Team           13.00
50 Miha Solar (Slo)                                     13.01
51 Robert Kircher (Aut) Ralph Denk Racing Team          13.03
52 Todd Wells (USA)                                     13.21
53 Torsten Marx (Ger)                                   13.35
54 Marten Tjallingii (Ned)                              13.41
55 Raffael Schmid (Swi)                                 13.53
56 Benjamin Rudiger (Ger)                               13.55
57 Ivan Seledkov (Rus)                                  13.56
58 Zak Toogood (GBr)                                    14.01
59 Geoff Kabush (Can)                                   14.17
60 Andreas Kugler (Swi)                                 14.31
61 Lukas Flueckiger (Swi)                               14.32
62 Karl-Emi Lindgren (Swe) Bianchi Agos                 14.42
63 Gody Jacobs (Bel)                                    14.55
64 Sebastien Delfosse (Bel)                             15.04
65 Michael Broderick (USA)                              15.07
66 Sandro Spaeth (Swi)                                  15.34
67 Oliver Beckingsale (GBr)                             15.37
68 Calle Friberg (Swe)                                  15.57
69 Tim Heemskerk (Ned)                                  16.34
70 Jody Crawforth (GBr)                                 16.49
71 Fabio Bernasconi (Swi)                               17.38
72 Marc Hanisch (Ger)                                   17.39
73 Balz Weber (Swi) Maxxis-MSC                          18.01
74 Jurg Graf (Swi)                                           
75 Nahuela Andrada (Arg) Zenith-MTB-International       18.57
76 Jamie Newall (GBr)                                   19.16
77 Christian Poulsen (Den)                              19.59
78 Lukas Mueller (Swi) Bikin Cyprus                     20.22
79 Phil Dixon (GBr)                                     20.25
80 Tudor Oprea Ovidiu (Rou)                             21.16
81 Ricky Federau (Can)                                  21.37
82 James Ouchterlony (GBr)                              22.23
83 Paul Oldham (GBr)                                    24.01
 
One lap behind
 
84 Ian Wilkinson (GBr)                                       
85 Stuart Bowers (GBr)                                       
86 Ricardo Figueiredo (Por)                                  
87 Geoff Beetham (GBr)                                       
88 Chris Murley (GBr)                                        
89 Barrie Clarke (GBr)                                       
90 Paul Newnham (GBr)                                        
91 Mirko Pirazzoli (Ita)                                     
 
Two laps behind
 
92 Steve Hambling (GBr)                                      
93 James Fraser-Moodie (GBr)                                 
DNF Julien Absalon (Fra) Bianchi Agos                        
DNF Roland Green (Can) Trek-Volkswagen                       
DNF Kashi Leuchs (NZl) Bianchi Agos                          
DNF Marc Golz (Ger) Team-T-Mobile                            
DNF Miguel Martinez (Fra) Commencal-Oxbow                    
DNF Ivan Alvarez (Spa)                                       
DNF Florian Vogel (Swi)                                      
DNF Jochen Kass (Ger) Team-T-Mobile                          
DNF Alejandro Diaz De La Pena (Spa) Maxxis-MSC               
DNF Karl Platt (Ger)                                         
DNF Christof Bischof (Swi)                                   
DNF Jaroslav Kulhavy (Cze) Siemens Mobile Cannondale         
DNF Johannes Sickmueller (Ger)                               
DNF Roman Rametsteiner (Aut)                                 
DNF Rudy Van Houts (Ned)                                     
DNF Moritz Milatz (Ger)                                      
DNF Robin Seymour (Irl)                                      
DNF Fredrik Modin (Swe)                                      
DNF Reto Manetsch (Swi)                                      
DNF Klaus Nielsen (Den)                                      
DNF Thomas Nicke (Ger) Fusion                                
DNF Roan Exelby (RSA)                                        
DNF Adrian Lansley (GBr)                                     
DNF Luke Stockwell (Aus)                                     
DNF Philip Spencer (GBr)                                     
DNF Dror Pekatz (Isr)                                        
DNF Brandon Stewart (RSA)                                    
DNF Joris Massaer (Bel)                                      
DNF Steve Farmer (GBr)                                       
DNF Richard Mardle (GBr)                                     
DNF Norman Gillan (GBr)                                      
DNF Robert Wardell (GBr)                                     
 
Women
 
1 Gunn-Rita Dahle (Nor) Multivan Merida               1.51.46
2 Marie-Helene Premont (Can)                             1.46
3 Kiara Bisaro (Can)                                     3.11
4 Alison Sydor (Can)                                         
5 Irina Kalentieva (Rus) Multivan Merida                 3.29
6 Elsbeth Van Rooy-Vink (Ned)                            3.39
7 Maria Ostergren (Swe)                                  4.25
8 Katrin Leumann (Swi)                                   4.31
9 Annabella Stropparo (Ita)                              4.33
10 Barbara Blatter (Swi) Specialized                     4.36
11 Mary Mcconneloug (USA)                                6.33
12 Nina Gohl (Ger)                                       6.35
13 Sabine Spitz (Ger) Fusion                             6.36
14 Barbel Jungmeier (Aut)                                6.39
15 Laurence Leboucher (Fra)                              7.05
16 Ivonne Kraft (Ger) Ghost International Racing         7.28
17 Susan Haywood (USA) Trek-Volkswagen                   7.40
18 Elena Giacomuzzi (Ita)                                7.55
19 Chrissy Redden (Can) Subaru-Gary Fisher               8.36
20 Alison Dunlap (USA) Luna Women's MTB Team             9.20
21 Sabrina Enaux (Fra) Lapierre International            9.22
22 Severine Hansen (Fra)                                 9.33
23 Janka Stevkova (Svk)                                  9.55
24 Trish Sinclair (Can)                                 10.51
25 Lisa Mathison (Aus) Ghost International Racin        11.02
26 Anna Enocsson (Swe) Multivan Merida                  11.10
27 Laura Turpijn (Ned)                                  11.55
28 Shonny Vanlandingham (USA) Luna Women's MTB Team     12.04
29 Cecile Rode (Fra)                                    12.31
30 Petra Schorkmayer (Aut)                              12.34
31 Daniela Louis (Swi)                                  12.39
32 Nadja Walker (Swi)                                   13.22
33 Catherine Delfosse (Bel)                             14.22
34 Bernardine Boog Rauwerda (Ned)                       14.46
35 Regina Marunde (Ger)                                 15.29
36 Elina Sophocleous (Cyp) Bikin Cyprus                 16.04
37 Jenny Mccauley (Irl)                                 16.23
38 Janet Puiggros Miranda (Spa)                         16.52
39 Maaris Meier (Est)                                   16.53
40 Sandra Klose (Ger)                                   17.12
41 Melanie Mcquaid (Can)                                18.27
42 Sonia Foote (NZl)                                    18.49
43 Katrin Schwing (Ger)                                 19.05
44 Petra Hofs (Ned)                                     22.44
45 Tarja Owens (Irl)                                    22.52
46 Ruth Mcgavigan (GBr)                                 25.20
47 Valentina Pazitova (Rus)                             27.19
48 Caroline James (GBr)                                 27.29
49 Katy Middlehurst (GBr)                                    
50 Noelia Rodriguez (Arg) Zenith-MTB-International      27.49
51 Hazel Wakefield (GBr)                                28.34
52 Francisca Campos (Chi) Zenith-MTB-International      29.59
53 Jenny Copnall (GBr) Subaru-Gary Fisher               39.13
 
One lap behind
 
54 Caroline Goward (GBr)                                     
DNF Petra Henzi (Swi)                                        
DNF Marga Fullana (Spa) Team Orbea                           
DNF Mette Andersen (Den)                                     
DNF Maroussia Rusca (Swi)                                    
DNF Adelheid Morath (Ger)                                    
DNF Sarah Koba (Swi)                                         
DNF Jennifer O´Connor (NZl)                                  
DNF Liz Watson (GBr)                                         
DNF Sophie Johnson (GBr)                                     
DNF Nikki Harris (GBr)                                       
DNF Catherine Niblock (GBr)                                  


World Cup standings after round 3
Men
 
1 Roel Paulissen (Bel) Siemens Mobile                    650 pts
2 Christoph Sauser (Swi) Siemens Mobile                  580
3 Filip Meirhaeghe (Bel) Specialized                     570
4 Julien Absalon (Fra) Bianchi Agos                      340
5 Lado Fumic (Ger) Team-T-Mobile                         330
6 Jean-Christophe Peraud (Fra) Lapierre International    310
7 Liam Killeen (GBr) Subaru-Gary Fisher                  290
8 Sid Taberlay (Aus)                                     226
9 Bart Brentjens (Ned) Team-T-Mobile                     224
10 Jose Antonio Hermida (Spa) Multivan Merida            209
11 Manuel Fumic (Ger) Team-T-Mobile                      200
12 Christoph Soukup (Aut)                                187
13 Carsten Bresser (Ger) Ralph Denk Racing Team          186
14 Miguel Martinez (Fra) Commencal-Oxbow                 184
15 Cedric Ravanel (Fra) Team Orbea                       180
16 Ralph Naef (Swi) Multivan Merida                      175
17 Thomas Frischknecht (Swi)                             156
18 Jakob Fuglsang (Den)                                  153
19 Erwin Bakker (Ned)                                    147
20 Bas Peters (Ned)                                      145
21 Jeremy Horgan-Kobelski (USA)                          144
22 Ryder Hesjedal (Can) Subaru-Gary Fisher               143
23 Silvio Bundi (Swi)                                    143
24 Michael Weiss (Aut) Ghost International Racing        142
25 Josh Fleming (Aus)                                    128
26 Fredrik Kessiakoff (Swe) Siemens Mobile Cannondale    119
27 Mathieu Toulouse (Can)                                118
28 Nicolas Filippi (Fra) Lapierre International          117
29 Philip Tavell (Swe) Multivan Merida                   114
30 Martin Kraler (Aut) Ralph Denk Racing Team            110
31 Stefan Sahm (Ger) Team-T-Mobile                       109
32 Radim Korinek (Cze) Ceska Sporitelna MTB              109
33 Marek Galinski (Pol) Team Orbea                       108
34 Ivan Alvarez (Spa)                                    108
35 Florian Vogel (Swi)                                   101
36 Yader Zoli (Ita)                                       97
37 Peter Riis Andersen (Den)                              94
38 Inaki Lejarreta Errasti (Spa) Team Orbea               93
39 Sergiy Rysenko (Ukr)                                   92
40 Chris Jongewaard (Aus)                                 91
41 Jelmer Pietersma (Ned) Holland Pro Cycling Team        90
42 Craig Gordon (Aus)                                     89
43 Peter Pouly (Fra)                                      88
44 Seamus Mcgrath (Can)                                   87
45 Thys Al (Ned)                                          83
46 Wolfram Kurschat (Ger)                                 76
47 Frederic Frech (Fra)                                   76
48 Nicholas Craig (GBr)                                   74
49 Jochen Kass (Ger) Team-T-Mobile                        69
50 Alejandro Diaz De La Pena (Spa) Maxxis-MSC             63
51 Kashi Leuchs (NZl) Bianchi Agos                        61
52 Martin Gujan (Swi)                                     60
53 Milan Spesny (Cze)                                     58
54 Karl Platt (Ger)                                       57
55 Todd Wells (USA)                                       55
56 Christof Bischof (Swi)                                 51
57 Jeremiah Bishop (USA) Trek-Volkswagen                  50
58 Roland Green (Can) Trek-Volkswagen                     47
59 Trofimov Yury (Rus)                                    46
60 Lukas Flueckiger (Swi)                                 44
61 Marco Bui (Ita)                                        44
62 Jaroslav Kulhavy (Cze) Siemens Mobile Cannondale       44
63 Johannes Sickmueller (Ger)                             44
64 Torsten Marx (Ger)                                     43
65 Adam Craig (USA)                                       42
66 Jimmy Tielens (Bel)                                    41
67 Tim Bohme (Ger)                                        39
68 Roman Rametsteiner (Aut)                               39
69 Andreas Dilger (Ger)                                   38
70 Marten Tjallingii (Ned)                                38
71 Andreas Kugler (Swi)                                   38
72 Alessandro Fontana (Ita)                               37
73 Miha Solar (Slo)                                       36
74 Simon Richardson (GBr)                                 35
75 Oliver Beckingsale (GBr)                               34
76 Mirko Pirazzoli (Ita)                                  34
77 Carlos Coloma (Spa)                                    34
78 Ruben Ruzafa Cueto (Spa)                               33
79 Martino Fruet (Ita)                                    33
80 Igor Bogdan (Ukr)                                      33
81 Johann Pallhuber (Ita)                                 32
82 Mantecon Gutierrez S. (Spa)                            31
83 Geoff Kabush (Can)                                     30
84 Ricky Federau (Can)                                    29
85 Marx Till (Swi)                                        28
86 Benjamin Rudiger (Ger)                                 27
87 Pavel Boudny (Cze)                                     27
88 Robert Kircher (Aut) Ralph Denk Racing Team            25
89 Igor Baretto (Ita)                                     23
90 Rudy Van Houts (Ned)                                   23
91 Moritz Milatz (Ger)                                    22
92 Simon Richli (Swi)                                     22
93 Raffael Schmid (Swi)                                   21
94 Ivan Seledkov (Rus)                                    21
95 Sandro Spaeth (Swi)                                    21
96 Zak Toogood (GBr)                                      18
97 Reto Manetsch (Swi)                                    18
98 Gody Jacobs (Bel)                                      17
99 Robin Seymour (Irl)                                    17
100 Andreas Dilger (Ger)                                  16
101 Calle Friberg (Swe)                                   15
102 Marc Golz (Ger) Team-T-Mobile                         15
103 Karl-Emi Lindgren (Swe) Bianchi Agos                  14
104 Fredrik Modin (Swe)                                   13
105 Sebastien Delfosse (Bel)                              12
106 Klaus Vesterlund Nielsen (Den)                        12
107 Michael Broderick (USA)                               11
108 Alban Lakata (Aut)                                    11
109 Pavel Elsnic (Cze) Ceska Sporitelna MTB                9
110 Oriol Morata Abril (Spa)                               8
111 Tim Heemskerk (Ned)                                    7
112 Eloj Gispert Labarta (Spa)                             7
113 Jody Crawforth (GBr)                                   6
114 Fabio Bernasconi (Swi)                                 5
115 Ludovic Dubau (Fra)                                    5
116 Marc Hanisch (Ger)                                     4
117 Balz Weber (Swi) Maxxis-MSC                            3
118 Lukas Mueller (Swi) Bikin Cyprus                       3
119 Jurg Graf (Swi)                                        2
120 Nahuela Andrada (Arg) Zenith-MTB-International         1
121 Juan Trujillo (Spa)                                    1
 
 
 
Women
 
1 Gunn-Rita Dahle (Nor) Multivan Merida                  750 pts
2 Irina Kalentieva (Rus) Multivan Merida                 401
3 Alison Sydor (Can)                                     380
4 Annabella Stropparo (Ita)                              380
5 Marie-Helene Premont (Can)                             370
6 Alison Dunlap (USA) Luna Women                         341
7 Kiara Bisaro (Can)                                     320
8 Barbara Blatter (Swi) Specialized                      315
9 Ivonne Kraft (Ger) Ghost International Racing          286
10 Elsbeth Van Rooy-Vink (Ned)                           228
11 Katrin Leumann (Swi)                                  203
12 Mary Mcconneloug (USA)                                200
13 Maria Ostergren (Swe)                                 199
14 Laurence Leboucher (Fra)                              199
15 Barbel Jungmeier (Aut)                                187
16 Susan Haywood (USA) Trek-Volkswagen                   181
17 Petra Henzi (Swi)                                     165
18 Janka Stevkova (Svk)                                  161
19 Severine Hansen (Fra)                                 149
20 Sabrina Enaux (Fra) Lapierre International            147
21 Lisa Mathison (Aus) Ghost International Racing        138
22 Anna Enocsson (Swe) Multivan Merida                   134
23 Marga Fullana (Spa) Team Orbea                        130
24 Petra Schorkmayer (Aut)                               126
25 Catherine Delfosse (Bel)                              121
26 Katrin Schwing (Ger)                                  120
27 Janet Puiggros Miranda (Spa)                          116
28 Elina Sophocleous (Cyp) Bikin Cyprus                  114
29 Regina Marunde (Ger)                                  110
30 Nina Gohl (Ger)                                       108
31 Shonny Vanlandingham (USA) Luna Women                 108
32 Chrissy Redden (Can) Subaru-Gary Fisher               107
33 Cecile Rode (Fra)                                     107
34 Yanping Ma (Chn)                                      102
35 Trish Sinclair (Can)                                  100
36 Sonia Foote (NZl)                                      95
37 Paola Pezzo (Ita)                                      95
38 Bernardine Boog Rauwerda (Ned)                         94
39 Sandra Klose (Ger)                                     92
40 Laura Turpijn (Ned)                                    91
41 Daniela Louis (Swi)                                    90
42 Evelyn Staffler (Ita)                                  90
43 Sarah Noble (Can)                                      88
44 Melanie Mcquaid (Can)                                  84
45 Robyn Wong (NZl)                                       81
46 Nadja Walker (Swi)                                     79
47 Xiaoning Gao (Chn)                                     68
48 Sabine Spitz (Ger) Fusion MTB                          63
49 Elena Giacomuzzi (Ita)                                 58
50 Mette Andersen (Den)                                   58
51 Maroussia Rusca (Swi)                                  58
52 Maja Wloszczowska (Pol) Lotto-Pzu S.A.                 57
53 Lene Byberg (Nor)                                      54
54 Eva Lechner (Ita)                                      54
55 Silvia Rovira Planas (Spa)                             51
56 Franziska Roethlin (Swi)                               47
57 Saskia Elemans (Ned)                                   44
58 Birgit Jungst (Ger) Multivan Merida                    40
59 Jenny Mccauley (Irl)                                   39
60 Elisabeth Osl (Aut)                                    39
61 Corine Dorland (Ned)                                   38
62 Maaris Meier (Est)                                     37
63 Petra Hofs (Ned)                                       32
64 Mirjam Dieleman (Ned)                                  32
65 Tarja Owens (Irl)                                      31
66 Adelheid Morath (Ger)                                  31
67 Ruth Mcgavigan (GBr)                                   30
68 Valentina Pazitova (Rus)                               29
69 Caroline James (GBr)                                   28
70 Sarka Chmurova (Cze)                                   28
71 Jenny Copnall (GBr) Subaru-Gary Fisher                 28
72 Katy Middlehurst (GBr)                                 27
73 Erica Österlund (Swe)                                  27
74 Noelia Rodriguez (Arg) Zenith-MTB-International        26
75 Barbara Oberdorfer (Ita)                               26