MTB index page for all MTB content
Four-cross World Cup #1 - CDM
Fort William, Great Britain, June 5, 2004
Results Cross country Downhill
Men's winner Guido Tschugg
Photo ©: Chipps Chippendale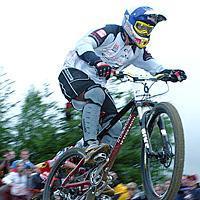 Chausson lands another; Tschugg triumphs after men's race biffo
By Chipps Chippendale
The threatening rain clouds were kept at bay on Saturday evening as around 7,000 people lined the slopes of Ben Nevis, the UK's highest mountain for the first four-cross worl cup of 2004.
The assembled, cheering throng were there to see the best riders in the world take each other on, elbow to elbow, down a wide, but steep four cross course.
The women's favourite, Caroline Chausson was victorious again, though she was pushed hard by Tara Llanes. In the men's race, there were all sorts of upsets as World Champ Prokop went down before the semi finals, and Gracia and Peat bumped, causing Gracia to go down hard.
UK favourite Peat didn't get to push his advantage home though and had to settle for winning the 'small' final instead. In the 'big' final, Guido Tschugg from Germany took the win over Sam Hill (more of him in the downhill race as you'll find out…)
Photography
Images by Chipps Chippendale
Results

Men
 
Final
 
1 Guido Tschugg (Ger) Fusion                        50 pts
2 Samuel Hill (Aus)                                 40
3 Romain Saladini (Fra) Commencal-Oxbow             30
4 Robin Baloochi (USA)                              25
 
Small Final
 
5 Steve Peat (GBr) Team Orange                      21 pts
6 Nathan Rennie (Aus)                               18
7 Kamil Tatarkovic (Cze)                            15
8 Chris Powell (USA) Specialized                    13
 
1/4 Finals
 
9 Mickael Deldycke (Fra)                            11 pts
10 Lucas Tamme (Cze)                                10
11 Dave Wardell (GBr)                                9
12 David Vazquez Lopez (Spa) Maxxis-MSC              8
13 Wade Bootes (Aus) Trek-Volkswagen                 7
14 Mike King (USA)                                   6
15 Michal Prokop (Cze)                               5
16 Cedric Gracia (Fra) Siemens Mobile Cannondale     5
 
1/8 Finals
 
17 Bas De Bever (Ned) Be One / Madhouse              5 pts
18 Frans Sjoblom (Swe)                               5
19 Xavier Aumaitre (Fra)                             4
20 Scott Beaumont (GBr)                              3
21 Arne Tschug (Ger)                                 2
22 Simon Newton (GBr)                                2
23 Johannes Hwang (Aut)                              1
24 Richard Batey (GBr)                               1
25 Roger Rinderknecht (Swi)                           
26 Thomas Allier (Fra)                                
27 Carmine Falco (Fra)                                
28 Glyn O´Brien (Irl)                                 
29 Leiv Ove Nordmark (Nor)                            
30 Duncan Ferris (GBr)                                
31 Marco Zingg (Swi)                                  
32 Martin Ogden (GBr)                                 
 
1/16 Finals
 
33 George Atherton (GBr)                              
34 Ben Reid (Irl)                                     
35 Duncan Riffle (USA)                                
36 Mario Jarrin (Ecu) Zenith-MTB-International        
37 Daniel Atherton (GBr)                              
38 Markolf Berchtold (Bra) Maxxis-MSC                 
39 Wilfred Van De Haterd (Ned)                        
40 Maciej Jodko (Pol)                                 
41 Ben Stephenson (GBr)                               
42 Daniel Hume (GBr)                                  
43 Andrew Yoong (Irl)                                 
44 Zigs Skolins (Lat)                                 
45 Dan Stanbridge (GBr)                               
46 Philip Shucksmith (GBr)                            
47 Dominic Bent (GBr)                                 
48 Michal Marosi (Cze)                                
49 Jordie Lunn (Can) Specialized                      
50 Steve Atkins (GBr)                                 
51 Pablo Galán Carrasco (Spa)                         
52 Dale Holmes (GBr)                                  
53 Ross Tricker (GBr)                                 
54 William Evans (GBr)                                
55 Daniel Yeomans (GBr)                               
56 Colin Ross (Irl)                                   
57 Martin Astley (GBr)                                
58 Kai Schugk (Ger)                                   
59 Marco Erbrich (Ger)                                
60 Symon Folland (GBr)                                
61 Markus Baumann (Swi)                               
62 Gregory O'keeffe (Irl)                             
63 Mick Hannah (Aus)                                  
64 Marc Beaumont (GBr) Team Orange                    
 
Qualifications
 
65 Jason Brennan (GBr)                                
66 Diego Alvarez-Alvarez (Spa)                        
DNF Christian Egelmair (Swi)                          
DNF Dag Schneevoigt (Ger)                             
 
Women
 
Final
 
1 Anne-Caroline Chausson (Fra) Commencal-Oxbow      50 pts
2 Tara Llanes (USA)                                 40
3 Sabrina Jonnier (Fra)                             30
4 Katrina Miller (Aus)                              20
 
Small Final
 
5 Celine Gros (Fra) Team Morzine Avoriaz            15 pts
6 Joey Gough (GBr)                                  10
7 Vanessa Quin (NZl)                                 7
8 Anneke Beerten (Ned)                               5
 
1/4 Finals
 
9 Anita Molcik (Aut) Arbö Rsp Downhill Racing        4 pts
10 Fionn Griffiths (GBr)                             3
11 Mio Suemasa (Jpn)                                 2
12 Diana Marggraff (Ecu) Zenith-Mtb-International    1
13 Eva Castro Fernandez (Spa)                         
14 Emily Horridge (GBr)                               
15 Marissa Erbrich (Ger)                              
16 Kim Boffey (GBr)                                   
 
Qualifications
 
DNF Lisa Sher (USA)                                   

World Cup standings after round 1

Men
 
1 Guido Tschugg (Ger) Fusion                        50 pts
2 Samuel Hill (Aus)                                 40
3 Romain Saladini (Fra) Commencal-Oxbow             30
4 Robin Baloochi (USA)                              25
5 Steve Peat (GBr) Team Orange                      21
6 Nathan Rennie (Aus)                               18
7 Kamil Tatarkovic (Cze)                            15
8 Chris Powell (USA) Specialized                    13
9 Mickael Deldycke (Fra)                            11
10 Lucas Tamme (Cze)                                10
11 Dave Wardell (GBr)                                9
12 David Vazquez Lopez (Spa) Maxxis-MSC              8
13 Wade Bootes (Aus) Trek-Volkswagen                 7
14 Mike King (USA)                                   6
15 Michal Prokop (Cze)                               5
15 Cedric Gracia (Fra) Siemens Mobile Cannondale     5
15 Bas De Bever (Ned) Be One / Madhouse              5
15 Frans Sjoblom (Swe)                               5
19 Xavier Aumaitre (Fra)                             4
20 Scott Beaumont (GBr)                              3
21 Arne Tschug (Ger)                                 2
21 Simon Newton (GBr)                                2
23 Johannes Hwang (Aut)                              1
23 Richard Batey (GBr)                               1
 
Women
 
1 Anne-Caroline Chausson (Fra) Commencal-Oxbow      50 pts
2 Tara Llanes (USA)                                 40
3 Sabrina Jonnier (Fra)                             30
4 Katrina Miller (Aus)                              20
5 Celine Gros (Fra) Team Morzine                    15
6 Joey Gough (GBr)                                  10
7 Vanessa Quin (NZl)                                 7
8 Anneke Beerten (Ned)                               5
9 Anita Molcik (Aut) Arbö Rsp Downhill Racing        4
10 Fionn Griffiths (GBr)                             3
11 Mio Suemasa (Jpn)                                 2
12 Diana Marggraff (Ecu) Zenith-Mtb-International    1