MTB index page for all MTB content
NORBA series #5 - E2
Mount Snow, Vermont, June 17-20, 2004
Main Page Results Previous Race Next Race
Race 2 - June 19: Cross-country
New faces top the podium
Koerber, Killeen land first NORBA wins
The RLX stunt-team
Photo ©: USAC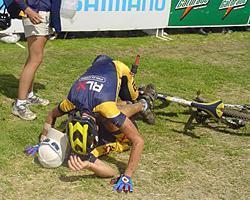 Round four of the NORBA National Championship Mountain Bike Series continued today in Mount Snow, Vt. with the cross-country event that featured two new faces at the top of the podium.
Willow Koerber was without a doubt the talk of the day as she rode to her first NORBA cross-country victory in what could be considered the biggest performance of her career. Liam Killeen bested Roland Green to take his first win on the NORBA circuit as well.
In the women's race, Koerber broke away from the rest of the field within the first few minutes. On the first descent, she had a strong lead on Kerry Barnholt. By the end of the first lap, Koerber was an unbelievable 2 and a half minutes ahead of her nearest threat - who just happened to be teammate Jimena Florit.
On a technical course that makes it difficult to maintain pace, Koerber was able to sustain her efforts for all three laps, and teammate Jimena stayed in second for the final two.
Kelli Emmet
Photo ©: USAC

An elated Willow crossed the finish line with a final time of 2:06:31. Just over three minutes later, Florit claimed second position. Shonny Vanlandingham, Kelli Emmett, and Kiara Bisaro took third, fourth, and fifth respectively.
When asked about her thoughts during the race, Koerber said she was constantly asking herself, "What's going on?" She was surprised, but after a while decided not to think about it anymore. "I guess that's what it feels like when you're winning," she responded.
"I felt confident though because I knew I had some legs, and most importantly - spirit."
In the men's race, Liam Killeen broke off the front and created a strong gap in the first lap which he maintained for the remainder of the race. At the halfway point, Liam's nearest threat - Roland Green - was over a minute behind. Adam Craig, Geoff Kabush (CAN), and Seamus McGrath chased.
The course, which is arguably the most difficult on the circuit, claimed several victims in the race's early stages including Chris Sheppard, Trent Lowe, Frank Mapel, and Ryan Trebon.
Killeen crossed the line in 2:22:51, with Roland Green in second place. After putting forth a strong effort, New England's own Adam Craig took the third spot on the podium. Travis Brown and Seamus McGrath rounded out the podium in fourth and fifth.
"I knew if I could get ahead on the first lap that I could win," Killeen said after the race.
Adam Craig put forth an incredible effort today among some of the world's best riders. "This course is the best course in the entire world," he commented. "It was the beginning of my career, and it's always been good to me."
Photos
Images by Keri Fagan/

Images by Travis Drennen/www.tddesignimages.com
Results
Women
 
1 Willow Koerber (USA) 
2 Jimena Florit (Arg) 
3 Shonny Vanlandingham (USA) 
4 Kelli Emmett (USA) 
5 Kiara Bisaro (Can)
 
Men
 
1 Liam Killeen (GBr) 
2 Roland Green (Can) 
3 Adam Craig (USA) 
4 Travis Brown (USA) 
5 Seamus McGrath (Can)