MTB index page for all MTB content
NORBA series #5 - E2
Mount Snow, Vermont, June 17-20, 2004
Race 1 - June 18: Mountain cross
Jill Kitner and Michael Robinson post wins in Mount Snow
By Keri Fagan, USA Cycling
Jared Graves
Photo ©: USAC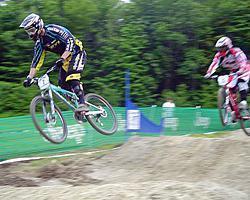 The fourth stop on the NORBA Circuit got underway today in Mount Snow, Vt. with the mountain cross competition. Despite the World Cup event in Austria this weekend, top gravity riders still made their way to the long established venue.
Posting a victory in the men's competition was 21-year-old Australian Michael Robinson who beat Eric Carter. Jill Kitner captured the win over Tara Llanes in the women's race, helping to secure her lead in the overall standings.
Rain caused several practice sessions to be postponed this morning, but after the scare of bad weather cleared up, the mountain cross course was in good condition for the qualifying runs. Mike King bested his nearest competitors by clocking a 36.35 in the qualifier, a time that gave him the top seed going into the finals. Eric Carter was seeded second, with Wade Bootes (Aus) third, John Kirkaldie (NZl) fourth, and Robinson fifth.
Aussie Katrina Miller
Photo ©: USAC

After elimination, Robinson, Carter, King, and Bootes were the last four standing. Robinson knew what he was up against as the final four contenders left the gate. "I just decided to ride my own race," the Aussie said after winning. "And, that is mostly what happened."
The tight race for the finish left Carter in second place, Bootes in third, and King in fourth.
Tara Llanes posted the time to beat in the women's qualifying round. With a time of 40.71, Jill Kitner was her nearest threat in 41.24. Katrina Miller, Kathy Pruitt, and Lisa Sher were third, fourth, and fifth seeds respectively.
Eight women raced in the finals. The final four saw Kitner take the lead with Tara Llanes on the inside trying to get ahead before the first turn. Kitner stood her ground though and took the victory, with Katrina Miller in second, Llanes in third, and Kathy Pruitt in fourth. Winning the consolation round for fifth place was Melissa Buhl.
"It was kind of a defensive ride for me," Kitner commented afterwards, "just making sure I didn't get passed."
Photos
Images by Keri Fagan/

Results
Men
 
1 Michael Robinson (Aus)
2 Eric Carter (USA)
3 Wade Bootes (Aus)
4 Mike King (USA)
 
Women
 
1 Jill Kitner (USA)
2 Katrina Miller (Aus)
3 Tara Llanes (USA)
4 Kathy Pruitt (USA)
5 Melissa Buhl (USA)