MTB index page for all MTB content
Results and Reports from Australia
Promoters wishing to submit results should send them to cyclingnews
The Adventure Travel Company Boomerang
Mt Beauty, Victoria, April 3-4, 2004
Phil Anderson
Photo ©: ATC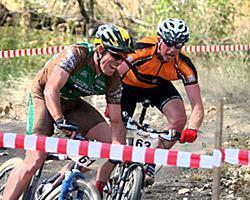 Mt Beauty's clear blue skies and autumnal surrounds set the backdrop for a new style of cycling event in Australia. Sponsored by The Adventure Travel Company, the 'Boomerang' is a five stage road race and a five stage MTB race, the uniqueness of the event comes into the third stage, where over a 50m straight track, roadies and mountain bikers race head to head.
Road race: A 15k time trial, 45k road race and a 50m sprint comprised Saturday's 3 stages. Sunday morning ran a 4.5k hillclimb followed by a 15 minute crit.
MTB race: A 8k time trial, 40k Point to Point and a 50m sprint made up Saturday's 3 stages. Sunday morning ran a 6k hillclimb followed by a two-lap STXC.
For next year, the race organisers are considering adding a BMX race to the event, which may lead to a three-off (Road, MTB and BMX) in the 50 metre sprint.
Photography
Images by Adventure Travel Company
Results
Road race

Stage 1, Divella Pasta Road TT
 
Open Men
 
1 Craig Johnson                             21.36
2 Matt Wallace                               0.11
3 Jamie Goddard                              0.19
 
Open women
 
1 Cristine Foster                           24.27
2 Katie O'Keefe                              0.48
3 Bridget Officer                            1.04
 
30+ women
 
1 Kym Peterson                              26.33
2 Jenny Hogan                                1.11
3 Sue Carey                                  1.23
 
40+ Men
 
1 Tony Retra                                22.55
2 Steven Noske                               2.05
3 Peter Noske                                2.26
 
Stage 2, American Crew Road Race
 
Open Men
 
1 Craig Johnson                           1.07.42
2 Matt Wallace                                   
3 Matthew Collins                            1.53
 
Open women
 
1 Cristine Foster                         1.12.17
2 Katie O'Keefe                              0.15
3 Bridget Officer                            4.55
 
30+ women
 
1 Kym Peterson                            1.25.27
2 Sue Carey                                  0.18
3 Lorraine Lloyd                             6.42
 
40+ Men
 
1 Peter Noske                             1.12.10
2 Steven Noske                                   
3 Mark Newton                                    
 
Stage 4, The Topbike Tours Hillclimb
 
Open Men
 
1 Matt Wallace                               7.13
2 Craig Johnstone                            0.03
3 Matthew Collins                            0.18
 
Open women
 
1 Cristine Foster                            8.21
2 Katie O'Keefe                              0.12
3 Bridget Officer                            0.25
 
30+ women
 
1 Jenny Hogan                                9.37
2 Kym Peterson                               0.26
3 Sue Carey                                  1.44
 
40+ Men
 
1 Steven Noske                               8.44
2 Tony Retra                                 0.03
3 Mark Newton                                0.14
 
Stage 5, Melbourne Wine Room Crit
 
Open Men
 
1 Jamie Goddard                                  
2 Matthew Collins                                
3 Matt Wallace                                   
 
Open women
 
1 Cristine Foster                                
2 Katie O'Keefe                                  
3 Bridget Officer                                
 
30+ women
 
1 Kym Peterson                                   
2 Sue Carey                                      
3 Jan Garrard                                    
 
40+ Men
 
1 Bill Mackay                                    
2 Peter Noske                                    
3 Steve Towers                                   
 
Overall after stage 5
 
Open Men
 
1 Matt Wallace                                   
2 Craig Johnson                                  
3 Matthew Collins                                
 
Open women
 
1 Cristine Foster                                
2 Katie O'Keefe                                  
3 Bridget Officer                                
 
30+ women
 
1 Kym Peterson                                   
2 Sue Carey                                      
3 Helen Farrugia                                 
 
40+ Men
 
1 Tony Retra                                     
2 Steven Noske                                   
3 Peter Noske                                    

Mountain bike race

Stage 1, Freewheel MTB TT
 
Open Men
 
1 Trent Lowe                                20.48
2 Daniel Van der Ploeg                       0.04
3 Russell Collett                            0.07
 
Open women
 
1 Emma Colson                               26.00
2 Tory Thomas                                0.37
3 Jill Burston                               0.54
 
30+ women
 
1 Adair Ferguson                            28.01
2 Libby Evans                                8.36
3 Isabella Sweet                            26.23
 
40+ Men
 
1 Rob Eva                                   21.10
2 Gerry Van der Ploeg                        2.37
3 Andrew Nicholls                            2.51
 
Stage 2, The Nzo Clothing Point to Point MTB
 
Open Men
 
1 Trent Lowe                              1.40.05
2 Daniel Van der Ploeg                       6.01
3 Mark Van der Ploeg                         9.26
 
Open women
 
1 Emma Colson                             2.08.20
2 Tory Thomas                                1.05
3 Athena Greenal-Wilson                      6.26
 
30+ women
 
1 Adair Ferguson                          2.41.19
2 Libby Evans                               34.14
3 Isabella Sweet                          1.05.57
 
40+ Men
 
1 Rob Eva                                 1.47.10
2 Gerry Van der Ploeg                       14.24
3 Phillip Anderson                          15.07
 
Stage 4, The GIANT Bicycles Hillclimb MTB
 
Open Men
 
1 Daniel Van der Ploeg                           
2 Trent Lowe                                     
3 Russell Collett                                
 
Open women
 
1 Emma Colson                                    
2 Tory Thomas                                    
3 Jill Burston                                   
 
3+ women                                         
 
1 Adair Ferguson                                 
2 Libby Evans                                    
3 Isabella Sweet                                 
 
40+ Men
 
1 Rob Eva                                   21.10
 
Stage 5, Brumby's Bread STXC
 
Open Men
 
1 Trent Lowe                                16.55
2 Daniel Van der Ploeg                       0.35
3 Mark Van der Ploeg                         1.09
 
Open women
 
1 Tory Thomas                               22.59
2 Emma Colson                                0.20
3 Jill Burston                               0.58
 
30+ women
 
1 Adair Ferguson                                 
2 Libby Evans                                    
3 Isabella Sweet                                 
 
40+ Men
 
1 Phillip Anderson                          20.32
2 Rob Eva                                    0.02
3 Andrew Nicholls                            1.10
 
Overall after stage 5
 
Open Men
 
1 Trent Lowe                                     
2 Daniel Van der Ploeg                           
 
Open women
 
1 Emma Colson                                    
2 Tory Thomas                                    
3 Jill Burston                                   
 
30+ women
 
1 Adair Ferguson                                 
2 Libby Evans                                    
3 Isabella Sweet                                 
 
40+ Men
 
1 Rob Eva                                        
2 Gerry Van der Ploeg                            
3 Andrew Nicholls                                 
Local results 2004