MTB index page for all MTB content
Crocodile Trophy - NE
Australia, October 21-November 2, 2003
Main Page Results Previous Stage Next Stage
Stage 5 - October 25: Minnamoolka - Greenvale 185 km
Hansen solos to victory
By Christi Anderson
Adam Hansen opened up an unbeatable lead to win stage 5
Photo ©: Mark Watson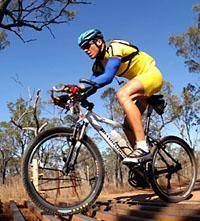 Queenslander Adam Hansen distinguished himself and his strength was simply unbeatable over the 185 km of today's stage between Minnamoolka and Greenvale. The stage was a mixed bag of success, hardship, and the all too familiar suffering.
Phil Anderson, who rolled up the start this morning in Minnamoolka with a broken rib as well as bandages covering 50% of his body, was the only rider to respond when Kris Lapere attacked at the 75 km mark. The field was surprised to see Anderson go, but not willing to dig any deeper in the 48.6 degree heat.
It was searing in the outback, with bull dust choking the riders and making visibility nearly nil. A support car that lost control in the sand and dust struck Debra Eason of Victoria. Eason suffered a badly sprained wrist and consequently is worried about the looming kilometres of corrugation and lava rocks to come. The bull dust was so thick that riders as well as support cars had to stop and wait for the dust to clear so that they wouldn't run into each other. There were nosebleeds and sore throats throughout the peloton.
With the two up of Lapere and Anderson away at three minutes, Hansen decided to jump across, a move most believed to be suicide. However, Hansen's attack and bridge turned out to be the winning move as he reached the pair with relative ease. Once with the duo Adam stayed for 10 kms and then powered away from them and quickly put 8 minutes into the pair a well as 14 into the peloton.
Crashes are fairly common
Photo ©: Mark Watson

With 50 km to go the peloton's usual suspects of Viergever, Bettin, Stauder, Hotter, and Elli began to chase in earnest. They over took a struggling Anderson with 30 km to go and Lapere with 4 km to go. Anderson and Jacob's Creek-Shimano Dream team-mate Elli both took their time with the one river crossing to try and lower the dangerously high body temperatures. Bettin nearly rode through the 100 meters of meter deep fresh water without a dismount. Bettin and Stauder took off just after the crossing, as Viergever was in front and putting the pressure on to chase Lapere and Hansen. Stauder sprinted for second and Bettin for fourth, the two race leaders looking incredibly fresh after a gruelling stage in the blazing Australian sun.
The casualties are mounting up with dehydration, sore bums and general exhaustion. I suppose you could say the field is having normal reactions to a severely abnormal set of conditions! Tomorrow is going to be another scorcher!
Photography
Images by Mark Watson
Results

1 Adam Hansen (Aus)                         6.02.33
2 Roland Stauder (Ita) Red Bull               12.40
3 Jaap Viergever (Ned) TTTSW                  12.41
4 Mauro Bettin (Ita) Red Bull                      
5 Alberto Elli (Ita) Dream Team                    
6 Tim Vincent (NZl)                           12.44
7 Kris Lapere (Bel) Tom Taylor Team           12.56
8 Phil Anderson (Aus) Dream Team              16.59
9 Robert Hotter (Aut) Team Sport Nora         17.01
10 Bart Bosmans (Bel) Tom Taylor Team         26.28
11 Oyvind Aas (Nor) Dream Team                28.57
12 Adrian Laing (Aus) TTTSW                        
13 Peter Paelinck (Bel) www.reevax.be              
14 Reinhard Desmedt (Bel)                     32.00
15 Frans Verbeeck (Bel)                       33.59
16 Dominiek Sacre (Bel) www.reevax.be         36.49
17 Perry Moermann (Blz) Dream Team            37.16
18 Dennis Teeuwen (Ned) TTTSW                      
19 Rainer Rosenberger (Aut)                   59.48
20 Michael Bösiger (Chi)                      59.51
21 Manfred Liszt (Aut)                      1.21.43
22 M. Apperman/R. Donckers (Bel) Tandem     1.33.19
23 Rosi King (Aus)                          1.46.12
24 Mark Fraeyman (Aut)                      1.46.13
25 Charles Blanc (Fra)                      2.03.45
26 André Vögele (Aus)                       2.19.21
27 David Olle (Aus) Dream Team                     
28 Paul West (GBr)                                 
29 Lisi Hager (Aut) MBR 2radChaoten SWAT    2.20.36
30 Ulrich Strasser (Aut)                           
31 Debra Eason (Aus) Eason                  3.53.17
32 Toru Watanabe (Jpn)                      2.34.37
33 Martin Meier (Aut) Team Sport Nora       4.27.40
34 Thomas Lenzenhofer (Aus)                        
34 Jan Jelinek CZR Jelinek                         
34 Miguel Blanco (Spa) Blanco                      
34 Manuel Pino (Spa) Blanco                        
34 Daniele Modolo/Attillio Santi (Ita) Tandem      
34 Daniele Modolo (Ita) Bike & More                
34 Steven Pauwels (Bel) www.reevax.be              
34 Karl Arnold (Chi) Arnold                        
34 Karsten Kaas (Den)                              
34 Bernd Lautner (Aut)                             
34 Gerard Looijstyn (Ned) TTTSW                    
 
Women
 
1 Rosi King (Aus)                           7.48.45
2 Lisi Hager (Aut) MBR 2radChaoten SWAT       34.24
3 Debra Eason (Aus) Eason                   2.07.05
 
Light
 
1 Kel Boers (Aus)                                  
2 Peter Johnson (Aus)                              
3 Jon Johnson (Aus)                                
 
General classification after stage 5
 
1 Mauro Bettin (Ita) Red Bull              21.57.15
2 Roland Stauder (Ita) Red Bull                0.17
3 Adam Hansen (Aus)                           22.17
4 Jaap Viergever (Ned) TTTSW                  23.35
5 Alberto Elli (Ita) Dream Team               28.08
6 Robert Hotter (Aut) Team Sport Nora         42.27
7 Kris Lapere (Bel) Tom Taylor Team           54.50
8 Tim Vincent (NZl)                         1.00.12
9 Bart Bosmans (Bel) Tom Taylor Team        1.25.05
10 Phil Anderson (Aus) Dream Team           1.28.22
11 Oyvind Aas (Nor) Dream Team              1.50.12
12 Adrian Laing (Aus) TTTSW                 2.29.49
13 Peter Paelinck (Bel) www.reevax.be       2.33.34
14 M. Apperman/R. Donckers (Bel) Tandem     2.35.20
15 Frans Verbeeck (Bel)                     2.35.29
16 Dominiek Sacre (Bel) www.reevax.be       2.44.08
17 Reinhard Desmedt (Bel)                   3.15.25
18 Michael Bösiger (Chi)                    3.49.19
19 Rainer Rosenberger (Aut)                 4.44.18
20 Dennis Teeuwen (Ned) TTTSW               5.01.32
21 Perry Moermann (Blz) Dream Team          5.06.31
22 Mark Fraeyman (Aut)                      6.00.17
23 David Olle (Aus) Dream Team              7.07.04
24 Rosi King (Aus)                          7.16.34
25 André Vögele (Aus)                       7.40.12
26 Charles Blanc (Fra)                      7.53.09
27 Manfred Liszt (Aut)                      9.03.48
28 Paul West (GBr)                          9.19.48
29 Lisi Hager (Aut) MBR 2radChaoten SWAT    9.33.41
30 Ulrich Strasser (Aut)                   11.27.00
31 Debra Eason (Aus) Eason                 14.45.38
32 Toru Watanabe (Jpn)                     15.14.11
33 Thomas Lenzenhofer (Aus)                15.49.04
34 Martin Meier (Aut) Team Sport Nora      17.05.20
35 Miguel Blanco (Spa) Blanco                      
36 Karl Arnold (Chi) Arnold                        
37 Gerard Looijstyn (Ned) TTTSW                    
39 Jan Jelinek CZR Jelinek                         
40 Manuel Pino (Spa) Blanco                        
41 Daniele Modolo/Attillio Santi (Ita) Tandem      
42 Daniele Modolo (Ita) Bike & More                
43 Steven Pauwels (Bel) www.reevax.be              
44 Karsten Kaas (Den)                              
45 Bernd Lautner (Aut)                             
 
Women classification
 
1 Rosi King (Aus)                          29.13.49
2 Lisi Hager (Aut) MBR 2radChaoten SWAT     2.17.07
3 Debra Eason (Aus) Eason                   7.29.04
 
Light classification
 
1 Kel Boers (Aus)                                  
2 Peter Johnson (Aus)                              
3 Jon Johnson (Aus)                                
 
Points classification
 
1 Mauro Bettin (Ita) Red Bull                    67 pts
2 Roland Stauder (Ita) Red Bull                  50
2 Jaap Viergever (Ned) TTTSW                     45
4 Adam Hansen (Aus)                              39
5 Alberto Elli (Ita) Dream Team                  34
6 Robert Hotter (Aut) Team Sport Nora            15
7 Tim Vincent (NZl)                              10