MTB index page for all MTB content
Crocodile Trophy - NE
Australia, October 21-November 2, 2003
Main Page Results Previous Stage Next Stage
Stage 4 - October 24: Koombooloomba Dam - Minnamoolka 138 km
Bettin does it again!
By Christi Anderson
Mauro Bettin (Red Bull) salutes as he wins stage 4
Photo ©: Mark Watson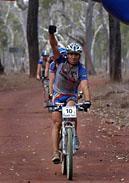 Mauro Bettin, race leader, rode the entire stage on semislicks including the first 40 km of technical rain forest. In dramatic contrast to Bettin's flawless ride was Phil Anderson's crash and burn at km 20. At approximately 50 kph Anderson came unstuck in a noisy horrific crash. The entire peloton stopped and stared as Anderson pulled himself off the ground. Suffering meters of road rash, a couple of whopper hematomas and lots and lots of bruising.
Bettin said of Anderson, "I did not think he would get up. He is one strong man!" Anderson amazingly finished 8th at 20 mins. Anderson said, "I will make it to Cairns."
Elli, Stauder and Viergever all rode every km with Bettin who out sprinted the trio at Minnamoolka Station. Elli also looking strong and Viergever still playing it cool. Stauder rode the entire stage on knobbies.
The tropical rain forest was a beautiful combination of lush green foliage and log bridges. Technically the first 40 km of today's stage was a true test of skill. Due to the shadows which were falling across the single track the riders had to keep cool and supple as the visual field changed with each new challenge. Just ask Anderson, who still has no idea what caused his crash.
Dream Team's David Olle had a brush with the native wild life as he was cycling along alone. Olle finding himself in "no man's land" with no one coming from behind and no one close enough to catch in front, was wishing for some company when our of the trees appeared three Emus. David, who did not which to change his tempo and could see that the giant native birds were itching to cross the track in front of him started to make little noises to keep them away. Then the first one bolted across, David gave a little louder warning, but number two let rip with a crossing.
Adam Hansen and Tim Vincent
Photo ©: Mark Watson

At this point David began yelling "Nooooo, Noooooo, Noooo" but the last bird paid him no mind and jumped onto the track. Instead of simply crossing the bird turned 90 degrees and began to jog in front of Olle. With no one else to draft Olle got on the wheel and allowed the Emu to have a turn on the front. Olle said, "I was trying to think of a way to get the bird to swap a few turns with me, he was going alright."
And that's the way the 138 km stage played out with the front runners averaging 28 kph over the 138 kms.
Photography
Images by Mark Watson
Results
1 Mauro Bettin (Ita) Red Bull               5.01.19
2 Jaap Viergever (Ned) TTTSW                       
3 Alberto Elli (Ita) Dream Team                0.02
4 Roland Stauder (Ita) Red Bull                    
5 Adam Hansen (Aus)                           10.16
6 Kris Lapere (Bel) Tom Taylor Team           11.26
7 Bart Bosmans (Bel) Tom Taylor Team          18.49
8 Phil Anderson (Aus) Dream Team              18.50
9 Robert Hotter (Aut) Team Sport Nora         18.51
10 Oyvind Aas (Nor) Dream Team                20.43
11 Tim Vincent (NZl)                          23.26
12 Frans Verbeeck (Bel)                       37.30
13 Reinhard Desmedt (Bel)                     41.47
14 Dominiek Sacre (Bel) www.reevax.be         42.59
15 Peter Paelinck (Bel) www.reevax.be              
16 Michael Bösiger (Chi)                           
17 Adrian Laing (Aus) TTTSW                   51.00
18 Rainer Rosenberger (Aut)                 1.07.33
19 Rosi King (Aus)                          1.20.16
20 Perry Moermann (Blz) Dream Team          1.20.18
21 Mark Fraeyman (Aut)                      1.27.30
22 David Olle (Aus) Dream Team              1.34.46
23 Manfred Liszt (Aut)                      1.38.27
24 Charles Blanc (Fra)                      1.41.57
25 Paul West (GBr)                          1.47.20
26 Dennis Teeuwen (Ned) TTTSW               1.47.22
27 André Vögele (Aus)                       1.48.53
28 M. Apperman/R. Donckers (Bel) Tandem     1.54.14
29 Lisi Hager (Aut) MBR 2radChaoten SWAT           
30 Ulrich Strasser (Aut)                    2.16.40
31 Miguel Blanco (Spa) Blanco               2.24.40
32 Toru Watanabe (Jpn)                      2.41.31
33 Debra Eason (Aus) Eason                  3.06.17
34 Thomas Lenzenhofer (Aus)                 3.28.56
35 Martin Meier (Aut) Team Sport Nora       4.02.40
36 Gerard Looijstyn (Ned) TTTSW             4.08.48
36 Mario Appermans (Bel) Tom Taylor Tandem         
36 Jan Jelinek CZR Jelinek                         
36 Manuel Pino (Spa) Blanco                        
36 Daniele Modolo/Attillio Santi (Ita) Tandem      
36 Daniele Modolo (Ita) Bike & More                
36 Steven Pauwels (Bel) www.reevax.be              
36 Karsten Kaas (Den)                              
36 Bernd Lautner (Aut)                             
36 Karl Arnold (Chi) Arnold                        
 
Women
 
1 Rosi King (Aus)                           6.21.35
2 Lisi Hager (Aut) MBR 2radChaoten SWAT       33.58
3 Debra Eason (Aus) Eason                   1.46.01
 
Light
 
1 Kel Boers (Aus)                                  
2 Peter Johnson (Aus)                              
3 Jon Johnson (Aus)                                
 
General classification after stage 4
 
1 Mauro Bettin (Ita) Red Bull              15.42.01
2 Roland Stauder (Ita) Red Bull                0.23
3 Jaap Viergever (Ned) TTTSW                  23.37
4 Alberto Elli (Ita) Dream Team               28.08
5 Adam Hansen (Aus)                           35.08
6 Robert Hotter (Aut) Team Sport Nora         38.07
7 Kris Lapere (Bel) Tom Taylor Team           54.35
8 Tim Vincent (NZl)                         1.00.09
9 Bart Bosmans (Bel) Tom Taylor Team        1.11.18
10 Phil Anderson (Aus) Dream Team           1.24.04
11 Oyvind Aas (Nor) Dream Team              1.33.56
12 Adrian Laing (Aus) TTTSW                 2.13.33
13 Frans Verbeeck (Bel)                     2.14.11
14 Peter Paelinck (Bel) www.reevax.be       2.17.18
15 Dominiek Sacre (Bel) www.reevax.be       2.20.00
16 Reinhard Desmedt (Bel)                   2.56.06
17 Michael Bösiger (Chi)                    3.02.09
18 Rainer Rosenberger (Aut)                 3.57.11
19 Mark Fraeyman (Aut)                      4.26.45
20 Dennis Teeuwen (Ned) TTTSW               4.36.57
21 Perry Moermann (Blz) Dream Team          4.41.56
22 David Olle (Aus) Dream Team              5.00.24
23 André Vögele (Aus)                       5.33.32
24 Karl Arnold (Chi) Arnold                 5.35.32
25 Rosi King (Aus)                          5.43.03
26 Charles Blanc (Fra)                      6.02.05
27 Paul West (GBr)                          7.13.08
28 Lisi Hager (Aut) MBR 2radChaoten SWAT    7.25.46
29 Manfred Liszt (Aut)                      7.54.46
30 M. Apperman/R. Donckers (Bel) Tandem     8.10.15
31 Miguel Blanco (Spa) Blanco               8.36.01
32 Ulrich Strasser (Aut)                    9.41.31
33 Debra Eason (Aus) Eason                 11.05.02
34 Thomas Lenzenhofer (Aus)                11.34.05
35 Gerard Looijstyn (Ned) TTTSW            12.37.23
36 Martin Meier (Aut) Team Sport Nora      12.50.21
37 Toru Watanabe (Jpn)                     12.52.15
38 Daniele Modolo/Attillio Santi (Ita) Tandem      
39 Mario Appermans (Bel) Tom Taylor Tandem         
40 Jan Jelinek CZR Jelinek                         
41 Manuel Pino (Spa) Blanco                        
42 Daniele Modolo (Ita) Bike & More                
43 Steven Pauwels (Bel) www.reevax.be              
44 Karsten Kaas (Den)                              
45 Bernd Lautner (Aut)                             
 
Women classification
 
1 Rosi King (Aus)                          21.25.04
2 Lisi Hager (Aut) MBR 2radChaoten SWAT     1.42.43
3 Debra Eason (Aus) Eason                   5.21.59
 
Light classification
 
1 Kel Boers (Aus)                                  
2 Peter Johnson (Aus)                              
3 Jon Johnson (Aus)                                
 
Points classification
 
1 Mauro Bettin (Ita) Red Bull                    62 pts
2 Roland Stauder (Ita) Red Bull                  35
2 Jaap Viergever (Ned) TTTSW                     35
4 Alberto Elli (Ita) Dream Team                  32
5 Adam Hansen (Aus)                              19
6 Robert Hotter (Aut) Team Sport Nora            15
7 Tim Vincent (NZl)                              10