MTB index page for all MTB content
NORBA series #3 - E2
Mt Snow, Vermont, USA, June 21-22, 2003
Main Page Results Previous Race Next Race
Race 2 - June 21: Mountain cross
Great expectations, great results
By Kristy Scrymgeour
Huge turn-out at Mt. Snow
Photo: © USA Cycling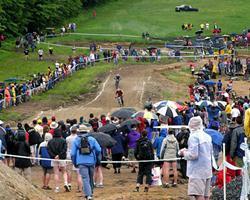 Living up to their number one seedings and crowd expectations, Eric Carter (Mongoose-Hyundai) and Sabrina Jonnier (Intense) won the Mountain cross events at today's third round of the NORBA series in Mt. Snow, Vermont.
In inclement weather but in front of huge crowds, the women's final featured Jonnier, Marla Streb (Luna Chix), Katrina Miller (Jamis) and current points leader, Jill Kintner (Staats). Jonnier, learning from last week where she was pushed around, got an excellent start and left the others for dead to take the win. Behind, Streb was able to edge out Australian Miller with Kintner crashing and having to settle for fourth place.
Jonnier was happy with her tactics and pleased that she was able to push Miller out of the way at the start. "I had a good gate last week, but everybody pushed me, so this week I pushed everybody on the outside. Katrina tried to come inside, and I pushed back," said Jonnier.
The men's event came down to Carter, Mike King (Haro-Lee Dungarees), Chris Kovarik (Intense-Fox) and Frenchman, Fabien Barel (Kona Clarks). This time it was Carter who had the good start and sped away to take the win leaving a battle for second place behind him. Kovarik came in second ahead of King and Barel to finalise the ranks of a 60-strong field.
Carter, who was riding with a broken hand, described the race in his usual metaphoric style. "The first straightaway was like thoroughbred racing", said Carter. "It was flat and tons of horsepower was being laid down; I focused on having clean shifts and getting my second, third and fourth pedals going so I could get my bars up front, take my line and make everybody back off."
Tomorrow, riders will return for the Downhill and Short-track events to complete the weekend of racing at the beautiful venue of Mt. Snow.
Photos
Images by Andy Lee/www.usacycling.org
Results

Men
 
1 Eric Carter (Mongoose-Hyundai)
2 Chris Kovarik (Intense-Fox)
3 Mike King (Haro-Lee Dungarees)
4 Fabien Barel (Kona Clarks)
 
Women
 
1 Sabrina Jonnier (Intense)
2 Marla Streb (Luna Chix)
3 Katrina Miller (Jamis)
4 Jill Kintner (Staats)

Downhill results - other categories

Expert Men 50-54
 
1 Steven Lutke (USA) Sussex Bik                    4.15.32
2 Joel Creed (USA) Gillis Fit                      4.36.04
1 Augustine Jochec US Westwood C                   3.47.96
2 Chuck Libolt (USA) Barb                          4.17.38
 
Expert Men 65 +
 
1 Peter Hawks (USA) Earl's Cyc                     5.16.17
 
Sport Men 19-24
 
1 Kristian Gratton (USA) Team Andy                 2.45.70
2 Michael Denoncourt (USA) Ncc/Bikere              2.48.40
3 Chris Bates (USA) Spy/Wheels                     2.50.63
4 Conor Rowan (USA)                                2.54.47
5 Justin Schroth (USA) Northeaste                  2.59.73
6 Stephen Crowley (USA) Blazin Bro                 2.59.99
7 David Spory (USA) Elevate Cy                     3.00.67
8 Phillip Czulowski (USA)                          3.08.17
9 Joshua Marvel (USA)                              3.08.70
10 William Potter (USA) Big Als Bi                 3.10.25
11 Matthew Jaracz (USA) Thc                        3.10.40
12 Victor Plourde (USA) Allspeed B                 3.10.55
13 Charles Pace (USA) Fronj/Tuft                   3.10.89
14 Lucas Dobie (USA) Transcend                     3.11.93
15 Micholas Baur (USA) High Noon                   3.18.02
16 Brian Tucker (USA) Rock N Roa                   3.18.60
17 Stefan Czerniecki (USA)                         3.20.14
18 Eli Shank (USA)                                 3.32.44
19 Daniel Cubicciotti (USA)                        3.32.72
20 Chris Flynn (USA)                               3.33.20
21 Phil Braun (USA) Eriecom.Co                     3.35.45
22 Michael Mchalik (USA)                           3.41.00
23 Jay Unternahrer (USA) Team Castr                3.41.58
24 Jon Cooper (USA)                                3.41.85
25 Marko Tuominen (USA)                            3.44.52
26 David Luca (USA) Northeaste                     3.50.18
27 Andrew Bencal (USA) Ld Desings                  3.57.69
28 Stephen Busz (USA)                              4.50.05
DNF Tom Bubier (USA) Maxxis/Sun
DNF Mike Rogoz (USA) Mdr Racing
 
Sport Men 25-29
 
1 Roland Dufresne (USA) Fat Black                  3.01.85
2 Jonathan Nipper (USA) Gravity Wa                 3.04.42
3 Nathan Batts (USA)                               3.04.53
4 Adrian Spiker (USA) Wisp At De                   3.06.82
5 Gabe Wegel (USA)                                 3.07.48
6 Benjamin Bink (USA) Bike Churc                   3.09.25
7 Chris Sharp (USA) Fullsnap R                     3.11.26
8 Jim Civitello (USA) Pig Iron B                   3.14.60
9 Andrew Crumpler (USA) Rocket/ Ga                 3.15.95
10 Michael Hellinger (USA) Gravity Fo              3.20.39
11 David Clifford (USA) Puple Moun                 3.21.62
12 Joshua Standish (USA)                           3.22.69
13 Tom Lehmann (USA) Springfish                    3.23.35
14 Ken Bovill (USA) Ski Market                     3.23.51
15 Lionel St Laurent (USA)                         3.33.37
16 Ken Jones (USA) Bike Churc                      3.33.94
17 Eric Pennell (USA)                              3.35.10
18 William Dahlen (USA) Hairy Gary                 3.40.29
19 Gene Moquin (USA)                               3.44.30
20 Paul Eisenberg (USA) Dirt Works                 3.47.03
21 Michael Adams (USA)                             3.48.75
22 Jaime Anglero (USA)                             3.52.90
23 Jason Bixby (USA) Advance                       4.01.09
24 Forrest Omland (USA) High Gear                  4.03.27
25 Marlon De Gannes (Tri) Team Easte               4.07.56
26 Issa Williams (USA) Back Bay B                  4.17.69
DNF Lander Junqueira (USA) Svbranding
 
Sport Men 30-34
 
1 Darren Savage (USA) Racers Edg                   2.59.68
2 Pj Crowley (USA) Blazin Bro                      3.02.05
3 David Eisenbeil (USA) Racers Edg                 3.02.91
4 Tim Stoddard (USA)                               3.06.43
5 Jason Miele (USA) Cutting Ed                     3.11.93
6 Steve Battaglini (USA) Elevate Cy                3.17.61
7 John Lockner (USA) Paramount                     3.18.08
8 Julio Monroig (PRc) Puerto Ric                   3.19.12
9 Casey Cheney (USA)                               3.20.19
10 Brendon Kelly (USA)                             3.24.09
11 Mo Mourad (USA)                                 3.24.95
12 Patrick Walsh (USA) Team Killi                  3.29.50
13 John Bazyk (USA) Full Snap                      3.33.26
14 Eddie Ostrowski (USA)                           3.34.29
15 Robert Shaver (USA) Bike Shop                   3.36.50
16 Erik Johnson (USA)                              3.36.67
17 Jim Burke (USA) Team Edge                       3.49.92
18 Robert Chismer (USA) Silver Cit                 3.57.24
19 Matthew Witkowski (USA) Paramount               4.00.48
20 James Rosensteel (USA) Team Drop                4.05.91
21 Ricardo Irizarry (USA) Puertobike               4.06.81
22 Leo Dumont (USA)                                4.22.67
23 Evan Topilow (USA) Dirtworks/                   4.25.41
24 Sean Lukemon (USA) K And K                      4.57.97
 
Sport Men 35-39
 
1 Eric Charles (USA) Racersedge                    3.00.03
2 Jon Martin (USA) Revoultion                      3.03.83
3 Darrell Szlachetka (USA) Gravity Wa              3.04.24
4 Lawrence Wells (USA) Elevate Cy                  3.04.90
5 Matthew Gadea (PRc) Matts Bike                   3.07.86
6 Douglas Southwick (USA)                          3.16.61
7 David Crumb (USA)                                3.16.79
8 Donald Brensinger (USA) Shirks Bik               3.23.93
9 Donny Traina (USA) Goat T.S.I                    3.24.10
10 Carl Hopkins (USA) Gorilla Ra                   3.25.71
11 Kevin Burati (USA) Team Liqui                   3.26.55
12 Scott Lewis (USA)                               3.27.68
13 Mike Macaulay (USA) Landslide                   3.29.01
14 Michael Nash (USA) Spare Part                   3.31.26
15 Andrew Terzo (USA) Bayridgebi                   3.36.07
16 David Jensen (USA) No Brakes                    3.44.14
17 Frank Goeckler (USA) Gravity Pi                 3.49.77
18 Mario Rojas (USA) Gorilla Ra                    3.55.57
DNF Jerry Forbes (USA) Iron Horse
 
Sport Men 40-49
 
1 William Burlingame (USA) Ck Racing               3.36.07
2 Christopher Achorn (USA) Premier Pu              3.38.41
3 Mario Cardona (USA) Dream/Amer                   3.38.83
4 Ted Spencer (USA) Gravity Wa                     3.39.86
5 George Ulmer (USA)                               3.43.25
6 Vaughn Winkler (USA) Vernon Cyc                  3.43.90
7 Seth Dawson (USA) No Brakes                      3.48.22
8 Edward Jarcy (USA) Racers Edg                    3.51.65
9 Chris Shelley (USA) Xterra                       3.56.84
10 Ken Santiago (USA)                              4.17.43
11 Jose Robert (USA) Gorilla Ra                    4.26.42
12 Stephen Ruby (USA) Team Edge                    4.31.37
13 Scott Nolfi (USA) One-Off Ra                    4.35.70
 
Sport Men 50+
 
1 Robert Odonnell                                  5.02.66
 
Beginner Men 19-24
 
1 Carlos Rodriguez (USA) Matts Bike                3.36.06
2 David Pope (USA) Bringhamto                      3.36.95
3 Michael Rice (USA)                               3.37.03
4 Brian Szeglin (USA) High Noon                    3.44.08
5 Stephan Romano (USA)                             3.52.21
6 Corey Curtis (USA)                               4.06.66
7 Quinn Keogh (USA)                                4.09.85
8 David Spring (USA)                               4.27.10
DNF Travis Woodruff (USA)
 
Beginner Men 25-29
 
1 Gonzalo Elguera PER Dh Peru                      2.58.53
2 Scott Tilton (USA) Sponsorhou                    3.21.57
3 Rj Kraus (USA) Sponsorhou                        3.37.14
4 Julio Rodriquez (PRc)                            3.46.09
5 Christopher Mitchell (USA)                       3.48.74
6 Mike Calautti (USA) Ridethecar                   4.05.08
7 Peter Stochlinski (USA)                          4.23.61
8 Werner Ennesser (USA)                            4.41.79
9 Jeff Dewhurst (USA) Didio                        5.06.93
10 Jason Sprague (USA) Sebago Out                  6.57.64
DNF Ryan Goyette (USA)
 
Beginner Men 30-34
 
1 Scott Oberg (USA)                                3.14.48
2 Felipe Aristeguieta (USA)                        3.19.06
3 Nathan Day (USA) Blazin Bro                      3.30.26
4 Tony Achilli (USA)                               3.32.07
5 Jon Safford (USA) Advanced P                     3.34.14
6 Mike Polito (USA) Team Plumm                     3.37.77
7 Thomas Wodecki (USA)                             3.38.41
8 Anthony Carrion (USA)                            3.40.72
9 Robert Woods (USA)                               3.45.58
10 Rob Archibald (USA)                             3.48.97
11 Michael Bryant (USA)                            3.51.66
12 Michael J Feeney (USA) Sownfall                 3.58.25
13 David Craig (USA)                               4.01.17
14 Rich Blair (USA)                                4.10.67
15 David Spear (USA) Team Plumm                    4.18.92
16 Brendan Joyce (USA) Team Plumm                  5.01.51
DNF Christopher Evans (USA)
DNF Brian Spring (USA)
DNF Todd Roseman (USA)
DNF Frank Vega (USA) Sic
 
Beginner Men 35-39
 
1 Scott Ladden (USA)                               3.42.14
2 Stan Sheeran (USA)                               3.51.26
3 Grant Mackenzie (USA)                            3.55.05
4 Al Gildner (USA) Azonic/Bra                      3.55.75
5 Kevin Joyce (USA)                                4.17.77
6 Edward Romero (USA)                              4.33.84
7 Gary Krol (USA) Berlin Bik                       4.56.63
8 John Zahansky (USA)                              5.14.87
9 James Vogh (USA) Worst                           5.20.14
10 Chris Cook Sr (USA) Fbr                         6.50.40
DNF Tim Kowal (USA) Profile Ra
DNF Steven Godbey (USA)
DNF Isaac Roig (USA) Dreams On
 
Beginner Men 40-49
 
1 Ned Houston (USA)                                3.32.62
2 Gerald Oleksak (USA) Shinks Bik                  3.50.76
3 Steven Godfrey (USA)                             3.56.95
4 Alan Morrison (USA)                              4.04.36
5 John Mcgroarty (USA)                             5.02.40
6 Vince Beserra (USA)                              7.42.05
DNF Kevin Sreenan (USA)
 
Beginner Men 50+
 
1 Kevin Mccarthy (USA)                             5.55.42
2 Do Sang (USA)                                    7.24.99
3 Robert Godfrey (USA)                            14.32.40
DNF Ian Fox (Ber) Bermuda Bi
 
Jr Olympic Men 10 & Under
 
1 Andrew Nassetta (USA) *                          8.59.11
2 Christopher Towne (USA)                         12.41.00
 
Jr Olympic Men 12 & Under
 
1 Geoffrey Ulmer (USA)                             3.37.88
2 Conor Lockwood (USA) Dr Outdoor                  4.15.23
3 Andrew Landers (USA) Ecv                         6.00.42
4 Caleb Thorpe (USA)                               8.04.44
 
Jr Olympic Men 14 & Under
 
1 Christopher Jarcy (USA) Racers Edg               3.10.33
2 Matthew Sebas (USA)                              3.47.73
3 Chris Landers (USA) Ecv                          3.53.26
4 Matthew Sinclair (USA) The Fix                   3.54.08
5 Rob Meissner (USA)                               3.57.70
6 James Mortell (USA)                              4.00.87
7 Jordan Richard (USA)                             4.01.37
8 Gunar Shelley (USA) Chumba Wum                   4.09.79
9 Adam Dembowski (USA) Coyote Hil                  4.27.86
10 Eben Proft (USA)                                4.28.32
11 Mackay Haedt (USA) Coyote Hil                   4.48.38
12 Trevor Ladd (Jam) Firecraker                    4.57.68
13 Eric Freeman (USA) Ecv                          5.02.19
14 Dan Gilligan (USA)                              5.24.59
15 Kyle Nassetta (USA)                             6.07.26
16 Garrett Thorpe (USA)                            6.24.02
17 Perry Savas (USA)                               6.43.27
DNF Timothy Fox (Ber) Bermuda Bi
DNF Justin Jenny (USA) Bliss Raci
 
Jr Olympic Men 16 & Under
 
1 Travis Bond (USA) Suck Creek                     2.57.32
2 Christopher Ronca (USA) Freemans B               2.57.36
3 Sam Patrick (USA)                                3.05.54
4 Daniel Hultgen (USA) Maxxis Dra                  3.06.33
5 Jimmy Adamowicz (USA) Gravity Wa                 3.12.92
6 Mitchell Towne (USA) Khs/Factor                  3.19.90
7 Brian Smith (USA) Fronj/Chum                     3.30.75
8 Chris Cook (USA) Fbr                             3.33.17
9 Shaun Stock (USA) Gravity Wa                     3.40.24
10 Mike Jerran (USA) Mad Skillz                    3.40.74
11 Nick Faust (USA) Hcor.Net                       3.40.89
12 Jarod Minghini (USA)                            3.42.83
13 Jeff Hatch (USA)                                3.43.91
14 Zachary Horrocks (USA)                          3.55.29
15 Shaun Laplante (USA)                            4.06.92
16 Morgan Ryan (USA) Racers Edg                    4.17.29
17 Daniel Moreno (USA) Gorilla Ra                  4.28.51
18 Billy Melone (USA) Mountain S                   4.41.45
 
Jr Olympic Men 18 & Under
 
1 Sam Silvey (USA) Suck Creek                      2.56.75
2 Jonathan Westland (USA) Andys Cycl               3.01.07
3 Bryan Kieffer (USA) Foes Azoni                   3.01.75
4 James Stucenski (USA) Gravity Wh                 3.05.15
5 Austin Doner (USA)                               3.15.62
6 Ben Blunt (USA)                                  3.25.23
7 Zach Gerry (USA) Ragged Mt                       3.26.61
8 Charles Patterson Jr (USA) Patterson             3.49.67
9 Benjamin Goldthwaite (USA)                       4.08.30
10 Devlin Hennessy (USA) Fronj                     4.11.62
11 Andrew Davies (USA)                             4.16.87
12 Mike Pace (USA)                                 4.20.73
13 Donald Baird (USA)                              5.10.16
DNF Nick Fenton (USA) Rockn Road
DNF Daniel Cooper (USA)
DNF Serge Thompson (USA)
DNF Ryan Ohara (USA)
 
Expert Women 40-44
 
1 Theresa Seeberg (USA) Brooklyn M                 4.01.27
2 Catherine Bearce (USA) Cycle Loft                4.04.56
3 Shari Hymes (USA) Hampton Ve                     5.12.68
 
Expert Women 45-49
 
1 Mary Scheerer (USA) Hampton Ve                   4.51.01
 
Expert Women 50-54
 
1 Kathy Burns (USA) Santacruz/                     5.16.20
DNF Lisa Reinhard (USA) Team Oxyge
 
Sport Women 19-29
 
1 Sarah Dynia (USA) Cutting Ed                     3.49.60
2 Jenna Rizzo (USA)                                3.50.53
3 Hillary Harrison (USA) Redhook Be                4.54.26
4 Kate Riedell (USA) Nebc/Cycle                    5.07.01
 
Sport Women 30-39
 
1 Leslie Pappas (USA)                              3.58.67
2 Lori Goeckler  Gravity Pi                        3.58.94
3 Kristen Cain (USA)                               5.24.78
 
Beginner Women 19-29
 
1 Amy Rose (USA) Baker Desi                        7.26.58
 
Beginner Women 30-39
 
1 Monica Boyle (USA)                               5.33.98
2 Nicole Raymond (USA)                             6.12.06
3 Susan Stapleton (USA)                            6.16.33
4 Junko Kato (USA) Rage                            6.22.99
5 Judy Keeley (USA) Rage/Harpo                     6.28.23
 
Beginner Women 40+
 
1 Vicki Koch (USA) Team Cmi                        3.58.52
2 Julie Cowell (USA) Sea Level                     4.22.51
3 Andrea Jones (USA) Team Rage                     5.12.49
4 Anna Kleinfeldt (USA) Worst                      9.04.33
 
Jr Olympic Women 18 & Under
 
1 Nicole Himich (USA) Karpiel De                   4.30.98
2 Katie Valovanie (USA) Premier Pu                 6.27.70