MTB index page for all MTB content
NORBA series #3 - E2
Mt Snow, Vermont, USA, June 21-22, 2003
Race 1 - June 21: Cross-country
Green turns faces red; McConneloug uses the force
By Kristy Scrymgeour
And then there were three...
Photo: © USA Cycling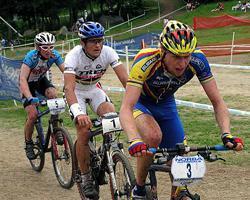 Roland Green (Trek Volkswagen) made a fine comeback from injury today to take the third round of the NORBA series in Mt.Snow, Vermont by a mere eight seconds over Seamus McGrath (Haro-Lee Dungarees). In the Women's event, Mary McConneloug (Seven Cycles) was the new star on the scene, winning the race and earning herself selection in the Pan-Am Games coming up in August.
Roland was happy with his win being his first race back, telling the media "there is no course harder than this." McConneloug was also extremely excited with her win, saying she felt "awesome all day".
How it unfolded
In the men's race, McGrath forced the pace early causing an early break. Green and Ryder Hesjedal (Gary Fisher) followed and the three maintained a significant gap until series leader Hejsedal slowly lost the wheel. Jeremiah Bishop (Trek-Volkswagen) powered past Hesjedal hopping into third place in chase of the two leaders.
With one lap to go, Green was able to get a small gap on McGrath that he held to the finish on the technical root-ridden course. McGrath came in second in front of Bishop and Hesjedal.
Mary motors home
Photo: © USA Cycling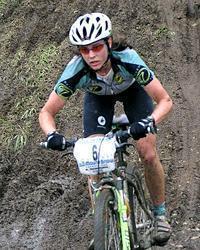 Despite his fourth place, Hesjedal was happy with his ride, holding great respect for Green who came into the race with fresh legs. "I am leading the series and you can't always have a great day. The overall series is my main agenda at this stage," said Hesjedal.
In the women's field it was a case of the hare and the tortoise, with Mary McConneloug starting conservatively while race favourite Jimena Florit (RLX Ralph Lauren), teammate Willow Koerber and Alison Sydor (Trek Volkswagen) went for the early break, leaving McConneloug to come from behind.
Which McConneloug proceeded to do: she caught the leaders and rode straight by them. Sydor managed to chase her down in what became a game of musical chairs, with McConneloug soon finding herself in a chasing position once again. However, with much to gain and little to lose, McConneloug found the power and strength in the hills to reel in Sydor and hold her off to take her first ever NORBA win, with Florit and Sydor coming in second and third respectively.
Being the final selection race for the Pan-Am Games in early August made Mt. Snow a special event for McConneloug. And somewhat unusually, this was the first time this year an American woman has been on the podium in a NORBA event.
Photos
Images by Andy Lee/www.usacycling.org
Men
Women
Images by Jeffrey Zelek
Women
Men
Results
Men

1 Roland Green (Can) Trek-Volkswagen
2 Seamus McGrath (Can) Haro-Lee Dungarees
3 Jeremiah Bishop (USA) Trek-Volkswagen
4 Ryder Hesjedal (Can) Subaru-Gary Fisher

Women

1 Mary McConneloug (USA) Seven Cycles
2 Jimena Florit (Arg) RLX Ralph Lauren
3 Alison Sydor (Can) Trek Volkswagen

Semi-Pro Men Cross Country
 
1 Brian Narum (Trek)                             2.32.18
2 Nick Ranno                                        2.20
3 Roger Aspholm (Westwoood)                         4.09
4 Alex Hagman (Fort Frame)                          5.13
5 Timothy Platt (Dirty Harr)                        7.24
6 Brian Schworm (Pedal Powe)                        7.31
7 Todd Helmick (Trek Grass)                         8.11
8 Robert Cotton (Structural)                        8.40
9 Cris Fox (For Hire)                              10.08
10 Matthew Bailey (Trek Grass)                     10.18
11 David Duvall (Trek Vw)                          10.22
12 Collin Becker (Fuentes De)                      10.57
13 Justin Rinehart (Sobe/Canno)                    11.50
14 Nathan Ringquist (Tm Dried P)                   11.57
15 Harlan Price                                    12.06
16 Miles Venzara (Trek/Honey)                      12.36
17 Joshua Powers                                   13.31
18 Malcolm Richardson (Sobe/Canno)                 13.38
19 Terry Walls (Sobe/Canno)                        14.28
20 Lucas Livermon (Clif Bar)                       14.43
21 Ross Scatchard (Bliss Raci)                     15.42
22 Spencer Powlison (Bliss Raci)                   15.46
23 Robert Giannini (North East)                    16.46
24 Daniel Corum (Easton/Cli)                       17.06
25 Andy Mills (Trek/Vw/Jb)                         17.15
26 Troy Michaud (Trek New E)                       17.32
27 Shane Bresnyan (Soulcraft)                      19.03
28 Edwin Barrios (Sobe)                            19.03
29 Christian Favata (Tablerockt)                   20.33
30 Jarett Sweeney                                  20.36
31 Josh Snead (Sycip Raci)                         22.23
32 Jon Rowe (Eiger)                                24.59
33 Donald Snoop Jr (Sobe/Canno)                    26.29
34 Kip Biese (Giant)                               28.55
35 Brian Behrmann (Sobe Canon)                     30.36
36 Forrest Huisman (Cyclepaths)                    31.36
37 Brooke Scatchard (Sobe/Canno)                   33.46
38 Arlo Buijten (Titus/Mich)                       36.00
39 Daniel Bonora                                   36.27
40 Alejandro Siguere (Trek Guate)                  43.29
41 Erik Peterson (Dirtworld.)                      46.34
42 Justin Scott                                  1.04.03
DNF Greg Montello (Ecv Elite)
DNF Adam Swartzbaugh
DNF Chris Hopwood (Gary Fishe)
DNF Ryan Lynch (Cu Cycling)
DNF Troy Wells (Tm Devo Ba)
DNF Jarrett Sweeney
DNF Jay Noonan (Flathead C)
DNF Patrick Bush (Clif Bar)
DNF Jason Leith (Shimano)
DNF Chris Kuhl (Highspeedc)
DNF Brian Clark (Exposition)
DNF Brian Pashley (K2)
DNF Steven Carwile (Kona/Kenda)
DNF David Joncas
DNF Brandon Eifrid (Westwood V)
DNF Scott Kylander-Johnson (Ski Hut/Tr)
DNF Daniel Evans (Team Wv)
DNF Tim Norrie (Salsa Cycl)
DNF Michael Zocchi (Landrys/Li)
 
Junior Men Cross Country
 
1 John Devine (Trek/Vwjbl)                       2.31.21
2 Sam Schultz (Big Sky Cy)                          2.50
3 Michael Mcclure (Balance Ba)                      6.27
4 Bryan Fawley (Wv Mtb Rac)                        14.20
5 Joey Thompson (Balance Ba)                       19.40
6 Brandon Draugelis (Guys Racin)                   20.02
7 Scott Allen (X-Men)                              21.50
8 Bennett Pifer (United You)                       23.36
9 Ethan Johnson (Balance Ba)                       28.00
10 Daryl Wilson                                    28.45
11 Evan Piche                                      29.06
12 Edward Burress (Cane Creek)                     29.32
13 Rand Miller (Soulcraft)                         29.56
14 Colin Coates (Coyote Hil)                       30.18
15 Russ Bowden (The Clean)                         32.37
16 Joseph Adams (Bliss Raci)                       32.37
17 Christopher Phillips (Balance Ba)               33.09
18 Pete Hall (Youthcycli)                          35.52
19 Leif Trott (Vms)                                37.47
20 Jamey Driscoll (Vbs)                            38.30
21 Noah Singer (Sobe/Canno)                        39.41
22 Brian Firliet (Coyote Hil)                      42.09
23 Jimmy Lawrence (Windham Mt)                     43.21
24 Kyle Hammaker                                   43.40
25 Ben Houston (Bliss Raci)                        43.51
26 Nicholas Mcgowan (Bicycle Po)                   43.53
27 Matthew Sheldon (Competitor)                    44.05
28 Travis Livermon (Elite Fitn)                    44.23
29 Matthew Williams (Coyote Hil)                   45.39
30 Ryan Buerman (Youth Cycl)                       45.40
31 Jerome Townsend                                 46.26
32 Ismael Cid (Treadbikes)                         50.12
33 Matthew Gauffin                                 50.56
34 Nick Pedatella (Highspeedc)                     52.52
35 David Diamond (Bliss Raci)                      53.51
36 William Hedin (Competitiv)                      56.21
37 Colby Jesset (Bliss Raci)                       57.11
38 Tom Sylvia (Mtbmind.Co)                         58.20
39 Zachary Lance                                   58.59
40 Gavin Vaughan (Banagans)                      1.01.40
41 Ian Sullivan (Catamount)                      1.02.30
42 Eric Desautels (Pedalsnpac)                   1.02.50
43 Jacob Ringquist (Balance Ba)                  1.07.00
44 Charles Patterson Jr (Patterson)              1.21.49
DNF Seth Harney (Bcd.Bcd.Co)
DNF Jason Ayr (Peak Perfo)
DNF Rand Shoaf (Compass Co)
DNF Christian Reed (X-Men)
DNF Casey Macniven (Bikehampto)
DNF Alex Hodge (Devo/Balan)
DNF Chris Hinshaw (Sea Level)
DNF Steven Whitley (Youthcycli)
DNF Ethan Gilmour (Efta Jr De)
DNF Pat Carey (Coyote Hil)
DNF Chris Kohnle (Capital Ve)
DNF Michael Cummings (Ford/Spy)
DNF Brian Weldon (Independen)
DNF Christopher Ziegler (Bakou Bike)
DNF Aaron Choi (Coyote Hil)
DNF Jordan Carr (Cli)
DNF Graham Flinn (Burke Moun)
DNF Andrew Thompson
DNF Perry Paolini (Balance Ba)
DNF Peter Ciasca (Sea Level)
DNF Adam Mcgrath (Ritchey/K2)
DNF Shanta Keller (Team Grima)
 
Junior Women Cross Country
 
1 Caitlyn Tuel (Sobe/Canno)                      2.27.59
2 Hilary Wright                                    12.53
3 Kathleen Weber                                   15.06
4 Chenoah Hendershot (Sobe Canno)                  23.31
5 Mara Abbott (Mtbchick.C)                         26.53
6 Grace Koerber (Balance Ba)                       33.01
7 Chantel Shoemaker (Ritchey No)                   47.30
DNF Sabra Davison (Balance Ba)
DNF Stephanie White (Daiglecorp)
 
Junior Men 1-10 Cross Country
 
1 John Adamy (Jamis/Rock)                        0.05.11
2 Tristan Poplar                                    0.06
3 Connor Hunt (Mom)                                 0.31
4 Lane Drummey                                      0.58
5 Andrew Parsons (Mom)                              1.44
6 Andrew Stewart                                    1.48
DNF Peter Robinson
DNF Justin Golec
 
Junior Men 11-12 Cross Country
 
1 Samuel Williams                                   6.47
2 Brad Grasl                                        0.29
3 Pat Garner (Team Swift)                           0.48
4 Taylor Gaines (Team Swift)                        0.59
5 Chris Overton                                     1.16
DNF Tyler Golec
 
Junior Women 1-10 Cross Country
 
1 Elizabeth White                                   5.16
2 Kasey Stewart                                     0.55
 
Junior Women 11-12 Cross Country
 
1 Trine Kroll                                      10.49
DNF Akauba Casuiooi (Team Edge)
 
Junior Men Mountain Cross
 
1 Kyle Strait (Redbull/Oakley)
2 William Greathouse (Profile Racing)
3 Ryan Hawks (Bliss Racing)
4 Avery Buch (Evil Bikes/E13)
5 Tyler Jorgenson (Swift/Mtbx.Com)
5 Cole Bangert (Colorado Bike Service/Manitou)
5 Matt Sturgeon (Santa Cruz/Spy/Sombrio)
5 Tim Kachel (Planet X)
9 Dominick Demaio (Oakley/Hcor.Net)
9 Chad Mccurdy (Cycle Fit)
9 Sean Brown (Intense/Saturn/Wis)
9 Ryan Mulder (High Gear Racing/ Giant)
9 Ben Haulenbeek
9 Jade Jenny (Bliss Racing)
9 Dexter Levandoski (Rpm/Yeti)
9 Tyler Achorn (Premier)
17 Thomas Aaby (Balanced Rock Bike Shop)
17 Keith Washco
17 Billy Delacroix (Rpm/Yeti)
17 Derrick Deming (Ski Rack)
17 Cody Greatbatch (Andys Cycle/Chumbe/Sunringle/Maxxis)
17 Brian Hebert (Azonic)
17 Jason Corriveau (Team Drop)
17 Oliver Levick (Chumba Wumba/Banaghas)
17 Michael Ontiveros (The Fix Bike Shop)
 
Expert Men 19-29 Mountain Cross
 
1 Nathan Bargiel (Tld Spy Whitebros)
2 David Flynn (Spy/Wachusett Cycle)
3 Jason Beckley (Athens Bicycless)
4 Walter Dunn
5 Mike Gonyea (Ck Cycles)
5 Zachary Griffith (Rpm/Yeti)
5 Michael Valach Jr (Santa Cruz/Maxxis)
5 Alex Dunistan (Evil & Aberrant Clothing)
9 Tom Murphy (Dirtworks/Tm Eastern)
9 Gary Bethea (Pro File)
9 Chad Macwhinney (Dirtworks/Team Eastern)
9 Tom Bubier (Maxxis/Sun Ringle)
9 Matt Slater (Jos Bike Shop)
9 Michael Tobler (Evil Bikes/Ec Dirt)
9 Kevin Jerram
9 Paul Koslovsky (Transcend/Orange)
17 Philip Quinn (Northeastern Univ)
17 Chris Carleton (Evil Bikes/E13)
17 Jason Carpenter (El Mariachi)
17 William Hansen (Landrys)
17 Nathan Brown (Bostonfreeride.Com)
17 Pat Ferland -5150
17 Jess Kieffer (Foes Azonic/Arrow)
17 Greg Vogt (Tld/ The Fix)
17 Jeff Galego (High Gear Racing)
 
Master Men 30-39 Mountain Cross
 
1 Jeff Theriault (Team Cycleloft)
2 Chuck Valenzuela (Khs)
3 Mike Kulp (Dirt Works/Team Eastern)
4 Martin Seligmann (Base Brooklyn)
5 Chris Gil (Team Swift/Mtbx.Com)
5 Phil Cook
5 Mike Trimble
5 Lawrence Oliver
9 Chad Lawrence (Kingston Cyclery)
9 Gary Bischoff (Get Outside Bike Shop)
9 Aaron Potter (Azonic/Kendra)
9 Michael Gee (Romic/Intense)
9 Shawnee Mcgovern (The Fix/Lenzsport)
9 Stephen Cavalear (Pro Cycles)
9 Kevin Erickson (Smokin Krazy Pr)
9 Rodney James (Team Eclipse)
17 Phil Fragale (The Bike Shop)
17 Doug Quinn
17 Jay Kolarik -420
17 Todd Wilson (Gravity Warehouse)
17 Glenn Davis (Team 420/Aztech Frames)
17 Jay Schwartz (Mt. Perk Cycler)
17 Anthony Howard (T And E Cycles)
17 Keith Wentworth (Elevate Cycles/Iron Horse)
17 Curtis Warren (Landslide)
17 Shane Hensley (Velocity Racing)
 
1 Jay Barrows (Avalanche Dh Racing)
2 Joel Creed (Gillis Fitness Cycle)
 
Senior Women Mountain Cross
 
1 Amanda Shaffer
2 Karen Edwards (Honey Stinger/Spinergy Cycling)
3 Amy Rose (Baker Designs)
4 Leana Gerrard (Sobe/Cannondale)
5 Samantha Allen (High Gear Racing)
5 Allison Sigler (Evibike/E13)
5 Carmen Marin (Azonic/Oneal)
5 Stacey Osburn (High Gear Racing)
5 Nicole Himich (Karpiel Design/Planet Bike)
5 Jackie Dechamp
5 Mary Jordan (Trail Master Touring/Et Racing)
 
Beginner Men 19-39 Mountain Cross
 
1 Ryan Goyette
2 Joshua Krzyzek (Team Weeeeeeee)
3 Jesse Bouchard
4 Jon Safford (Advanced Paintpowerwash)
5 Al Gildner (Azonic/Brasilia Griu)
5 Greg Fisher (Mount Snow)
5 Robert Pratt (Eiger)
 
Sport Men 19-39 Mountain Cross
 
1 Gabe Wegel
2 Joshua Marvel
3 Darren Savage (Racers Edge/ Y.A.F.R.O.)
4 Nicholas Baur (High Noon)
5 Chris Bates (Spy/Wheels Of Progress/Painwerx)
5 Joshua Standish
5 Michael Denoncourt (Ncc/Bikereg.Com)
5 Tom Platz (Mt Perk Cyclery)
9 Dave Stedman (Hcor.Net)
9 Chris Flynn
9 Kristian Gratton (Team Andy)
9 Travis Williams
9 Jeff Dardenne
 
Junior Men 1-18 Mountain Cross
 
1 Witt Foster
2 Morgan Ryan (Racers Edge)
3 Colby Jesset (Bliss Racing)
4 Brodie O'brien
5 Ben Blunt
5 Ben Houston (Bliss Racing)
5 Travis Mann-Gow
5 Ryan Ohara
9 Bryan Kieffer (Foes Azonic Arrow)
9 Serge Thompson
9 James Stucenski (Gravity Whrse)
9 Austin Doner
9 Devlin Hennessy (Fronj)
9 Charles Patterson
9 Sam Carlson (Earls Cyclery And Fitness)
9 Jarod Minghini (Mingo Clan)
9 Robbie Wait
9 Mike Jerran (Mad Skillz)
 
Junior Men 1-16 Mountain Cross
 
1 James Mortell
2 Jordan Richard
3 Justin Jenny (Bliss Racing)
4 Matthew Sinclair (The Fix)
5 Timothy Fox (Bermuda Bicycle Assoc)