Tales from the (Cuban) Peloton
Joe Papp's Vuelta a Cuba diary: Part II
Sweet success at the Vuelta a Cuba
Photo: © Joe Papp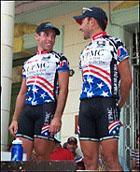 Joe Papp, 28, is a UCI Elite rider with the UPMC cycling team. In 2002 he won the GS Mengoni Grand Prix, the BMC NYC Cycling Classic for elite amateur men and a stage at Superweek, among other events.
In the second part of Joe's diary, Papp records his feelings and experiences during the event he's being training and racing for, the Vuelta a Cuba, a UCI 2.5 stage race over some 13 days.
Part I of Joe Papp's Vuelta a Cuba diary
The team's goals for this Vuelta are simple:
Win a stage
Finish top 5 overall in the team classification
Finish one rider in the top 10 overall
With the support of our loyal sponsors, we've been able to assemble a team of quality riders capable of accomplishing these objectives. Riding this Tour of Cuba for team UPMC will be: Gerardo Castro, Todd Herriott, Larry Perera, Mateo Sasso, Alvaro Tardaguila and myself. Mike Norton will compete as a member of the mixed international team sponsored by the Union Deportiva Internacional.
Tuesday, February 11, 2003: Vuelta a Cuba - Stage 1, 153km
Today was the worst day of my cycling career and I almost quit the Tour of Cuba on its first stage. Woke up feeling tweaked after a poor night's sleep, like something was definitely amiss with my body. Today's stage started with 15km of flats before the 20km mountain, and before we arrived at the hill, I followed an attack by Falcon that was also covered by a Frenchman. While we got a small gap, after 10 minutes of climbing a larger group absorbed us. Unfortunately, despite feeling good on the hill (albeit with a high heart rate), I punctured and spent the rest of the climb chasing in a small group with Eliecer Valdes. We caught the bunch by the end of the descent after 40km.
Rolled at the back of the group feeling woozy and sick until 60km to go, when I could no longer hold the pace and was dropped. Struggled to maintain 22km/h and felt progressively worse, when our soigneur drove by and said he would let the doctors know that I was in trouble. The medics waited for me on the side of the road (by this time I must have been miles behind the caravan) and I stopped for treatment that consisted of three intravenous injections of glucose, sodium chloride and a non-narcotic analgesic. Remounted and carried on, with the ambulance following closely behind and the doctor shouting encouragement. Where last year I was in the lead group during the closing kilometers of this stage, here I struggled just to keep pedaling. I even stopped with the intention of abandoning with about 40km to go, but the doctor put me back on my bike and said soldier on. Crossed the line 2 minutes before the time cut.
Totally shattered when I finished and got a lift to the hotel in the back of an ambulance. Showered and laid down to await the doctors. This was a day I would like to forget but never will. Winning a stage here seems like a fantasy now based on how much I suffered today, especially as I am the lantern rouge.
Wednesday, February 12, 2003: Vuelta a Cuba - Stage 2, 138km
Felt a lot better today but am still very weak. Was going OK up until about 10km to go to the finishing circuits in Santiago de Cuba when a crash took out Larry, Mike Norton and me, amongst others. We chased hard to get back on but couldn't catch the field and were forced to take prorated times for the stage.
Treated again by the doctors in the afternoon. Am now also taking antibiotics and an anti-flagellate. Just a note - there is nothing performance enhancing about these products. I feel like death, as if there was no blood circulating through my body.
Thursday, February 14, 2003: Vuelta a Cuba - Stage 3, 156km
Hard stage. Team rode well all day protecting Todd Herriott, our GC rider. Alvaro and I schlepped bottles back and forth to the car all day, and all of us took turns keeping Todd out of the wind and making sure he didn't drop too far back in the bunch.
The stage finished with 20km of gradual climbing with several steep ascents and descents. After working hard all day for the team, I sat up with some of the other domestiques with about 15km to go. Rolled in very easy with three of the Cropusa (Spain) riders, one of whom caused yesterday's crash.
After we came over the KOM portion of the climb, we had to descend an insanely psychotic portion of corrugated road. Todd, who was in the lead group, said it was as if they'd picked "the worst road in the Bronx and added washboard to it." The pitch of the climb and descent was so steep that I was hanging off the back of my seat just to keep from going over the bars. It wasn't suitable from 4x4 vehicles, yet alone bicycles, but there it was. No es fácil, compañero. Todd couldn't believe that they would finish the stage with such a dangerous section of road, so he dropped a bit off the back of the lead group with the intention rejoining before the finale. Alas, there was about 800m of climbing up just as steep and corrugated a section of road after the descent, which didn't allow much time to move back up.
Nonetheless, we had a good stage, finishing Todd, Jerry and Mateo all in the first two groups. Unfortunately, tragedy struck after the event, when two commissars who were descending on motorcycle from the stage finish crashed and were severely injured. While neither were close friends, I knew them both and wish them and their families the best.
Friday, February 15, 2003: Vuelta a Cuba - Stage 4 - 90km
This was the first stage that we thought we had a reasonable chance of winning, but unfortunately, things didn't work out and our best finisher was Todd in 8th. Last year, there was a very strong crosswind that cut the field to ribbons, but this year, it was by and large a headwind. While Mateo, Coto, Jerry and I launched a savage attack after about 20km, the wind stayed crossed only for 2km. Todd finally got away in a small group, with an Italian being the last to cross to the break. Both Mateo and I had the chance to go with him, but we figured it was better to let him go rather than risk sparking a reaction from the field by latching on (and potentially putting two of us in the escape).
Soooo, we chilled, bided our time and hoped that if the move didn't come back, Todd might get away on his own for the win or at least pick-up time on his rivals. Much to his credit, Herriott put in a huge, huge attack that saw him go clear with 3km to the line, but he couldn't hold off the hard-charging group. Mateo gave me a great lead-out for the field sprint, but my Cuban nemesis Joel Mariño nipped me on the line for 11th. Todd did move up to 15th overall, and the team climbed to 6th.
Saturday, February 16, 2003: Vuelta a Cuba - Stage 5, 202km
Wow - what a day! To my greatest delight we won the stage, moved into 3rd in the team classification and Todd climbed to 3rd overall on GC! We started incredibly fast and after 10km a break had formed that included Eliecer Valdes, William Leiva of Holguin, two Spanairds, two Frenchmen, several provincial Cuban riders, Mateo and myself. One of the Spanairds was dropped after only 15km but Todd crossed the 30-second gap from the field solo. This was incredibly impressive, since we were going fast enough to average 51.4 km/h for the first hour and 49.5 km/h for the second. Even more astounding was the fact that it took us over one hour to gain a minute on the field, so strong was the chase.
Shortly after we completed 100km, however, the field eased for six minutes, enabling us to dramatically increase our lead. The break worked so smoothly together for the first three hours that we had almost 10 minutes on the field with 50km to go and 4 minutes on a chase of five.
With Mateo and Todd doing the work of three, and Eliecer not missing a pull, I was able to conserve energy for the sprint, in hopes of being the first North American to ever win a stage of the Vuelta a Cuba. For the past two months I've thought of little else, and all of the km's I rode in the blistering heat of Uruguay were with the intention of preparing me for this moment. The race is only a 2.5 on the UCI calendar, so there aren't many points for a stage win, and the money is not great, but it would be quite symbolic for an American to win in Cuba and quite poignant for me personally. Thus, as the attacking started with 10km to go, my teammates and I covered every move until 6km to go, when Todd took over at the front.
The run-in to the line is incredibly fast, on a four-lane road into the center of town. Todd floated along at over 50km/h, with me on his wheel and Mateo protecting mine. After a 90-degree left hand turn, Eliecer took over with 1km to go. He wound up the pace until I launched in my 53x11 from second position with 200m to go, holding off William Leiva to win the stage. Mateo finished third, almost catching the Cuban on the line.
This was one of the best days of my sporting career, not just because I won the stage. In fact, while I crossed the line first, the UPMC team won the stage. Without the help of all of my teammates, especially Todd and Mateo, I couldn't have done it. They made it easy, and all I had to do was ride hard for 200m. Fraysee, our soigneur Ricardo Salazar and the organizers were all incredibly pleased, and I think our invitation for next year is guaranteed!
Now we need is to protect Todd's newfound 3rd overall and ensure that the team doesn't fall out of the top-5 (holding onto 3rd would be fantastic!). Tomorrow will be very difficult, and I expect that the attacks will start early. However, there are still nine more stages to race, and much can happen.
Editor's note: Stages 7-13 to follow soon