Tales from the (Cuban) Peloton
Joe Papp's Vuelta a Cuba diary: Part I
Sweet success at the Vuelta a Cuba
Photo: © Joe Papp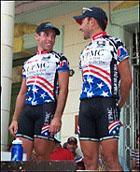 Joe Papp, 28, is a UCI Elite rider with the UPMC cycling team. In 2002 he won the GS Mengoni Grand Prix, the BMC NYC Cycling Classic for elite amateur men and a stage at Superweek, among other events.
The first part of Joe's diary begins with Papp's weird, wild and often wonderful experiences in Cuba, including his final preparation race before the Vuelta a Cuba, the Vuelta a Cienfuegos, a 5-day stage race over some 559 kilometres.
Sunday January 26, 2003
Arrived in la Habana today with two of my teammates for the trip, Mike Norton (a fellow UPMC rider) and Larry Perera, soon to be of sportbook.com fame. We had reconciled ourselves to spending our few days at the same apartment/hotel complex that Larry and I crashed at after the Cuban Olympiad in December, but no such luck. Instead, we're barracked at the Velodrome. The Spaniards from the Cropusa team are already checked-in and I didn't see many happy faces.
To understand what it's like to stay at here, imagine if a nuclear holocaust wiped-out most of Colorado Springs, including parts of the OTC [Olympic Training Centre], but a scrappy group of permanent residents scavenged just enough copper wire and corrugated tin to make the place inhabitable by more than just cockroaches.
If you've ever read Ayn Rand's Atlas Shrugged, you might remember the phrase "Who is John Galt?" It was uttered by many of the novel's lesser characters as an expression of frustration and lack of hope for the future. Well, the Cuban version has to be "No es fácil, compañero," which loosely translates to: "It's not easy, companion/friend." We heard this a few times tonight and expect it to make a regular appearance during the next month.
Monday, January 27, 2003
Larry saves the morning by producing a french press and a one pound. bag of Starbucks Italian Roast coffee. Great job, Larry! Mike has a box of Tazo tea but isn't sharing. I'll have to wait until Todd Herriott gets here with my supply.
In the afternoon I rode to my ex-girlfriend's mom's house to borrow some blankets from her, as it's rather cold in our room in the 'drome and the wind seems to be finding its way directly into my bed. Tomorrow we transfer to Cienfuegos, a city 340km to the southeast of Havana, for the five-day Vuelta a Cienfuegos.
Tuesday January 28, 2003
Up at the ungodly and just plain stupid hour of 4am to eat breakfast before we piled into an old yellow school bus for the trip to Cienfuegos. The Cuban Cycling Federation used to have a blue, tourist-style bus that we rode around in all over Cuba, and they also enjoyed the use of a bigger, better (but still old) bus provided by INDER, the Ministry of Sport and Education.
Now, however, the blue "wawa" (Cuban slang for bus) is dead, and relations are icy between the Federation and INDER - thus, the borrowed school bus. Our bikes and extra luggage went to Cienfuegos in a container truck, but unfortunately, it didn't arrive until the evening (yet we were there by 8:30am) so no one trained today. No es fácil, compañero.
Wednesday January 29, 2003
Slept in before our first breakfast in Cienfuegos. We're staying in the same peso hotel as last year, though without the benefit of a working pool. The word in the villa is that there aren't any chemicals to clean the water, and the filtration system is broken anyway. No es fácil, compañero.
Mapei set a high standard for self-sufficiency during the Vuelta a Cuba last year, bringing with them enough food so that they could basically skip the Cuban meals. While the three of us certainly aren't Mapei (no reminders necessary), we did bring a stock of peanut butter and honey to get us through the otherwise dreary meals that are served-up outside of the tourist hotels. Count on rice, beans, chicken and bread for lunch and bread, chicken, beans and rice for dinner, with a spot of bread for breakfast.
The fact that these guys kick our asses day in and day out while subsisting on diets that are insufficient in vitamins, minerals and just plain calories is a testament to their class and determination. They survive and succeed despite the communist system, not because of it.
Thursday January 30, 2003: Vuelta a Cienfuegos - Stage 1, 97km
Gave an interview this morning before the start of today's stage in which I told the reporter that we hoped to win a stage here or take the leader's jersey, even though there are only three of us. I don't think she believed me then, but after the race, she apologized to us for her skepticism.
The race started super, super fast, and even though there were two riders away, I asked Larry to lead me out for the first intermediate sprint (meta volante) at 25km. While he couldn't bring back the breakaways in time for me to score points, Larry did provide the perfect set-up for an attack. As he swung off with 50m to go to the line, I attacked along the left side of the road and hammered to an immediate gap. We caught the field totally unawares, except for a Cropusa who used to ride for Kelme. He started across the gap and I eased up a bit to wait.
Once we were together, we started riding tempo before we were joined by five other riders, including Damian Martinez, who won a stage at last year's Vuelta a Cuba and Eliecer Valdes, who at 38 is the oldest elite rider still representing Cuba in international competition. While I was never really in trouble with this group on the run-in to the line, I was judicious in how much work I did, in anticipation of the one-two-three Cuban triple-team that was sure to come in the finale.
As predicted, my companions took turns working me over before the line, though Damian beat me with a fair and square sprint that was simply demonic. There's nothing like being beaten by a lean, fast trackie who's just come off of another major stage race (the Vuelta a Tachira, in Venezuela) to remind oneself of exactly where one is in his winter preparation. Still finished a respectable second overall and am first in the points competition. Have to say thank you very much to Larry for selflessly setting-up me up to attack. I couldn't have gotten away without his help.
Friday January 31, 2003: Vuelta a Cienfuegos - Stage 2, 192km
Today's stage was the longest of the race at 192km. Our plan was to protect my position in both the overall GC and the points competition, which is easier said than done with only three riders. Conserved energy as best I could until a rolling section on the autopista with 100km to go, when Damian was forced to chase a threatening attack by Yosvani Falcon. As soon as Martinez caught the break, I countered and we split the field. At one point, I was on the front, heading uphill in the 53x11 at about 53kph, but in testament to his form, Damian brought us back. Of course, the counterattack to end all counterattacks went just after and it was almost the last we saw of the race.
Thankfully, Damian also missed the break, which had a minute on the bunch with 25km to go. We were on a section of rolling road buffeted by a strong crosswind from the left, and despite an organized chase by the Cuban national track team, the gap was not coming down. Finally, Damian attacked and about six of us got clear of the field. For seemingly the longest time we were single-file in the right hand gutter while Martinez beat our brains in. The guy is so, so strong that it must be seen to be believed. He reminds me of Christian Vandevelde.
After much suffering, we made it across, and there was much rejoicing. I, however, was totally beat and hoping just to hang on to the finish, which followed the same road into Cienfuegos as yesterday's stage. The attacks went in almost the same spots, though Amaran Romero succeeded in slipping the break with 2km to go. He held on to the line, and Damian had the misfortune to break about five spokes in his 36-hole wheel just as the sprint was starting. Thus, with neither of us earning time bonuses, he stays in first and I'm second in the GC, with the order reversed in the points competition. Larry and Mike had a tough stage, finishing about 4 minutes back.
Saturday February 1, 2003: Vuelta a Cienfuegos - Stage 3, 110km
Short but tough stage from Cienfuegos to Cumanayagua, finishing with five circuits in town. I flatted midway through the stage, but Norton saved my day by swapping wheels with me. Had the Cubans noticed that I'd flatted, they no doubt would have attacked us to death, thereby knocking me down to the bottom of GC, since today's course was a difficult one on which to chase alone. However, both Mike and I got back to the bunch without problems.
The real attacking started after we passed back through Cienfuegos with 35km to go. From there to Cumanayagua the road is rolling with a strong crosswind from left to right, and the Spaniards took advantage of it to make several strong attacks. However, the most impressive move I saw was Yosvani Falcon's wicked attack on one of the final climbs and Martinez's savage response. Damian rode the Kelme Spaniard, the Colombian riding for Cropusa and me off of his wheel in pursuit of Falcon. Only the fact that Yosvani eased up let us get back to the yellow jersey. Ow.
Six riders reached the circuit with almost 2 minutes on us, but a concerted chase brought it down to 34 seconds by the line. None of the breakaways were an immediate threat on GC, but that didn't stop Damian from cracking me a second time when he again rode me off of his wheel with 500m to go to the line. Thankfully, about 25 of us were stretched out single file, which meant that I never drifted outside of the first group and clocked the same time as Martinez.
I was totally cracked after the stage and couldn't eat any of the food (or ice cream) that had been laid out for us. I rode back to Cienfuegos with William Leiva, averaging about 22kph. Bought three personal size pizzas from "el Rapido" just up the street from the villa and ate them en lieu of the same beans, rice and chicken lunch that we've had all week.
Sunday February 2, 2003: Vuelta a Cienfuegos - Stage 4, 60km
Even though Pepito last night advised me to ride easy today and tomorrow, claiming that I'd done a good enough job in the race and had the results bulletins to prove it, I felt great during today's circuit race in Cienfuegos and decided to go for it. While I didn't contest the first meta volante, I finished third in the second, earning precious points and a time bonus. I also took third on the stage, just being beaten in a crazy sprint by my Cuban nemesis Joel Mariño, who also won yesterday's stage. The end result, however, was my gaining five precious seconds and taking the leader's jersey - the first North American to ever lead a stage race in Cuba. Kind neat. In the sprint, someone banged into me from behind, cutting my right Carnac shoe and tweaking my Achilles tendon. I'll be taking a double dose of e-Caps tissue rejuvenator tonight.
Poor Larry had another tough day, owing to equipment problems. He is preparing for the 2003 US domestic season in a big way and is very psyched to be riding for a UCI D3 team. Thus, he's been piling on the miles and intensity and is trying to track it all with the help of a Power Tap hub. Unfortunately, on this trip he's had nothing but trouble with the unit, experiencing short circuits and dead batteries, and for a data freak like him, it's as if the training and racing doesn't exist because he can't record it.
I would rate my chances of holding onto the jersey after tomorrow's stage as about 2 per cent, since the course finishes with a 10km mountain called "la Ventana," which, we're being warned, requires a 39x25. Even on my best day I don't climb mountains like that very well, but Larry, Mike and I can take pride in actually having won the leader's jersey in a tough stage race against tough competition during what is still our preparation period.
Monday February 3, 2003: Vuelta a Cienfuegos - Stage 5, 100km
Joe Papp (L) summits la Ventana
Photo: © Joe Papp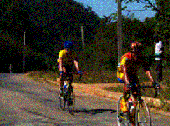 Very cool to have the jersey and enjoyed the pre-stage presentation. There was TV coverage of today's race, so we'd planned to make a good show of it all and launch some attacks and try to win both intermediate sprints to protect my second place in the points competition.
A small break went away very early, and when Mariño tried, but failed, to go across, I countered and took a small group clear of the bunch. Larry was hung-up midway between the break and the field, but when we caught him he came alive and started driving the chase. We caught the leaders, and the field was just about on top of us, but Larry went again and through sheer force of will we went clear. Larry and I were savaging the break for the first hour, and we dropped half of the riders who'd initially gotten away with us. I took second in the first sprint and won the second, and by the turnaround we had almost five minutes on the field.
A large chase group that included Valdes, Zanabria and super-climber Lizardo Benitez (aka "Costa Rica") caught us with about 30km to go to the climb. My Achilles was really bothering me so I sat on with Larry in hopes of conserving some energy for the climb. We reached the base of the mountain still in the break but I personally climbed like utter shit and am totally embarrassed with my performance. While I only dropped to eighth overall, if I'd done the climb one minute quicker I'd have finished in the top-5 overall. While I was really, really tired, what bothers me is that I mentally wasn't focused and had all but written myself off before the climb even started (see yesterday's comments). I definitely didn't push my body to its limit but hope that I can find my mental strength in time for the Vuelta a Cuba, which includes something like five or six categorized mountains.
Anyway, Benitez won the stage with old man Eliecer Valdes in second. Valdes took the overall, Zanabria was second and Adonis Cardoso third. Benitez finshed fourth overall, Damian Martinez fifth, Yosvani Amigo sixth, "baby face" Redly Peres seventh and yours truly fell to eighth. Larry was 25th overall and Mike Norton 35th.
Tomorrow we have the utterly dreadful 14-hour, 971km bus ride from Cienfuegos to Guantánamo. Next year we fly.
In the second part of Joe's diary, Papp records his feelings and experiences during the event he's being training and racing for, the Vuelta a Cuba, a UCI 2.5 stage race over some 13 days.