Recently on Cyclingnews.com
An overview of Cyclo-cross
Background Courses Bikes Riders Having a go
Running up and over obstacles is an essential element of cyclo-cross
Photo ©: Russ and Nancy Wright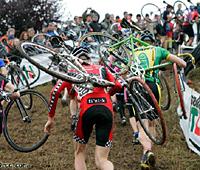 Cyclo-cross has been around since the 1940's or so, and was originally a way for road racers to maintain their fitness level through late fall and early winter. It was started in Europe where it has remained consistently popular. If you look at world class mountain bike races from the early-mid '90s onwards, the Americans (who invented mountain bike racing) are no longer dominant. Europeans win almost all the races. It's not because they picked up on mountain bike racing quickly, it is because of their background in Cyclo-cross. Several mountain bike world champions in recent years have been past Cyclo-cross champions.
Tight courses, marked with tape make cross great for spectators
Photo ©: Russ and Nancy Wright

The race course is usually a mix of grass fields, dirt roads, relatively short asphalt sections (if any), some sand (but not too deep), some mud or stream crossings (but not silly deep stuff that requires scuba gear) and several forced dismounts and running sections. The natural obstacles in 'cross courses are often less severe than in mountain bike courses, but many mountain bike racers will say that Cyclo-cross is physically harder and more painful than mountain bike racing, and of course it's very different from riding on the tarmac.
For example, there are no long, rocky single track descents in cross — in fact there are rarely any rocky sections. However, the descents might be significantly steeper, albeit shorter and on grass. Forced dismounts and running sections are the thing that really sets 'cross apart from other types of racing. Barricades 10-18in high (25-45cm) are erected in the course in sets of between two and six, and they are spaced closely enough together to prevent bunny hopping.
There's a balletic grace in the way an accomplished 'cross racer can approach a set of barricades at full speed, dismount and begin running while shouldering his or her bike, then jump the barricades, then setting down the bike, remount and pedal off. Remember that this all happens in continuous, fluid motion and there is very little reduction in speed. When I see a large field of racers do this in unison, it reminds me of watching a herd of antelope vaulting a fence or line of bushes. Other popular forced dismounts are short, very steep climbs that can't be ridden, or, sometimes, stair climbs.
Working in the pits
Photo ©: Brian Zeck

A classical Cyclo-cross bike looks very much like a road bike, but there are significant differences between the two. The rear triangle and fork have more clearance to allow for wider tires, and to help reduce mud buildup. 'Cross tires are wider than road tires, though the tyres a rider chooses will depend on the course and how wet, muddy or sandy it is. 25-35mm is more or less the common width range, still less than the 1.5in that's a common minimum for mountain bike knobbies, and have small knobs.
'Cross bikes have cantilever brakes for mud clearance and control in messy conditions. The handlebars are road-style drops ­ it's arguable whether these affect control one way or another, but they reflect the sport's origins as off-season training for road racers as much as anything else. Historically the gear shifters were fitted to the end of the handlebars and known as 'bar-cons', but STI and Ergo have become popular recently. They're significantly more expensive and somewhat heavier, though, and purists claim they're not as mud-proof or crash-resistant.
Cross bikes are usually somewhere in weight between a road bike and a light XC mountain bike ­ they need to be as light as possible because of the significant amount of lifting and carrying of the bike that is required over the course. Front shocks are very rare, since most courses have very little in the way of rocky or rooty sections, and they would add too much weight. Often the brake levers are set up opposite from road bikes, so that the left lever controls the rear brake. This is to allow for better speed modulation during a dismount, where the racer is still moving quickly, has already swung their right leg over the bike and only has their left shoe clipped into the pedal and has their right hand on the top tube (or down tube) ready to lift the bike. Using the left hand to brake the rear wheel allows for a smooth deceleration without the risk of locking the front wheel or making the rear wheel pop up.
It's not uncommon to see a 'cross bike with only have one chainring, sometimes sandwiched between "rock rings". This allows for shorter chains, and therefore less chance of the chain bouncing off, as well as reduced weight from the elimination of the front derailleur and shifter. Pedals are often double-sided clipless SPD style, used with off-road shoes that sometimes have spikes or knobs under the toes to improve traction in slippery running conditions.
2005 world champ Sven Nys
Photo ©: Roberto Bettini

Cross racing requires a combination of mountain biking and road racing skills and fitness. The races are short, so the huge endurance required for stage races on the road is unnecessary, but the constant switching between aerobic and anaerobic modes means you need a different type of endurance: the capacity to hurt (but it's a good hurt!) for 60 minutes. The ability to run, or at least to sprint for a few dozen metres, is mightily useful, and if you don't have the riding skills to control a (relatively) skinny-tyred bike on slippery surfaces, you will after a few races.
Whatever turns you on...
Photo ©: Russ and Nancy Wright

Almost all 'cross races allow mountain bikes as long as they don't have forward facing bar-ends, which are banned because of safety concerns during a crash. Most beginners will first try 'cross on a mountain bike due to cost, availability and improved stability. However, many accomplished "A" category 'cross racers will always ride a mountain bike, while others sometimes ride a mountain bike depending on the course and conditions.
The best way to understand Cyclo-cross is to go and watch a race. Make sure to bring your bike (a mountain bike is fine) so you can ride the course before the first race. Looking at a 'cross course is always confusing at first because they are typically set up with ribbons and flags marking the course, which serpentines over a relatively small area. Of course, creating a 1-3km course in a relatively small area makes securing a venue and setting up/tearing down a course a little easier AND the smaller courses makes it great for spectators! Once you ride the course and then watch a Senior "A" race you will understand all.