Cyclo-Cross World Cup #8 - CDM
Roubaix, France, January 18, 2009
Main Page Results Overall standings Previous Race
Race 4 - January 18: Elite Men, 65 minutes
Vervecken unbeatable on vélodrome
Overall win in World Cup for Nys
By Brecht Decaluwé in Roubaix, France
Erwin Vervecken (Revor) got a piece of Roubaix
Photo ©: Cyclingnews.com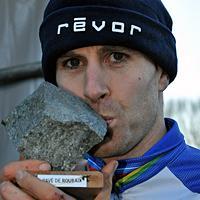 Veteran Erwin Vervecken continued his string of wins at the legendary vélodrome in Roubaix by claiming the win at today's French World Cup round. The former world champion won ahead of Czech champion Zdenek Stybar and Belgian champion Sven Nys. Despite his age of 36, it seems as if the Belgian is having his best season ever. Nys gathered enough points to secure the overall win in the UCI's World Cup.
At the Roubaix vélodrome Vervecken claims he has never been beaten. "It's my fifth race here and it's a perfect course for me. I won the Paris-Roubaix VTT in 1997, won the 'cross race three times and two years ago I lost the sprint by less than one centimeter," Vervecken said, referring to the close sprint with Gerben De Knegt.
"I've had to wait until I was 29 years old to capture my first World Cup victory. This year it's the first time I've won two World Cup rounds in one season," Vervecken said. "I'm especially happy for my sponsor because I can give him such a victory after only such a short amount of time at the team." Vervecken moved from the big Fidea team to the somewhat smaller Revor team less than three weeks ago on January 1.
The race started with a cannonball start for new father Bart Wellens. Only five riders were able to follow the pace of the Belgian, with favorites Sven Nys and Niels Albert riding in a second group. "I wasn't in trouble but I didn't have the power to move up. One by one riders started to drop back, probably because they started too fast," Nys said. By then Wellens was overtaken by world champion Lars Boom and Erwin Vervecken.
Lars Boom (Rabobank) had plenty of troubles
Photo ©: Cyclingnews.com

"Suddenly Lars was gone and I couldn't do anything else other than go for it. It was better to sit in front than in fifth position over here because it's always stretching out a lot after each corner," Vervecken said. The reason for Boom dropping off the pace was a shoe problem. The world champion was forced to stop, step off and clean the cleat of his shoe as he was unable to clip into his pedal.
Three quarters into the race Vervecken was leading the race together with Zdenek Stybar, Niels Albert, Klaas Vantornout and Sven Nys. In the final laps Vervecken powered forward and only Stybar, helped by his excellent technical skills on the dangerous downhill sections next to the famous track, was able to match the speed from Vervecken, .
"I didn't ride the downhills and Zdenek would always gain a couple of seconds there. I tried it during training and figured I would be able to do it nine times out of ten without a problem, but that tenth time might as well be my last," Vervecken said.
Going into the last lap Vervecken and Stybar were almost joined by Nys but the latter ruined his chances on the barriers. Vervecken kept going hard in the mud and he reached the legendary track with a good gap over Stybar, a gap that proved to be enough for his fourth victory in Roubaix.
Zdenek Stybar (Fidea) put in a powerful performance
Photo ©: Cyclingnews.com
Czech champion Zdenek Stybar came close but he had to settle for second place. "I had a good start but after two laps I was too warm and lost positions. Suddenly I was good again and moved back forward," Stybar said.
Jonathan Page finished thirtieth at more than six minutes behind winner Vervecken. The Planet Bike rider raced with three broken ribs, injuries he sustained at the Diegem night 'cross. "I crashed today during the warm up setting me back about two weeks in my recovery," Page said.
US champion Ryan Trebon finished more than a minute later and the tall Kona rider couldn't hide his annoyance. "It was horrible," Trebon said. "I like races that are fast. It's the third time I've raced here and I don't like those crazy downhills. It doesn't make sense. I'm never coming back here," Trebon said.
Compatriot Jeremy Powers got lapped and complained about the stack-up after the start. "We were in the third row and at every corner things were jamming up. We never had a chance to get near the front. I'm not saying that I was good, though. I was really bad and at one point I even lost my shoe in the mud. A spectator had to point out to me where it was," Powers said.
Next week, the final World Cup round of the season will be held in Milano, Italy and one week later the world championships will take place in Hoogerheide, The Netherlands.
Photography
For a thumbnail gallery of these images, click here
Images by Cyclingnews.com
Images by Mitch Clinton/www.clintonphoto.com
Images by Fabrice Lambert
Results
1 Erwin Vervecken (Bel) Revor-Jartazi Continental Team     1.05.01
2 Zdenek Štybar (Cze) Fidea Cycling Team                      0.01
3 Sven Nys (Bel) Landbouwkrediet-Colnago                      0.28
4 Bart Wellens (Bel) Fidea Cycling Team                       0.41
5 Niels Albert (Bel) BKCP - Powerplus                         0.55
6 Lars Boom (Ned) Rabobank                                    1.26
7 Francis Mourey (Fra) French National Team                   1.32
8 Klaas Vantornout (Bel) Sunweb-Projob                        1.43
9 Petr Dlask (Cze) Fidea Cycling Team                         1.54
10 Thijs Al (Ned) AA Drink - BeOne                            2.00
11 Enrico Franzoi (Ita) Italian National Team                 2.08
12 Gerben de Knegt (Ned) Rabobank                             2.23
13 Steve Chainel (Fra) French National Team                   2.46
14 Sven Vanthourenhout (Bel) Sunweb-Projob                    3.03
15 Simon Zahner (Swi) Swiss National Team                     3.13
16 Marco Aurelio Fontana (Ita) Italian National Team          3.23
17 Jonathan Lopez (Fra) French National Team                  3.32
18 Richard Groenendaal (Ned) AA Drink - Be One                4.03
19 Marco Bianco (Ita) Italian National Team                   4.15
20 Kevin Pauwels (Bel) Fidea Cycling Team                     4.36
21 Kamil Ausbuher (Cze) Exe Jeans                             4.56
22 David Derepas (Fra) UVCA Troyes                            5.11
23 Bart Aernouts (Bel) Rabobank                               5.25
24 Marek Cichosz (Pol) Legia 192                              5.33
25 Thijs Van Amerongen (Ned) Van Vliet EBH Elshof             5.46
26 Martin Zlámalík (Cze) Prodoli Racing Team                  5.51
27 Marcel Wildhaber (Swi) Swiss National Team                 5.52
28 Julien Roussel (Fra) Flers Cyclisme 61                     6.00
29 Dieter Vanthourenhout (Bel) BKCP - Powerplus               6.09
30 Jonathan Page (USA) Planet Bike                            6.15
31 Eddy van IJzendoorn (Ned) AA Drink - BeOne                 6.44
32 Nicolas Bazin (Fra) French National Team                   6.52
33 Patrick Van Leeuwen (Ned) Het Snelle Wiel                  7.23
34 Jan Chrobák (Cze) Johnson Controls AS MB                   7.35
35 Ryan Trebon (USA) Kona Cyclocross Team                     7.40
36 Fabio Ursi (Ita) Italian National Team                     7.45
37 René Birkenfeld (Ger) Stevens Cyclocross Team Hamburg      8.29
 
One lap behind
38 Peter Presslauer (Aut) Team Volksbank                      
39 Gusty Bausch (Lux) LC Kayl
40 Joachim Parbo (Den)
41 Alessandro Gambino (Ita) Italian National Team
 
Two laps behind
42 Roy Van Heeswijk (Ned) Sint Oedenrode                      
43 Julien Belgy (Fra) French National Team
44 Aaron Schooler (Can)
 
Three laps behind
45 Vladimír Kyzivát (Cze) Johnson Controls AS MB              
46 Ian Bibby (GBr) Great Britain National Team
 
Four laps behind
47 Derrick St John (Can) Stevens                              
 
Five laps behind
48 Claude Wolter (Lux) Differdange Apiflo Vacances            
49 Andre Sutton (Can) Hardcore Cycling Club



World Cup standings after eight rounds
 
1 Sven Nys (Bel) Landbouwkrediet-Colnago                           540 pts
2 Bart Wellens (Bel) Fidea Cycling Team                            452
3 Zdenek Štybar (Cze) Fidea Cycling Team                           432
4 Kevin Pauwels (Bel) Fidea Cycling Team                           424
5 Erwin Vervecken (Bel) Revor-Jartazi Continental Team             366
6 Thijs Al (Ned) AA Drink Cycling Team                             363
7 Lars Boom (Ned) Rabobank                                         356
8 Klaas Vantornout (Bel) Sunweb-Projob                             331
9 Sven Vanthourenhout (Bel) Sunweb-Projob                          331
10 Niels Albert (Bel) BKCP - Powerplus                             315
11 Gerben de Knegt (Ned) Rabobank                                  310
12 Richard Groenendaal (Ned) AA Drink Cycling Team                 305
13 Radomir Simunek Jr. (Cze) BKCP - Powerplus                      304
14 Bart Aernouts (Bel) Rabobank                                    290
15 Francis Mourey (Fra) Française des Jeux                         272
16 Petr Dlask (Cze) Fidea Cycling Team                             250
17 Martin Bína (Cze) Cyklo Team Budvar Tábor                       236
18 Christian Heule (Swi) RendementhypoCycling Team                 235
19 Wilant van Gils (Ned) Pro Cycling Team ZZPR.nl-Destil-Merida    213
20 Simon Zahner (Swi) Rendementhypo Cycling Team                   204
21 Nicolas Bazin (Fra) Us Domont Cyclisme                          189
22 Marco Bianco (Ita) L Arcobaleno Carraro Team                    178
23 Rob Peeters (Bel) Landbouwkrediet-Colnago                       178
24 Jonathan Lopez (Fra) VC La Pomme Marseille                      166
25 Marco Aurelio Fontana (Ita) Selle Italia Guerciotti A.S.D.      164
26 Steve Chainel (Fra) Bouygues Telecom                            162
27 Martin Zlámalík (Cze) Prodoli Racing Team                       158
28 Enrico Franzoi (Ita) Liquigas                                   156
29 Kamil Ausbuher (Cze) Exe Jeans                                  154
30 Eddy van IJzendoorn (Ned) AA Drink Cycling Team                 137
31 Dieter Vanthourenhout (Bel) BKCP - Powerplus                    135
32 Mariusz Gil (Pol) LKS Pom Strzelce Krajenskie                   112
33 Thijs Van Amerongen (Ned) Van Vliet EBH Elshof                   97
34 Fabio Ursi (Ita) Centro Sportivo Esercito                        91
35 Jonathan Page (USA) Planet Bike                                  82
36 Milan Barenyi (Svk)                                              82
37 Patrick Van Leeuwen (Ned) Het Snelle Wiel                        81
38 Johannes Sickmüller (Ger) Stevens Cyclocross Team Hamburg        73
39 Vladimír Kyzivát (Cze) Johnson Controls AS MB                    73
40 Jaroslav Kulhavy (Cze)                                           70
41 Julien Belgy (Fra) Bouygues Telecom                              64
42 David Kášek (Cze) Cyklo Team Budvar Tábor                        62
43 Joachim Parbo (Den) CCV Cyclo crosss Team                        62
44 Vaclav Metlicka (Svk) Team Král                                  61
45 Constantino Zaballa Gutierrez (Spa)                              60
46 Rafael Visinelli (Ita) Gruppo Sportivo Forestale                 59
47 Roy Van Heeswijk (Ned) Sint Oedenrode                            59
48 Marcel Wildhaber (Swi) Scott-Swisspower Mountainbike-Team        58
49 Aurélien Duval (Fra) UV Aube                                     56
50 Pirmin Lang (Swi) VC Bützberg / Delta Elite Team                 49
51 David Derepas (Fra) UVCA Troyes                                  43
52 Ryan Trebon (USA) Kona Cyclocross Team                           42
53 Gusty Bausch (Lux) LC Kayl                                       42
54 Robert Glajza (Svk)                                              42
55 René Birkenfeld (Ger) Stevens Cyclocross Team Hamburg            39
56 Oscar Vazquez Crespo (Spa)                                       35
57 Jempy Drucker (Lux)                                              33
58 Philipp Walsleben (Ger) Team BKCP-Power Plus                     32
59 Ian Field (GBr) Hargroves Cycles/Trant/Next/GSI                  32
60 Martin Haring (Svk)                                              29
61 Geoffrey Clochez (Fra)                                           28
62 Paul Voß (Ger) Team Milram                                       27
63 James Driscoll (USA) Cyclocrossworld.com / Cannondale            27
64 Isaac Suarez Fernandez (Spa)                                     25
65 Egoitz Murgoitio Rekalde (Spa)                                   22
66 Laurent Colombatto (Fra) AC Besançon                             21
67 Javier Ruiz De Larrinaga Ibanez (Spa)                            21
68 Bram Schmitz (Ned) Van Vliet - EBH Advocaten - Elshof            19
69 Magnus Darvell (Swe)                                             18
70 Peter Presslauer (Aut) Team Volksbank                            18
71 Troy Wells (USA) TIAA CREF/Clif Bar                              16
72 Jose Antonio Diez Arriola (Spa)                                  16
73 Alessandro Gambino (Ita) Centro Sportivo Esercito                16
74 Jeremy Powers (USA) Cyclocrossworld.com / Cannondale             15
75 Lukáš Kloucek (Cze) Sunweb - Projob Cycling Team                 15
76 David Juarez Alday (Spa)                                         14
77 Florian Le Corre (Fra) Super Sport 35                            13
78 Andre Sutton (Can) Hardcore Cycling Club                         13
79 Martin Gujan (Swi) Cannondale                                    12
80 Matt Shriver (USA)                                               10
81 Jody Crawforth (GBr) Arctic - Premier RT                         10
82 Luca Damiani (Ita) Colavita Sutter Home                           7
83 Gerald Hauer (Aut) Sportunion MTB Team                            6
84 Brian Matter (USA)                                                5
85 Adam Myerson (USA)                                                5
86 Julien Pion (Fra) Charvieu Chavagneux IC                          4
87 Keiichi Tsujiura (Jpn)                                            3
88 Andreas Moser (Swi) Bürgis Cycling Team                           3
89 Thomas Puhmer (Aut) Team Sport Nora                               3
90 Aaron Schooler (Can) Team H & R Block-Louis Garneau               2
91 Stefano Boggia (Ita) Daccordi Team                                2
92 Tommy Nielsen (Den)                                               1
93 Derrick St John (Can) Stevens                                     1
94 Julien Laidoun (Fra)                                              1