Grand Prix Lille Métropole - C1
Roubaix, France, January 12, 2008
Results 2007 Results Past Winners
Vervecken finally gives his title some glance
By Brecht Decaluwé in Roubaix
Erwin Vervecken (Fidea Cycling Team)
Photo ©: AFP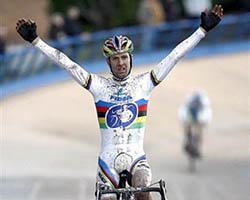 World champion Erwin Vervecken seems unbeatable. Throughout the season the world champion has shown the opposite of being unbeatable, barely managing to pull off a podium finish. Things are different in Roubaix though for the 35 year-old Belgian. On the legendary track where Stuart O'Grady captured a monumental victory in April 2007, Vervecken has a good record. "I've never lost over here," Vervecken claimed. "I've won the MTB stage that finished on the vélodrome. I've won this race in 2006 and in 2007 they didn't want to give me the victory."
Vervecken clearly hasn't forgotten about the tight finish with Gerben De Knegt last year. After a millimetre sprint, the jury decided that De Knegt was the winner, to much disbelief from Vervecken. That disappointment drove Vervecken on Saturday. "It doesn't happen too often that I arrive alone at the finish, but I didn't want to take a risk over here; it's a tricky finish," Vervecken said to Cyclingnews after the race. "I was rather comfortable for the first half of the race, and from then on I told myself to watch out because some riders had crashed, like Page and Simunek. I pulled hard and was on my own with two laps to go."
With the penultimate World Cup race of the season Sunday in Liévin, Vervecken risked losing energy he'll need by being so agressive in Roubaix. His compatriats mostly stayed away; top contenders like French champion Francis Mourey, Sven Nys, Bart Wellens and Lars Boom didn't even race in Roubaix. "True, but on the other hand I realized that I have to give this jersey away in two weeks, and today I could win a race while wearing it," Vervecken said. "Today, I could add lustre to the world champion's jersey and that it something I could barely do this season."
Hard won battles for the podium
The lead group out in front
Photo ©: AFP

Local hero John Gadret made a surge to regain the leader with one lap to go but eventually couldn't connect with Vervecken's wheel. "Gadret rode very fast on the track," Vervecken said about his tactics against the French climber. "The next lap I did the same and he must've received a mental blow there."
The man in second place was mad at the world champion. Compact build John Gadret, who isn't doing much cyclo-cross this season, said he felt that Vervecken should've let him win on his own territory. "Damn Vervecken," Gadret kept shaking his head. "I did all I could to stay in touch with him, but after a manoeuvre from Steve Chainel I lost contact. Too bad because physically I'm ok," Gadret said to Cyclingnews. "On the other hand I'm lacking the technical skills to grab the victory. My first cyclo-cross race was only a month ago, so what can you expect," Gadret wondered. That brings us to the world championships which are held in two weeks. "I'll go there," the 28 year-old said," but without any pressure. Cyclo-cross is my passion, and I do the Worlds to enjoy it. Of course I'll do my very best to claim the best position possible in Treviso, but due to my poor UCI-ranking I have a bad start position so I'm not going for gold."
The battle for third place was also exciting as Jonathan Page fought Radomir Simunek for the right to stand on the podium. Eventually it was the talented Czech who finished third. "I took it easy and avoided risks in the dangerous drop down," Simunek, who is known to supporters as 'Rado', said. "I saved my legs today as tomorrow (the World Cup) is much more important. In the end this is all nothing but training for the world championships."
After winning the hole shot and fighting for lead position through much of the race, Page said that he knew Simunek's challenge was coming. "I felt like I was strong," Page smiled. "There were a lot of attacks and way too often I was the one to close the gaps." When asked if he had saved something for tomorrow Page was clear. "No, not at all, but hopefully I'll have the same legs tomorrow."
The other Americans at the start in Roubaix were Ryan Trebon and Molly Cameron. While Trebon pulled out after two laps, Cameron pulled out with one lap to go. Cyclingnews caught up with 2007 US-champion Trebon in his van and the 26 year-old was demoralized. "My back is just not good for about a month now," he said. "It's frustrating. My fitness is ok, but it's too late in the season to change something; the worlds come too soon."
How it unfolded
Podium (L-R): John Gadret (AG2r - La Mondiale), Erwin Vervecken
Photo ©: AFP

Jonathan Page converted his front line position at the start into the hole shot when the riders left the famous vélodrome in Roubaix; world champion Vervecken followed on his wheel. After one short lap Page was still near the front with Vervecken, but together with Marek Cichosz, Simunek and Gadret they were already separated from the rest. Trebon passed as 21st after one lap, despite a front row start position.
After two laps, Simunek and Page had a little gap on a group containing Groenendaal, De Knegt, Cichosz and David Derepas. Trebon pulled out at this stage of the race, while Cameron was struggling at the back of the race. Francis Mourey wasn't spotted near the front either. The French champion decided to take a day off and was riding around in Roubaix as if it was a training ride. Mourey's performance must've been disappointing for the 4000 spectators who paid 5 to see the race.
After four laps, there were seven leaders: Simunek, Page, Gadret, Cichosz, De Knegt, Groenendaal and Vervecken. Derepas was losing ground at 10" while Steve Chainel was on his heels. Rain started to fall and the dangerous descent from the vélodrome's backside became extremely dangerous. Chainel joined the leaders where Gadret pleased the home crowd with an attack in the rain. Meanwhile Simunek found out that he didn't like the muddy drop-off as he crashed and lost contact with the leaders. Gerben De Knegt didn't take any risks and lost a lot of time in this technical part of the course, and so did Richard Groenendaal.
Gadret didn't get away and other attacks followed. Cichosz was active in the leading group. About four laps before the end of the race, Page crashed in the drop-off and was forced to chase at about 10" from the four remaining leaders Vervecken, Gadret, Cichosz and Chainel. De Knegt chased at 15" while Simunek was five more seconds back.
With three laps to go, Simunek joined De Knegt and went in search of the leading group. Page, on other tyres now, was getting closer to the leaders as well and with two laps to go he joined Cichosz and Chainel. The winning move was gone by then as Vervecken had jumped away from the leading group. Gadret did all he could to join the world champion but couldn't close the gap down.
Into the penultimate lap, Gadret was only five seconds behind Vervecken but the Belgian didn't allow a comeback from the local hero. Vervecken captured his third win of the season, finishing 6" before Gadret. Simunek joined the chasing group and eventually finished ahead of Page and Chainel at 21" from the winner. De Knegt overtook a tired Cichosz in the ultimate metres and finished sixth. Second French rider of the day was David Derepas, but he finished a minute behind Cichosz. Marco Bianco and Ben Berden completed the top-10.
Photography
For a thumbnail gallery of these images, click here
Images by AFP Photo
Results
1 Erwin Vervecken (Bel) Fidea Cycling Team            1.07.28
2 John Gadret (Fra) AG2r - La Mondiale                   0.06
3 Radomír Simunek (Cze) Palmans-Cras                     0.21
4 Jonathan Page (USA) Sunweb Pro Job                     0.22
5 Steve Chainel (Fra) Auber 93                           0.28
6 Gerben De Knegt (Ned) Rabobank                         0.30
7 Marek Cichosz (Pol) CWKS Legia Warszawa                0.33
8 David Derepas (Fra) VC Roubaix Lille Metropole         1.33
9 Marco Bianco (Ita) Arcobaleno Carraro                  1.52
10 Ben Berden (Bel) Revor Cycling Team                   1.56
11 Wesley Van Der Linden (Bel) Sunweb Pro Job            1.59
12 Cyrille Bonnand (Fra) Bleus de France Suresnes        2.29
13 Davy Commeyne (Bel) Palmans-Cras                      2.37
14 Richard Groenendaal (Ned) AA Sport Drinks             2.44
15 David Pagnier (Fra) ASPTT Mulhouse                    2.55
16 Ludovic Merlier (Fra) VC Rouen 76                         
17 Tim Van Nuffel (Bel) Easypay Cyclocross Team          2.59
18 Martin Zlamalik (Cze) Prodoli                         3.39
19 Quentin Bertholet (Bel) Fidea Cycling Team                
20 Kevin Eeckhout (Bel) Sunweb-Pro Job                   4.15
21 Francis Mourey (Fra) Française des Jeux               5.40
22 Loïc Ory (Fra) UVC Charleville-Mézières               5.42
23 Tomasz Repinski (Pol) CWKS Legia Warszawa             5.49
24 Ludovic Dubau (Fra) AC Bazancourt-Reims               6.13
25 Jean-pierre Chalas (Fra) ESC Bully                    6.17
26 Sylwester Janiszewski (Pol) CWKS Legia Warszawa       6.25
27 Kenneth Van Compernolle (Bel) Sunweb Pro Job              
28 Jérôme Boussekey (Fra) VC St-Omer                     6.36
29 David Boucher (Fra) Landbouwkrediet - Tönissteiner    7.34
30 Torsten Wittig (Ger) BRC Zugvogel                     +1 lap
31 Gaëtan Benoit (Fra) RLC Punéenne                          
32 Ludovic Lefrancq (Fra) ESC Bully                      +2 laps
33 Kyle Douglas (Can) 3 Rox Racing                           
34 Pawel Szcsepanian (Pol) LNS Pom                           
35 Mickaël Lemardele (Fra) VS Bricquebec                 +3 laps    
36 Cameron Molly (Usa) Vanilla Bicycles                      
37 François Gobaille (Fra) VC Noeuxois                   +4 laps
38 Sébastien Lefevre (Fra) UV Fourmies                       
 
Juniors
 
1 Marek Konwa (Pol) Pologne                                  39.17
2 Anthony Cailleau (Fra) C.C. Cambrai                         0.14
3 Jules Chabanon (Fra) (Fra) A.C. Bazancourt                  0.17
4 Romain Lejeune (Fra) ESEG Douai                                 
5 Rudy Kowalski (Fra) V.C. Roubaix-Lille Métropole            0.31
6 Angelo De Clercq (Bel) Belgique                             0.50
7 Romain Devos (Fra) UV Fourmies                                  
8 Max Walsleben (Ger) Allemagne                               1.20
9 Kasper Szczepaniak (Pol) Lks "Pom" Strzelce Kraj            1.48
10 Chance A. Noble (Usa) California Giant Cycling                 
11 Andrzej Bartkiewicz (Pol) Wlukk "Breg Nysa"                2.12
12 Carson Miller (USA) Fred Meyer                             2.22
13 Maxime Chombart (Fra) Dunkerque                            2.45
14 Kevin Duquaine (Fra) V.C. Maubeuge                         3.14
15 Adrien Petit (Fra) Team Wasquehal Juniors                      
16 Flavien Dassonville (Fra) A.C. Montdidier                  3.23
17 Eddy Lefevre (Fra) U.V. Fourmies                           3.47
18 Alexandre Wypelier (Fra) U.V. Fourmies                     4.20
19 Martin Emilien (Fra) E.C.V. Boulzicourt                    4.36
20 Elie Regost (Fra) A.C. Bourthes                            4.50
21 Romain Chombart (Fra) C.V. Liévin                          5.11
22 Quentin Santy (Fra) C.C. Nogent                                
23 Jean-baptiste Taleux (Fra) V.C. Roubaix-Lille Métropole    5.52
24 Julien Lorriaux (Fra) V.C. Maubeuge                        6.17
25 Mathieu Wolff (Fra) C.L. Barlin                            6.32
26 Dimitri Corriette (Fra) C.L. Barlin                            
27 Jean Moutiez (Fra) A.S. Hellemmes                          6.47
28 Romain Boulanger (Fra) V.C. Roubaix-Lille Métropole        7.12
29 Yoann Behague (Fra) U.C. Wattignies                        8.00
30 Sébastien Hardi (Fra) V.C. Maubeuge                        9.00
31 Tony Tomasina (Fra) ESEG Douai                             +1 lap
32 Pierre Nachon (Fra) V.C. Roubaix-Lille Métropole               
33 Nicolas Vincent (Fra) V.C. Maubeuge                            

Past Winners
2007 Gerben de Knegt (Ned) Rabobank
2006 Erwin Vervecken (Bel) Fidea Cycling Team