Cyclo-Cross World Cup #6 - CDM
Nommay, France, December 21, 2008
Main Page Results Overall standings Previous Race
Race 4 - December 21: Elite Men, 65 minutes
Boom slides to French World Cup win
By Brecht Decaluwé
A muddy Lars Boom gets the better
Photo ©: AFP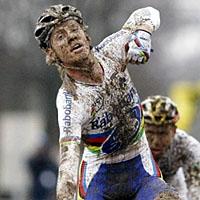 World Champion Lars Boom (Rabobank) seemed to be in total control in Nommay, France, where he held off World Cup leader Sven Nys (Landbouwkrediet-T÷nissteiner) in a two-man sprint during a muddy sixth round of the UCI World Cup. The two cyclo-cross aces had escaped from a ten-man leader's group during the seventh out of nine laps. During the last two laps, neither Nys nor Boom managed to get away alone while the two were put under pressure by a chasing Bart Wellens (Fidea Cycling Team). Eventually Boom led out the sprint, and despite a good effort from Belgian champion Nys, it was clear that Nys was no match for Boom.
"It was a tough race… a lot of mud. It was always power, pushing... pushing on the pedals. I was riding easy and could play a little with the other guys," said Boom after his win. "I was waiting for Sven [Nys] who was hiding a little. I knew we could head to the finish line together but I knew he wouldn't be able to beat me."
Despite dominating the race, he encountered some bad luck near the end as he flatted in the last drop towards the finish line. "I punctured and sprinted on a slowly softening tire," Boom said, before adding, "I was still feeling tired after training in Lanzarote, but I'll get better soon."
World Cup leader and today's runner-up Nys was taking it easy during the first half of the race. "I was saving energy at the back of the group and I wanted to move up slowly by the end of the race. Once in awhile, others hindered me from doing that with that incident in the pit where it was way too crowded," Nys referred to a moment during the sixth lap where the ten leaders hit the pit zone all together and encountered a stack-up.
Nys was hindered by Francis Mourey (Franšaise Des Jeux), who cause a chain reaction behind him when he tripped getting off his bike at the pits, but the Belgian soon made his return to the front. "I had a very good day and to beat Lars, I probably had to take the lead at the last pit zone but he was going full out himself. We couldn't drop each other today and in the sprint, he was slightly faster than me; I can live with that. I'm looking back on this race with a good feeling," said Nys.
The podium from left to right
Photo ©: AFP

Due to his second place in this World Cup round, Nys extends his lead in the World Cup rankings – in which Boom is out of contention - over today's third-ranked Wellens. In fact, Nys now holds an insurmountable lead in the rankings, with more than eighty points, making it impossible for anybody to overtake the Belgian champion even if he were to collect no points in Zolder, Belgium where the next World Cup round will be held next week.
Third placed Wellens was happy with that result after a week during which he was troubled by back pain. "During the last lap I could barely catch up to the leaders, but that was it. Third place was the most I could get since I had been riding at my limit for two laps in a row," Wellens said. "If this wouldn't have been a World Cup race, I wouldn't have been here. It was a race with ups and downs, and my back is extremely sore now."
Behind Boom, Nys and Wellens, it was Richard Groenendaal who grabbed a strong fourth place ahead of early race leader Sven Vanthourenhout (Sunweb Pro Job) and fellow Belgians Kevin Pauwels (Fidea Cycling Team) and Erwin Vervecken (Fidea Cycling Team).
Local favorite Mourey finished a modest eighth place after a race in which the French champion showed he currently has the form but not the technical skills to battle against the likes of Boom and Nys on a muddy and slippery course like the one in Nommay. Freshly crowned US national champion Ryan Trebon finished a disappointing 33rd place while fellow Americans Jamey Driscoll and Molly Cameron were lapped; and Jonathan Page didn't start in Nommay.
Photography
For a thumbnail gallery of these images, click here
Images by AFP Photo
Images by Photopress.be
Results

1 Lars Boom (Ned) Rabobank                                               1.03.30
2 Sven Nys (Bel) Landbouwkrediet - Tonissteiner                                 
3 Bart Wellens (Bel) Fidea Cycling Team                                     0.22
4 Richard Groenendaal (Ned)                                                 0.26
5 Sven Vanthourenhout (Bel) Sunweb Pro Job                                  0.31
6 Kevin Pauwels (Bel) Fidea Cycling Team                                    0.33
7 Erwin Vervecken (Bel) Fidea Cycling Team                                  0.36
8 Francis Mourey (Fra) Franšaise Des Jeux                                   0.53
9 Gerben De Knegt (Ned) Rabobank                                            1.10
10 Klaas Vantornout (Bel) Sunweb Pro Job                                    1.25
11 Radomir Simunek (Cze) Palmans Cras                                       1.29
12 Bart Aernouts (Bel) Rabobank                                             1.31
13 Marco Aurelio Fontana (Ita)                                              1.49
14 Enrico Franzoi (Ita) Liquigas                                                
15 Thijs Al (Ned)                                                           2.22
16 Dieter Vanthourenhout (Bel) Palmans Cras                                 2.27
17 Zdenek Stybar (Cze) Fidea Cycling Team                                   2.32
18 Christian Heule (Swi)                                                    2.43
19 Petr Dlask (Cze) Fidea Cycling Team                                      2.54
20 Aurelien Duval (Fra)                                                     2.58
21 Nicolas Bazin (Fra) Differdange Apiflo Vacances                          3.23
22 Wilant Van Gils (Ned)                                                    3.30
23 Steve Chainel (Fra) Auber 93                                             3.45
24 Rob Peeters (Bel) Landbouwkrediet - Tonissteiner                         4.05
25 Kamil Ausbuher (Cze)                                                     4.06
26 Marco Bianco (Ita)                                                       4.08
27 Julien Belgy (Fra) Bouygues Telecom                                      4.32
28 Simon Zahner (Swi)                                                       4.42
29 Egoitz Murgoitio Rekalde (Spa)                                           4.43
30 Laurent Colombatto (Fra)                                                 4.48
31 Rafael Visinelli (Ita)                                                   5.18
32 Jonathan Lopez (Fra)                                                     5.20
33 Ryan Trebon (USA)                                                        5.52
34 Martin Bina (Cze)                                                        5.57
35 Eddy Van Ijzendoorn (Ned)                                                6.11
36 Patrick Van Leeuwen (Ned)                                                6.26
37 RenÚ Birkenfeld (Ger)                                                    6.37
38 Pirmin Lang (Swi)                                                        6.43
39 Martin Gujan (Swi)                                                       6.59
40 Thijs Van Amerongen (Ned) Van Vliet EBH Elshof                           7.19
41 Fabio Ursi (Ita)                                                         7.25
42 David Kasek (Cze)                                                        7.46
43 Joachim Parbo (Den)                                                      8.15
44 Luca Damiani (Ita) Colavita / Sutter Home Presented By Cooking Light     8.28

Behind one lap

45 Gusty Bausch (Lux)                                                           
46 Marcel Wildhaber (Swi)                                                       
47 Julien Pion (Fra)                                                            
48 Andreas Moser (Swi)                                                          
49 James Driscoll (USA)                                                         

Behind two laps

50 Derrick St John (Can)                                                        
51 Vaclav Metlicka (Svk)                                                        
52 Aaron Schooler (Can)                                                         
53 David Juarez Alday (Spa)                                                     

Behind three laps

54 David Lozano Riba (Spa)                                                      
55 Molly Cameron (USA)                                                          
56 Mauro Gonzalez Fontan (Spa)                                                  
57 Erlantz Uriarte Okamika (Spa)                                                

Behind five laps

58 Andre Sutton (Can)                                                           
 
World Cup standings after round six
 
1 Sven Nys (Bel) Landbouwkrediet - Tonissteiner                           425 pts
2 Bart Wellens (Bel) Fidea Cycling Team                                   344
3 Kevin Pauwels (Bel) Fidea Cycling Team                                  323
4 Zdenek Stybar (Cze) Fidea Cycling Team                                  307
5 Klaas Vantornout (Bel) Sunweb Pro Job                                   285
6 Erwin Vervecken (Bel) Fidea Cycling Team                                260
7 Radomir Simunek (Cze) Palmans Cras                                      258
8 Lars Boom (Ned) Rabobank                                                246
9 Bart Aernouts (Bel) Rabobank                                            246
10 Thijs Al (Ned)                                                         241
11 Gerben De Knegt (Ned) Rabobank                                         241
12 Richard Groenendaal (Ned)                                              239
13 Sven Vanthourenhout (Bel) Sunweb Pro Job                               229
14 Francis Mourey (Fra) Franšaise Des Jeux                                224
15 Niels Albert (Bel) Palmans Cras                                        220
16 Martin Bina (Cze)                                                      208
17 Christian Heule (Swi)                                                  197
18 Petr Dlask (Cze) Fidea Cycling Team                                    189
19 Rob Peeters (Bel) Landbouwkrediet - Tonissteiner                       178
20 Wilant Van Gils (Ned)                                                  171
21 Nicolas Bazin (Fra) Differdange Apiflo Vacances                        162
22 Simon Zahner (Swi)                                                     131
23 Martin Zlamalik (Cze)                                                  127
24 Kamil Ausbuher (Cze)                                                   120
25 Enrico Franzoi (Ita) Liquigas                                          116
26 Eddy Van Ijzendoorn (Ned)                                              114
27 Marco Bianco (Ita)                                                     111
28 Dieter Vanthourenhout (Bel) Palmans Cras                               106
29 Mariusz Gil (Pol)                                                      103
30 Jonathan Lopez (Fra)                                                   100
31 Marco Aurelio Fontana (Ita)                                             93
32 Steve Chainel (Fra) Auber 93                                            85
33 Jonathan Page (USA)                                                     82
34 Fabio Ursi (Ita)                                                        77
35 Thijs Van Amerongen (Ned) Van Vliet EBH Elshof                          76
36 Patrick Van Leeuwen (Ned)                                               75
37 Johannes Sickmueller (Ger)                                              73
38 Vladimir Kyzivat (Cze)                                                  73
39 Jaroslav Kulhavy (Cze)                                                  70
40 Milan Barenyi (Svk)                                                     64
41 Vaclav Metlicka (Svk)                                                   61
42 Constantino Zaballa Gutierrez (Spa) La-Mss                              60
43 Rafael Visinelli (Ita)                                                  59
44 Roy Van Heeswijk (Ned)                                                  59
45 Marcel Wildhaber (Swi)                                                  58
46 Aurelien Duval (Fra)                                                    56
47 Julien Belgy (Fra) Bouygues Telecom                                     53
48 Joachim Parbo (Den)                                                     50
49 Pirmin Lang (Swi)                                                       49
50 Gusty Bausch (Lux)                                                      42
51 David Kasek (Cze)                                                       40
52 RenÚ Birkenfeld (Ger)                                                   39
53 Oscar Vazquez Crespo (Spa)                                              35
54 Robert Glajza (Svk)                                                     35
55 Philipp Walsleben (Ger) Palmans Cras                                    32
56 Ian Field (GBr)                                                         32
57 Geoffrey Clochez (Fra)                                                  28
58 Paul Voss (Ger) Team 3C-Gruppe                                          27
59 Isaac Suarez Fernandez (Spa)                                            25
60 Martin Haring (Svk)                                                     25
61 David Derepas (Fra) Groupe Gobert.com.ct                                23
62 Egoitz Murgoitio Rekalde (Spa)                                          22
63 Laurent Colombatto (Fra)                                                21
64 Javier Ruiz De Larrinaga Ibanez (Spa)                                   21
65 Jempy Drucker (Lux) Fidea Cycling Team                                  20
66 Ryan Trebon (USA)                                                       18
67 Magnus Darvell (Swe) Rietumu Bank-Riga                                  18
68 Jose Antonio Diez Arriola (Spa)                                         16
69 Alessandro Gambino (Ita)                                                16
70 Lukas Kloucek (Cze) Sunweb Pro Job                                      15
71 David Juarez Alday (Spa)                                                14
72 Florian Le Corre (Fra)                                                  13
73 Andre Sutton (Can)                                                      13
74 Martin Gujan (Swi)                                                      12
75 Jody Crawforth (GBr)                                                    10
76 Peter Presslauer (Aut) Volksbank - Corratec                             10
77 Luca Damiani (Ita) Colavita / Sutter Home Presented By Cooking Light     7
78 Gerald Hauer (Aut)                                                       6
79 Adam Myerson (USA) Time Pro Cycling                                      5
80 Julien Pion (Fra)                                                        4
81 Andreas Moser (Swi)                                                      3
82 Thomas Puhmer (Aut)                                                      3
83 James Driscoll (USA)                                                     2
84 Stefano Boggia (Ita)                                                     2
85 Derrick St John (Can)                                                    1
86 Julien Laidoun (Fra)                                                     1