Recently on Cyclingnews.com
US Cyclocross championships - CN
Portland, Oregon, USA, December 10-12, 2004
Main Page Results Previous Race Next Race
December 10: Master Men 50-54, 55-59, 60+, 45 minutes
Get the holeshot, get the win
By Rob Karman
James Wagner (Ti Cycles)
Photo ©: Rob Karman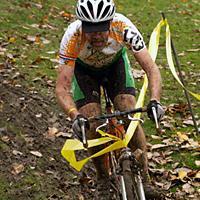 In the Men 50-54, 55-59 and over 60 races, the rider who led after lap 1 was still leading at the end as the course conditions took their toll on the riders behind. 50-54 Champ Paul Curly (Gearworks/Spinarts) said " I used my blitzen start that I learned in Switzerland. Full speed at the start, but I may have overcooked it a bit because a couple laps into it I'm thinking, do we still have two more laps to go? But they were saying three laps. So I started thinking it was time for plan B which was let's see who's back there and see what they're doing and then reevaluate the situation. It didn't look like I was going to lead from wire to wire." 2nd place rider Gary Thacker (Louisville Cyclery) noted that Curly changed his bike every lap while he [Thacker] did not and thought that made the big difference.
Thing didn't go so smoothly for 55-59 winner David Rath (GMBC/Catamount) "Mid-way through the first lap I got tangled up in the course tape coming off of a hill because the line changed from practice, but I got back on the course and got going pretty quick." He went on the tell of his confusion since there were three categories on course at the same time. "I had some people calling out splits, and I thought they were calling out splits to the guy I had to catch, and it turns out they were calling out splits to the guy behind me and when they kept getting bigger and bigger I was starting to get distressed. When it got over a minute I figured that maybe I was in first. It was a great race. It was muddy, sliding all over the place. It was great cyclo-cross. It really was fun"
Paul Curley
Photo ©: Mitch Clinton

60 plus Champ James Wagner (Ti Cycles) led almost wire to wire as well, though he used a different tactic. "I rode one bike the whole way which I guess a lot of people didn't do, they were switching out. I had a good bike. Ti Cycles builds great bikes. I gotta plug my sponsor." When asked his reaction about winning the national title he replied "I was surprised. I knew my competition was going to be Gary Noe (Riostrada) and he's very good. They just let me go off the front and I just went as hard as I could the whole time. So it worked out very well. I was lucky. The conditions were, I'm sure everyone will tell ya, something else. This is the toughest."
Photography
Images by Mitch Clinton/www.clintonphoto.com
Paul Curley attacks a small climb early in the masters 50 - 54 race
Gary Thacker was second in the masters 50 - 54 race.
Dag Selander was struck with a flat on the last lap, but managed to hold on to 3rd place in the men's 50 - 54
Images by Rob Karman/

Results
Masters Men 50-54
 
1 Paul Curley (Gearworks/Spinarts)              45.50
2 Gary Thacker (2CC/Second City)                 0.02
3 Dag Selander (Alan)                            0.12
4 Dirk Cowley (C21/SBO)                          0.26
5 David Zimbelman (Excel Sports)                 0.49
6 Fred Wittwer (Charlottesville Racing)          0.53
7 Steve Muller (Fl;athead Cycling)               2.53
8 Chris Allen (Eurocycling Imports)              3.13
9 Bob Bieterman (Simple Green)                   4.01
10 William Sawyer (Gearworks)                    4.25
11 John Brown (Family Cytcling)                  5.22
12 Harold Parker (Team X Cycling)                5.39
13 Mark Schwyhart (Bike N Hike / Giant)          6.35
14 Timothy Bailey (Mass Bay Road Club)           8.26
15 Bruce Werner (Unattached)                     8.49
16 Harold Klein (Tualatin)                       9.03
17 John McBurney (Freewheelers of)               9.08
18 Tom Malniver (Jessies HVL)                   10.06
19 Robert Kurosawa (East Bay Velo Club)         10.08
20 Tom Sullivan (Amsterdam Bicycles)            10.15
21 David Garfield (Jupiter Velo)                11.08
22 Jonathan Livesay (PAA)                       11.17
23 Dan Tieger (Essex County Velo)               12.45
24 Paul Montgomery (Team S&M)                   12.52
25 Steven Lacey (River City Bicycles)           13.25
26 Steve Truesdale (Half Fast Velo)             13.32
27 Brian Volkert (ASC / Lowrey's Junior)        13.59
28 Kevin Ryan (Amgen Cycling)                   15.07
29 Kerry Shields (Carolina Masters)             15.13
30 Tom Holmes (seattle)                         15.15
31 Ron Peeleman (Uzes Velo Club)                16.03
32 Steve Rapp (L'Ecole No 41)                   17.06
33 Richard Sachs (Richard Sachs-CYBC)           17.16
34 Micheal Gomez (Monticello Cycling)           19.18
35 Brian Birch (Berkeley Bike Club)             21.41
36 Karl Jackson (Sunnyside Sports)              23.09
37 Ike Kenorick (Tillamook)                     33.02
38 Edward Lanton (Portland)                     39.35
 
Men 55-59
 
1 David Rath (GMBC/Catamount)                   50.50
2 John Elgart (Webcor/Alto Velo)                 2.24
3 Smith Larry (Durance Cycleworks)               3.05
4 Jim Downing (Lousiville)                       3.13
5 Ole J. Madsen (Renton)                         5.17
6 Peter Wilson (Cyclonauts)                      5.18
7 Don Leet (Sunnyside Sports)                    5.46
8 Kent Weinker (Starbucks)                       6.25
9 Dave Genest (Richard Sachs)                    6.27
10 Frank Cuaresma (Cal Giant Inc.)               9.48
11 Buck Lorts (Skyline Velo)                    12.58
12 Michael Pulzone (Sunnyside Sports)           19.32
13 Busby Richard (Portland)                     28.08
14 John Wiest (Nomad)                           29.12
15 Al Marvin (Denver)                           29.22
16 Ron Strasser (Portland)                      29.58
 
Men 60+
 
1 James Wagner (Ti cycles)                      55.24
2 Gary Noe (Riostrada)                           0.37
3 Del Scharffenberg (Emerald Velo Cycling)       4.33
4 Erik Nordenson (CYCLOCROSSWOR)                 5.13
5 Richard Marantz (Emerald Velo Cycling)         7.11
6 Rilee Willmore (Celo)                         11.20
7 Robert Mandelson (Nomad)                      12.57
8 Jerry Shere (Team Ochsner)                    14.53
9 Ken Embrey (Starbucks Doubleshot)             22.22
10 Michael Strubel (West Linn)                  27.41
11 Peter Dahlstrand (Berkeley Bike Club)        30.12
12 Mike Macdonald (Jaeger Wheelmen)             30.13