US Cyclocross championships - CN
Portland, Oregon, USA, December 10-12, 2004
US cyclocross nationals starts today
2003 champion Jonathan Page
Photo ©: Rob Karman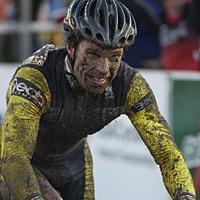 The US domestic cyclocross season will reach its peak this weekend at the USA Cycling National Cyclocross Championships in Portland, Oregon, where racers will fight for 23 stars and stripes jerseys.
Leading the elite men's category will be Jonathan Page, who is after a third consecutive title. The two-time national champion will be challenged by riders like Ryan Trebon who spent his 2004 season working his way to the top of the Crank Brothers U.S. Gran Prix of Cyclocross Series to earn a nomination to the U.S. World Cyclocross Championships Team. 2003 USPRO Champion Mark McCormack has also had a remarkable season and leads Americans in the UCI rankings just ahead of Trebon and Page.
Although the women's field will lack defending champion Alison Dunlap, the race will most likely be characterized by a heated rivalry between U.S. Gran Prix of Cyclocross winner Ann Knapp and a very close second place finisher Gina Hall. Knapp gained a nomination to the U.S. World's team after a season long battle with Hall in which she finally clinched the win in the final race of the series. Hall is coming off a successful weekend having just swept the final UCI races on the west coast in the Bay Area Super Prestige Series doubleheader.
Racing kicks off at the Portland International Raceway this morning with the collegiate women's competition and culminates Sunday afternoon with the elite men's and women's races.
Following the conclusion of the National Championships, nominations will be made to the U.S. team for the World Cyclocross Championships to be held in St. Wendel, Germany in February.