Recently on Cyclingnews.com
US Cyclocross championships - CN
Portland, Oregon, USA, December 10-12, 2004
Main Page Live report Results Previous Race
December 12: Elite Men, 60 minutes
One more time for Page
Jonathan Page
Photo ©: Mitch Clinton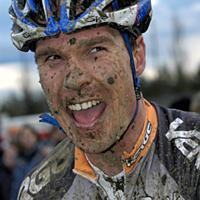 A cold and windy day in Portland set the stage for Jonathan Page to ride away with his third consecutive national cyclo-cross title. But not before a serious challenge from home state Oregon rider Ryan Trebon who laid down the gauntlet midway through the race to make it hard for the favourite.
Page, who pulled away from the field in the first lap, used his strong legs to master the wind and the mud this afternoon. Early in the race, Ryan Trebon (Corvallis, Ore.), teammate Barry Wicks (Corvallis, Ore.), Todd Wells (Durango, Colo.), Marc Gullickson (Boulder, Colo.), and Mark McCormack (Foxboro, Mass.) were among the elite group of chasers. Trebon became the man to make the race interesting as he broke away from the other chasers and went in pursuit of the defending champion. After a few laps of hard chasing, Trebon was able to catch the leader. "It took me a while to find my rythm," he told announcers later. "On this course, you're on the gas the whole time. There's no recovery."
With two laps to go, Page attacked and opened up another gap on the tall racer from Oregon. This time, he stayed away until he rode off with the victory. Trebon improved upon his 2003 bronze medal performance by finishing in second, while Todd Wells took bronze and Barry Wicks secured fourth. In what would be his final race before retirement, Marc Gullickson came back from as far back as 16th position early in the race to within seconds of catching Wicks and Wells. Not quite making it to the battle for third place, Gullickson claimed the final spot on the podium taking fifth place.
Results
1 Jonathan Page (Cervelo/Hot Tubes)             55.15.5
2 Ryan Trebon (Kona/Clarks/LesGets)              0.18.1
3 Todd Wells (GT Hyundai)                        1.44.5
4 Barry Wicks (Kona)                             1.52.6
5 Marc Gullickson (Redline)                      2.20.1
6 Mark McCormack (Clif Bar / Colavita)           2.50.7
7 Jackson Stewart (Team Clif Bar)                2.50.9
8 Adam Craig (Maxxis Giant)                            
9 Michael Broderick (SEVEN)                      4.18.0
10 Bart Gillespie (biogen-idec)                  4.26.9
11 Andy Jacques-Maynes (Specialized)             4.56.6
12 Erik Tonkin (Kona)                            5.04.5
13 Justin Robinson (Bullion Stil)                5.37.7
14 Ben Jacques-Maynes (Sierra Nevada Cycling)    5.55.6
15 Charlie Storm (Fuji/BTD)                      6.09.6
16 Jason Tullous (Arizona Honey Wine)            6.14.2
17 Shannon Skerritt (VANILLA)                    6.55.9
18 Jeff Weinert (Cane Creek/Saturn of)                 
19 Matt Kraus (Alan Factory Team)                      
20 Jonathan Sundt (Maxxis Giant)                       
21 Brandon Dwight (Team)                               
22 Steve Tilford (Shimano Moots)                       
23 Michael Gallagher (US Armed Forces)                 
 
One lap behind
 
24 Chris McGovern (jelly belly)                        
25 Joshua Snead (Rocklobster)                          
26 Frank Mapel (CCA/Kona)                              
27 Matt Shriver (Kona/Easton CCA)                      
28 Brian Matter (PCWCYCLING.ORG)                       
29 Adam Hodges Myerson (Cycle-Smart)                   
30 Loren Hanson (Benaroya Research)                    
31 Matthew Pacocha (ABC-Cycling Center)                
32 Jon Bruno (Independent)                             
33 Johannes Huseby (Fiordifrutta Elite)                
 
Two laps behind
 
34 Brent Prenzlow (Celo Pacific/Salsa)                 
35 Sean Doyle (Desalvo)                                
36 Jonathan Card (CANE)                                
37 Chance Cooke (Flathead Cycling Team)                
38 Phillip Noble (TEAM AIRBORNE)                       
39 Andy Applegate (Easton / Kona / CCA)                
40 Russell Stevenson (Benaroya Research)               
41 Dan O'Sullivan (Mcguire cycling)                    
42 John Frey (Hutch's of Bend / RMS)                   
43 Timothy Ellis (RECYCLED)                            
 
Three laps behind
 
44 Aric Hareland (Salsa)                               
45 Chris Brandt (Alan Factory Team)                    
46 Troy Barry (Alan Factory Team)                      
47 Shawn Harshmen (Alan Factory)                       
48 Leonardo Sandoval (Bicycle John's/ Salsa)           
49 Chad Swanson (Portland)                             
50 Jeffrey Struck (Vanilla)                            
51 Jer Walker (Cane Creek)                             
 
Four laps behind
 
52 Tim Barrett (narc/free-flite)                       
53 Robert Lehtinen (Khs NM.com)                        
54 David Allen (Khs NM.com)                            
55 Kris Aner (Alan-mid Atlantic)                       
56 Ryan Barthel (Unattached)                           
57 Steven Williams (Recycled Cycles)                   
58 Joshua Johnson (Big Shark Racing)                   
59 James Holmes (Alan Factory)                         
60 Robert Campbell (CAPITAL)                           
61 John Degele (Cycling Spoken Here)                   
62 Evan Plews (Unattached)                             
63 Kris Holden (Bicycle Butler/Kona)                   
64 Al Senft (NUVO/Bicycle)                             
65 Jeff Herring (Celo Pacific)                         
66 Henry Kramer (Schwab Cycles)                        
67 Troy Heithecker (Recycle Cycles)                    
68 Ryan Leech (FORT - GPOA)                            
69 John Funke (Sycip Racing)                           
70 Tristan Schouten (PCW Cycling team)                 
71 Eric Atwood (Benaroya Research)                     
72 Carl Decker (Giant/Pearl Izumi)                     
DNF Harry Anderson (Cannondale/Duluth)                 
DNF Joshua Harrod (spot)                               
DNF Tj Turner (Team Airborne.net)                      
DNF Nathan Deibert (Evolution Racing)                  
DNF Ian Brown (Gentle Lovers)