Cyclo-cross feature, November 19, 2008
Compton's Euro odyssey pays off
By Brecht Decaluwé
Katie Compton, 29, captures the first win of her European campaign in Gavere, Belgium, last weekend
Photo ©: Photopress.be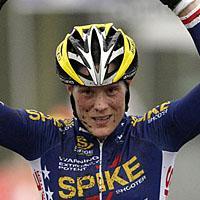 One week after her convincing performance during the cyclo-cross World Cup in The Netherlands, Katie Compton captured the first win of her European campaign in Gavere, Belgium, last weekend. The current US national champion managed to overcome trying conditions and beat accomplished Dutch rider Daphny van den Brand and Belgium's Sanne Cant in a breakthrough for American riders racing in Europe this season.
Compton struggled to find traction during the first lap on the extremely muddy course in East Flanders, where rain had reshaped the steep hill into a slippery slide. "After Pijnacker this was the first muddy 'cross of the season, so I had to adapt a little," said Compton. "At the start line I noticed that everybody was using more profiled tyres than me," she added. She soon found out why that was the case. "It was like an ice skating rink out there. During the first lap I touched ground and couldn't ride up the hill."
"It was like an ice skating rink out there."
- Compton on the conditions in Gavere, Belgium
Despite getting reasonable start, Compton was worried about her prospects for the remainder of the race. "I was riding in fifth position and I wasn't happy with that, but I thought I could blame it on the less-profiled tyres I was using," she explained.
The American showed excellent technical prowess on the Belgian course; she was fearless on the steep and slippery downhill sections, opting against using the drops. It worked. "Steadily I was going better and I started moving up while others clearly struggled. I ended up leading with Daphny [van den Brand] for half a lap but then she got dropped," said Compton.
At the finish line Compton had a gap of more than a minute on runner-up Van den Brand. "Too bad world champion Hanka Kupfernagel wasn't here because she's providing good competition for me," said Compton.
"There aren't too many races for women so each race is an opportunity to learn from each other. Of course I can understand that prize money was an issue for her," she added. Compton herself missed out on a lot of start money the week before in Pijnacker, where riders were paid a certain amount to start based on the points gathered during the previous World Cup race in Kalmthout.
Compton came away from Pijnacker "happy."
Photo ©: Cyclingnews.com

Compton had pulled out of that race due to a leg injury and told Cyclingnew, "It was a big blow because it was expensive to travel to Europe for that race and of course the consequences were a setback; the lack of start money and the fact that I had got to start the next World Cup from the last row. Luckily after Pijnacker and Gavere things are looking much better. And of course it was great for women's cycling that Peter [Van Den Abeele, UCI's cyclo-cross co-ordinator] managed to pump more money into the women's World Cup; he's doing a great job for us," Compton explained.
Next weekend there's no 'cross racing for the women in Europe but then there's the fourth World Cup of the season in Koksijde, Belgium. "I'm happy that [my husband] Mark and I can stay in Kalmthout [Belgium, where the first World Cup of the season was held] as this makes it much easier for us. There's a forest close by and I can train in the sand."
"For me, there's no other choice: in Europe there's good competition and more money at stake."
- Compton justifies her trip east
That might come in handy - sand is the main subsoil in Koksijde. "After that race we're heading back to the US to prepare for nationals, and then we're coming back to Europe," Compton said. She will be preparing for the world championships, in which she finished a surprising second in 2007.
When asked to rate the level of women's cycling in the USA with the level in Europe, Compton said, "Women's cycling is definitely of a high level in the USA. I saw that Katerina Nash was beaten by Georgia Gould last week." It was a lightly veiled hint that Gould may be missing out at the World Cup level - Nash finished third in the last round in Pijnacker.
"For me, there's no other choice: in Europe there's good competition and more money at stake," continued Compton. "It would be great if next year a World Cup could be held in the US, though. For now I think the USA is the place to be for starters and intermediate competitors while the top level definitely needs to be in Europe," she said.
Photography
For a thumbnail gallery of these images, click here
Images by Photopress.be
Images by Cyclingnews.com