Recently on Cyclingnews.com
An interview with Katie Compton, December 4, 2006
Going for three
As the current US national cyclo-cross champion, Katie Compton is arguably the best American female 'cross racer on the circuit. After the final weekend of US Gran Prix of Cyclo-cross races in Seattle and Portland, Cyclingnews' Sue George caught up with Compton, who is preparing to defend her title at the upcoming championship race in Providence, Rhode Island.
Photo ©: Mitch Clinton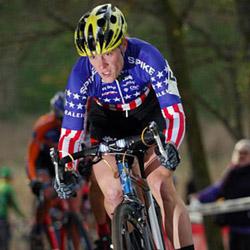 Katie Compton
Age: 28
Born: December 3, 1978
Currently resides: Colorado Springs, Colorado
Hometown: Wilmington, Delaware
Racing disciplines: Road, track, cyclo-cross
Years racing: 18
Current sponsors: Spike Professional Team (track, 'cross); Primus Mootry ('cross)
Career highlights
2006
US Track National Championships, Carson, California
2nd 3km individual pursuit
4th team sprint
10th points race
IBSA World Championships, Aigle, Switzerland
2nd 3km pursuit
2nd kilometer time trial
Crashed in road race
2005
US National Cyclo-cross Championships, Providence, Rhode Island
1st Elite Women
2004
IPC Paralympic Games, Athens, Greece*
1st 3km pursuit and current world record holders
1st combined road race and time trial
2nd kilometer time trial
3rd match sprints
US National Cyclocross Championships
1st Elite Women
2003
IPC European Games, Prague, Czech Republic
1st kilometer time trial
1st 14km time trial
2nd 3km pursuit
2nd road race
3rd match sprints
IBSA World Championships, Quebec, Canada
1st 3km pursuit
1st match sprints
2nd kilometer time trial
2nd road race
US Paralympic National Championships, Colorado Springs, CO
1st 3km pursuit
1st kilometer time trial
1st match sprints
2002
IPC World Championships, Altenstadt, Germany
1st 3km pursuit
1st 23km time trial
2nd kilometer time trial
* The Paralympic events were raced with Compton's partner, Karissa Whitsell.
Well into her second decade of racing, Katie Compton (Spike Professional Team/Primus Mootry) knows what it takes to be successful, and she's looking forward to the US national championships coming to Providence, Rhode Island, December 15-17. "My goal is to win," said Compton. "I would love to defend the jersey, but above all, I want to have a good ride, with my legs good and my bikes running great. I want to win the jersey and go to worlds." Compton will be chasing her third consecutive national title, possibly on her way to becoming one of five American women who will represent their country at the world cyclo-cross championships in Hooglede, Belgium, in January 27-28.
Gone are the days of relative anonymity on the 'cross circuit. Compton, who will turn 28 in early December, surprised almost everyone when she won her first national title in 2004. While racing for several years as the pilot of a Paralympic tandem team*, Compton chose not to race more often in events that would have given her too many UCI points and rendered her ineligible for Paralympic competitions. Eventually, the UCI rules changed, allowing Compton to become a fixture on podiums at major American 'cross races. Now she is a household name among 'cross fans.
The happy winner Katie Compton (Spike/Primus Mootry)
Photo ©: Mark Legg

"Each year it gets harder and harder, people expect things. If you have a bad day, they say "what happened?" but you can't win every bike race you do. This is bike racing, and anything can happen."
At nationals, Compton expects her toughest competition from Georgia Gould (Luna), Maureen Bruno-Roy (Independent Fabrications), and Melissa Thomas (Maxxis). "I don't know if Ann Knapp will be there this year, but she's always a strong rider and has tons of experience." Knapp races less often on the national circuit, but would challenge the leaders if she attends.
US nationals will be held for the second consecutive year in Providence. In 2005, the race was marked by epic, frigid, snowy conditions. "The course was really fun last year," said the Wilmington, Delaware native. "It was super muddy and icy and slick, but that made it more fun. I'd love it if it was a fast, dry course this year, but realistically, chances of that are slim. I think that every nationals since 1999 has been super muddy or really cold and snowy…really exceptional conditions."
Changing times: No more Paralympics
Compton has noticed that her course preferences are changing over time. "To tell the truth, after this past weekend [in Seattle and Portland at the final two USGP races], I realized that I used to like riding in the mud. But there's the whole clean-up process, and your hands slip off the bars while you're racing. I enjoy dry, fast, technical courses with a fast race and fast barriers. The clean up process is easier. Warm up is easier."
Compton and Bessette sprint for the line
Photo ©: Mitch Clinton

"I used to love racing the mud. It was like being a little kid. But when you start paying for your own stuff and maintaining your own equipment, you know what you're doing to your equipment with each muddy shift. Now living in desert-like conditions [in her adopted hometown of Colorado Springs, Colorado], the bikes only get dusty and I just wipe them off when I get home."
Paying for her own equipment? Yes, the two-time national cyclo-cross champion has been racing on her own dime, in part due to her commitment to Paralympic racing. However, her situation will change in January 2007, when Compton becomes a paid professional of her current Spike team. But even with a paid racing slot, Compton will continue her job as a coach with Carmichael Training Systems, which she started as an intern while earning a degree in exercise science from the University of Delaware.
Compton recently gave up racing Paralympics. Her last race with her long-time tandem partner, Karissa Whitsell was in September in Aigle, Switzerland, when her team took second in the pursuit and kilo. "I'm not going to race Paralympics any more. I decided I'm going to move on and focus on 'cross and track. I've had a lot of great experiences and it's been fun, but I've reached a point where I need to move on, and I'm doing well in 'cross. I don't want to wait--I might miss my window, and I want to take advantage while I'm riding well."
The decision is affecting her training, but only somewhat. "Race preparation and training are similar. When I was training for the Paralympics, I did a lot of tandem training and racing. Now for racing 'cross and track, I train more specifically for my needs. The total hours per week as well as types of workouts are similar."
'Cross vs Track
Compton declined to participate in the opening weekend of the USGP series (October 7-8 in Gloucester, Massachusetts) because she chose to race US track nationals (October 4-7 in Carson, California) instead. She used to race the track as a junior in the late 1980's and 1990's.
Although Compton said she wasn't quite ready for track nationals earlier this fall, she still took second in the pursuit, tenth in the points race, and fourth in the team sprint. "I came directly into track nats from Paralympic worlds in Switzerland, where we won the time trial (road) and had one our best races since Athens 2004. It was a good ride. I wasn't quite ready for 'cross season yet. And I didn't have great track legs for nationals, but it was a good experience. Track racing solo is different than tandem track racing. I need to spend more training time to become a better pursuiter and points racer."
She found this out first hand in the women's pursuit. "Racing Sarah [Hammer] is unbelievable - in a whole other league. She was 20 seconds faster [in the pursuit]. I knew she was good going into it, but it was quite an experience to be beaten that badly. She's racing really strong. She's world champion - and for a reason."
Muddy races happen in 'cross
Photo ©: Mitch Clinton

Before Compton was eligible to race regular UCI women's races, she used to train by racing the men in local 'cross races. "I still race with the Cat 3's…in 'cross and on the track in mass start races." But maybe the true secret of her success is doing madisons with the men. "I've raced the madison with [fiancé] Mark. The Madison is the hardest racing I've ever done. You just don't want to go again, but your turn comes around again before you're ready and you just go. The recovery is so short. The exchange is great--you go from walking pace to 50kph in a single handsling." Compton often trains with her fiancé who is a photographer who also works in advertising.
Since the UCI moved the international track racing calendar to correspond with winter months in the northern hemisphere, Compton will have to choose between the conflicting 'cross and track seasons. "That's a tough call. I'm only going to do domestic track because it happens in the summer. My heart's still in 'cross. For now, I do better in 'cross, and so I'll stick with that. I think track is great training for the 'cross season. We'll see what happens with track. Maybe if I spend more time on it? We'll see."
A network of support
"The Madison is the hardest racing I've ever done. You just don't want to go again, but your turn comes around again before you're ready and you just go. The recovery is so short. The exchange is great--you go from walking pace to 50kph in a single handsling."
- Katie Compton on track racing.
She is coached by Craig Griffin, the person who introduced her to tandem racing. As a coach herself, she doesn't believe in self-coaching and thinks it is important to have an outside influence on her training.
In fact, she remembers one coach in particular who influenced her in her early years. "The best experience of a coach I had was Alaric Gayfer [Gayfer was a seven-time British national track cycling champion and popular coach at the Lehigh Valley Velodrome who died from a brain tumor in 2004 at age 48]. He's the one I remember the most. He taught me so much. He was supportive and encouraging and fun." She also cited the support of her dad, who took her out riding as a junior.
'Cross going forward
Looking forward, Compton is excited about the growth of cyclo-cross in the US, especially at major races. Compton said, "The USGP racing has been great…with good courses and promoters. I missed the Gloucester races, but the spectators were great in Boulder, Seattle, and Portland. I was on the run-ups and sometimes I couldn't even hear myself breathe because the crowds were so big. Cowbells were going off. That's great for cycling. 'Cross is a spectator friendly event, and those courses were spectator friendly."
Katie Compton (Spike)
Photo ©: Mitch Clinton

"I think the fields are growing, too. The Colorado and East and West coast races are increasing in popularity. 'Cross racing is fun. It's a short, intense season, different from other racing disciplines. It's more laid back, more social. Races are shorter. People come out to watch and relax."
In particular, the quality and depth of the women's field are increasing over time. "I've gotten stronger year to year after learning more how to race 'cross, when to apply pressure and when to relax," said Compton, "This year, there's been strong competition with the Luna girls and Lynn [Bessette]. We've all just stepped it up and all want to win. So we push each other. This makes the races faster and harder."
However fast she and her competition are getting, she doesn't think women's 'cross racing is infused with the doping problems seemingly more prevalent in road racing. "'Cross is not an Olympic sport which reduces the pressure. But it's hard to know. I don't think anybody knows but the athletes themselves. I know it's not an issue with the people I race with, but I have no idea what's going on with the men's fields."
The increased American competition will help prepare her for more international racing. "I may do a world cup before worlds." Compton prefers to train based out of her home, with the support of her fiancé, but she will travel to meets her goals.
Compared to her other European racing experiences, 'cross may be a piece of cake...at least psychologically. Referring to Paralympic road competitions, she said, "Tandem racing is like racing with the Euro girls on the road with everyone constantly moving around and bumping elbows. But you can't modulate speed as easily with someone behind you who can't see. It's nerve-wracking racing in a group of tandems with blind people." Compton and her partner were crashed in the road race in September, but fortunately, both were ok.
"Each year it gets harder and harder, people expect things. If you have a bad day, they say "what happened?" but you can't win every bike race you do. This is bike racing, and anything can happen."
- Katie Compton on repeating her third national title
Her long career is full of achievement, first as a junior racer, then as a Paralympic team racer, and now as 'cross racer. While many racers would have burned out years ago, she keeps it fresh by keeping her racing in perspective with other aspects of her life. "I've been doing this for 20 years. In the off-season, I do some riding and hiking and skiing. I have a great group of friends to ride and train with. I enjoy riding with friends. I don't have to spend many days on the trainer. I really like riding my bike, and I don't generally get bored. When I do occasionally get bored, I just take a rest. It's more about being fit and active and feeling good. I hate running. If I want to stay fit, I need to keep doing something." For her, cycling is that something.
Long term, Compton does not know how long she'll race at an elite level. "I'd always ride my bike. I'll keep racing…until I stop doing well…for as long as I can. I don't have a long term plan right now. I do this for fun. I haven't been a paid athlete, so I want to keep it fun. It's a hobby for me. Once you make it a job that changes everything. I enjoy riding my bike every day, and I like not thinking of it as an obligation."
Stay tuned to Cyclingnews for complete coverage of the upcoming US Cyclo-cross nationals December 15-17.
*With her partner Whitsell, Compton won the 2004 Paralympic Games pursuit (setting a world record) and combination road race/time trial and took second in the kilo and third in the match sprint.