Cyclo-cross news & racing roundup for January 24
Edited by Laura Weislo
Welcome to our regular roundup of what's happening in cyclo-cross. Feel free to send feedback, news and releases to mtb@cyclingnews.com.
Italy hosts battle for 'cross supremacy
By Brecht Decaluwé
Returning World Champion Erwin Vervecken
Photo ©: Isosport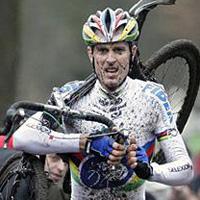 The men's race in Treviso will attract the biggest crowds, and the organisers expect some 20000 (non-paying) spectators along the Le Bandie course. They will mainly support local hero Enrico Franzoi, UCI leader Sven Nys, popular Bart Wellens, young ace Lars Boom and returning champion Erwin Vervecken.
To host the World Championships an organiser needs to host a World Cup event first, and last year that event was won by a French man who combines road cycling at the highest level with cyclo-cross, Francis Mourey. The Française des Jeux rider is one of the favourites for the win on Sunday in the men's race, where Belgian veteran Erwin Vervecken is defending the title he has captured in 2001, 2006 and 2007.
The big favourite for the win in the men's was UCI leader Sven Nys. Despite winning four out of eight World Cup races, and despite leading all the regularity competitions, the Belgian will not be top favourite. The Belgian has been bugged by an exhausted body, mainly caused by racing too many races at 100 percent and his poor form during the last two World Cup races in Liévin and Hoogerheide has thrown around affairs for the Belgian 'cannibal.'
Coming up on
Cyclingnews will cover the 60th edition of the Dauphiné Libéré live as of stage 4 on Wednesday, June 10, at approximately 15:00 local Europe time (CEST)/ 23:00 Australian time (CDT)/ 9:00 (USA East).

WAP-enabled mobile devices: http://live.cyclingnews.com/wap/

The 31 year-old often failed to turn his favourite role into a win at the World Championships in the past, capturing 'only' one title in 2005. This time the Belgian might take profit from his role as an outsider, as the pressure of being the top favourite is not on his shoulders anymore.

Nys' young team-mate Lars Boom has shown himself well this season, and the Dutchman seems to have the arrogance and the guts to capture the world title in his first year among the professional's. The 23 year-old has won three World Cup races this season, with the last two being among them. The reigning Under 23 Cyclo-cross World Champion is – just like Adrie Van Der Poel – successful on the road where he won the recent time trial worlds in Stuttgart.

Continue to the full preview. See also startlist, past winners, the course map and schedule.

Also see updated Men's, Women's and U23 and Junior UCI rankings.
Boom, Kupfernagel become top favourites
By Brecht Decaluwé in Hoogerheide
Lars Boom (Rabobank) celebrates
Photo ©: Isosport

Dutch ace Lars Boom won the final rehearsal for next week's world championships and turned himself into a big favourite for the title in Treviso, Italy. On the swampy course which will be used for the 2009 World Championships, he overpowered the opposition and won with more than thirty seconds advantage over Bart Wellens.
"I always tried to stay within the top three so I could keep an overview," Boom said of his tactics in Hoogerheide. "With this win my pre-season goals are already accomplished and at the worlds I will be satisfied with a top five result," the Dutch World Championship hopeful said.
During the first half of the race the formation of the leading group changed routinely, but the one constant member was Boom who was marking every attack. Halfway through the race Boom also featured in a three-man lead group, together with world champion Erwin Vervecken and Bart Wellens.
With three laps to go Boom got rid of his two companions and powered to his third World Cup victory of the season. When asked about the moment where world champion Vervecken bowed his head and got blown off Boom's wheel, the youngster smiled, "I didn't attack today, I just accelerated a little when Vervecken told me he couldn't take a pull." It was the moment Boom his last rival in the race behind.
Kupfernagel claims convincing win
Hanka Kupfernagel (Focus)
Photo ©: Mark Legg

Last week's World Cup race in Liévin already showed that Hanka Kupfernagel will be a favourite for a fourth cyclo-cross world title next weekend, and today she stepped more fully into that role of major favourite by claiming her second consecutive World Cup victory.
"This morning I was still feeling nervous, but I was looking forward to the competition," Kupfernagel said that she wasn't too convinced that she could do well in The Netherlands. "Today I feel that everything we worked for in the past few weeks is starting to deliver."
Delivering is the right word, but it doesn't describe how much the German woman has been dominating the last couple of races. In Hoogerheide she overpowered the other women and put a minute on runner-up Maryline Salvetat. "I'm very strong right now," Kupfernagel said. "I could win, even though I don't like this course and I'm not looking forward to seeing the World Championships on this course next year," said Kupfernagel, not hiding her distaste.
See full coverage of the elite men's or elite women's World Cup race in Hoogerheide.
'Cross World Cup possibilities resurface for US
By Brecht Decaluwé in Hoogerheide
World Champion Erwin Vervecken (Fidea Cycling Team) and others could attend an American Cyclo-cross World Cup event
Photo ©: Isosport

The World Cup for the 2008-2009 season will soon be announced and despite the UCI's desire to expand the prestigious race series to North America, the inclusion of a round across the Atlantic is still in question.
The idea of including an American venue is not a new one, although so far intentions to cross the Atlantic have not been fulfilled. Last year the International Cycling Union had scheduled a World Cup in Providence, Rhode Island, but the event was called off last June.
The main difficulty in securing a US World Cup race has been money: the UCI blamed the Providence organizers for not taking enough action to guarantee that the event could be held. Those same organizers had also promised to do all they can to ensure a World Cup in 2008, but their chances to host the event seemed to have vanished.
The UCI's cyclo-cross coordinator Peter Van Den Abeele explained the situation to Cyclingnews after the World Cup race in Hoogerheide. "On Friday, we will publish the World Cup calendar for the 2008-2009 season, and for sure there will not be an American event on that list," the former rider said.
"On Saturday, we will talk with organizers who would like to host a World Cup race, but I'm not really convinced. If they have a good business plan, then they might be added to the calendar later on. But they will definitely not feature on the original calendar," underlined Van Den Abeele. Clearly the UCI doesn't want repeat the 2007-2008 season problems which left a gap was in the calendar. Riders complained they couldn't race, and the Belgian organizers were annoyed that they had to make arrangements around a non-event.
Van Den Abeele then confirmed to Cyclingnews' that the organizers of Cross Vegas will be meeting in Italy to discuss an eventual upgrade to World Cup status in the 2009-2010 season. Cross Vegas received many positive comments after its inaugural running in October. Race promoters confirmed that they would upgrade the race to C1 status for 2008 with an eye toward a World Cup bid in 2009, but said they are proceeding cautiously.
Germans announce 'cross worlds team
Hanke Kupfernagel will lead the German team in the 'cross world championships this coming weekend. The World time trial champion and three-time 'cross world champion is also the 2007 German female cyclist of the year, and is looking to add to her collection of titles.
"Treviso will be a very tactical race," Kupfernagel said. "I'll have to have a bit of luck, too." The other German women starters are Stephanie Pohl, Birgit Hollman and Susanne Juranek.
Five riders will be in the men's U23 race, and national trainer Patrick Moster says that "anything between places two and ten is possible." The riders are Philipp Walsleben, Paul Voss, Marcel Meisen, Ole Quast and Yannick Tiedt. A top ten finish would be a major success for juniors Josef Rauber, Max Walsleben, Michael Schweizer and Toni Bretschneider.
The German elite men have lower expectations and Moster would be satisfied with a finish between places ten and twenty for the team of Malte Urban, Rene Birkenfeld, Johannes Sickmüller and Finn Heitmann.
Helen Wyman: Swiftly does it
Heading to another World Cup podium in Hoogerheide, The Netherlands
Photo ©: Mark Legg
With consistent top tens in the women's Cyclo-cross World Cup races turning to consistent top fives, British champion Helen Wyman surely can't be too far away from her first major victory. Cyclingnews' UK Editor Ben Atkins caught up with the Swift Racing rider shortly before her successful defence of the red, white and blue jersey.
Helen Wyman's season so far shows that she's now knocking on the door of a big result. "Definitely," she predicts confidently, "last year I got two thirds in the World Cup series, this year I've got a second, so that's really good. We kind of did it a bit different this year, because last year I got third in the first World Cup and then third in the last one, but I was quite tired in the middle. I'd come into it quite quick and then leveled out a bit; I didn't really have a peak during the season. This year we're trying to make it so I'm stronger towards the end, where last year I wasn't quite so strong, and it's working I think!"
Working indeed. So much so that her first target of the year - Round 6 of the World Cup - turned out to be that career best result: "Milan was the first race that we'd planned for me to go really well at - and I did - so I was really happy with that. We've still two World Cups and the Worlds after the Nationals..."
Her increasingly strong results, coming into the beginning of 2008 and two of her biggest targets had given Wyman great confidence heading towards the UK National Championships - a race that she aimed to win for a third successive year. Seemingly, her major problem heading into the championships was the fact that all of her racing for the past few years has been in Europe while almost everyone else in the field races exclusively in the UK. All except one rider - potentially her biggest competition would be someone she knows very well.
Compton faces doubts over World Championships
By Brecht Decaluwé in Hoogerheide
Katie Compton (USA) racing to second at the 2007 World Championships
Photo ©: Mitch Clinton

Last year Katie Compton captured a silver medal at the UCI's Cyclo-cross World Championships in Hooglede-Gits, Belgium, and this year she is again a favourite for the podium in Treviso, however the American rider was present in Hoogerheide on Sunday for the final World Cup race of the season, but she didn't start the race.
"This is a rest day," she said trying to look positively at a recent setback she has been suffering. "I hoped I could be optimistic, but now I'm realistic. I have some muscle disorder. I don't exactly know what it is."
Wishing she could be out there racing, too, Compton said, sighing, "It's hard to watch a race, it's more fun to actually ride it." To be sidelined only one week before the world championships is poor timing and Compton realizes she will not be 100% in Italy.
"Normally I would be out for three weeks, and now I'm trying to get ready in one week," Compton said she's doing all she can to pull off a decent performance in Treviso. "And if I'm not going to be ready, then you'll find us along the course with a bottle of wine," said Compton, who was determined to have fun in Italy, no matter what her form is like on race day.
Mixed day for American cyclo-crossers at World Cup
By Brecht Decaluwé in Hoogerheide
Jonathan Page (Sunweb Pro Job) racing 'cross in Spain
Photo ©: Oskar Matxin

At the World Cup in Hoogerheide, The Netherlands, Sunday, Jonathan Page, the runner-up at the UCI Cyclo-cross World Championships last year, was pleased to see his form heading in the right direction after a tough start to his 2007-2008 cyclo-cross season.
"This is a hard race where strong guys do well. It was a good race for me today and I'm happy," Page said to Cyclingnews. The American was battling for seventh place and eventually sprinted to eighth place after a demanding race. "In our group switching bikes was the deciding factor in the ultimate laps. Kevin Pauwels didn't switch bikes in the last lap; he played it well," Page reflected after the race.
Meanwhile, fellow American Jeremy Powers kept his head up in Hoogerheide which wasn't easy after riding backwards in the mud of Zonnebeke on Saturday. "Having a good race in the mud is a great accomplishment for me. I can do well on every other type of course, but since I'm going 100% for cyclo-cross I need to be good on this type as well," Powers said to Cyclingnews while riding his rollers after the race.
Powers' travelling buddy Tim Johnson gave him some advice which worked out well. The US National champion didn't have a great day in Hoogerheide himself though, as he was bothered with a cold.
"I hate to be the guy who pulls out of a race, but I didn't have anything in my legs. I pulled out to save whatever I have for next week," Johnson said to Cyclingnews after he abandoned Sunday's race. "It's too bad that I missed out on the opportunity to race on a course like this one," Johnson said the day's course suited him very well, as he captured his US national title on a similar swampy course in Kansas.
Ryan Trebon, who will also be participating in the World Championship next weekend, didn't start in Hoogerheide. The 2007 US National Champion had said earlier that he hasn't been racing that well since his spectacular crash at the American nationals. Trebon, who has been suffering from a back injury, was likely saving what form he does have for next week's showdown in Treviso, Italy.
Upcoming UCI Cyclo-cross races
January 26-27: Championnats Mondiaux / World Championships, Treviso (Ita) CM
(All rights reserved/Copyright Future Publishing Limited 2007)