Star-Crossed (NACT#1)- C2
Redmond, WA, USA, September 20, 2008
Powers strikes first in 'cross opener
By Mark Zalewski, North American Editor in Redmond, Washington
Powers finally gets the news.
Photo ©: Mark Zalewski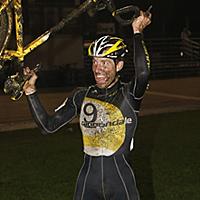 Jeremy Powers (Cyclcrossworld-Cannondale) used a little bit of good fortune and a vigilant awareness to take the first UCI 'cross win of the North American season, crossing the wet and muddy Starcrossed finish line ahead of Ryan Trebon (Kona) on what the two thought was the penultimate lap – but due to a confusion with lapped riders, it turned out to be for the win.
"There was just a little mix-up with the lap cards," said Powers. "When Ryan and I came through for lap four it said two to go, but I thought we only had one. I saw it as two the lap before and I was trying to think about what they were doing because I didn't hear a bell. It didn't seem like it was the end! I was just going as hard as I could."
"I didn't do any attacking today, I was just sitting there sweeping wheels. Ryan threw down fifty attacks and I was just trying to stay there. I don't have the high-end yet coming off a 7-day stage race."
Trebon's final lap (or what turned out to be the final lap) was complicated by a late crash with a lapped rider. "It was some guy going for fiftieth who thought that was more important than racing for the win," Trebon told Cyclingnews. "And he just got in the way. I caught him on the first up/down section and I crashed. I bent my shifter so I had to pit – it was so fast that I lost a bunch of time, it was a flying last lap!"
Trebon's tangle was not an isolated incident, though it was the most ill-timed. "Everyone had a problem," said Powers. "I had a few earlier, like a big glob of mud in my eye! I was just trying to stay smooth and hope for the best. Unfortunately for Ryan he got tangled up with another rider. But it's the first race of the year and everyone is still getting used to their bikes."
Trebon comes in second….
Photo ©: Mark Zalewski

Power's teammate and the current national champion Tim Johnson was leading early in the race, but also succumbed to the messy conditions. "Just like everyone else I had a crash... I dumped it in a corner and I lost contact with Ryan, Adam and Jeremy," said Johnson. "I caught Adam and got rid of him and was on my way to catching those guys but just ran out of time."
"But I'm totally psyched about how the race turned out, for Jeremy to win and me to get third. I was expecting the absolute worse... first race of the year with new equipment... you never know."
In shocking news, it rained in Seattle... for the entire day leading up to the evening race. But like on cue the rain stopped just before the men's race. Still the conditions were already devolved into a mud bath. "It's not just mud, it's slimy," said Johnson. "I would have liked to have a Rhino out front but I managed with about 22 psi."
Butler outlasts Simms for win
Sue Butler (Monavie -Cannondale)
Photo ©: Mark Zalewski

Sue Butler (Monavie-Cannondale) took the lead early in the women's race and did not look back. Only Canadian champion Wendy Simms was able to bridge up to her and ride the rest of the two-up race. But Butler led in the most important turn, the final one, for her first UCI elite win of her career.
"It was nice to be able to stay out front and relaxed," said Butler. "I was nervous coming into the race because I hadn't run any barriers at speed yet this year! I got the first set and said, 'Oh, I remember how to do this!' "
"Sue had a good start and was super smooth," said Simms. "She got away early and I bridged up to her. Then we worked together to get a gap. I got a little gap on her and tried to drop her, but she was super strong and bridged back up. So I sat behind her to try to rest for the finish. But I missed-timed the finish and she got away."
Simms said it was Butler's speed on the straights that neutralized her ability to make an attack stick. "I was doing the corners well but she was super-fast on the long straights, which is where she bridged back up."
"It was back and forth," said Butler. "We knew we had a big gap and we didn't waste any energy. I didn't know if I could get her on the sprint, I thought she might come by me on the long stretch."
The racing continues Sunday south of Seattle with the Rad Racing GP, with more rain expected in the forecast!
Photography
For a thumbnail gallery of these images, click here
Images by Mark Zalewski/Cyclingnews.com
Results

Elite Men
 
1 Jeremy Powers (USA) Cyclocrossworld.com/Cannondale      1.02.37
2 Ryan Trebon (USA) Kona                                     0.05
3 Tim Johnson (USA) Cyclocrossworld.com/Cannondale           0.16
4 Adam Craig (USA) Giant Bicycles                            0.57
5 Barry Wicks (USA) Kona                                     1.36
6 Russell Stevenson (USA)                                    1.52
7 Joachim Parbo (Den) CCV Leopard Cycles                     2.32
8 Nicholas Weighall (USA) Rad Racing / Hagens Berman LLP     2.59
9 Shannon Skerritt (USA) VANILLA BICYCLES                    3.03
10 Dan Timmerman (USA) TEAM RACE PRO                             
11 Molly Cameron (USA) Vanilla Bicycles                      3.13
12 Erik Tonkin (USA) Kona                                    3.21
13 Andy Jacques-Maynes (USA) Specialized/KMC pb Cal Giant    4.19
14 Kevin Bradford-Parish (USA) Redlinebikes.com              4.30
15 Solomon Woras (USA) Vanilla                                   
16 Justin Robinson (USA) California Giant Berry Farms/Sp     5.06
17 Ryan Iddings (USA) Lapierre USA                           5.15
18 Kris Sneddon (Can) Kona                                   5.22
19 Craig Richey (Can) Team Aviawest - Van Dessel             5.30
20 Bart Gillespie (USA) MonavieCannondale.com                6.26
21 Jake Wells (USA) MafiaRacing.com                          6.37
 
One lap behind
 
22 Kevin Noiles (Can) Trek Red truck racing                      
23 Steve Fisher (USA) Rad Racing/Hagens Berman                   
24 Tyler Trace (Can) Trek Red Truck                              
 
Two laps behind
 
25 Nathan Bannerman (USA) Bicycle Centres/Collision 1            
26 Cody Kaiser (USA) California Giant Berry Farms/Sp             
27 Chris Parrish (USA) Rad Racing / Hagens Berman LLP            
 
Three laps behind
 
28 Matthew Wills (USA) Veloshop                                  
29 Jeremy Ferguson (USA)                                         
 
Four laps behind
 
30 Craig Fowler (USA) uBRDO Team Project                         
31 Evan Hyde (USA) NashvilleCyclist.com p/b Bike P               
32 Ben Chaddock (Can) Whitman College Cycling Team               
33 John Duquette (USA) Alki Rubicon                              
 
Five laps behind
 
34 Douglas Shryock (USA) MT Cyclocross.com                       
35 Kevin Thorpe (Can) Trek Red Truck racing p/b Mosai            
36 Chris Sayers (USA)                                            
37 David Yeater (USA) RIVER CITY BICYCLES                        
 
Six laps behind
 
38 Joe Wessel (Can) Kelowna Cycle/Opus/sd#23                     
DNF Troy Wells (USA) Clif Bar Cyclocross                         
DNF Thomas Skinner (Can) Rocky Mountain/K Capital Source         
DNF John-Christian Flack (USA) The Valley Athletic Club          
DNF Jason Sager (USA) MonavieCannondale.com                      
DNF Jesse Giordano (USA) Nob Hill Velo                           
DNF Giancarlo Dalle Angelini (USA) Team Redline                  
DNF Kyle Mcgilvray (USA) Old Town Bicycle                        
DNF Travis Mcmaster (USA) MafiaRacing.com                        
DNF Sean Worsech (USA) Rad Racing                                
DNF Joshua Berry (USA)                                           
DNF Jason Williams (USA) cucina fresca                           
DNF Alexander Jackson (USA) Joselyn's Bicycles                   
DNS Todd Wells (USA) Team GT                                     
DNS Jonathan Gormick (Can) KONA-ADOBE                            
DNS Toby Swanson (USA) Benaroya Research Institute               
DNS Scott Mcgregor (Can) Steed Cycles / SRAM                     
DNS Ben Dodge (USA) Sugar CRM/Easton/Specialized                 
 
Elite Women
 
1 Sue Butler (USA) MonavieCannondale.com                    38.02
2 Wendy Simms (Can) Kona                                     0.03
3 Kathy Sherwin (USA) Velo Bella - Kona                      0.48
4 Dawn Anderson (Can) Everti/Oak Bay Bikes                       
5 Josie Jacques-Maynes (USA) Specialized/KMC pb Cal Giant        
6 Emily Van Meter (USA) River City Bicycles                      
7 Wendy Williams (USA) River City Bicycles                   1.12
8 Sarah Kerlin (USA) HRS / Rock Lobster                      1.20
9 Stewart Sarah (Can) Total Restoration                      1.38
10 Rhonda Mazza (USA) Team S&M                               1.42
11 Amy Dombroski (USA) Velo Bella - Kona                     2.06
12 Kristi Berg (USA) Redline Bicycles                        2.09
13 Beth Lyndon-Griffith (USA) ByrneInvent                    2.41
14 Kari Studley (USA) Velo Bella                                 
15 Shannon Gibson (USA) VeloBella                            3.02
16 Kelly Jones (Can) Sugoi                                   3.06
17 Jadine Riley (GBr) Team Group Health                      3.32
18 Coryn Rivera (USA) Team Redline                           3.44
19 Jenni Gaertner (USA) Bob's-Bicycles.com                   4.23
20 Jaymie Mcgowan (Can) Oak Bay Bikes                        4.48
21 Tela Crane (USA) Vanderkitten Racing                      5.30
22 Heather Gundersen (USA) Veloshop                          5.49
23 Kele Murdin (USA) verducci racing                         7.08
24 Allison Beall (USA) Vanderkitten                          7.30
DNF Nicola Mann (Can) Ti Cycles/Avanti Racing                    
DNS Rachel Lloyd (USA) California Giant Berry Farms/Sp           
 
Masters Men 1-2
 
1 Doug Reid (Veloce Cycles Portland)                        38.30
2 Tim Butler (River City Bicycles)                           0.12
3 Richard Feldman (Durance Cycleworks - Lehman Bro)          0.19
4 Jeff Bannink (HUP United)                                  0.22
5 Richard Mcclung (Hagens-Berman LLP Cycling)                0.28
6 Mike Gaertner (Vertical Earth)                             0.33
7 Normon Thibault (Frontrunners)                             0.43
8 Matthew Hill                                               0.48
9 Todd Morse Tucker (bicycle centres/collision 1)            0.54
10 Dale Knapp (KONA)                                         0.56
11 Patrick Wilder (Cyclepath Racing)                             
12 Tom Phillips (Ragnarok Racing)                            1.02
13 Timothy Ellis (Recycled Cycles-Raleigh Bicycle)           1.04
14 Philip Oppenheimer (Bicycle Centres/Collision 1)          1.40
15 Matthew Scott (ico)                                       1.41
16 Mark Young (Second Ascent)                                1.45
17 Kristopher Holden (VERTICAL EARTH)                        1.53
18 Scott Bradway (Team S&M)                                  2.09
19 Alex Andel (Bicycle Centres/Collision One)                2.18
20 Ian Leitheiser (Cyclepath Racing)                         2.21
21 Robert Campbell (Bobs Bicycles)                           2.36
22 Mark Knokey (Vertical Earth)                              2.37
23 Sean Howie (Reps West Racing)                             2.40
24 Todd Davis (Carter VW)                                    2.41
25 Damon Pettinger (Hagens Berman LLP)                           
26 Nikos Mills (Garage Racing)                               2.49
27 David Diviney (Cyclepath Racing)                          2.54
28 Aaron Erbeck (Alki/Rubicon)                                   
29 Brian Myers                                                   
30 David Karman (Hagens-Berman LLP Cycling)                  2.56
31 Zac Daab (Hup United)                                     2.57
32 Jim Albright (SEGA)                                           
33 Doug Graver (Ragnarok Racing)                             3.05
34 Dave Nowak (Comox Valley Cycling Club)                    3.09
35 Alec Duxbury (Gin Optics)                                 3.13
36 Greg Talbert (Scott USA)                                  3.16
37 John Fiore (Montana Cyclocross)                           3.20
38 Brendan Connolly (avanti racing)                          3.23
39 Bill Huggins (Cucina Fresca)                              3.27
40 Anthony Rutter (Bicycle Centres/Collision 1)              3.31
41 Craig Undem (Cycle U)                                     3.35
42 Chad Berg (Redline Bicycles)                              3.38
43 Bret Wade (E Mortgage Strategy)                           3.50
44 Bart Sanderson (Avanti Racing)                                
45 John Bravard (Half Fast Velo)                             4.00
46 Hahn Rossman (alki rubicon)                               4.02
47 Rick Heckenlaible (Cucina Fresca)                         4.04
48 Aaron Turner (Ragnarok Racing)                            4.05
49 Brad Collins (BSP)                                            
50 Justin Bannerman (Bicycle Centers/Collision)              4.06
51 Roy Mcbeth                                                4.09
52 Terry Keele (South Town Velo)                             4.23
53 Richard Blanco (ragnarok racing)                          4.35
54 Rick Rodland (Team Alliance/ NORCO bikes)                 4.36
55 Brent Hambleton                                           4.38
56 John Stambaugh (Alki-Rubicon)                             5.10
57 Ron Collins (Team SEGA)                                   5.15
58 Michael Murdin (Garage racing)                            5.26
59 Mike Gile (Byrne Invent)                                  5.31
60 Martin Criminale (ByrneInvent)                            5.42
61 John Meehan (Bissell Cycling)                             5.46
62 Jeff Hanninen (Team Peninsula Cycles/Rocky Mou)           5.54
63 Andrew Brown (Comox Valley Cycling Club)                  6.08
64 Keith Blumhagen (First Rate Mortage)                      6.58
65 Eric Schuman (Carter VW/Saab/Subaru)                      7.59
66 Will Fernyhough (jet city velo)                               
DNS Tony Ogden (Carter VW/Saab/Suburu)                           
DNS Brian Spears (Half Fast Velo)                                
DNS Steve Jensen (Bicycle Centers/collision one)                 
DNS Ethan Harrison (team Vertical Earth)                         
DNS Damian Handisides (HUP United)                               
DNS Chris Sallen (Hup United)                                    
DNF Daryl Hemenway (Guinness Cycling)                            
DNF Alex Shapleigh (Rad Racing)                                  
DNF Ronnie Schmeer (Gin Optics Cycling Team)                     
DNF Brett Foster (Revolution Cycles)                             
DNF Chris Sautter (Yakima Bike Vigilantes)                       
DNF Matt Jordan (Trailhead Cyclery/Specialized)                  
DNF Todd Gallagher (AVA)                                         
 
Masters Men 3
 
1 Maxwell Kullaway (HUP United-333fab)                      40.21
2 Graham Christensen (Vertical Earth)                        0.54
3 Jeff Standish (Therapeutic Associates Cycling)             1.02
4 Doug Krumpelman (Vertical Earth)                           1.08
5 Kenton Berg (Caffe Appassionato)                           1.42
6 Ross Gilbert                                               1.47
7 David Salo (Second Ascent)                                 1.48
8 Bruce Johnson (Mountain View Cyclery & Fitness)                
9 Jay Murray (Trek Red Truck Racing)                         2.01
10 Andrew Yoe                                                2.05
11 Jeff Woerner                                              2.25
12 Mick Woynarowski (Second Ascent)                          2.28
13 Brian Griffin                                             2.32
14
15 Mike Alligood (Lactic Acid Cycling)                       2.53
16 Rober Jacobs (Bicycleattorney.com)                        2.55
17 Paul Brend (IRC/Cameron Law)                              2.56
18 Jason Dudek (Second Ascent)                               3.15
19 Thomas Hayes (Velo Bike Shop/CherryStreet)                3.21
20 J. Juelis (Joe Bar Racing)                                3.27
21 Barry Rempel (Oak Bay Bikes)                                  
22 Paul Anderson (Half Fast Velo)                            3.31
23 Rocky Crocker (Team W.A.R. Wenatchee Area Race)           3.37
24 Nathan Kiger (Ragnarok Racing)                            3.39
25
26 Paul Guillien (Cucina Fresca)                             3.47
27 David German (Sunset Cycles / CycleOne)                   3.53
28 Edward Reagan (Veloce Cycles, Portland,OR)                3.54
29 Matthew Oseto (Carter VW/SAAB/SUBARU)                     3.57
30 Robert Bitz (Local Ride)                                      
31 Ross Copeland (Ragnarok Racing)                           3.58
32 Sam Taagen (20/20 Fuel)                                   4.01
33 Randy Salamon (Recycled Cycles/Raleigh)                   4.07
34 Tim Wood (20/20 Fuel)                                     4.10
35 Joe Martin (NRC/PedalMasher)                              4.12
36 Vincent Mysliwiec (OTB)                                       
37 Jeremy Mckinley (Gregg's)                                 4.14
38 Robert Chew (Escape Velocity)                             4.24
39 Jason Bavuso                                              4.27
40 Thad Boss (Joe Bar)                                       4.37
41 Chris Streight (Sunset Cycles/Team Bridge City)           4.38
42 Pierre Ensky                                              4.42
43 Marty Thomas (P D Racing)                                 4.43
44 Dan Becraft (Moots Racing NW)                             4.51
45 James Clevenger (RunningShoes.com)                            
46 Mike Dourghtey                                            4.55
47 John Mchale (2020/Fuel)                                   5.04
48 Trig Rogers (BicycleAttorney.com)                         5.20
49 John Irvine                                               5.33
50 Leldon King (Bicycle Centers/ Collision One)              5.44
51 Kempton Baker (Viking Sport)                              6.04
52 Peter Stocker (Hagens Berman LLP)                         6.10
53 Eddie Whittemore (Mtn. View/Hammer Nutrition)             6.26
54 Jason Casebolt (Rad Racing NW)                            6.30
55 Cameron Vander Stoep (Half Fast Velo)                     6.53
56 Lawrence Jobe                                             6.59
57 Hank Koerner (2020/fuel)                                  7.00
58 Brian Volkert (Team Doublecheck)                          7.10
59 Marty Sparks (Second Ascent)                              7.12
60 Carl Anton                                                7.19
61 Kevin Beshlian (20/20 Fuel)                               7.35
62 Joel Liefke (Bikeman.com)                                 7.45
63 Jim Hinkley (EBS, Inc.)                                       
64 Brad Loetel (Cucina Fresca)                                   
65 Matthew Cazier (20/20 Fuel)                                   
66 Johnny Baldwin                                                
67 Tom Halverson                                                 
68 Rhea Wallace                                                  
69 Ed Amdahl (Starbucks)                                         
70 Scott Zorn (2020Fuel)                                         
71 Andrew Marcuse (Hup United)                                   
DNF Greg Johnson (Old Town Bicycle)                              
DNF Heiko Stopsack (Viking Sports)                               
DNS Steven Basden (Half Fast Velo)                               
DNS Bernard Acevedo (Rad Racing NW)                              
DNS Neubeck David (The Valley Athletic Club/Specia)              
DNS Jj Ecker (First Rate Mortgage)                               
DNS Joe Partridge (Yakima Bike Vigilantes)                       
DNS Chris Rycewicz (Southtown Velo)                              
DNS Matthew James (Portland Velo)                                
DNS Dave Stanton (Cucina Fresca)                                 
DNS Peter Stocker (broadmark)                                    
DNS Alexander Barnett (Avanti)                                   
DNS Mike Barringer (Bicycle Centers / Collision 1)               
DNS Scott Bourque (tokyo joe's)                                  
DNS Martin Senkyrik (First Rate Mortgage)                        
DNS David James (Joe Bar)                                        
DNS Alexander Barnett (Avanti)                                   
DNS Er Brown                                                     
DNS Charles Bartlett (Joe Bar)                                   
DNS Mike Porter                                                  
 
Men 4
 
1 Nick Solheim (Bicycle Centres/Collision 1)                40.33
2 Gabe Vorele                                                    
3 Ian Mullins (Team Cucina Fresca/Monster Syst)              0.12
4 Colin Krebsbach (Oh Boy Oberto/Redline)                    0.44
5 Brian Postlethwaite (Escape Velocity)                      0.46
6 Robert Letson (Wenatchee Area racers)                      0.56
7 David Broemeling (Escape Velocity)                         0.58
8 Kris Lepine (AVA/Counterbalance)                           1.08
9 Colin Campbell (Escape Velocity)                           1.14
10 Nick Stielan                                              1.18
11 Aaron Huebner (AVA/Counterbalance)                        1.20
12 Gabriel Grant (Step Down)                                 1.29
13 Cosmic Miller (Bicycles Centres/Collision 1)                  
14 Byron Breeden (ava/counterbalance)                        2.12
15 Matt Morrisson                                            2.14
16 Art Weichbrodt (Autoquest/Pedal Dynamics)                 2.19
17 Cameron Mallory (Cycle U)                                 2.44
18 Tyler Jordan (Kona Adobe)                                 2.50
19 Brandon Wagner (Joe Bar)                                  2.59
20 Jeremy Bowler (Joe Bar)                                   3.01
21 Izka Temer                                                3.03
22 Austin Clevenger (Team Oh Boy Oberto/Redline)             3.14
23 Dean Burton                                               3.24
24 Jamie Emery                                               3.29
25 Christopher Huck (University of Idaho)                    3.30
26 Brian Tucker (Starbucks)                                  3.32
27 Kevin Speltz (Recycled Cycles Racing / Boat S)            3.36
28 Brett Clothier-Sharman (AVA/Counterbalance)                   
29 Kelsey Wood (AVA/Counterbalance)                          3.38
30 David Giraud (Caffe Appassionato)                         3.44
31 Michael Robertson (Hagens Berman LLP)                     3.53
32 Nate Atkins                                               3.56
33 Alden Kroll (Hagens Berman LLP)                           3.57
34 Chris Mahan (Novara)                                          
35 Brian Goldstone (Kona Adobe)                              4.18
36 Edgardo Balansay (Team Cucina Fresca)                     4.20
37 Noah Mery (Caffe Appassionato)                            4.21
38 Shane Kromrey (Bicycle Centres / Collision 1)             4.24
39 Darrin Grund (Team Coastal)                               4.27
40 Brett Gaspers (Avanti Racing)                                 
41 Avi Mahan (oh boy Obertos/redline)                        4.35
42 Brendan Flynn (Recycled Cycles)                           4.39
43 Riley Conkin (Autoquest/Pedal Dynamics)                   4.53
44 Michael Lipka (Team Cucina Fresca)                        4.57
45 Mark Longrie (Old Town Bicycle)                           5.01
46 Loren Mcwethy                                                 
47 Nicholas Cowan                                            5.35
48 Brent Kresbach                                            5.45
49 Gehrig Uhles                                              6.00
50 Chris Peterson (Viking Sport Seattle)                     6.08
51 Alex Telitsine (Cycle U)                                  6.14
52 Joe Brennan (Hagens Berman LLP)                               
53 Ben Barbera (Viking Sport Seattle/Zoka)                   6.15
54 Ivan Anderholm (Chinook Cycling)                          7.23
55 Nathan Solomon (Alki Rubicon)                             7.28
56 Mark Villagres                                                
 
One lap behind
 
57 Michael Armfield (Caffe Appassionato Cycling Team)            
58 Francisco Pons (SEGA TEAM)                                    
59 Christopher Flechtner                                         
60 Charlie Wilcox (Chinook of Yakima / Revolution)               
61 Mike Stewart (Wines of Washington)                            
62 Alex Brockway (Hagens Berman LLP)                             
63 Ryan Williams (AVA/Counterbalance Bicycles)                   
64 Whitney Jim                                                   
65 Glen Copus                                                    
66 David Hutchinson                                              
67 Roman Sarin                                                   
68 Rob Anderson (Union Bay Cycling/Wines of WA)                  
69 Rob Remington (AVA/Counterbalance Bicycles)                   
 
Two laps behind
 
70 Mike Purfield                                                 
DNF Forest Wilson (RunningShoes.Com)                             
DNF Mike Braaten (Old Town Bicycle)                              
DNF Joe Brennan                                                  
DNF Mike Clark (Cucina Fresca)                                   
DNF Shawn Larson (Broadmark Capitol)                             
DNF Jim Hinkley (EBS, Inc.)                                      
DNF Kevin Raymond (Wines of Washington)                          
DNF Peter Emsky (RAD RACING NW)                                  
DNF Thomas Martin (ESCAPE VELOCITY)                              
DNF Ben Larson (Avanti Racing)                                   
DNF Ryan Rickerts (Shuksan Velo / Fanatik Bike)                  
DNF Greg Hyra (Wines of Washington)                              
DNF Gabe Vorele                                                  
DNS Jordan Louie (Caffè Appassionato Cycling)                    
DNS Justin Serna (NRC / PEDALMASHER)                             
DNS Kevin Driscoll (Caffe Appassionato)                          
DNS Yon Nuta (Hagens Berman LLP)                                 
DNS Steven Lindell (Avanti Racing)                               
DNS Atkins Nathan (AVA/Counterbalance)                           
DNS Luke St.Clair (Central Penn Racing)                          
DNS Dean Burton                                                  
DNS Erik Rucker (Wines of Washington)                            
DNS Bradley Arnold (AVA/Counterbalance Racing)                   
DNS Stephen Berard (Wines of Washington)                         
 
Women 4
 
1 Elizabeth Hartsoch                                        30.30
2 Colleen Flaherty (Veloce/Felt)                             0.01
3 Erika Krumpelman (Velo Bella-Kona)                         0.03
4 Lee Smith (Team Group Health)                              0.07
5 Lindsay Kandra (Group Health)                              1.01
6 Dana Robertson Halter (Team Group Health)                  1.02
7 Jenn Triplett (HB)                                         1.04
8 Ali Ritter (Starbucks Cycling)                             1.19
9 Anne Love (uBRDO Team Project)                             1.37
10 Jodi Connolly (Avanti Racing)                             1.41
11 Lorena Brown (University of Idaho)                            
12 Karyn Abraham (Sega)                                      1.55
13 Brandee Era-Miller (The Valley Athletic Team/CBC)             
14 Schweitzer Jennifer (Veloshop)                            1.56
15 Karen Todd (Different Bikes)                              2.03
16 Naoko Forderer (Native Planet)                            2.28
17 Angela Mysliwiec (Avanti)                                 2.37
18 Lesley Trivett (Wedgewood Cycling)                        2.38
19 Christina Norwich (First Rate Mortgage)                   2.40
20 Sharon Gregg (Avanti)                                     2.44
21 Mari Demarco (Sorella Cycling p/b BVM Engineering)        2.54
22 Samantha Limesand (ASC)                                   2.59
23 Izette Swan (Team Group Health)                           3.00
24
25 Kelly Grove (Northern Rockies Orthopedic)                 3.03
26 Sharon Anderson                                           3.04
27 Eileen Kelly-Foulston                                         
28 Devon Simpson (Team Group Health)                         3.07
29 Heidi Swift (Portland Velo)                               3.29
30 Deborah Driver (Ragnarok Racing)                          3.33
31 Christina Solheim (Bicycle Centers / Collision 1)         3.36
32 Kristen Bell                                              3.42
33 Amy Christie                                                  
34 Andrea Casebolt (Rad Racing NW)                           3.57
35 Rachel Huffman (Cucina Fresca)                            4.21
36 Molly Foster (AVA/Counterbalance)                         4.25
37 Alison Bardsley                                           4.34
38 Noel Fountain                                             4.35
39 Liz Letson (Wenatchee Area Racers (W.A.R.))               5.01
40 Whitney Niemcziek (n/a)                                   5.02
41 Susan Berg (Caffe Appassionato)                           5.04
42 Camille Jetgen                                                
43 Sophia Kircos (Northern Rockies Orthopedics)              5.07
44 Kimberly Turner (Caffe Appasionato)                       5.28
45 Sirikit Valentin (Wines of WA)                            5.37
46 Nancy Smalley (Starbucks Cycling)                         5.47
47 Melissa Witzigmann (EV)                                   6.10
48 Fiona Graham (River City/Specialized)                         
49 Linda Maza-Sparks (Double Check)                          6.32
50 Nikole Pattonrock (Ragnarok Racing)                       6.43
51 Andrea Wagner                                             6.45
52 Kristen Stonder                                           6.50
53 Leigh Kilcline (Cycle U)                                  7.08
54 Emily Tucker                                              7.20
55 Cynthia Freed (Cucina Fresca)                             7.42
56 Alex Wolf                                                 7.46
57 Catherine Humbert (Avanti Racing)                         8.44
 
One lap behind
 
58 Jennifer Lill (wines of washington)                           
59 Samantha Limesand (ASC)                                       
60 Kathleen Mcmahon (Team Cucina Fresca)                         
61 Amy Christie                                                  
62 Laska Whiteaker                                               
63 Michelle Petrick (Phil's South Side)