Star-Crossed - C2
Redmond, WA, USA, September 22, 2007
Huele Wins Despite One-Two Punch of Trebon and Wicks
Wendy Williams Takes Sprint Finish For Women
Christian Heule (Stevens)
Photo ©: Joe Sales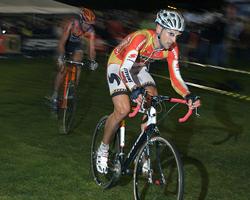 Beautiful weather and big crowds greeted a strong field of racers for the 2007 Star Crossed races in Redmond, Washington, and the fans were not disappointed by two hotly contested UCI races. The Men's races was dominated by a power trio of Barry Wicks, US National Champion Ryan Trebon, and Swiss National Champion Christian Heule that left the rest of the pack early and kept a significant gap for the remainder of the race.
The race was fast and furious, but it was evident that early on it was going to be a three person race with Heule, Wicks, and Trebon detaching themselves from the pack early on. Pre-race favorite Geoff Kabush had an early flat and made his way to the beer garden earlier than expected. Danish National Champion Joachim Parbo crashed in the Cycle U-Turn, but was able to recover and hold on for sixth.
Heule kept his cool while Trebon and Wicks repeatedly took shots at the Swiss Champ. Wicks went down in a slick corner midway through the race but was able to recover and re-join the lead trio. Eventually it came down to a drag race with Heule moving to the front in the last few corners and drag racing Trebon to the finish. Rounding out the top five was Andy Jacques-Mayne and Troy Wells.
Wendy Simms (Kona) and Wendy Williams (River City Bicycles)
Photo ©: Joe Sales

Also notable was the return of defending champion Andy Jacques-Maynes, who rolled up the start line at the last minute. After spending time in the hospital this summer following an accident in a criterium, he wasn't even scheduled to race but decided a few minutes before the race to jump in and test his form. He went on to finish a very happy and strong fourth.
The women's race played out in a similar fashion, but with a larger front group. Wendy Williams, Sarah Kerlin, Wendy Simms, Sue Butler, Kristi Berg, and Kelly Jones made the early split in the Women's race. This lead group kept the pace high with Simms and Williams, Butler looking the strongest throughout the entire race. The six kept their lead all the way to the line with one of the largest and most exciting sprint finishes to happen at Star Crossed. Williams just edged past Sarah Kerlin for the win and the glory that comes with being the Star Crossed Champion for another year.
Photography
For a thumbnail gallery of these images, click here
Images by Joe Sales
Results

Elite Men

1 Christian Heule (Swi) Stevens                                  1.00.10
2 Ryan Trebon (USA) Kona Yourkey.com                                    
3 Barry Wicks (USA) Kona Yourkey.com                                0.03
4 Andy Jacques-Maynes (USA)                                         0.50
5 Troy Wells (USA) Clif Bar                                         1.04
6 Joachim Parbo (Den) CCV                                               
7 Chris Sheppard (Can)                                                  
8 Jonathan Baker (USA) Primus Mootry                                    
9 Bart Gillespie (USA) MonaVie/Cannondale                               
10 Nicholas Weighall (USA) Rad Racing NW                                
11 Russell Stevenson (USA) Benaroya Research Institute Cycling Team     
12 Daniel Neyens (USA) Hagens Berman LLP                                
13 Ali Goulet (USA) Ridley Factory Team/Fishers Cyclery             1.27
14 Shannon Skerritt (USA) Vanilla Bicycles-Stumptown Coffee         2.01
15 Molly Cameron (USA) Vanilla Bicycles-Stumptown Coffee            2.04
16 Rob Britton (Can)                                                2.26
17 Kris Sneddon (Can) Kona Les Gets                                     
18 Donald Reeb (USA) CMG Racing                                         
19 Jason Sager (USA) MonaVie/Cannondale                             2.49
20 Cody Peterson (USA) Scott Bicycles                                   
21 Michael Gallagher (USA) U S Armed Forces                             
22 Morgan Schmitt (USA) Priority Health                                 
23 Kevin Hulick (USA) Vanilla Bicycles-Stumptown Coffee                 
24 Loren Hanson (USA) Benaroya Research Institute Cycling Team          
25 Matt Pacocha (USA) Velo News                                     3.13
26 Sean Worsech (USA) Rad Racing NW                                 3.37
27 Ryan Iddings (USA) Lapierre USA                                  3.47
28 Toby Swanson (USA)                                                   
29 Matthew Hewitt (Can)                                             3.53
30 Logan Wetzel (USA) First Rate Mortgage                           3.58
31 Mark Hanson (USA) Benaroya Research Institute Cycling Team       3.59
32 Jonathan Gormick (Can) Masi-Adobe                                4.00
33 Carson Miller (USA) Fred Meyer/Northwest Adventure               4.02
34 Craig Richey (Can) Aviawest - Rocky Mountain Bicycles            4.04
35 Kevin Noiles (Can) Norco                                         4.12
36 Luke Brechwald (USA) Rad Racing NW                               4.14
37 Kristopher Holden (USA) Vertical Earth                           4.44
38 Douglas Shryock (USA) Northern Rockies Orthopedic                5.00
39 Matthew Slaven (USA) Kona Les Gets                                   
40 John-Christian Flack (USA) The Valley Athletic Club              5.44
41 Duncan McGovern (USA) Whitman College Cycling                    5.49
42 Drew MacKenzie (Can)                                             6.38
43 Phil Grove (USA) Hagens Berman LLP                               6.40

One lap behind
44 Thomas Skinner (Can) Louis Garneau                                   
45 Steven Hunter (USA) Veloshop                                         
46 Rob Gosselin (Can) Mighty Riders                                     
47 Zac Daab (USA) Hup United                                            
48 Scott McGregor (Can) Steed Cycles / SRAM                             
49 Toby Meierbachtol (USA)                                              
50 Ian Megale (USA)                                                     

Three laps behind
51 Spencer Bushnell (USA) Therapeutic Associates Cycling                
52 Chad Berg (USA) Redline Bicycles                                     

Four laps behind
53 Jason Thompson (Can)                                                 
54 Jon Hansen (USA) Organic Athlete/Sunnyside Sports                    
55 John-Christopher Reid (Can) Masi-Adobe                               
DNF Kevin Bradford-Parish (USA) Redline                                 
DNF Ian Brown (USA) River City Bicycles/ Chicken Burrito/ Tonic Fab     
DNF Carl Decker (USA) Giant                                             
DNF Jesse Giordano (USA) Nob Hill Velo                                  
DNF Geoff Kabush (Can) Team Maxxis                                      
DNF Eric Tonkin (USA) Kona Yourkey.com                                  
DNF Tyler Trace (Can)                                                   
DNF Solomon Woras (USA) Vanilla Bicycles-Stumptown Coffee               
  
Elite Women

1 Wendy Williams (USA) River City Bicycles                         42.59
2 Sarah Kerlin (USA) HRS/ Rock Lobster                                  
3 Wendy Simms (Can) Kona                                                
4 Sue Butler (USA) River City Bicycles                              0.01
5 Kristi Berg (USA) Redline Bicycles                                0.10
6 Kelly Jones (Can) Sugoi/Cannondale/Bontrager                          
7 Brigette Stoick (USA) River City Bicycles                         1.29
8 Megan Elliott (USA)                                                   
9 Sarah Steward (Can)                                               1.31
10 Josie Beggs (USA)                                                1.35
11 Trish Sinclair (Can)                                             2.07
12 Rachel Lloyd (USA) Proman/Paradigm                               2.09
13 Shannon Holden (USA) Velo Bella- Kona                            2.26
14 Beth Lyndon-Griffith (USA) ByrneInvent                           2.44
15 Tela Crane (USA) Rad Racing NW                                   3.04
16 Dani Dance (USA)                                                 3.23
17 Nicola Mann (Can) Ti Cycles/Avanti Racing                        3.28
18 Allison Beall (USA) Vanderkitten                                 4.19
19 Hannah Kirshner (USA) Circle A Cylocross/the Hub                 5.19
20 Kari Studley (USA) Velo Bella/Kona                               5.21
21 Jadine Riley (GBr) Team Group Health                             6.03
22 Jaymie McGowan (Can) Oak Bay Bikes                               6.32
DNS Alison Sydor (Can) Rocky Mountain-Haywood