Wissahickon Cross - C2
Philadelphia, Pennsylvania, USA, October 19, 2008
Race 1 - October 19: UCI Elite Men
Powers solos to victory with hefty lead
By Kirsten Robbins in Ludwig's Corner, Pennsylvania
Jeremy Powers (Cyclocrossworld.com)
Photo ©: Todd Leister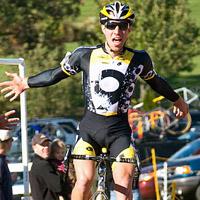 Four weeks into the 2008-09 'cross season and Jeremy Powers is proving to be a force to be reckoned with. Powers soloed to his fourth victory with a 30-second margin ahead of team-mate and US national champion Tim Johnson while Jeremiah Bishop (Trek/VW), US mountain bike champion, rode away from his four-man chase group to take third place.
"Yesterday was a good race but I was one place shy of where I wanted to be," said Powers about his second place in the previous day's Granogue Cross C1 event. "Honestly, yesterday was more important to me and I was frustrated because I'm max out on C2 level points and I really needed the C1 level points. But, this race was awesome because all the big guys were here and that means a lot to me."
Powers sized up his competition with an early lead, half a lap into the men's 60-minute race. He continued to gain an additional few seconds each lap while a chase group that started with seven riders was reduced to four; Johnson and Bishop, along with Dan Timmerman (Team Race Pro) and Andy Jacques-Maynes (Specialized). The four played tactically during the remaining laps however, and in the end Johnson and Bishop created the separation needed to solo in second and third place respectively.
"I was with a bunch of good sprinters on the last lap and I thought I needed to get away from them before the pavement," said Bishop who made his bid for third place at the start of the last lap. "I got a bit of a gap through one of the chicanes and used my strength, which is steady power. It worked, they looked at each other and I was able stretch out my gap to the finish."
Wissahickon Cross was held on the 33-acre Ludwig's Corner Horse Show and Country Fair Grounds. The course was designed around a 2.9km circuit of thick grass with some gravel roadways and a sandy section. The addition of a grassy cork-screw, a sand pit, off camber corners and one-set of barriers located on the steep grass run-up made up for the lack of terrain variation.
Event sponsor Victory Brewing Company, a micro brewery located in nearby Downington, strategically positioned their beer tent at the top of the steep run up where riders from the elite men's field where spotted veering off course for a cold drink.
Ryan Trebon (Kona) and Barry Wicks (Kona)
Photo ©: Todd Leister

"I had a pinball start on the second row and almost crashed a few times, even rode over a guy and his bike," said Bishop regarding the chaotic beginning and admitted that making the cut was the name of the game. "There were a couple of more crashes, I think there are a lot of road riders out there and their horse power doesn't match their skills. Fortunately, I was able to make it back up to the tail end of the front group three laps into the race."
Much like the previous day's start, Powers blasted out of the blocks and capitalized off a technical off camber switchbacks with Barry Wicks (Kona) in tow. An initial chase group contained Johnson, Bishop, Jacques-Maynes and Timmerman along with Ryan Trebon (Kona), Jamey Driscoll (Cyclocrossworld.com), Davide Frattini (Colavita-Sutter Home), Troy Wells (Team Clif Bar) and Jonathan Baker (Vitamin Cottage).
Powers and Wicks created a gap large enough to cause a reaction from behind, however, panic struck when Wicks lost contact forcing his team-mate Trebon to put the pressure on the front of the chase group. Johnson was the only rider to fully respond to Trebon's effort that shattered the remaining chase group into pieces. However, Trebon had an untimely crash on a section of off camber grass, allowing Johnson to take the lead and the pace to slow down long enough for Wicks, Timmerman, Bishop and Jacques-Maynes to regain contact - a chase bunch of six.
"Ryan and I both crashed but we are both okay it was just stupid wash out type crashes," said Wicks. "I couldn't stay with Jeremy on the first lap and then when Ryan rode up I could tell he wasn't feeling too good either. We were just like, 'well, we will see what we can do.' After the crashes we just had to regroup."
Tim Johnson (Cyclocrossworld.com) trails Ryan Trebon (Kona)
Photo ©: Todd Leister

As Power steadily gained a maximum of thirty seconds, he continued to ride as though the top guns were close behind. "You just can't let up, even if you have a huge gap," said Powers. "Anything can happen in cross and you can't even give an inch. Even though Tim is my team-mate, we are still racing, we don't give each other the races. It's important that I keep the gaps open and stay focused. I'm off to Europe this year and those races are not going to be easy."
Trebon and Wicks put forth multiple attacks that caused the chase group to continuously break apart and reunite. A timely attack came from Johnson, across the pavement through the start-finish line with five laps remaining. Bishop, Jacques-Maynes and Timmerman followed the US national champion, but his attack left the Kona pair unable to respond.
The newly formed chase group reduced to three when Bishop crashed taking the inside line of a tight corner. "It was basically a change in terrain from grass to gravel to grass and my tires caught the grass and caused me to go down," said Bishop.
Powers continued to maintain a healthy lead and Johnson successfully made his bid for silver with three laps to go. As the Cyclocrossworld.com pair wrapped up first and second place respectively, the race continued behind. Bishop and Wells rejoined Timmerman and Jacques-Maynes with two laps to go and with no sign of Wicks or Trebon, they played out a tactical race for third. Bishop took the upper hand on the last lap through a technical section well-suited to his mountain bike skills, holding a two second advantage to the finish.
Photography
For a thumbnail gallery of these images, click here
Images by Todd Leister/leister.smugmug.com
Results

1 Jeremy Powers (Cyclocrossworld.com)                               56.33
2 Tim Johnson (Cyclocrossworld.com/Cannondale)                       0.31
3 Jeremiah Bishop (Trek)                                             0.44
4 Dan Timmerman (Swan Cycles)                                        0.50
5 Troy Wells (Team CLIF BAR)                                             
6 Andy Jacques-Maynes (Specialized/KMC pb Cal Giant)                     
7 Barry Wicks (KONA)                                                 1.05
8 Jamey Driscoll (Cyclocrossworld.com/Cannondale)                    1.09
9 Ryan Trebon (KONA)                                                 1.29
10 Davide Frattini (Team Colavita/Sutter Home p/b Cooking Light)         
11 Jonathan Baker (Vitamin Cottage p/b XP Companies)                 1.31
12 Matt Shriver (Jittery Joe's Pro Cycling Team)                     2.28
13 Weston Schempf (C3-Sollay.com!)                                   2.29
14 Josh Dillon (Fiordifrutta / Cannondale)                           2.30
15 Justin Spinelli (RGM WATCHES-RICHARD SACHS-BOATHOUSE INC)         3.25
16 William Dugan (RGM WATCHES - RICHARD SACHS - BOATHOUSE INC)       3.30
17 Adam Mcgrath (Team Van Dessel)                                    3.44
18 Stephan Kincaid (Fuji)                                            3.49
19 Matt Kraus (RGM WATCHES - RICHARD SACHS - BOATHOUSE INC)          3.52
20 Sean Galegher (Hunt Valley Bicycles/HVB)                          4.07
21 Jon Hamblen (RGM WATCHES - RICHARD SACHS - BOATHOUSE INC)         4.13
22 Ryan Dewald (Batley Harley Davidson)                              4.25
23 Greg Wittwer (ALAN North America Cycling Team)                    4.29
24 Bill Elliston (Fuji)                                              4.33
25 Kyle Hammaker (Scott bicycles)                                    4.57
26 Tyler Wren (Colavita / Sutter Home Presented by Cooking Light)    5.05
27 Nicholas Keough (Jittery Joe's/ Sonic Cyclocross)                 5.08
28 Michael Hebe (VisitPA.com)                                        5.11
29 Bobby Lea (Fuji)                                                  5.22
30 John Minturn (Empire Cycling - CRCA)                              5.25
31 Guy Vankrimpen (Rapid City Cycle)                                 5.39
32 John Burns (Bikeman.com)                                          5.44
33 Patrick Bradley (Rutgers University Cycling Team)                 6.04
34 Harlan Price (FT/ IF Lionettes)                                   6.10
35 Peter Rubijono (Embrocation/Cambridge/Igleheart/madAlchemy)       6.30
 
1 lap down
 
36 Todd Hesel (Hunt Valley Bicycles/Marathon Roofing)                    
37 Guillaume Nelessen (Van Dessel Factory Team)                          
38 Nicholas Shaffer (Human Zoom/ Pabst Blue Ribbon)                      
39 Joseph Reynolds (Engin Cycles)                                        
40 Myles Romenow                                                         
41 Andrew Mckeegan (Kelly Benefit Strategies/LSV Amateur Cycling)        
42 John Brewer (Haymarket Bicycles p/b Function Drinks)                  
43 Andrew Wulfkuhle (C3-Sollay.com)                                      
44 Adam Szczepanski (Wissahickon)                                        
45 Chad Totaro (Human Zoom / Pabst Blue Ribbon)                          
46 Eric Mitchell (Human Zoom / Pabst Blue Ribbon)                        
DNF Kevin Wolfson (Fitness Together/IF p/b Lionette's)                   
DNF Tyler Johnson (TARGETRAINING)                                        
DNF Dan Langlois (Embrocation/ Circle A Cycles)                          
DNF Justin Hines (Handlebars CC)