USGP of Cyclocross #3 - Mercer Cup - C1
West Windsor, New Jersey, USA, November 15, 2008
2007 results Stage List Preview Start List Past winners
The Races
The USGP returns to New Jersey
by Kirsten Robbins in West Windsor, New Jersey
Georgia Gould contrasting nicely with the autumn leaves in 2007
Photo ©: Dave McElwaine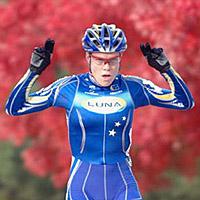 The US Gran Prix of Cyclo-Cross (USGP) will return to the Mercer County Park in New Jersey for round three on Saturday, November 15 and round four on Sunday, November 16. Jesse Anthony (Jamis) and Katrina Nash (Luna) currently lead the series standings, both with a seven point lead over their nearest competitors.
The expected wind, rain and chill will provide an advantage to the 'mudders', those 'cross riders who thrive on technical circuits under sloppy weather conditions. The familiar front row riders will line up to contest Anthony for the prestigious series lead, including the Cyclocrossworld.com trio Tim Johnson, Jamey Driscoll and Jeremy Powers.
Additional American powerhouses include former USGP winner Ryan Trebon and Barry Wicks (Kona), brothers Todd Wells (Team GT) and Troy Wells (Clif Bar) and Andy Jacques-Maynes (Specialized).
On the women's side, Nash will have the support of her Luna teammate Georgia Gould, the defending Mercer Cup champion. The pair will face the likes Wendy Simms (Kona) fresh off of a successful European campaign. Amy Dombroski (Velo Bella-Kona) and her teammates Deidre Winfield and Anna Milkowski will look to accumulate points toward the USGP series.
Additional threats include Natasha Elliott (Stevens), returning to the US scene with back-to-back wins in Toronto last weekend, Rachel Lloyd (Specialized), Laura Van Gilder (C3-Sollay), Rebecca Wellons (Ridley Team Factory) and Maureen Bruno Roy (Seven).
Predicted nasty weather conditions are far from undesirable for the stellar line up this weekend. The rain will thicken the mud and make the circuit slick enough to force the riders off their bikes to run. Cyclocrossworld.com owner Stu Thorne added to the course design including a little something for everyone.
The three kilometre circuit zigzags back and forth using the full size of the park. It starts with a long, slightly up hill pavement section and moves on to a series of grass rollers. The riders will snake their way around the circuit from one side of the course to the other, testing their legs through three sand pits, a built up fly over and technical wooded trails.
Start list
Jesse Anthony (Team Jamis Bikes)
Joshua Berry (team BODE)
Patrick Bradley (Rutgers University Cycling Team)
Peter Bradshaw (Embrocation/Cambridge/Igleheart/madAlchemy)
John Burns (Bikeman.com)
Colin Cares (Clif Bar Development Cyclo-Cross Team)
Stephen Cummings (Indiana Regional Medical Center)
Giancarlo Dalle Angelini (Team Redline)
Ryan Dewald
Josh Dillon (Fiordifrutta / Cannondale)
James Driscoll (cyclocrossworld.com/Cannondale)
Jamey Driscoll (Cyclocrossworld.com/Cannondale)
William Dugan (RGM Watches - Richard Sachs - Boathouse Inc.)
Bill Elliston (Fuji)
Christian Favata (Favata's Tablerock Tours and Bikes)
Jeremy Ferguson (Cal Giant/Specialized)
Steve Fisher (Rad Racing / Hagens Berman)
Davide Frattini (Colavita Sutter Home p/b Cooking Light)
Michael Gallagher (C3-Sollay.com)
Andrew Guptill (Colavita/Sutter Home Pro Cycling Team)
David Hackworthy (Ridley)
Mitch Hoke (Clif Bar Development Cyclo-Cross Team)
Alex Howes (Clif Bar Development Cyclo-Cross Team)
Ryan Iddings (Lapierre USA)
Andy Jacques-Maynes (Specialized/KMC pb Cal Giant)
Tim Johnson (cyclocrossworld.com/Cannondale)
Braden Kappius (t)
Nicholas Keough (Sonic/ Louis Garneau)
Matt Kraus (RGM Watches - Richard Sachs - Boathouse Inc.)
Mark Lalonde (Planet Bike)
Justin Lindine (Targetraining)
Lucas Livermon (Inland Construction)
Travis Livermon (Cannondale / CCN)
Andrew Llewellyn (Calistoga Racing Team)
Bill Marshall (KCCX/Verge)
Brian Matter (Gear Grinder)
Adam McGrath (Maxxis/Litespeed)
Conor Mullervy (Clif Bar Development Cyclo-Cross Team)
Kevin Mullervy (Clif Bar Development Cyclo-Cross Team)
Adam Myerson (Cycle-Smart)
Guillaume Nelessen (Van Dessel Factory Team)
Chance Noble (California Giant Berry Farms/Specialized)
Matthew O'Keefe (CCB/Volkswagen)
Charles Pendry (Inland Construction)
Mitchell Peterson (Monaviecannondale.com)
Benjamin Popper (HRS / Rock Lobster)
Jeremy Powers (cyclocrossworld.com/Cannondale)
Phil Riggio (CRCA/ Proasshit.dk)
Justin Robinson (California Giant Berry Farms/Specialized)
Matthew Rotroff (Inland Construction)
Peter Rubijono (Embrocation/Cambridge/Igleheart/madAlchemy)
Weston Schempf (C3-Sollay.com!)
Bjorn Selander (Ridley Factory Team)
Nicholas Shaffer (Human Zoom/ Pabst Blue Ribbon)
Matt Shriver (Jittery Joe's Pro Cycling Team)
Justin Spinelli
Derrick St. John (Stevens Cross)
Bill Street (Gear Grinder)
Daniel Summerhill (Team Clif Bar)
Adam Szczepanski (Wissahickon)
Joey Thompson (Rocky Mtn Chocolate Factory Cycling)
Stephen Tilford
Erik Tonkin (Kona)
Chad Totaro (Human Zoom / Pabst Blue Ribbon)
Ryan Trebon (Kona)
Rickey Visinski (Exodus Road Racing)
Nicholas Weighall (Rad Racing/Hagens Berman)
Todd Wells (Team GT)
Troy Wells (Team Clif Bar)
Matt White (FiordiFrutta Elite Cycling Team)
Barry Wicks (k)
Greg Wittwer (ALAN North America Cycling Team)
Tyler Wren (Colavita / Sutter Home Presented by Cooking Light)
Andrew Wulfkuhle (C3-Sollay.com)
Nathanael Wyatt (Carolina Fatz pb Santa Cruz Bicycles)

Juniors

Jacob Arnold (Cycling Spoken Here)
Andrew Barker (Clif Bar Development Cyclo-Cross Team)
David Block (Ridley Factory Team)
Nathan Brown (Hot Tubes Development Team)
Cody Cox (Clif Bar Development Cyclo-Cross Team)
Joseph Dombrowski (Haymarket Bicycles p/b Function Drinks)
Robin Eckmann (Clif Bar Development Cyclo-Cross Team)
Eric Emsky (Rad Racing NW)
Watson-Norris Gabriel (Rad Racing Hagens Berman LLC)
Manny Goguen (Minuteman Road Club)
Cody Kaiser (California Giant Berry Farms/Specialized)
Jesse Keough (CLNoonan/KAM/Coast to Coast)
Luke Keough (CLNoonan/KAM/Coast to Coast powered by V3)
Gavin Mannion (Hot Tubes Junior Development Team)
Zach McDonald (Classic Cycle)
Ryan Miller (Fred Meyer/Lakeside)
Connor Oleary (Mona Vie/Cannondale)
Morgan Ryan (Team C.I.C.L.E.)
Benjamin Salibra (Syracuse Bicycle/SpokePost.com)
Ian Terry (Rad Racing/Hagens Berman)
Chris Wallace (KCCX/Verge)
Tony Wieczorek (Mesa Cycles Racing Team)

Elite Women

Sally Annis (NEBC/Cycle Loft/Devonshire Dental)
Kaitlin Antonneau (Nova Cycle Sport Foundation)
Rebecca Blatt (Team Kenda Tire)
Maureen Bruno Roy (MM Racing p/b Seven Cycles)
Patty Buerkle (Vanderkitten)
Sue Butler (MonavieCannondale.com)
Kristine Church (Human Zoom/ Pabst Blue Ribbon)
Amy Dombroski (Velo Bella - Kona)
Tammy Ebersole
Natasha Elliot (EMD Serono/ Stevens)
Elizabeth Frye (Boone Velo)
Kristin Gavin (Human Zoom/Pabst Blue Ribbon)
Georgia Gould (LUNA)
Diane Grim (C3-Sollay.com)
Josie Jacques-Maynes (Specialized/KMC pb Cal Giant)
Arley Kemmerer (Hub Racing)
Sarah Kerlin (HRS/ Rock Lobster)
Linnea Koons (International Bicycle/Global)
Whitney Kroll (Cane Creek)
Julie Kuliecza (ALAN North America Cycling)
Rachel Lloyd (California Giant Berry Farms/Specialized)
Beth Mason (C3-Sollay.com)
Jennifer Maxwell (team kenda tire)
Perri Mertens (Embrocation Racing/Cambridge Bicycle)
Anna Milkowski (Velo Bella-Kona)
Meredith Miller (California Giant Strawberries/ Specialized)
Katerina Nash (Luna Women's MTB Team)
Tara Parsons
Carolyn Popovic (Team C.I.C.L.E.)
Kathy Sherwin (Velo Bella - Kona)
Wendy Simms (Kona)
Melanie Swartz
Kristy Swope (EPS/CSS/Riptide cycling"A")
Nikki Thiemann (Human Zoom Pabst Blue Ribbon)
Vicki Thomas (Ottawa Cross)
Marci Titus Hall (DeSalvo Custom Cycles)
Laura Van Gilder (C3 Sollay)
Heidi Von Teitenberg (C3-Sollay.com)
Jill Waggett (Guy's Racing)
Amy Wallace (Richard Sachs)
Lauri Webber (Secret Henry's Team)
Rebecca Wellons (Ridley Factory Team)
Kristin Wentworth (Planet Bike)
Deidre Winfield (Velo Bella - Kona)
Anna Young (Planet Bike)

Past winners
2007 Ryan Trebon (Kona-YourKey.com)           Georgia Gould (Luna)