USGP#3 - Mercer Cup #1 - C2
Trenton, New Jersey, USA, November 17, 2007
Trebon shows no mercy
By Kirsten Robbins in Trenton, New Jersey
Ryan Trebon (Kona-YourKey.com) has time to greet the crowd
Photo ©: Todd Leister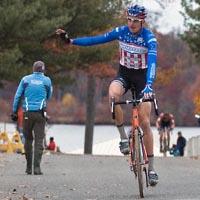 The top guns of American cyclo-cross showed off their early season form in the Mercer Cup, round three of the USGP series. A herd of 70 riders pushed their way over the starting pavement and funneled into the narrow single track. US National Champion Ryan Trebon (Kona) cleared his own path to victory while paving the way for his team-mate Barry Wicks. USGP leader, Tim Johnson (Cyclocrossworld / Leer / Cannondale) rode in for third, despite a rough day at the office.
"Its nice to win and I want my legs to feel a little better, a little more powerful but having a win here is good mentally," said Trebon. "I was just taking it easy out there and coming out of the sand I started to push the pace and Barry and I got a bit of a gap,"
"Tim looked like he was coming back but we pushed it hard enough to keep a solid gap," he added. "There's no point in pushing too hard and gapping Barry too so, on the last lap that I started riding hard. We work together until we knew first and second were solid and then we race against each other."
How it unfolded
Todd Wells (GT) leads
Photo ©: Russ and Nancy Wright

A clear separation in the field happened on the first run through the shockingly long sand pit that nearly surpassed the UCI's maximum rule of 80 metres in length. "If you could ride through the sand pit smooth you could easily put 20 metres on someone," said Trebon. "It was easy to ride but because too many people were running it, by the second lap no lines formed, it was all chopped up. I ended up keeping my momentum through the bend, half way and then got off and ran the last part of it."
Seven riders split from the field that included Trebon, Wicks, Johnson along with Jeremy Powers (Cyclocrossworld), Chris Jones (Nerac), Jesse Anthony (Jamis) and Todd Wells (GT). But the second lap through the thick sand, Trebon and Wicks took advantage of their long legs, exiting the pit with several seconds on their nearest competitors.
"The two of us working together was the big advantage today," said Trebon. "When the course double backed on itself we could see where the chasers were. We were riding hard enough to keep the gap stabilized, not just flat out. I knew Tim was riding by himself and that he'd be taking risks out there."
Tyler Johnson (Alan North America Cycling Team)
Photo ©: Todd Leister

A few set backs prevented Johnson from making contact with the Kona pair, forcing him to ride over two thirds of the circuit alone. "I crashed in the Selle Italia twisty section when I was only four or five seconds off the back of Barry and Ryan," said Johnson, who then endured two bike changes due to a slipped seat post and then a broken cleat. "It's that kind of crash that I usually have when I try to put the power down to early on an off camber corner."
"I 'd like to say that I would have been up there with Ryan and Barry," said Johnson, who hopes to improve in round two of the Mercer USGP on Sunday. "You can always wish that nothing happened to you in a race but its part of this sport. You have to be ready to have a non-perfect race, its one of those things."
Over the river and through the woods
Photo ©: Russ and Nancy Wright

By continuing to chase the Kona riders, Johnson pulled himself further away from the riders working hard to get themselves back in contention for the podium and took third place. Powers and Wells threw down their gloves in a slug fest to try to ride themselves off of one another's wheel, but in the end it was Powers who stole fourth place in a two man sprint.
Arguably the most determined rider was Jeff Kabush (Maxxis-Litespeed) who found his strength in the last half of the race and caught up to Adam Craig (Giant), Anthony and Jones, working with each individual rider for a lap before hunting down the next in line. Kabush rode himself into an impressive fifth place finish.
On the final lap, Trebon turned up the heat forcing Barry to fall off his team-mate's pace. Wicks admitted that his team-mate's strength was unmatched "I was riding pretty hard with Ryan and in the end he was going to take it anyway, plus he did all the work out there today so he deserved it," said Wicks.
"When he gaped me off, I bobbled a little bit," Wicks added. "Even though I was riding hard, I didn't go as hard as I could to catch him. I'm happy with the race today especially after a frustrating four weeks. And Ryan has a pretty easy-going attitude and he is passionate about cyclo-cross. I could see he was feeling good and riding well."
Photography
For a thumbnail gallery of these images, click here
Images by Russ and Nancy Wright/www.abbiorca.com
Images by Todd Leister/www.leisterimages.com
Images by Fj Hughes/www.fhughesphoto.com
Images by Action Images/actionimages.cc
Images by Dave McElwaine/www.trailwatch.net
Results
Elite Men
 
1 Ryan Trebon (Kona-YourKey.com)                                              55.04
2 Barry Wicks (Kona-YourKey.com)                                               0.09
3 Tim Johnson (C'dale/Leer/cyclocrossworld)                                    0.37
4 Jeremy Powers (cyclocrossworld.com)                                          1.06
5 Todd Wells (GT)                                                                  
6 Geoff Kabush (Maxxis/Litespeed)                                              1.30
7 Jesse Anthony (Jamis Bicycles)                                               1.34
8 Adam Craig (Giant)                                                           2.15
9 Christopher Jones (Nerac Pro Cycling)                                        2.25
10 Davide Frattini (Colavita/sutter home presented by Cooking light)           2.31
11 Chris Sheppard (Santa Cruz/CMG Mortgage)                                    2.35
12 Jamey Driscoll (FiordiFrutta Elite Cycling Team)                            2.39
13 Joachim Parbo (CCV Cicli Protek Team)                                       3.13
14 Danny Summerhill (CLIF BAR DEVELOPMENT CYCLOCROSS TEAM)                         
15 Mark McCormack (Clif Bar)                                                   3.19
16 Matthieu Toulouse (Maxxis/Litespeed)                                            
17 Bjorn Selander (Ridley Factory Team)                                            
18 Matt Kraus (RGM WATCHES - RICHARD SACHS)                                        
19 Chris Horner                                                                3.46
20 Tristan Schouten (Planet Bike)                                              3.55
21 Brent Prenzlow (ALAN NORTH AMERICA CYCLING TEAM)                                
22 Chance Noble (California Giant Berry Farms/Specialized)                     4.22
23 Derrick St John (The Cyclery)                                               4.26
24 Mitchell Peterson (Mona Vie)                                                4.39
25 Adam Myerson (Nerac Pro Cycling)                                            4.44
26 Adam McGrath (Maxxis/Litespeed)                                             4.48
27 Troy Wells (Team Clif Bar Cyclocross)                                       4.51
28 Greg Wittwer (FORT Factory Team)                                                
29 Nicholas Keough (Jittery Joes/Sonic Cyclocross)                             5.00
30 Ryan Leach (GPOA-Cannondale)                                                5.19
31 Jerome Townsend (Ridley Factory Team)                                       5.27
32 Donald Reeb (CMG Racing/ Giant)                                                 
33 Alex Howes (CLIF BAR DEVELOPMENT CYCLOCROSS TEAM)                           5.39
34 Stephan Kincaid (EKRacing/Rite Aid Pro Cycling)                                 
35 Weston Schempf (C3-Sollay.com)                                              5.53
36 Carson Miller (Fred Meyer/Northwest Adventure)                                  
37 Ethan Gilmour (Jittery Joe's/Sonic Cyclocross)                                  
38 Mitch Comardo (Bike Barn)                                                       
39 Nicholas Weighall (Rad Racing NW)                                           6.28
40 Chad Berg (Redline Bicycles)                                                6.40
41 Tyler Wren (Colavita / Sutter Home Presented by Cooking Light)              7.02
42 John Stevens (Barbasol)                                                         
43 Ryan Larocque (Team Bicycle Alley)                                          7.08
44 Daniel Coady (We Love Bicycles)                                             7.22
45 David Hackworthy (Ridley)                                                       
46 Bryan Fawley (Bicycle Sport Shop)                                           7.52
47 Chris Peterson (Mona Vie)                                                       
48 Aaron Oakes (Van Dessel)                                                    8.07
 
One lap down
 
49 Bill Elliston (EK Racing / Fuji)                                                
50 John Burns (Bikeman.com)                                                        
51 Taylor Lane (CLIF BAR DEVELOPMENT CYCLOCROSS TEAM)                              
52 Tyler Johnson (ALAN NORTH AMERICAN CYCLING TEAM)                                
53 Albert Pedemonte (kissena cycling club)                                         
54 J.P. Partland (High Gear Cyclery/Watchung Wheelmen)                             
55 J Gabriel Lloyd (CRCA - REMAX)                                                  
56 Bobby Lea (Toyota-United)                                                       
57 Christian Favata (Alan North American Cycling Team)                             
58 Brady Kappius (CLIF BAR DEVELOPMENT CYCLOCROSS TEAM)                            

Masters 35+
 
1 Richard Feldman (Durance Cycleworks - Lehman Brothers)                      45.17
2 Gannon Myall (California Giant Berry Farms/Specialized)                      0.10
3 Normon Thibault (Frontrunners)                                               0.11
4 Michael Wissink (SPECIALIZED)                                                0.12
5 Will Black (KCCX / Verge)                                                    0.13
6 Kevin Hines (Corner Cycle)                                                   0.17
7 Todd Hoefer (California Giant Berry Farms/Specialized)                       0.30
8 Jeff Weinert (Giant)                                                         0.55
9 Jonny Bold (Corner Cycle)                                                    1.01
10 Kristopher Auer (C3-Sollay.Com)                                                 
11 Todd Cassan (Westwood Velo)                                                     
12 Michael Yozell (FORT Factory Cyclocross Team)                               1.10
13 Greg Ferguson (Fort Factory Team)                                           1.19
14 Henry Kramer (California Giant Berry Farms/Specialized)                     1.32
15 Jon Gallagher (Cole Sport)                                                  1.35
16 Steve Proulx (Stevens Cross)                                                1.43
17 Joseph Ruggery (Freddie Fu Cycling Team)                                    1.54
18 Troy Kimball (Westwood Velo)                                                2.01
19 Blair Saunders (Henry's)                                                    2.13
20 Mike Hebe (Meredith Group-GPOA-Cannondale)                                  2.18
21 Sean Kelsey (Evolution Racing)                                              2.21
22 Mark Gunsalus (bikebarnracing.com)                                          2.28
23 Joshua Liberles (Colavita New Mexico)                                       2.37
24 Scott Bradway (Team S&M)                                                        
25 Glenn Turner (Human Zoom / Pabst Blue Ribbon)                               2.43
26 Carlos Matias Mendigochea (Kahala-La Grange Westwood)                       2.55
27 Marc Boudreau (Stevens Cross)                                               2.59
28 Mark Kutney (Van Dessel Cycles)                                             3.07
29 Gerry Pflug (Freddie Fu Cycling Team)                                       3.10
30 Kevin Molloy (CRCA / EMPIRE CYCLING TEAM)                                       
31 Dave Weaver                                                                 3.17
32 Matthew Howard (GS Gotham)                                                  3.24
33 Richard McClung (Hagens-Berman LLP Cycling)                                     
34 Andy Gorski (NetApp - Viner p/b kinetic-koffee.com)                         3.32
35 Ralf Warmuth (Westwood Velo)                                                    
36 Brian Wieczorek (Freddie Fu Cycling Team)                                   4.02
37 Robert Campos (HVC/Jessies)                                                 4.05
38 John Verheul (Colavita NM)                                                  4.08
39 Michael Kolb (Chrsitiana Care PT+/FSVS)                                     4.18
40 Charles Chichester (Century Road Club of America)                           4.31
41 Joseph Piccillo (Evolution Racing)                                          4.37
42 Kelly Cline (Wissahickon)                                                   4.42
43 Dag Selander (Ridley Factory Team)                                          4.51
44 Brant Hornberger (BikeReg.com)                                              5.02
45 Ransom Weaver (Guys Racing)                                                 5.08
46 Matt Jordan (HRS Rock Lobster)                                              5.17
47 Matthew Myette (Zanconato Custom Cycles)                                    5.19
48 Unknown Rider                                                               5.32
49 Jeff Herring (Cicle)                                                        5.35
50 Todd Pittman                                                                5.41
51 Fred Wittwer (Van Dessel Factory Team)                                      5.46
52 Chris Facas (Westwood Velo/Trade Manage Capitol)                            5.51
53 Sean Wittmer (Pilchick Cycling Club)                                        5.54
54 Chris Scott (Shenandoah Mountain Touring)                                   5.59
55 Charles McDaniel (Secret Henrys Team)                                       6.04
56 David Wilson (Northeastern Hardware / CJCT)                                 6.08
57 Brian Rutter (Laughing Dog Bicycles)                                        6.16
58 Charles Erndl (Human zoom cycling)                                              
59 Kevin Fryberger (Human Zoom)                                                6.27
60 Raymond Zeimet (Cycle Sports/Zaveta Construction)                               
61 Chris Brown (Corner Cycle)                                                  6.37
62 Michael Birner (All American Bicycle Center)                                6.42
63 Joshua West (Bikeman.com)                                                   6.46
64 Doug Karet                                                                  6.50
65 Ken Gallardo (Peninsula Velo/Kondra Systems)                                6.54
66 Todd Kruger (Hermes)                                                        6.55
67 Henry Tremper (FSUS)                                                        7.26
68 Brian Lariviere (Team Bulldog/Campmor)                                      7.41
69 Chip Sovek (Potomac Velo Club)                                              7.51
70 Karl Rahn (CRCA/Empire Cycling Team)                                        7.56
71 Edwin Bull (Van Dessel Factory Team)                                        8.36
72 Eben Weiss (GS Gotham)                                                      8.46
73 Douglas Dicks (bennetts bikes/FDNY)                                         8.52
 
One lap down
 
74 Paul Schoening (Ridley Factory Team)                                            
75 Jay Downs (Fort Factory Team)                                                   
76 Todd Schwartz (Guys Racing)                                                     
77 Oscar Pisnler (Gotham/Toga)                                                     
78 Glen Calhoun                                                                    
 
Masters 45+
 
1 Christopher Long (Independent Fabrication/Gotham)                           39.55
2 Jeff Cordisco (C3-Sollay.com)                                                0.25
3 Jeffrey Craft (Lake Effect Cycling Team)                                     1.02
4 Larry Kaufman (Van Diessel)                                                  2.10
5 Paul Nyberg (Horst-Benidorm-Property Research Corp.)                         2.19
6 David Lowe (Human Zoom/Pabst Blue Ribbon)                                    2.28
7 Matt Baroli (Giant)                                                              
8 Larry Towner (Liberty Cycle)                                                 2.33
9 Geoffrey House (Housatonic Wheel Club)                                       2.35
10 Scott Wilson (Evolution Racing)                                             2.44
11 Kevin Breckenmakel (Yellow Breeches Racing)                                 2.45
12 Ed Burgess (Hammer Nutrition)                                               3.01
13 Albert Greene (Yellow Breeches Racing)                                      3.24
14 Karl Kensinger (NCVC/Inova Health System)                                   3.45
15 James Perren (Breakaway Racing/QCW)                                         3.57
16 William Irving (Table Rock Tourist Bicycle)                                 4.03
17 David Troop (First State Velo Sport)                                        4.05
18 Jim Feehan (Kissena)                                                        4.22
19 Paul Wahner (Well Adjusted Racing/Wahner Chiropractic)                      5.26
20 Ned Connell (Van Dessel Factory Team)                                       5.52
21 Theo Kindermans (cyclocrossworld.com)                                       6.17
22 Jim Bernstein (Mambo Kings Racing)                                              
23 Gary Wolff (Team Maxxis)                                                    6.21
24 Dennis Smith (Henry's Bikes)                                                6.33
25 Dusan Strika (Kissena Cycling Team)                                         6.45
26 Terrence Fina                                                                   
27 Donald Catlin (Tokeneke Road Club)                                              
28 Tom Perkins (bicycle depot)                                                     
29 Paul Dericks (victory cycling club)                                             
30 Jay Mongillo (Keltic Construction / Zanes Cycles)                               
31 Louis D'Amelio (Van Dessel Factory Team)                                        
32 Lauri Webber                                                                    
33 Greg Campi (3D Racing Team/Tom's Atlantic Cyclery)                              
34 John Hartman (Main Line Cycling)                                                
35 Charles Crocco Jr (Team Somerset)                                               
36 Mark McCabe (3D Racing Team/Tom's Atlantic Cyclery)                             
37 Scott Demarzio (Velocity Sport/ CC Evesham)                                     
38 Stephen Cannavale (unattached)                                                  
 
Masters 55+
 
1 Fred Wittwer (Van Dessel Factory Team)                                      41.35
2 Richard Sachs (RGM WATCHES - RICHARD SACHS)                                  3.55
3 Jerry White (Essex County Velo)                                              4.51
4 Nunzio Dibiasi (Yellow Breeches Racing)                                      5.42
5 Bob Perna (beans bikes)                                                          
6 Lawrence Dudek (Team Somerset)                                                   
7 James Carlson (Potomac Velo Club)                                                
8 R. Michael Williams (Wilmington Velocity)                                        
 
Juniors 17-18
 
1 Luke Keough (CLNoonan Coast to Coast KAM)                                   38.14
2 Gavin Mannion (Hot Tubes Junior Development Team)                            0.02
3 Andrew Llewellyn (Papa Johns Racing Team)                                    0.13
4 Jeremy Ferguson (Team Spine)                                                 0.30
5 Jacob Rathe (Redline)                                                        0.31
6 Andrew Barker (CLIF BAR DEVELOPMENT CYCLOCROSS TEAM)                         1.12
7 Steve Fisher (Rad Racing NW)                                                     
8 Nathan Brown (Hot Tubes Development Team)                                        
9 Eric Emsky (Rad Racing NW)                                                       
10 Simon Lambert Lemay (Hottubes cycling)                                      1.42
11 Clayton Omer (Papa Johns Racing Team)                                       1.49
12 Connor Oleary (Mona Vie/Cannondale)                                         1.56
13 Zach McDonald (Oh Boy Oberto/Redline)                                       2.01
14 Cody Cox (CLIF BAR DEVELOPMENT CYCLOCROSS TEAM)                             2.18
15 Ian Terry (Rad Racing NW)                                                   2.30
 
2/3 Men
 
1 Eric Linder (Hunt Valley Bikes / Marathon Roofing)                          39.32
2 Jeremy Dunn (Cambridge Bicycle presented by Igleheart Frames)                0.09
3 John Brewer (Squadra Coppi/IM SAAB)                                          0.35
4 Jeff Bahnson (C2S/Henry's Bikes)                                             0.48
5 Ethan Townsend (C3- Sollay.com)                                              1.13
6 Marc Bavineau (Essex County Velo)                                            1.16
7 Daniel Brill (Cape Atlantic Racing/Team Beacon)                                  
8 Marc Vettori (C3-Sollay.com !)                                               1.37
9 Jim Mudd (Hunt Valley Bicycles/Marathon Roofing)                             1.43
10 Thomas Wood (Philadelphia Cyclismo)                                         1.47
11 Patrick Bradley (Cape Atlantic Racing/Team Beacon)                          1.50
12 Pierre Vanden Borre (Hup United)                                            1.52
13 Dusty Labarr (Joe's Bike Shop)                                              2.01
14 Cary Fridrich (Cambridge Bicycle presented by Igleheart Frames)             2.10
15 Evan Ellicott (team n-tieractive/Bike Doctor-Waldorf)                       2.12
16 Michael Mihalik (Beaver Valley Velo)                                            
17 Mike Kuhn (VistiPA.com/Cadence Cycling and Multisport Centers)              2.20
18 Kenny Ambach (Cyclonauts Racers/Zanconato Custom Cycles)                    2.24
19 Joshua Jamner (HUP United/Colby College Cycling)                            2.32
20 Mark Pohndorf (Colavita Racing)                                             2.34
21 Waldek Stepniowski (Luna Women's MTB Team)                                      
22 Theo St. Pierre (CYCLES GLADIATOR)                                          2.38
23 Charlie Rey (carlheart)                                                     2.41
24 Ian Mathias (Hunt Valley Bicycles / Marathon Roofing)                       2.48
25 Matthew Budd                                                                2.55
26 Ken Gallardo (Peninsula Velo/Kondra Systems)                                2.58
27 Christopher Bailey (Boston Road Club)                                       3.02
28 Mike Zanconato (Hup United/Zanconato Custom Cycles)                         3.04
29 Andrew Crooks (NYC Velo)                                                    3.05
30 Scott Brooks (NEBC/Cycle Loft/Devonshire Dental)                            3.09
31 Chris Worden (Watchung Wheelmen/Highgear Cyclery)                           3.11
32 Johann Liljengren (Faulkner Honda Racing)                                   3.13
33 Michael Jenks (Highland Park Hermes)                                        3.19
34 Chad Culbertson (CRCofA / BM&G-Pete's Bikes)                                    
35 Michael Lynch (Cape Atlantic Racing/Team Beacon)                            3.21
36 Mark Romanovsky (Pawling Cycle and Sport)                                   3.34
37 Scott Conchieri (Flatbread Ottercreek Cycling)                              3.41
38 Joel Moats (Yellow Breeches Racing)                                         3.49
39 Sean Sullivan (ECV)                                                         3.53
40 Christopher Pagoda                                                          3.54
41 Conrad Tufte (Funky Talk)                                                   3.58
42 Eric Morgan (Wissahickon)                                                   4.01
43 Joseph Hu (Quaker City Wheelmen/Breakaway Racing)                           4.06
44 Michael Jernigan (ProGraphics Cycling)                                      4.14
45 Brian Swehla (Abington Wheel Wright Bikes)                                      
46 Mark Matson (Kona Bicycles)                                                 4.28
47 Christopher Uglietta (CRCA /Jonathan Adler Racing)                          4.40
48 Barry Wahner (Well Adjusted Racing/Wahner Chiropractic)                     4.41
49 Russell Kelly (CRCA/Sakonnet Technology)                                    4.52
50 Bruce Freehoff (Cape Atlantic Racing/Team Beacon)                           4.54
51 Conal Groom (Wines of Washington/ubc)                                       5.01
52 Wiley Mosley (Specialized/North Atlantic Velo)                              5.06
53 Jason Walters (Metra Industries/Wendy's/Cycles 54)                          5.11
54 Jason Parkin (CRCA/Blue Ribbon-Translations.com)                            5.26
55 Gary Lesala (Liberty Cycle)                                                 5.34
56 Erik Mitchell (QCW)                                                         6.00
57 Jonathan Kahler (Human Zoom / Pabst Blue Ribbon)                            6.06
58 Peter Baiamonte (Brooklyn Velo Force)                                       6.08
59 Chris Thaler (Evolution Racing)                                             6.16
60 Gale Hess (International Christian Cycling Club)                            6.38
61 Ken Deitch (Human Zoom\Pabst Blue Ribbon)                                   6.42
62 John Berlinger (Putney / West Hill)                                         6.58
63 Antony Slokar (CRCA/Jonathan Adler Racing)                                  7.15
64 Rolf Windh (Guy's Racing)                                                   7.47
65 Joel Mulligan (Montclair Bikery)                                            8.08
66 Tom Mains (Van Dessel Factory Team)                                         9.17
67 Richard Hu (SKC Racing)                                                     9.33
 
One lap down
 
68 Edward Haack (CycleCraft Racing Team)                                           
69 C Greg Robidoux (International Bicycle Center)                                  
 
Juniors 15-16
 
1 Cam Mancuso (ACT)                                                           24.29
2 Jesse Keough (CLNoonan Coast to Coast KAM)                                   0.40
3 Robin Eckmann (CLIF BAR DEVELOPMENT CYCLOCROSS TEAM)                         1.17
 
 
Juniors 10-14
 
1 Curtis White (CBRC/Capital Bicycle Racing Club)                             27.24
2 Aaron House (Housatonic Wheel Club)                                          0.44
3 Zach Bender (GS Park Ridge / Team Cyclesport)                                1.42
4 Dag Anderson (Team Somerset)                                                 2.32
5 Noah Granigan (Team Somerset/Van Dessel)                                     7.31
6 Nicolas Catlin (Tokeneke Road Club)                                              
7 Keiran Zeimet (Zaveta / Cyclo Sport)                                             
8 Alicia Styer (Velo Bella - Kona)                                                 
 
4 Men
 
1 Carl Hesselein (Revolution Bikes)                                           25.17
2 David Wilcox (broadway bicycle school)                                       0.03
3 Joseph Solomon (Stage 1 Cycling)                                             0.05
4 Sam Dodge (Stage 1 / fusionTHINK)                                            1.16
5 David Swanson (Summit Velo)                                                  1.25
6 Joseph Zorn Iii (Christiana Care PT+ / FSVS)                                 1.30
7 Ben Harris (CRCA/Jonathan Adler)                                                 
8 Ed Krall (Indiana Regional Medical Center)                                       
9 Andrew Forron (Bianchi Mid Atlantic)                                         1.46
10 Adam Leman (Team Independence p/b Keswick Cycle)                            1.48
11 Brett Kielick (Drexel Cycling)                                                  
12 Steve Schwarz (Kuhl Cycling Team)                                           1.53
13 Jason Eicholtz (Bike & Blade)                                                   
14 Frederick Klenk                                                                 
15 William Cukierski (Rutgers University Cycling Team)                             
16 Daniel Reid (The Spoke)                                                         
17 Todd McLoughlin (Kissena)                                                   2.00
18 Matthew Hennessy (Team BBC)                                                 2.05
19 David Casalo                                                                    
20 Scott Struve (Stage 1 / fusionTHINK)                                        2.09
21 Eloy Anzola (Kissena Cycling Club)                                          2.29
22 Vinnie Galatro (Keltic Construction)                                        2.42
23 Greg Johnson                                                                2.51
24 Geoffrey Heintz (The Children in the Shoe)                                  2.55
25 Adam Duncan (CRCA/Avenue A-Razorfish)                                           
26 David L'henreux                                                             3.13
27 Mark Drajem (DCMTB/City Bikes)                                              3.18
28 Lars Jacobsen (Skylands Cycling)                                            3.23
29 Daniel Ryan (Christiana Care PT+/FSVS)                                      3.26
30 Peter Nelson                                                                3.42
31 Nathan Penfield (Keswick / Funky Talk)                                          
32 Kevin Dillard (C3-Sollay.com)                                               3.49
33 Mike Reardon (Columbus Bike Racing Team)                                        
34 Greg Hoffman (Bike Doctor)                                                  3.57
35 Mark Fitzwater (secret henry's team)                                        3.58
36 Chad Casselman (NY Velocity/CRCA)                                           4.03
37 Marc Gravatt (Bicycle Depot)                                                4.11
38 Ed Kallatch (Bayside Velo/ Bike Doctor)                                     4.20
39 Greg Campi (3D Racing Team/Tom's Atlantic Cyclery)                          4.24
40 Christopher Stine (Cedar Bike)                                                  
41 Jay Mongillo (CCC / Keltic Construction / Zanes Cycles)                     4.34
42 Christophe Jammet (CRCA/ NYVELOCITY)                                            
43 Boyd Garrison (Pro Pedals)                                                  4.40
44 George Vlahogiannis (TEAM FITNESS MISSION/ALLWOOD BICYCLES)                 4.49
45 Christopher Dietrich                                                        4.54
46 Patrick Littlefield (CRCA/Avenue A-Razorfish)                               5.02
47 Barry Jones (No Cents)                                                          
48 Michael Fennell (Rocket Racing - Ysg)                                       5.05
49 Frank J. Schlipf Iii (Guy's Racing Club)                                    5.42
50 Sean O'Brien (3D Racing Team/Tom's Atlantic Cyclery)                        5.47
51 Patrick McCue (Minuteman Road Club)                                         6.22
52 Bill Perry (Bike and Blade)                                                     
53 Robert Sands (Evolution Racing)                                             7.13
54 Michael Hill                                                                7.38
55 Jose Maldonado (Philadelphia Ciclismo)                                      7.50
56 Todd Moyer (No Budget Racing)                                               8.06
57 Phillip Esempio (Kelly Benefit Strategies/LSV Amateur Racing)               8.12
58 Dave Baumgardner (Tri-State Velo)                                           8.29
59 Ritz Yap (Excel Orthopedic Rehab / Martys Reliable Cycle)                   8.37
60 Gary Snyder                                                                11.53
61 Stephen Gualano                                                            12.24
62 Jerry Fennelly (NAIFennelly)                                               12.43