Toronto International Cyclocross - C1
Centennial Park, Toronto, Ontario, Canada, November 8-9, 2008
Main Page Results Previous Race Next Race
Race 2 - November 8: Toronto International Cyclo-cross #1 - Elite Men
Powers welcomes the rain and mud
By Kirsten Robbins in Toronto, Canada
Jeremy Powers wins in Toronto
Photo ©: Jon Safka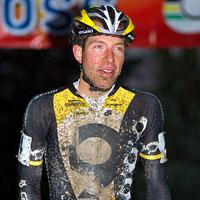 Jeremy Powers (Cyclocrossworld.com) displayed all his technical prowess during the first muddy race of the North American cyclo-cross season. He rode in with a solo victory ahead of team-mate and US national champion, Tim Johnson, and Nicholas Weighall (Rad Racing), who rounded out the podium.
"This was a true muddy cyclo-cross race that had a lot of cool and tricky features," said Powers. "I had to get off my bike and run like five times each lap. But it was a great race for the first muddy one. It's mostly about staying focused and staying on top of your game. I love Canada and racing up here. I wish there were more races up here because this course was one of the best courses in North America.
"I was a little disappointed last weekend," said Powers, who didn't feature on the podium in the previous weekend's Boulder Cup. "I was coming off of a headcold and didn't feel very good, so I think this weekend will be very good for my season goals."
The pair of Cyclocrossworld.com 'crossers steadily rode away from the field during the first lap, while the riders behind struggled through the mud to stay upright. Powers took a sizeable lead away from Johnson after he accidentally slid into a photographer on course. Weighall maintained his third position throughout, neither gaining nor losing time on the two leaders, with a steady tempo through the technical twists and turns.
Johnson took the leading role at the end of the first lap, gaining a large advantage over Powers. Three laps into the sopping race Johnson's early lead looked to have locked up a victory, however the slippery mud in the off cambre corners forced him to slide out. Only a minor set back considering his team-mate was there to take the lead. "The tape had fallen down and I just slid into him but I really hope he's okay," said Johnson who, despite an accident enjoyed the course design and slick conditions. "Everywhere there was a corner there were ten different speeds you could go through it. The mud looked worse than it was. I was able to ride most of it... I loved it.
"Actually I changed tyres right before the start, once it started raining and getting gooey" said Johnson. "I went with my Dugast Rhino. As soon as we hit the grass off the starting pavement, no one else could steer. They were all sliding out. Jeremy then switched to Rhino's on the next lap. The two of us were able to go flying."
Former Canadian national champion Mike Garrigan (Jet Power) took the holeshot ahead of the handful of top-level American riders vying for the UCI C1 points available on the finish line. Garrigan was the first rider to approach the barriers, winning $85 and a case of the sponsor's beer - the Cameron's Brewing Co. His lead wasn't to last as Johnson and Powers went on the attack.
Tim Johnson leads the field early on and finished second
Photo ©: Jon Safka

Weighhall remained nearly one minute behind the Cyclocrossworld.com-Cannondale duo, and rode safely within his limits. The Seattle native spends his summer months between mountain biking and road racing, a healthy combination when preparing for slick 'cross conditions. "Everyone was riding crazy on the first lap and I just tried to keep going and stay on the bike as much as I could," said Weighall. "It's not easy trying to catch up to Powers and Johnson. My cross season is just starting and I'd like to get some points to go back over to Europe with a better start position this year."
The mud continued to cake onto frames, brakes and chainrings, causing the pits to fill up with riders seeking several bike changes every other lap. After a less-than-desirable start, Andy Jacques-Maynes (Specialized) worked his way back into a fourth place within a chase group consisting of Matt Shriver (Jittery Joe's) and Steve Tilford (Trek). The group struggled to claw its way back into a winning position but the damage was done early in the race, giving Powers, Johnson and Weighall a safe advantage over the field.
Photography
For a thumbnail gallery of these images, click here
Images by Jon Safka/www.cyclingphotos.ca
Results

1 Jeremy Powers (Cyclocrossworls.com - Cannondale)    1.02.20
2 Tim Johnson (Cyclocrossworls.com - Cannondale)         0.51
3 Nicholas Weighall (Radracing Northwest - Hagens-B)     2.03
4 Andy Jacques-Maynes (SSpecialized - KMC p/b Cal Giant) 2.51
5 Matt Shriver (Jittery Joe's Pro Cycling Team)          3.00
6 Steve Tilford (Trek)                                   3.21
7 Molly Cameron (Vanilla Bicycles Cyclocross Team)       4.10
8 Benoit Simard (Bluberi - Martin Swiss-Specialized)     4.35
9 Matt White (Bikereg.com)
10 Osmond Bakker (Emd Serono - Stevens)                  4.48
11 Aaron Schooler (Team H & R Block)                     5.02
12 Mark Batty (Team R.A.C.E. Pro)                        5.52
13 Tim Heemskerk (United Cycle Racing)                   7.20
14 Derrick St. John (Stevens Cross)                      7.23
15 Nathan Chown (Handlebars CC)                          7.39
16 Davide Frattini (Team Colavita - Sutter Home)         7.54
17 Mike Garrigan (Jet Power - Epic Ride)
18 Aaron Fillion (Ottawa Bicycle Club)                   8.36
19 Cameron Jette (Trek Bicycle Store Team)               8.56
20 Justin Hines (Handlebars CC)                          9.00
21 Chris Mcneil (Team Hr Block)                          9.05
22 Mathew Hewitt (Independent)                           9.16
23 Peter Morse (Jet Fuel Coffee)                         9.22
24 Andrew Watson (Norco - Evolution Team)                9.27
25 Sylvain Jean (Espresso Sport)                        10.09
26 Nathaniel Ward (Bikereg.com - Joe's Garage)          10.20
 
One lap behind
27 Benjamin Popper (HRS - Rock Lobster)
28 Kyle Fry (Cycle Solutions - Angry Johnny's)
29 Ryan Atkins (Ironwood Racing)
30 John Van Arragon (The Hub Bicycle Club)
31 Ryan Hopping (United Cycle Racing)
 
Two laps behind
32 Isaac Smith (Aquila Racing - Racer Sportif)
33 David Coughlin (Lapdogs Cycling Club)
34 Timothy Carleton (Trek Bicycle Store Team)
35 Marco Li (Cycle Solutions - Angry Johnny's)
 
Three laps behind
36 Stephane Marcotte (Cycle Solutions - Angry Johnny's)
37 Brandon Throop (Reynold Cycle)
38 Scott Kelly (Paris 1880)
39 Nicholas Vipond (Ride With Rendall)
40 Jay Menard (Healing Cycle Bike Club)
41 Michael Loranty (Spooky - Wachovia)
DNF Josh Dillon (Fiordifrutta - Cannondale)
DNF Alec Donahue (Bikereg.com - Joe's Garage)
DNF Erik Box (The Hub/Devinci Cyclocross Team)
DNF Guy Vankrimpen (Rapid City Cycle)
DNF Ian Gartley (Independent)
DNF Warren Macdonald (Emd Serono - Stevens)
DNF Dominik Kubicki (Independent)
DNF Dan Timmerman (Reynolds)
DNS Kyle Douglas (3 Rox Racing)
 
Points standings
 
1 Jeremy Powers (Cyclocrossworls.com - Cannondale)         35 pts
2 Tim Johnson (Cyclocrossworls.com - Cannondale)           32
3 Nicholas Weighall (Radracing Northwest - Hagens-B)       30
4 Andy Jacques-Maynes (Specialized/Kmc Pb Cal Giant)       28
5 Matt Shriver (Jittery Joe's Pro Cycling Team)            26
6 Steve Tilford (Trek)                                     24
7 Molly Cameron (Vanilla Bicycles Cyclocross Team)         23
8 Benoit Simard (Bluberi - Martin Swiss-Specialized)       22
9 Matt White (Bikereg.com)                                 21
10 Osmond Bakker (Emd Serono - Stevens)                    20
11 Aaron Schooler (Team H & R Block)                       19
12 Mark Batty (Team R.A.C.E. Pro)                          18
13 Tim Heemskerk (United Cycle Racing)                     17
14 Derrick St. John (Stevens Cross)                        16
15 Nathan Chown (Handlebars Cc)                            15
16 Davide Frattini (Team Colavita - Sutter Home)           14
17 Mike Garrigan (Jet Power - Epic Ride)                   13
18 Aaron Fillion (Ottawa Bicycle Club)                     12
19 Cameron Jette (Trek Bicycle Store Team)                 11
20 Justin Hines (Handlebars CC)                            10
21 Chris Mcneil (Team Hr Block)                             9
22 Mathew Hewitt (Independent)                              8
23 Peter Morse (Jet Fuel Coffee)                            7
24 Andrew Watson (Norco - Evolution Team)                   6
25 Sylvain Jean (Espresso Sport)                            5
26 Nathaniel Ward (Bikereg.com - Joe's Garage)              4
27 Benjamin Popper (Hrs - Rock Lobster)                     3
28 Kyle Fry (Cycle Solutions - Angry Johnny's)              2
29 Ryan Hopping (United Cycle Racing)                       1
30 Ryan Atkins (Ironwood Racing)                            1
31 Nicholas Vipond (Ride With Rendall)                      1
32 Timothy Carleton (Trek Bicycle Store Team)               1
33 David Coughlin (Lapdogs Cycling Club)                    1
34 Michael Loranty (Spooky - Wachovia)                      1
35 Brandon Throop (Reynold Cycle)                           1
36 Scott Kelly (Paris 1880)                                 1
37 Jay Menard (Healing Cycle Bike Club)                     1
38 Stephane Marcotte (Cycle Solutions/Angry Johnny's)       1
39 Isaac Smith (Aquila Racing - Racer Sportif)              1
40 Marco Li (Cycle Solutions - Angry Johnny's)              1
41 John Van Arragon (The Hub Bicycle Club)                  1