North American Trophy # 6 - Boulder - C1
Boulder, Colorado, USA, November 2, 2008
Main Page Results Overall standings Previous Race
Race 3 - November 2: Elite Men/Under 23
Johnson back on top in Boulder
Trebon still hold series lead after six
By Mark Zalewski, North American Editor in Boulder, Colorado
Tim Johnson (Cannondale / Cyclocrossworld)
Photo ©: Jon Devich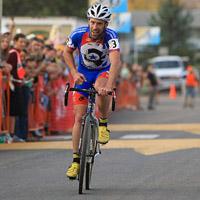 One would assume that coming from sea level in Massachusetts to the altitude of Colorado would be a disadvantage for Tim Johnson (Cyclocrossworld-Cannondale). While it is an anaerobic challenge, smart riding and good timing made the difference for the second day of the Boulder Cup, as the current United States of America champion bettered his third place on day one with a solo win ahead of Todd Wells (Team GT) and North America Cyclo-cross Trophy series leader Ryan Trebon (Kona).
"I always seem to do better the second day at altitude — the last couple of years I have, so I was hoping that would happen today," Johnson told Cyclingnews. "But it was just so much back and forth out there — Todd kept hitting it and Ryan did too. Every time there was a punch it is so hard to jump right on it and hold it, because if you go too deep at altitude you have to recover much longer. So I tried to keep it steady."
The lead changes were frequent and elusive to the huge crowds assembled at Hollow Flats Park in south Boulder. One lap there would be a solo leader with the other two chasing, then the next it would be the other two leading with a solo chaser. But one thing was for sure, the winner was coming out of this trio.
With less than four laps to go Todd Wells led out of the sand with Trebon close behind, but Johnson was quite a ways back. "I messed up in the sand," said Johnson. "It is so hard to follow in there because the line just disappears. I had to get off and run for it and then my chain fell off. I only lost like 30 lengths but it took me a whole lap to chase back on."
"With this sand pit it's a crap shoot," said Todd Wells. "Whoever goes through there first seems to save some energy and get some time on the other guys. So we would be swapping through the sand pit quite a bit."
Ryan Trebon (Kona) still managed third place
Photo ©: Jon Devich

Over the next lap Johnson slowly made up the gap, catching Trebon and Wells just before the long, uphill finish straight. "Johnson caught us with two to go and then as soon as he got on he nailed it," said Wells. "I was hoping Trebon would pull it up the finish straight but he was obviously tired already. I was pretty much one speed then and Tim was able to up his speed and get a good gap."
Normally Trebon would be able to cover a move like this, but a nasty cold has taken toll on the series leader, especially late in the 60 minute races. "My body just locked up with four laps to go," Trebon said. "It was the same thing as yesterday but I suffered more today...The last two laps I just suffered a lot."
Johnson capitalised on this and Wells leading much of the previous lap. "I saw that Ryan wasn't holding his usual top speed," he said. "Todd is riding really well but I figured I would take a shot and see what happens. I really thought it was going to come down to a sprint — it's what I was planning for."
Todd Wells (GT) found it faster
Photo ©: Jon Devich

But the gap that opened between Wells and Johnson never closed, and was 20 seconds with one lap to go. "Yesterday the last two laps was the same speed the whole time," said Johnson. "So I figured if I could chase those guys for two laps yesterday I could start the thing today and have them chase me."
Trebon suffered long enough to hold on for third, keeping him ahead of Johnson in the overall standings, with just one weekend of racing in Southampton to go. But Johnson recently found a little extra motivation to do well there — the monetary kind of motivation. "I would love to get it, especially now that I found out about the overall prize list," he said.
For Wells the weekend was his best outing of the season so far, with a first and second. His plan is like many of the other racers, go home and rest with a weekend off. "I'm going to do some training down in Durango... play some golf and then head out east for the USGP," he said. "Hopefully we'll get some mud out there, but it's been cool having a mix of everything — that is what makes 'cross great!"
Photography
For a thumbnail gallery of these images, click here
Images by Jonathan Devich/

Images by Dave McElwaine/www.trailwatch.net
Results

1 Tim Johnson (USA) Cannondale/Cyclocrossworld.com        1.01.22
2 Todd Wells (USA) Team GT                                   0.28
3 Ryan Trebon (USA) Kona                                     0.56
4 Jeremy Powers (USA) Cannondale/Cyclocrossworld.com         1.45
5 Jesse Anthony (USA) Jamis Bicycles                         2.06
6 Chris Sheppard (Can) Santa Cruz/Giro/Easton/Chris K        3.02
7 Troy Wells (USA) TEAM CLIF BAR                             3.08
8 Erik Tonkin (USA) Kona                                     3.10
9 Tim Heemskerk (Ned) United Cycle Racing                    3.31
10 Kevin Bradford-Parish (USA) Redlinebikes.com                  
11 Barry Wicks (USA) Kona                                    3.58
12 Joey Thompson (USA) Rocky Mtn Chocolate Factory Cy        4.07
13 Alex Howes (USA) CLIF BAR Development Cyclo-Cro           4.14
14 Russell Stevenson (USA) Benaroya Research Institute Cy    4.22
15 Matt Shriver (USA) Jittery Joe's Pro Cycling Team         4.32
16 Colin Cares (USA) CLIF BAR Development Cyclo-Cro          5.24
17 Brent Prenzlow (USA) CELO PACIFIC / ALAN                  5.35
18 Travis Brown (USA) Trek                                   5.44
19 Paul Brooks (USA) Newton Running/Sierra Nevada B          6.03
20 Robert Squire (USA) Devo                                  6.35
21 Greg Krause (USA) Primal Wear                             6.48
22 Matt Pacocha (USA) VeloNews                               7.10
23 Chance Noble (USA) California Giant Berry Farms/S         7.44
Lapped
24 Mitch Hoke (USA) CLIF BAR Development Cyclo-Cro               
25 Bryan Alders (USA) Monaviecannondale.com                      
26 Greg Lewis (USA) Directory Plus/ Trek                         
27 Nat Ross (USA) Subaru-Gary Fisher                             
28 Justin Robinson (USA) California Giant Berry Farms/S          
29 Aaron Bouplon (USA) Rocky Mounts / Izze                       
30 Andrew Llewellyn (USA) Calistoga Racing Team                  
31 Jon Tarkington (USA) Vitamin Cottage p/b XP Compani           
32 Joshua Johnson (USA) Big Shark Racing                         
33 Spencer Powlison (USA) Mafia Racing                           
34 Jake Wells (USA) MafiaRacing.com                              
35 Allen Krughoff (USA) Team Rio Grande                          
36 Kurt Refsnider (USA) FORT Factory Team                        
37 Chad Melis (USA) Dales Pale Ale                               
38 Kevin Mullervy (USA) CLIF BAR Development Cyclo-Cro           
39 Chris Parrish (USA) Hagens Berman LLP                         
40 John Phillips (USA) Colorado Multisport                       
41 Ben Raby (USA) KCCX-VERGE                                     
42 Nicholas Stevens (GBr) Waltworks/Fuentesdesign                
43 Michael Hosey (USA) soulcraft                                 
44 Brett Morgan (USA) Mafia Racing                               
45 Alister Ratcliff (USA) Fior Frutta                            
46 Blake Harlan (USA)                                            
47 Bryan Mickiewicz (USA)                                        
48 Corey Piscopo (USA) Moots                                     
49 Joshua Berry (USA) team BODE                                  
50 Shawn Harshman (USA) Harshman Wealth / Primus Mootr           
51 Logan Garey (USA) Team Rio Grande                             
52 Chris Peterson (USA) Monaviecannondale.com                    
53 Troy Kilgore (USA) Boulder Cycle Sport                        
54 Darian Founds (USA)                                           
55 Darryn Biggerstaff (USA) unattached                           
56 Daniel Matheny (USA) Mafia Racing                             
57 Connor Sallee (USA) CRCA JrDev/Orbea                          
58 Dustin Wanstrath (USA) Tamarack                               
59 Joseph Brenner (USA) Eschelon Elite                           
60 Chad Cheeney (USA) Durango Devo                               
DNS Jamey Driscoll (USA) Cannondale/Cyclocrossworld.com          
DNS Ryan Barthel (USA) Rocky Mountain Chocolate Facto            
DNS Will Campbell (USA) Vitamin Cottage Cycling Team             
DNS Austin Forbes (USA) BODE                                     
DNS Ali Goulet (USA) Ridley Factory Team                         
DNS Mike Hall (USA) Spike Shooter                                
DNS Gregory Keller (USA) Boulder Cycle Sport                     
DNS Conor Mullervy (USA) CLIF BAR Development Cyclo-Cro          
DNS Ned Overend (USA) Specialized                                
DNS Robert Schmidt (USA) CCNS-Pedal Power                        
DNS Mitchell Peterson (USA) Monaviecannondale.com                
DNF Jonathan Baker (USA) Vitamin Cottage p/b XP Compani          
DNF Christopher Pietrzak (USA) Porcupine/Specialized             
DNF Tim Allen (USA) Waste Management                             
DNF Grant Berry (USA) Rocky Mtn Choc Factory                     
DNF Jeff Courter (USA) Horizon Organic Cycling Team              
DNF Jesse Dekrey (USA) unattached                                
DNF Jesse Giordano (USA) Nob Hill Velo                           
DNF Jason Hilimire (USA) Gary Fisher 29er Crew                   
DNF Brady Kappius (USA) CLIF BAR Development Cyclo-Cro           
DNF Eric Moore (USA) ARADD                                       
DNF Taylor Phinney (USA) Garmin/Chipotle                         
DNF Scott Weiztel (USA) CyclingCt/JBCA                           

Series standings

1 Ryan Trebon (Kona)                              270 pts
2 Tim Johnson (Cannondale/Cyclocrossworld.com)    260
3 Jeremy Powers (Cannondale/Cyclocrossworld.com)  140