North American Trophy # 6 - Boulder - C1
Boulder, Colorado, USA, November 2, 2008
Main Page Results Overall standings Previous Race Next Race
Race 2 - November 2: Elite Women
Boulder on Georgia's mind
Lloyd second again, Dombrowski leads series into finale
By Mark Zalewski, North American Editor in Boulder, Colorado
Georgia Gould (Luna) made it two for two
Photo ©: Jon Devich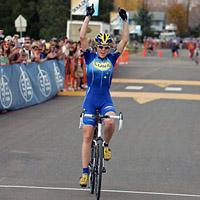 To say that Georgia Gould (Luna Chix) had control over the second race of the Boulder Cup early would be an understatement. While she did not lead the entire first lap, she did have a 15 second lead on Rachel Lloyd (California Giant Berry Farm/Specialized). The impressive number would be the nearly one minute gap she had on the rest of the field at the end of lap one - and both of those gaps grew exponentially the rest of the race as she doubled her Boulder wins.
"I just try to make these races as hard as possible, because at this time of the year it is where I get my training," said Gould about her strategy... or lack thereof. "I never know, so I just always stay on the gas."
Gould also said that the length of the races also contribute to a lack of drama. "People complain that the women's races break up so fast, but yeah -- because we don't race for an hour! It is ridiculous, we should be racing longer. We would ride around and do team tactics if we had 10 laps to go... But with 40 minutes you have to just go for it."
In second place, for the second day, was Lloyd, who gave Gould the only challenge of the day on the first lap. "I slotted myself on Georgia's wheel and told myself I was going to enter the sand pit before her this time," she told Cyclingnews. "I went around her before it and got there before her, but she still rode past me... on a different line."
Lloyd was able to keep Gould relatively close, but after a few laps she saw the writing on the wall again. "After a couple laps of chasing really hard I had to go my own speed, I was not going to catch her," she said. "And then they said four to go, so I knew it was going to be a long time -- if I kept pinning it I was going to blow. So I backed off and rolled around."
Amy Dombrowski (Velo Bella)
Photo ©: Jon Devich

So the only major difference today was the course, with a lot more grass and hills. "The course was a lot more short punchy climbs, so a lot of accelerating," said Gould. "The sand was rideable so not as much running as yesterday. I felt really good there today, it's where I passed Rachel.
"This course was fun," said Lloyd. "Whenever you have hills you can't fake it. I thought my legs felt good but I still had to ride my own race, because it all pretty much happened on the first lap again."
The race for third came down to a field sprint again, this time taken out by Kelli Emmett (Giant).
For the top two, the schedule shifts back to the east coast, with Gould looking to keep her position with team-mate Katerina Nash in the United States Grand Prix series and have an outside shot at the North American Cyclo-cross Trophy title behind leader Amy Dombrowski (Velo Bella-Kona). "Katerina and I are pretty close on [the USGP] -- who, by the way, got third at the European championships -- and had a back row start with no UCI points," she said. Gould will finish her 'cross season with United States of America nationals.
Lloyd is not in the running for the NACT series because she has had a different schedule in mind, which saw her start the season much later. "I want to go to Europe after nationals and do the last four World Cups -- hopefully get some results over there. And then maybe do worlds, though I hear that is decided by UCI points."
"I am praying for snow!" she said about nationals. "If it snows again I will have a chance, the only chance I will have."
Photography
For a thumbnail gallery of these images, click here
Images by Jonathan Devich/

Images by Dave McElwaine/www.trailwatch.net
Results

1 Georgia Gould (USA) Luna Chix Racing Team                 49.01
2 Rachel Lloyd (USA) California Giant Berry Farms/S          1.04
3 Kelli Emmett (USA) Giant Bicycles                          2.58
4 Kerry Barnholt (USA) tokyo joes / van dessel               3.10
5 Heather Irmiger (USA) Subaru/Gary Fisher                       
6 Rhonda Mazza (USA) Team S&M                                3.31
7 Meredith Miller (USA) California Giant Strawberries/           
8 Lisa Strong (USA) Tough Girl                               4.31
9 Judy Freeman (USA) Tough Girl / Contessa                   5.21
10 Sarah Kerlin (USA) HRS/ Rock Lobster                      5.28
11 Kris Walker (USA) KRIEGCYCLING.COM                        5.38
12 Amy Dombroski (USA) Velo Bella - Kona                     5.52
13 Anna Young (USA) Planet Bike                              7.02
14 Sarah Maile (USA) Ventana Mountain Bikes                  7.05
15 Becca Blay (USA) Mafia Racing                             7.45
One lap down
16 Brenda Moczygemba (USA) Tough Girl / Contessa                 
17 Shannon Gibson (USA) VeloBella                                
18 Amanda Miller (USA) Mesa cycles RT                            
19 Lindsey Bishop (USA) Mafia Racing                             
20 Kate Scheider (USA) Mafia Racing                              
Two laps down
21 Jennifer Tilley (USA) VeloBella                               
22 Susan Prieto (USA) Blue Sky Velo                              
23 Maria Stewart (USA) Velo Bella                                
24 Lynn Bush (USA) Tough Girl / Contessa                         
25 Alie Kenzer (USA) RGM WATCHES - RICHARD SACHS -               
Three laps down
26 Kacey Manderfield (USA) Verducci/Breakaway                    
DNS Kelly Benjamin (USA) 360 Racing                              
DNS Lauren Costantini (USA) Sycip Racing                         
DNS Lora Heckman (USA) Peloton Cycles - Specialized              
DNS Catherine Johnson (USA) Organic Athlete                      
DNS Megan Monroe (USA) DALE'S PALE ALE!                          
DNS Tiffany Pezzulo (USA) PCIM                                   
DNF Kari Studley (USA) Velo Bella                                
DNF Andi Burnum (USA) tough girl                                 
DSQ Kathy Sherwin (USA) Velo Bella - Kona                        

Series standings

1 Amy Dombroski                                               182 pts
2 Georgia Gould                                               120
3 Sarah Kerlin                                                100    
3 Wendy Simms                                                 100