USGP of Cyclocross #5 - Portland Cup - C1
Portland, Oregon, USA, December 6, 2008
Main Page Results Overall standings Previous Race
Race 4 - December 6: Elite Men
Johnson firing again
By Laura Weislo in Portland, Oregon
Tim Johnson on his way to the win
Photo ©: Mitch Clinton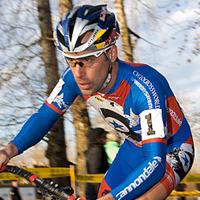 US National Champion Tim Johnson stunned both the crowds and himself by taking the win on the first race of the Portland Cup on Saturday. Johnson, who just three weeks ago sustained a knee injury which forced him off the bike for ten days, rode into the lead group with his Cannondale/Cyclocrossworld.com teammate Jeremy Powers, and local favourite Ryan Trebon (Kona). It came in unexpected circumstances, although Johnson wasn't complaining.
"It's definitely something I didn't expect," Johnson said of his victory. "When I crashed in New Jersey, I was able to get back up and win that race but I couldn't even start the next day. Then I had ten days off the bike and I was worried that that was going to be the end of my season. I just tried to take care of it and do a couple days of training. So it's a huge surprise to even be in the top three, let alone to win here."
The three riders distanced the rest of the competition mid-way through the first lap, and spent the rest of the race consolidating their lead, but neither the high pace nor the frequent attacks could break the stalemate. In the end it took a critical mistake by Trebon to open the door, and Johnson happily waltzed through.
Johnson was prepared to ride in support of Powers, who he said had the better chance of taking Trebon in a three-man sprint, but the lanky Kona rider slid out and crashed on the final lap, giving Johnson enough of a gap to ride away for the win. Powers fell over Trebon, but recovered, and a second bobble by the rider known as 'Tree-farm' allowed Powers to take the lead and hold on for second place.
"Going into the last lap Jeremy and I were trying to set up for the finish. Jeremy has a really good finish, so I wanted to make sure I got him onto the pavement in a good position," said Johnson. "Going into the last half lap I was going to drill it as hard as I could, and right as I went by Ryan he slipped out and I got a little gap - that was all I needed."
That little bit of drama belied a strong performance by Trebon, who rode well from the start and then withstood the relentless attacks of the two teammates.
Ryan Trebon and Jeremy Powers
Photo ©: Mitch Clinton

Trebon took the hole shot on the long, paved straightaway, but relinquished the lead on the grassy section before the newest feature of the course: a short earthen berm which provided the most elevation gain of the race. This climb proved to be a launching pad for Powers to put in a strong attack that pulled Johnson and Trebon away from the rest of the field.
Powers stayed at the front and kept the pressure on throughout the first lap in what seemed like a strange tactical move, but as he explained, it was done with an eye on the future. "I like to go out hard if I can. I felt like the pace wasn't that high, and I wanted a hard start since I'm going to Europe where the pace is always really fast from the gun."
"I like to keep it on if I can and put the other guys on the defensive. I like to single guys out and that's how to do it - to hit that first lap really hard," he continued.
Christopher Jones (Sonic/Louis Garneau) and Jesse Anthony (Jamis) were able to hold his furious pace for half of the first lap, but were quickly relegated to the chasing group as the three giants of American cyclo-cross began trading blows.
Trebon knew he was in a poor tactical position with two strong teammates working against him, but answered each challenge. "It was frustrating," Trebon said. "The course is hard, but there's a lot of places where you have to keep pedalling, and when you're with two strong people it's even harder. I covered all the moves I could and tried a couple, but it didn't work out."
Admittedly annoyed with himself for his errors, Trebon explained how his race quickly went south. "I slowed down and let Tim come through on the inside, and I just took the turn weird and crashed. I just washed out, and then Jeremy ran over me. We were both kind of lying on the ground, and I got up and was chasing.
"There was still time to close it, but in the last 180 I washed out again and Jeremy came around me and I couldn't get in my pedal. That was it, I couldn't get him in the sprint. It was kind of annoying - that last lap I just botched everything!"
Danny Sumerhill looking strong
Photo ©: Mitch Clinton

Trebon wasn't the only person who was irritated with the fall, as Powers also went down after running into his Kona opponent. Powers banged his bars in frustration after the crash, but that anger had vanished by the time the press conference rolled around. He explained animatedly that it was all just a part of racing. "It's aggravating at the time - it's so close to the end of the race and you think 'Arrgh! Why is this happening to me right now?' But there isn't anything you can do about it. You're just giving it 100 percent and then you're on the ground."
After the race, Johnson was eager to get some ice on his injured knee to keep it from swelling up from the effort. He considered the thought that the extra rest from his injury may have given him an inadvertent boost just in time to defend his national title in Kansas City next week. "I'd love to think so, but I don't know. I always run things pretty fatigued - I do a full road season then a full 'cross season. An extra 10 days may not have been the worst, but up until 20 minutes ago I didn't think that was the case."
Even though he was able to withstand the high pace, Johnson admitted he didn't feel confident in his riding and was prepared to help Powers get the win. "We were attacking each other back and forth all day. I think we all had a couple moments when we didn't know if we were going to be able to stay up there. It's pretty hard to stay on Ryan when he hits the gas!"
Behind the three leaders, Jesse Anthony (Jamis) spent the majority of the race chasing alone in fourth place, while an ever-changing group fought for fifth place. Jones faded out of contention, while new under-23 rider Daniel Summerhill (Clif Bar) made contact with Anthony for a time on the third lap. Behind them, Todd Wells, holding the series leader's jersey, overcame a horrible start to lead a chasing group of six, with Andy Jacques-Maynes (Specialized-KMC), Chris Sheppard (Santa Cruz/Giro/Easton), Jones, Nick Weighall (Rad Racing) and Barry Wicks (Kona).
That chasing group was whittled down to just Wells and Sheppard, who made contact with Anthony and Summerhill. The latter - only 19 years old - was awarded the Most Aggressive rider title for his valiant effort to ride from his 18th place starting position to the first chase group. He eventuallly lost contact with the group on the closing laps and finished seventh.
Anthony held on for fourth place, preventing Wells, who took fifth, from gaining enough points to hold on to the series lead.
Photography
For a thumbnail gallery of these images, click here
Images by Mitch Clinton/www.clintonphoto.com
Results

1 Timothy Johnson (USA) CyclocrossWorld Cannondale              1.04.42       
2 Jeremy Powers (USA) CyclocrossWorld Cannondale                   0.02
3 Ryan Trebon (USA) Kona                                             
4 Jesse Anthony (USA) Team Jamis Bikes                             0.57  
5 Todd Wells (USA) Team GT                                         1.01  
6 Chris Sheppard (USA) Santa Cruz/Giro/Easton/                     1.05  
7 Daniel Summerhill (USA) Team Cliff Bar                           1.49  
8 Andy Jacques-Maynes (USA) Specialize/KMC                         2.02  
9 Matt Shriver (USA) UCI CT: The Jittery Joes Pro Cycling Team     2.25  
10 Nicholas Weighall (USA) Rad Racing/Hagens Berman                2.39  
11 Dan Timmerman (USA) Reynolds/Swan Cycles                          
12 Christopher Jones (USA) Sonic/Louis Garneau/ Jittery Joes         
13 Barry Wicks (USA) Kona                                            
14 Erik Tonkin (USA) Kona                                            
15 Molly Cameron (USA) Vanilla bicycles!                             
16 Joachim Parbo (Den) CCV Leopard Cycles                            
17 Carl Decker (USA) Gisnt                                           
18 Bjorn Selander (USA) Ridley Factory Team                          
19 Justin Robinson (USA) California Giant Berry Farms/Specialized    
20 Spencer Paxson (USA) Team S&M/Kona                                
21 Troy Wells (USA) Team Clif Bar                                    
22 Mitchell Peterson (USA) Monaviecannondale.com                     
23 Nathan Bannerman (USA) Bicycle Centres - Collision 1              
24 Chance Noble (USA) California Giant                               
25 Solomon Woras (USA) Vanilla                                       
26 Kevin Bradford-Parish (USA) Redline Bikes                         
27 Dave Hackworthy (USA) Ridley Factory Team                         
28 Adam Mcgrath (USA) Vandessel                                      
29 Steve Fisher (USA) Rad Racing NW                                  
30 Mark Blackwelder (USA)                                            
31 Russell Stevenson (USA) Redline Bikes                             
32 Eric Thompson (USA) Lees McRae College                            
33 Evan Plews (USA) Capitol Subaru Cycling/ScottUSA                  
34 Braden Kappius (USA) Clif Bar Development Cross Team              
35 Jeremy Ferguson (USA) California Giant Berry Farms/Specialized    
36 Gian Dalle Angelini (USA) Team Redline                            
37 Ben Popper (USA) HRS / Rock Lobster                               
38 Sean Babcock (USA) Team S&M                                       
39 Drew Mackenzie (Can) Straight Up Cycles/Argon18                   
40 Kristopher Holden (USA) Vertical Earth/ROTOR                      
41 Christopher Parrish (USA) Hagens Berman Cycling                   
42 Ryan Iddings (USA) Lapierre USA                                   
43 Scott Carlile (USA) TAI Cycling/Hammer Nutrition                  
44 David Yeater (USA) River City Bicycles                            
45 Brett Luelling (USA) Capitol Subaru Cycling                       
46 Joshua Berry (USA) Team BODE                                      
47 Joseph Brenner (USA) Eschelon Elite                               
48 Ryan Weaver (USA) River City Bikes                                
49 Craig Fowler (USA) uBRDO Team Project                             
50 Zachary Daab (USA) Hup United                                     
51 Benjamin Dodge (USA) SugarCRM                                     
52 Justin Finn (USA) SpOoKy BiKeS                                    
DNF Shannon Skerritt (USA) Vanilla Bicycles                          
DNF Andrew Llewellyn (USA) Calistoga Racing Team                     
DNF Kevin Hulick (USA) Vanilla Bicycles                              
DNF Mitchell Hoke (USA) CLIF BAR Development Cross Team              
DNF Alex Howes (USA) CLIF BAR Development Cross Team                 
DNF Colin Cares (USA) CLIF BAR Development Cross Team                
DNF John Flack (USA) Valley Athletic Club                            
DNF Conor Mullervy (USA) CLIF BAR Development Cross Team             
DNF Kevin Mullervy (USA) CLIF BAR Development Cross Team             
DNF Benjamin Thompson (USA) Sunnyside-Cannondale                     

U23 Men

1 Jesse Anthony (USA) Jamis
2 Nick Weighall (USA) Rad Racing
3 Bjorn Selander (USA)  Ridley Factory Team