USGP of Cyclocross #5 - Portland Cup - C1
Portland, Oregon, USA, December 6, 2008
Main Page Results Overall standings Previous Race Next Race
Race 3 - December 6: Elite Women
Luna duo land another quinella
By Laura Weislo in Portland, Oregon
Katerina Nash takes the win
Photo ©: Mitch Clinton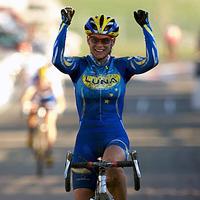 Luna teammates Katerina Nash and Georgia Gould again went one-two in the first round of the Portland Cup, the finale of the US Gran Prix of Cyclo-cross on Saturday. It wasn't without a strong fight from Rachel Lloyd (California Giant Berry/Specialized), however, as the three riders separated themselves from the rest of the field at the mid-point of the race and took turns to attack.
Nash was pleased to take the win in one of her last races of the season, and valued the presence of Gould in the lead group. "It's always good to have a strong teammate out there - one can attack and the other can sit in," she told Cyclingnews. "Everyone was strong - we kept attacking each other and nobody could get away, so I just waited for an opportunity."
USGP series leader Gould had to work her way up to the front of the race after a slow start, but once there made her presence felt with several punishing attacks. While it is clear that there is a friendly rivalry between the two Luna teammates, their respect for each other and for the goals for the team were apparent.
"Obviously the plan is to win the race," Gould said. "We'd each like to be the winner, but the second best result is to have your teammate win the race. In the end, Katerina made the right move at the right time. Obviously I'm not going to chase down my teammate, so I rode with Rachel a little bit and when I thought she had a big enough gap I went around and tried to catch up to her, but there wasn't enough time left in the race. She was definitely riding strong today and she deserved the win."
The women raced under sunny skies, an unusual luxury in a city which is ranked second in the country for most rainy days per year. Clear skies did not mean a lack of mud, as the course at the Portland International Raceway sits in a river valley which collects ample amounts of dew overnight.
Lloyd, the US Super-D champion, took the hole shot and rode aggressively coming into the first technical obstacle - a moto-cross course that went from sticky muck to a full-on mud puddle before dumping riders back out onto the grass. Lloyd was matched pedal stroke for pedal stroke by Nash, who took third in both the European Cyclo-cross championships and the Pijnacker World Cup earlier this season.
"It was tough. I haven't been in that kind of a position since Kentucky, so I'm really glad that I had the form," Lloyd said. "I just took a little break, and I was really glad to be feeling good. I didn't know how I would feel coming into the race."
The impressive leading trio
Photo ©: Mitch Clinton

Being isolated with two of the strongest riders in the country who just happen to be on the same team was a tricky situation, but Lloyd still felt she might have had a chance to win. "I guess I just needed to be a little more patient. I was trying to get something going - a couple times it felt a little too easy.
"But I should have waited - I kind of picked spots where I could go, but then where I thought I was going to go the last lap, Katerina had already opened up a little gap on the track, and I should have gone ahead of her there. It was just little teeny things - because I was chasing, Georgia went around me and I just couldn't follow it."
The fight for fourth place came down to a close sprint between former UCI leader Wendy Simms and local favourite Sue Butler, with Butler giving the home crowd a thrill by holding off the Canadian champion. Butler and Simms made up part of the lead group until the third lap when Nash and Lloyd began attacking.
"The lead group broke into five of us, I was just hoping I could stay, but from my past experience I know they always amp it up after a few laps. Wendy and I got dropped, then she and I duked it out for the last few laps. I ended up lucky this time with a fourth place. It would have been nice to get a podium place for the home crowd, but I've made a lot of progress this year so maybe next year I can make that jump."
Simms knew she would be at a disadvantage in a field of riders peaking for their national championships and is keeping her focus on the world championships at the end of January. "I was up with the front group and then they just popped me," Simms explained. "I made a couple little errors but it's just so hard to make up the time on this course."
"Sue and I were together, and I tried to drop her a couple of times but she kept clawing her way back up. I stayed behind her on the last lap, nice and smart, but she's got a super strong kick and she took me in the sprint for fourth."
Gould held on to the leader's jersey in the USGP series, but Nash now trails by just four points. "I'm still in the running for the overall now that I won today, so it's going to be a tight race either way. I don't know how it will work out tomorrow, but we'll give it our best and see who can walk away with the overall," Nash said.
Photography
For a thumbnail gallery of these images, click here
Images by Mitch Clinton/www.clintonphoto.com
Images by Tim Gasperak/www.gasperak.com
Results


1 Katerina Nash (Cze) LUNA Women's MTB Team                          39.41       
2 Georgia Gould CO LUNA                                               0.04 
3 Rachel Lloyd (USA) California Giant Berry Farms                     0.11  
4 Susan Butler (USA) MonavieCannondale.com                            1.21  
5 Wendy Simms (Can) Kona                                                
6 Amy Dombroski (USA) Webcor/Alto Velo                                2.22  
7 Meredith Miller (USA) California Giant Berry Farms                  2.23  
8 Maureen Bruno Roy (USA) MM Racing p/b Seven Cycles                    
9 Kelli Emmett (USA) Giant Bicycles                                   2.59  
10 Rhonda Mazza (USA) Team S&M/Sellwood Cycle Repair                  3.01  
11 Wendy Williams (USA) River City Bicycle Team                         
12 Barbara Howe (USA) Unattached                                        
13 Emily Van Meter (USA) River City Bicycle Team                        
14 Sarah Kerlin (USA) Velo Bella - Kona                                 
15 Kristi Berg (USA) Redline Bicycles                                   
16 Kari Studley (USA) Velo Bella - Kona                                 
17 Pepper Harlton (USA) Juventus Cycling Club                           
18 Jadine Riley (USA) Team Group Health                                 
19 Alice Pennington (USA) Desalvo                                       
20 Shannon Gibson (USA) Velo Bella - Kona                               
21 Joele Guynup (Can) Island Racing Club p/b Robert Cameron Law         
22 Maria Stewart (USA) Velo Bella - Kona                                
23 Jennifer Gaertner (USA) Team Bobs-Bicycles.com                       
24 Joanna Mensher (USA) Gentle Lovers                                   
25 Angela Mysliwiec (USA) Avanti/Ti Cycles Racing Team                  
26 Marne Smiley (USA)                                                   
27 Lianna Miller (USA) Spike                                            
DNF Josie Jacques-Maynes (USA) California Giant Berry Farms/Specialized    
DNF Dawn Anderson (Berg) (Can) Oak Bay Bikes/Everti                        
DNF Heather Gundersen (USA) Veloshop