Superprestige #4 - Gieten - C1
Gieten, Netherlands, November 25, 2007
Main Page Results Overall standings Previous Race
Race 5 - November 25: Elite Men
Albert makes thirteen an unlucky number for Nys
Prolific winning streak ends in the rain and mud of Gieten
By Brecht DecaluwÚ
Niels Albert gets the win
Photo ©: AFP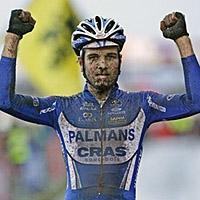 After 13 consecutive wins from Sven Nys in the Superprestige Series, someone has finally ended the Belgian's dominance in this competition. The last time Nys failed to win a Superprestige event was way back on December 24, 2005, but today the UCI leader was beaten in northern Holland by Belgium's biggest talent, 21 year-old Niels Albert.
Albert's win wasn't all that surprising as he had already won the Gazet van Antwerpen leg in Loenhout last year. Combine that with the extra freshness from not racing yesterday's World Cup in Koksijde, where the Palmans rider chose not to participate due to his U23 status, despite being clearly capable of giving all the big guns a beating. Albert's decision to remain in the under 23 ranks is because he badly wants to win the only title that has eluded him so far - the under 23 world championship.
This season Albert has been struggling to show his talent, but with this victory he grabs his first so-called 'big fish' of the season. "I knew it would happen one of these weeks but I didn't expect it just yet. That it comes now is ideal, because a lot of stress has disappeared now," a clearly cold Albert said. The U23 rider has never lost in Gieten, although it must be said that his previous outings were in the youth races.
"Apparently I've got something with Gieten," Albert smiled. "It's good to be winning in a big match-up like today." When asked if he was thinking about ending the series from Nys, Albert denied that was his motivation. "I wasn't thinking about it. I'm just happy that I could show that I belong to the best riders in the world. My season can't go wrong anymore, everything that comes now is a bonus," he said.
Runner-up Sven Nys wasn't too disappointed about having his winning streak ended in Gieten today. "It had to come to an end one day," he said. "Eventually I finished second so that's good for the overall standing in the series. The freshest rider has won today. I tried to follow but he rode just a little too fast for me."
With 59 points Nys now has a gap of eight points on Bart Wellens (Fidea) in the overall standing of the Superprestige series. Zdenek Stybar (Fidea) stays in third with 45 points, while Albert overtakes Richard Groenendaal (AA Sport Drinks) and Klaas Vantornout (Fidea) and is now fourth with 36 points.
Niels Albert leads Sven Nys
Photo ©: AFP

Local favourite Lars Boom (Rabobank) couldn't please his fans today, despite doing all he could to stay in touch with the eventual winner. "He was simply too strong and I'm glad that I could finish on the podium again," Boom said. The Dutch champion didn't just give away the second place to his team-mate Nys as he forced him to sprint for it - a peculiar tactic since Boom is not taking part in every Superprestige leg, while Nys could use every point on offer. "I think you have to sprint for it," said Boom, who will be heading for Lanzarote now to prepare for the second half of the season.
American hope Jonathan Page (Sunweb Pro Job) showed a first glimpse of better form on a course that doesn't suit him at all. The world championship silver medallist finished 12th behind his team-mate Sven Vanthourenhout and world champion Erwin Vervecken (Fidea). Compatriot Jonathan Baker (Primus Mootry) was spotted by the TV cameras when he had a spectacular crash in the mud early on in the race. Nevertheless, Baker managed to continue and eventually finished in a respectable 25th place.
A rider not so fortunate was Gerben De Knegt. While riding in a group behind Wellens, the Dutchman's rim got stuck in the mud and collapsed. De Knegt went over the handlebars and had to abandon the race with a suspected broken collarbone. Yesterday in Koksijde, after losing his chain right at the start, the Rabobank rider had said he hoped his bad luck would finally be over.
The next Superprestige race is held on December 9 in Veghel, The Netherlands, and again there will be complete coverage on Cyclingnews.
How it unfolded
Klaas Vantornout managed the hole shot with local men Boom and Groenendaal glued to his wheel. Nys started better than yesterday in Koksijde, riding in 10th position together with Vervecken. Groenendaal eventually dropped back and was replaced up front by Radomir Simunek Jr. About 12 riders separated them from the rest by the end of the first lap, with Page riding in 15th position. World champion Vervecken was in trouble in this first lap and dropped away from the leading group.
On the second lap, Niels Albert attacked and it was Nys himself who reacted to the young Belgian's move, joined by his team-mate Boom. The other favourites were caught out and left with work to do as these three pulled away. Wellens took the initiative and was followed by Stybar and Simunek; the trio chased at 13".
Thijs Al followed at 23" with Sven Vanthourenhout and Van Gils. Page was still in 15th position just behind Vervecken. Jonathan Baker got his front wheel stuck in the mud with and crashed; but the 'beast' remounted and continued on.
Up front, Boom made a mistake stepping off his bike a little too early and the Dutch champion was dropped by the leaders. He was joined by Wellens and Stybar and followed at 10". Thijs Al and Simunek followed at 25". With three laps covered Boom and Wellens were 12 seconds down.
Albert wasn't asking Nys to pull in front and rode his own tempo, creating a gap on the UCI leader. In the course's main descent on lap four, Vervecken crashed into the trees and took Sunweb riders Page and Sven Vanthourenhout along with him. Nys was making few mistakes but was already 15" down on Albert, with Wellens and Boom at 20".
Behind this duo, Wellens slipped backwards on a muddy uphill road section. Thanks to this mistake from the Belgian champion, Boom was allowed to get back to his team-mate Nys. Boom pulled hard to bring them back to the tail of Albert, but surprisingly, this tempo was too high for the UCI leader and he had trouble following the Dutchman.
With three laps to go Albert kept going hard and had a gap of 17" on Nys and Albert. Wellens chased on his own at almost 40". Stybar, Van Gils and Thijs Al were the first riders behind Wellens and they were chased by a group with Simunek, De Knegt and Groenendaal. Page was in a group with his team-mate Sven Vanthourenhout and Vervecken in 12th position.
With the rain starting to pour down, Albert kept increasing his lead over the Rabobank duo. The gap was now 25", and behind them Wellens was trying to get back on terms. Further back still, Vervecken and Sven Vanthourenhout were now riding alone.
Gerben De Knegt then went over the handlebars when his rim collapsed on a descent. The unlucky Dutchman was in a lot of pain and held his arm as if his collarbone was broken.
Albert couldn't afford to make a big mistake when he hit the last lap, since Boom and Nys were still riding only 20 seconds behind. Albert kept his composure to grab a great victory with team-mates Nys and Boom sprinting for second place, and it was the UCI leader who won this duel.
With average speeds around 23 km/h and the riders clearly not riding on a paved road, it was no wonder the gaps between the riders were so big.
Photography
For a thumbnail gallery of these images, click here
Images by AFP Photo
Results
1 Niels Albert (Bel) Palmans-Cras                            1.01.51
2 Sven Nys (Bel) Rabobank                                       0.17
3 Lars Boom (Ned) Rabobank
4 Bart Wellens (Bel) Fidea Cycling Team                         0.40
5 Wilant Van Gils (Ned) ZZPR.nl                                 1.29
6 Klaas Vantornout (Bel) Fidea Cycling Team                     1.51
7 Zdenek Stybar (Cze) Fidea Cycling Team                        2.05
8 Thijs Al (Ned) BeOne CRC Team                                 2.07
9 RadomÝr Simunek (Cze) Palmans-Cras                            3.18
10 Richard Groenendaal (Ned) AA Sport Drinks                    3.20
11 Erwin Vervecken (Bel) Fidea Cycling Team                     3.48
12 Sven Vanthourenhout (Bel) Sunweb Pro Job                     4.00
13 Jonathan Page (USA) Sunweb Pro Job                           4.12
14 Kevin Pauwels (Bel) Fidea Cycling Team                       4.34
15 Tim Van Nuffel (Bel) Easypay Cyclocross Team                 4.46
16 Jan Soetens (Bel) Jartazi Promo Fashion                      5.10
17 David Willemsens (Bel) Sunweb Pro Job                        5.54
18 Jan Verstraeten (Bel) Sunweb Pro Job                         6.09
19 Davy Commeyne (Bel) Palmans-Cras                             6.17
20 Mathijs Wagenaar (Ned) Scott v/d Put MTB team
21 Marek Cichosz (Pol) CWKS Legia Warszawa
22 Jean-Pierre Leijten (Ned) Het Snelle Wiel                    6.37
23 Ben Berden (Bel) Revor Cycling Team                          6.53
24 Marco Bianco (Ita) Arcobaleno Carraro
25 Jonathan Baker (USA) Primus Mootry
26 Kamil Ausbuher (Cze) Easypay Cyclocross Team                 7.12
 
One lap behind
 
27 Bart Dirkx (Ned) TWC Tempo/BMV
28 Sebastian Hann÷ver (Ger) RSG Lohne-Vechta
29 Kevin De Weert (Bel) Cofidis
30 Patrick Van Leeuwen (Ned) TWC Het Snelle Wiel
31 Roy Van Heeswijk (Ned) Wielervereniging Schijndel
32 Peter Van Den Heuvel (Ned)
33 Rafael Visinelli (Ita) GS Forestale
34 Jos Feiken (Ned) Team Robinson Techniek
DNF Gerben De Knegt (Ned) Rabobank
DNF Maarten Nijland (Ned) Ruiter Dakkapellen Wielerteam
DNF Tom Vannoppen (Bel) Sunweb Pro Job
 
Superprestige standings after four rounds
 
1 Sven Nys (Bel) Rabobank                                59 pts
2 Bart Wellens (Bel) Fidea Cycling Team                  51
3 Zdenek Stybar (Cze) Fidea Cycling Team                 45
4 Niels Albert (Bel) Palmans-Cras                        36
5 Richard Groenendaal (Ned) AA Sport Drinks              35
6 Klaas Vantornout (Bel) Fidea Cycling Team              33
7 Kevin Pauwels (Bel) Fidea Cycling Team                 24
8 Wilant Van Gils (Ned) ZZPR.nl                          22
9 Erwin Vervecken (Bel) Fidea Cycling Team               21
10 Thijs Al (Ned) BeOne CRC Team                         19
11 Petr Dlask (Cze) Fidea Cycling Team                   15
12 Francis Mourey (Fra) Franšaise des Jeux               14
12 RadomÝr Simunek (Cze) Palmans-Cras                    14
14 Sven Vanthourenhout (Bel) Sunweb Pro Job              13
14 Lars Boom (Ned) Rabobank                              13
16 Rob Peeters (Bel) Landbouwkrediet - T÷nissteiner      10
16 Gerben De Knegt (Ned) Rabobank                        10
18 Enrico Franzoi (Ita) Lampre-Fondital                   9
19 Jan Verstraeten (Bel) Sunweb Pro Job                   8
19 Dieter Vanthourenhout (Bel) Easypay Cyclocross Team    8
21 Christian Heule (Swi) Stevens Racing Team              5
21 Bart Aernouts (Bel) Rabobank                           5
23 Jan Soetens (Bel)                                      4
24 Jonathan Page (USA) Sunweb Pro Job                     3
25 Davy Commeyne (Bel) Palmans-Cras                       2
26 Ben Berden (Bel) Revor Cycling Team                    1
26 Tim Van Nuffel (Bel) Easypay Cyclocross Team           1