BMX news & racing round-up for March 29, 2007
Edited by Greg Johnson
UCI reveals Beijing track layout
The Beijing Olympic Games BMX track
Photo ©: www.uci.ch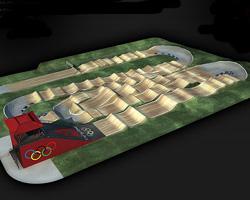 The UCI has released images of the BMX track layout which will be used at the Beijing Olympic Games, in August 2008.
The track features an eight metre high starting ramp, including two separate straight-aways for men and women. It will be slightly downhill, with a length of approximately 370 metres for the men, with the women's route around 20 metres shorter, with the average lap expected to take under 35 seconds.
"BMX track design these days has become a science, in order to create tracks that are spectacular and challenging yet in a safe manner. This track has it all" says Johan Lindstrom, UCI technical delegate for the Olympic Games. "The Olympic track has the perfect mix between sprinting pedaling parts, highly technical rhythm sections and the high speed big, burly jumps."
"The track will definitely be the perfect canvas to select an Olympic Champion among the very best," he added.
The construction of the track, which begins in May, will be overseen by America's Tom Ritzenthaler. The track is expected to be finished in time for China's UCI BMX Supercross World Cup round on August 20-21, which will double as the only official test event on the track prior to next year's Games.
"One of our goals is to create a track that the BMX riders have fun riding with a lot of flow and rhythm, yet a track where they are being challenged," said Ritzenthaler.
"The track looks like a lot of fun, and I can't wait to try it out. I think most of the top riders will say the same," said top elite rider and UCI BMX Commission member Roger Rinderknecht. "You need to be a complete BMX rider to win on this track."
Photography
For a thumbnail gallery of these images, click here
Images by www.uci.ch
Anne-Caroline Chausson returns to BMX
She may be one of the world's most successful female cyclists, but France's Anne-Caroline Chausson is missing one thing from her palmares: a gold medal. Now, 13 years after her last BMX race, the two time BMX Elite World Champion is back and she's aiming for gold in Beijing.
"I had been approached for a come back, three years ago, but I still had a lot of projects in MTB and a goal five years down the road was a little too long," the 29 year-old told bmxmania.com. "I never thought too much about it after that (…) but at the Roc d'Azur, a lot of people started to ask me the question again.
"A week later, I had the chance to share some thoughts with Judo Olympic Gold medallist David Douillet, about the Olympic Games," explained Chausson. "A little bit of pressure from my boyfriend and that was it, the decision was made."
Chausson, who finished second in last weekend's third French Cup round, has an impressive track record in both BMX and mountain biking. In addition to her two BMX world titles, Chausson has taken victory in over 15 mountain bike world titles split across the downhill and four-cross disciplines.
"I feel good on the bike, but there's still a lot of work on the technical and physical sides to be competitive," reported Chausson last weekend, her first BMX race since the 1993 ABA Grand Nationals in the United States. "We can say that I have some good foundations."
Keep an eye out for a full interview with Chausson on Cyclingnews.
USAC selects former world champion to lead BMX program
USA Cycling has announced that former BMX World Champion Mike King has been selected to lead American BMX athletes to Beijing as USA Cycling's Director of BMX programs. In his new role, one of King's missions will be to develop a top-notch BMX squad to represent the United States at the sport's Olympic debut in China next year.
"We're extremely excited to have Mike on board," commented Pat McDonough, director of athletics for USA Cycling. "As a former elite athlete himself, Mike has the experience, knowledge and passion for the sport necessary to motivate our BMX athletes and guide them to consistent success.
"With BMX now on the Olympic program, it was imperative to add someone of Mike's caliber to ensure our athletes receive the same level of service and opportunity that we provide to our athletes in other disciplines," added McDonough.
King turned pro in 1988 after winning back-to-back amateur BMX national titles. That same year, he became only the third rider in BMX history to win the Pro National title in his rookie year. His BMX accolades include the 1987 Supercross World Title and membership in the BMX Hall of Fame.
"I am very excited to be a part of USA Cycling as we head toward Beijing," King said. "I feel confident about our medal chances, which makes this job very rewarding."
Sea Otter Classic gears for BMX return
BMX racing will make a much-anticipated comeback to the Sea Otter Classic, A Celebration of Sport, during the weekend of April 14-15. Produced through a partnership with Golden State BMX, Sea Otter's BMX event will be a California State Series qualifier to help racers in their quest for a berth on the state team.
"The course will be a downhill course with lots of different kinds of obstacles: step-ups, tabletops, and doubles - those will be the obstacles as the riders come down the hill," said Mary Garcia, co-commissioner for Golden State NBL BMX. "It will basically be a downhill, zig-zag course with five straights, which will make for exciting racing."
In past years, Sea Otter's BMX event took place slightly away from the main venues, however with its return this year, BMX racing will take center stage on the site of the former Mountain Cross course.
"As a spectator, you will see all classes from beginner to expert and possibly some pros," explained Garcia. "Each rider will ride in three motos or rounds, three different times. They will have to ride with the same age class and efficiency. Riders with top finishes will transfer to a semi-main event and then the top four finishers from each semi-main will ride against each other in a main event."
World number two BMX professional Randy Stumpfhauser (GT Bicycles, supported by SRAM), who has previously raced BMX at Sea Otter, applauded the sport's return to the event.
"To bring BMX racing in front of the cycling community at Sea Otter will give it some great exposure to the cycling world," said Stumpfhauser. "BMX's return to Sea Otter should gain the sport a lot of respect from the different disciplines of racing that may have yet to witness a BMX race."
The Sea Otter Classic will be held April 12-15, 2007 at the Laguna Seca Recreation Area, Monterey, California, USA. The Sea Otter Classic BMX events will take place throughout the day on Saturday, April 14 and continue on Sunday.
UCI ranks States and Argentina at top of national list
Recent standings released by the UCI places the United States at the top of the men's national BMX rankings, ahead of Australia and Colombia. The nation's 46 point lead on Australia is underpinned by three US riders in the top five on individual rankings.
In addition to Mike day, who currently leads the men's overall rankings, fellow Californians Randy Stumpfhauser and Donny Robinson hold second and fourth respectively in the standings.
The women's standings however are a very different story, with Argentina holding the nation rankings lead, while 19 year-old New Zealand rider Sarah Walker leads the overall rankings.
In an aid to help the sport grow in the United States and prepare for the 2008 Beijing Olympics, USA Cycling will host the first ever USA Cycling BMX National Championships on June 9 in Waterford, Michigan. Some 43 national champion jerseys will be on offer in the same number of UCI-recognized categories that will be run at the inaugural event.
Online registration for Madrid now open
USA Cycling has announced that it is now accepting online entries for the first round of the UCI BMX Supercross World Cup in Madrid via its website.
Riders interested in contesting the first round of the 2007 UCI BMX Supercross World Cup event in Madrid April 13-14 can now register for the event online at www.usacycling.org/myusac.
Athletes will need a USA Cycling BMX International License to compete and can pay the $130 USD registration fee by Visa or Mastercard.
This year's UCI BMX Supercross World Cup series holds an even greater importance than years gone by as the international ranking points available contribute to a nation's ranking. The national standings is the primary factor in determining how many start positions a country receives at the 2008 Olympic Games.
The four-race international series also includes stops in Beijing, China, August 20-21, Salt Lake City, USA, September 21-22, and Frejus, France, October 13-14.
Stumpfhauser dominates ABA Winter Nationals
California's Randy Stumpfhauser dominated the AA Pro races at last weekend's fifth ABA Pro Series round: the Winter Nationals held at Black Mountain BMX track in Phoenix, Arizona. Stumpfhauser trumped the opposition by taking victory in both Saturday and Sunday's AA Pro races.
'Stumpy' held of Khalen Young and Bubba Harris in the opening AA Pro race of the weekend, with the pair taking second and third respectively. In the second AA Pro race, Harris moved up to take second place while Young could only manage fifth. SE Bikes' Javier Colombo took the final podium position in the second race.
In the Girls Pro category Alise Post opened the weekend on a high note with a dominate victory in Saturday's race. Redline Factory Team's Kimberly Hayashi took second place from Unbound/Intense's Stephanie Barragan.
Post's luck had run out by the second day of competition, however, with a crash in an early race putting her behind the eight-ball for her final. Post bounced back and claimed victory in her final, however the first corner crash proved costly in the day's overall points with Terra Nichols claiming victory by just a single point.
Nichols sneak through to the top spot meant Hayashi was forced to settle for third place.
For full results from the ABA Pro Series Winter Nationals, click here.
Pro-Gate signs Felicia Stancil
BMX starting gate manufacturer Pro-Gate has announced its signed to sponsor Felicia Stancil for 2007. The two time UCI world number one ranked rider will fly the company's flag at this year's UCI World Championships in Victoria, Canada.
With two world titles to her name already, Stancil will be aiming for a third title this June.
Newly expanded Pryme-US full-face helmet range for 2007
Pryme expands its Pryme-US full-face helmet range
Photo ©: Pryme

Pryme has updated its value-priced Pryme-US full face BMX helmet for 2007 to include three colorways, all of which incorporate the same low-profile nine-vent fiberglass shell, injection-molded visor, and Pryme's trademark 'skull' insert on the chin bar. Suggested retail is still a very reasonable US$89.
(All rights reserved/Copyright Knapp Communications Pty Limited 2007)