Relentless British National Series #1 & 2 - NE
Cheddar, United Kingdom, May 5-7, 2007
Close action in season opener
Laurence Mapp (160) and Warren Bancroft (4)
Photo ©: British Cycling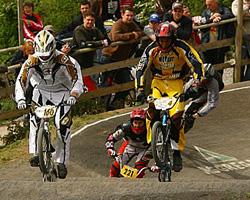 Cheddar was a fitting venue to launch in to the Relentless National Series 2007. Judging from the general attitude and buzz around the pits, the 2007 season should be a good year for British BMX. Clashing with a European UCI race in the Czech Republic is never desirable, so losing riders of the calibre of Kelvin Batey, Liam and Charlie Phillips and Joey Gough could have been negative, however the other elite riders didn't see it that way. Whatever the case, the racing didn't suffer in the absence of the top riders.
Redline's Shanaze Reade, the golden girl of BMX, isn't a fan of the Czech facilities so turned up at Cheddar to lock horns with the Elite Men. Reade undoubtedly has awesome track speed and has proved that she can beat men consistently last year. The move to Elite could have proved a step too far physically for the Brit, as when there are male egos to be bruised, they won't hold back. Nonetheless, Reade came within a whisker of making the Elite Men's final on Sunday, but made amends on Monday. In the end, both days came down to two riders: Warren Bancroft (Alans BMX/Shimano DX) and Laurence Mapp (Revell Bikes).
Laurence has struggled with consistency in recent years and Warren has similar consistency issues but is undoubtedly the Britain's fastest BMX rider in a straight line. Put this all together, add in a returning old school BMXer in the form of muscle man Ashley Davis, Liam Batey, who has longest slingshot in UK BMX, and an 18 year old girl and the elite finals were fascinating with or without the top guys.
Mapp dominated the weekend taking the opening two round victories with Bancroft finishing runner up in both finals. After finishing third in the opening round Batey was forced to settle for fifth place in the second as Davis took the remaining podium spot.
Photography
For a thumbnail gallery of these images, click here
Images by British Cycling
Results
Round 1 - Elite men
 
1 Laurence Mapp (Royston Rockets BMX Racing Club E)        
2 Warren Bancroft (Cheshire Ghostriders BMX M)             
3 Liam Batey (Mansfield Wheels BMX Club M)                 
4 Ashley Davis (Burnham BMX Club SW)                       
5 Chris Mapp (Royston Rockets BMX Racing Club E)           
6 Luke Gamble (Team Firm Bikes/Sinisalo)                   
7 Christopher Jackson (Decoy BMX Club SW)                  
8 Ben Forwood (Dialled Bikes)                              
9 Gareth Bates (SE Racing)                                 
10 Alan Hill (Norwich Flyers BMX Racing Club E)            
11 Shanaze Reade (Cheshire Ghostriders BMX M)              
12 Ryan Poolman (Bournemouth BMX Club S)                   
13 John Lillingstone (Ipswich BMX Club E)                  
14 Richard Townsend (Royston Rockets BMX Racing Club E)    
15 Adam Buday (Hayes Hawks BMX Club S)                     
16 Alex Dick (Hayes Hawks BMX Club S)                      
17 Richard Cawood (Peckham Challengers BMX Club S)         
 
Round 2 - Elite men
 
1 Laurence Mapp (Royston Rockets BMX Racing Club E)        
2 Warren Bancroft (Cheshire Ghostriders BMX M)             
3 Ashley Davis (Burnham BMX Club SW)                       
4 Christopher Jackson (Decoy BMX Club SW)                  
5 Liam Batey (Mansfield Wheels BMX Club M)                 
6 Gareth Bates (SE Racing)                                 
7 Chris Mapp (Royston Rockets BMX Racing Club E)           
8 Shanaze Reade (Cheshire Ghostriders BMX M)               
9 Luke Gamble (Team Firm Bikes/Sinisalo)                   
10 Alan Hill (Norwich Flyers BMX Racing Club E)            
11 Ryan Poolman (Bournemouth BMX Club S)                   
12 Richard Townsend (Royston Rockets BMX Racing Club E)    
13 John Lillingstone (Ipswich BMX Club E)                  
14 Adam Buday (Hayes Hawks BMX Club S)                     
15 Ben Forwood (Dialled Bikes)