Introduction to Track Racing - What's a Wheelrace? - Introduction to Six Day racing - UCI codes
33rd Bendigo Madison - IM
Bendigo, Victoria, Australia, March 7-9, 2003
Preview 2002 results Day 3 results - Bendigo Madison Day 2 results Past winners
Star-studded field amass in Bendigo; 10,000-strong crowd predicted
By Karen Forman in Bendigo
2002 winners Scott McGrory and Brett Aitken
Photo: © Karen Forman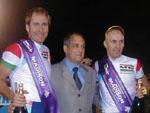 ITíS POURING in Melbourne, the rain sending Formula One cars spinning off the track and 70,000-odd spectators scurrying for cover; yet two hoursí drive away in country Bendigo, the three-day Bendigo International Madison Carnival is in full swing with organisers confident fine weather will prevail for tonightís feature event - the 33rd annual Bendigo Madison.
"It wonít rain," Robert Cook, president of the Apex Lions Bendigo Madison/5000 Committee Inc, says. "Weíll be right."
Around 10,000 spectators and riders are hoping heís right.
Having opened with a hugely successful 45 lap criterium in the central business district on Friday night (won by Melbourne rider Robert Wilson) and continuing yesterday with the heats, the atmosphere of what is famously known as Australiaís largest cycling and athletic carnival is building as tonightís session of finals and main events draws closer.
By tonight (as long as the rain stays away), the crowd should be up to at least 6000, with a figure of 10,000 just as likely. Where track race organisers in the major cities have been lamenting a downturn in crowd numbers at their events, someone obviously forget to tell that to the town of Bendigo. People started to arrive even before the 2pm afternoon session had begun, armed with eskies, blankets chairs - and a few umbrellas, just in case.
Bendigo's a crowd-pleaser
Photo: © Karen Forman

What makes it work?
Well, apart from the attraction of the main events - the McCaig/Daikin Bendigo Madison, the Rising Sun Golden Mile and the keirin tonight - and the international class riders who have come to contest them (German Erik Weispfennig, Australians Darren Young, Sean Finning, Brad Norton, Nick Sanderson, Mark Jamieson, Brad McGee, Chris Sutton, junior world champion Mark French and senior world champion Shane Kelly), organisers have no doubt it is the atmosphere.
Treasurer Warren Sinnott says itís the atmosphere, the unique track (itís 413 metres around, concrete and outdoors, situated in an amphitheatre), and more than anything, the tradition. The carnival is now it is 55th year. The Madison event was introduced in 1971.
"From the ridersí point of view, itís a prestigious event and they want to win it. It has a good reputation," Sinnott said. "The overseas riders really love it. Jamie Carney from the USA says itís really huge, he just loves it."
Executive Officer Rik McCaig agrees. "Definitely the atmosphere, the tradition and the calibre of the riders who come," he says.
Around the track are the fish and chip, hamburger and ice-cream vans, beer tents and stalls manned by local community organisations.
In the heat of the night
Photo: © Karen Forman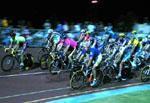 Tonightís session will get underway at 7pm with a highlight including a match sprint by senior world champion Shane Kelly and junior world champion Mark French. Four-time Bendigo International Madison Champion Brett Aitken was planning to race for an historic victory, wanting to beat the record set by Tasmaniaís Danny Clark who won it five times. Don Allan and Stephen Pate from Kyabram won it four times. However Aitken broke his thumb last week in Adelaide and had to withdraw.
Last year, Aitken won with his Sydney 2000 gold medal team mate Scott McGrory. His partner for this year, Tasmaniaís Darren Young, will now ride with German Weispfennig, who was runner-up for the past two years. Weispfennig was originally to partner fellow German Stefan Steinberg, however organisers decided not to start Steinberg a week ago, after he was convicted on drugs charges by a Melbourne court.
Weispfennig started the 2002-03 track season well by winning the Australian Madison Championship at Vodafone Arena in Melbourne. Other teams to watch include NSW riders Chris Sutton and Steve Fitzpatrick and Steve Woolridge and Bradley McGee, with the Victorian pairings of Sean Finning and Michael Ford and Nick Sanderson and Mark Jamieson also in good form.
Past winners
2002 Scott McGrory (Victoria)/Brett Aitken (South Australia)