2008 UCI Track Cycling World Championships - CM
Great Britain, March 26-30, 2008
Day 5 - March 30: Women's scratch race
Van Dijk strikes more Gold for Dutch
By Ben Atkins and Shane Stokes in Manchester
Eleonora Van Dijk (Netherlands)
Photo ©: AFP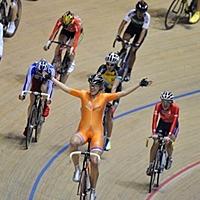 A solo break in the final laps gave Eleonora Van Dijk of the Netherlands victory in the Women's 10km scratch race, giving the Dutch team their second gold medal in the women's bunch races, and their third overall.
"My plan was to attack about ten laps from the finish." Said Van Dijk after the race, "I wanted to go when the speed was a bit lower. I did it about eight laps before the finish. I was surprised [that no one tried to chase], but every country has just one rider so they don't work together. That was better for me to ride away."
Despite having almost half a lap on the rest of the pack, Van Dijk refused to start getting complacent, but just put her head down and kept going. "I didn't look behind, just once. I knew I had to give it everything and if there was no gap, then there was no gap. But it worked out well."
When Cyclingnews asked her at what point she knew she was sure of victory, the Dutch woman replied: "Just 100 metres before the finish. I didn't know how big the gap was [before then], I didn't look back, I was just focussed on riding hard and getting everything out."
Second placed rider Yumari Gonzalez Valdivieso of Cuba was very pleased with her result. "The race was very fast." She told the assembled media. "I didn't feel very good but at the end I was able to get the silver medal so I am happy about that."
Australia's Belinda Goss was even happier with her bronze medal: "I'm certainly stoked by the result." The Tasmanian enthused. "It is such a great improvement on last year. It would have been great to have got gold, the top prize, but I am really happy.
"It has been a long wait." She continued. "I had to put it in my head that I'd get in some training this week, get a bit fitter. But I am really happy with myself; things have been going well for me. I rode well in Europe last year."
The race was peppered with attacks, the first meaningful one coming in only lap five from Aksana Papko of Belarus in an early bid to match her countryman Aliaksandr Lisouski's victory in the men's race on day one. She was hunted down by a small group that included Svetlanan Paulikaite of Lithuania, Svitlana Galyuk of Ukraine and Van Dijk. The rest of the bunch was very attentive at this early stage though and they were soon hunted down. Paulikaite struck out alone, but her effort didn't come to anything.
A crash in the middle period of the race took down Catherine Cheatley of New Zealand and Spain's Gema Pascual Torrecilla after a touch of wheels near the back. Cheatley remounted after a few minutes, but Pascual Torrecilla pulled out having fallen more heavily.
More attacks continued, but all were reeled in until less than to go when Van Dijk struck out alone and no one else reacted. She soon had an almost half lap lead, as the rest of the riders hesitated and looked to one another to chase down the flying Dutchwoman. When finally a chase did materialise, it was all far too late and Van Dijk finished comfortably alone to take the gold.
Behind her the sprint was won by Yumari Gonzalez Valdivieso of Cuba, from Australian Belinda Goss. Annalisa Cucinotta of Italy was fourth and America Rebecca Quinn fifth.
Results

1 Eleonora Van Dijk (Netherlands)             
2 Yumari Gonzalez Valdivieso (Cuba)           
3 Belinda Goss (Australia)                    
4 Annalisa Cucinotta (Italy)                  
5 Rebecca Quinn (United States Of America)    
6 Pascale Jeuland (France)                    
7 Elizabeth Armitstead (Great Britain)        
8 Maria Luisa Calle Williams (Columbia)       
9 Elke Gebhardt (Germany)                     
10 Catherine Cheatley (New Zealand)           
11 Olga Slyusareva (Russia)                   
12 Svitlana Galyuk (Ukraine)                  
13 Jarmila Machacova (Czech)                  
14 Gina Grain (Canada)                        
15 Aksana Papko (Belarus)                     
16 Wan Yiu Wong (Hong Kong)                   
17 Jessica Jurado (Mexico)                    
18 Svetlana Paulikaite (Lithuania)            
19 Trine Schmidt (Denmark)                    
DNF Gema Pascual Torrecilla (Spain)           
DNF Wathinee Luekajorh (Thailand)