2008 UCI Track Cycling World Championships - CM
Great Britain, March 26-30, 2008
Main Page Results Qualifying through 5-8 final Finals
Day 2 & 3 - March 27-28: Men's sprint
Hoy adds to British Gold Rush
By Ben Atkins and Shane Stokes in Manchester
Chris Hoy (Great Britain) sprints to victory,
Photo ©: John Pierce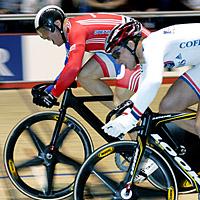 Great Britain's defending kilometre champion Chris Hoy has spectacularly made the transition to match sprinter with a two-leg victory over 20 year-old French World Cup winner Kevin Sireau. Probably the loudest roar from the crowd so far greeted the victory of Hoy's team's sixth gold medal of the championships so far.
"I am speechless, and that doesn't happen very often," said the jubilant Scotsman. "I really didn't expect this, I was hoping at an outside chance that I would get a medal. To win it here in front of the whole crowd is a dream come true. It really is fantastic."
The new world champion remained cautiously optimistic over what the victory meant for the upcoming Olympic Games in Beijing, China. "Really, there are still five or six guys who can win in Beijing," he said. "This doesn't mark me out as a firm favourite. It is going to be an incredibly tight competition; for the qualifying here, the top six were within four hundredths of a second. Tonight was my night, but that doesn't mean I am necessarily the favourite for Beijing.
"I'm just delighted with the help I have had," he added. "The coaching staff of the British Cycling team are just second to none, so thanks to their help I have won this."
In the first leg, Sireau shot inside Hoy with a lap and a half remaining, but the Scotsman steadily reeled him back in, then came alongside on the home straight to take the win by a few fractions of an inch. The second leg was a similar story but Hoy made it look much easier and won by a much bigger margin over the gracious Frenchman.
"He is a very talented rider," Hoy said of his defeated opponent. "He is very young and has a great future ahead of him."
When asked for a prediction for his forthcoming defence of his Keirin title tomorrow, the Scotsman was again unwilling to show too much outward confidence. ôIt has put me on a high, but my legs are fairly sore right now. I will get a massage and get to bed relatively early, who knows what can happen tomorrow.ö
But returning to tonight's victory, Hoy continued in a jubilant vein. "This is unbelievable," he said. "I rank this up there with any of my previous victories. It has been fantastic. To have my family here is extra-special, and it is my girlfriend's birthday tonight, so this is a nice present for her.
"The sprint is an extra special event, it is the blue riband event and one that I thought was never possible from me to win," he said. "Tonight, with the home crowd supporting me, it is a dream come true."
In the earlier contest for the bronze medal, the wily Italian veteran Roberto Chiappa was no match for the power of Mickael Bougain, and the Frenchman took both legs comfortably.
Semi finals - Hoy and Sireau to battle for Gold
The men's sprint final will once again present a passionate hometown crown with the opportunity to roar one of their heroes to yet another Gold for Great Britain as Scotsman Chris Hoy goes up against World Cup champion Kevin Sireau of France.
Both Hoy and Sireau managed to dispatch their opposition in just two of the three available legs. Hoy proving too strong for Roberto Chaippa of Italy, and Sireau's superior power overcoming the superior experience of compatriot Mickael Bourgain.
Meet the new boss; it won't be the old Bos
There will be a new Men's World Sprint champion this year for the first time since 2005 as Theo Bos (Netherlands) was knocked out in three rounds by current reigning Kilometre and Keirin champion Chris Hoy (Great Britain).
Bos won the tactical battle over Hoy after a cagey pedestrian first lap where he went left while Hoy was looking over his right shoulder. Hoy couldn't react in time and in the end decided to let the Dutchman go. The second leg was much closer, Hoy had the inside line and pipped the Dutchman on the line, just as it looked like he might get past. In the deciding third leg, Bos went early again, but Hoy spotted his move this time and overhauled him just as they go to the line.
Italy's Roberto Chiappa's experience showed as he made short work of Unkrainian Andriy Vynokurov in two legs. Mickael Bourgain of France also needed just two legs to beat Great Britain's Jason Kenny, despite the first round going right to the line in a close side-by-side contest.
The other two Frenchmen proved much harder to separate though, as Kevin Sireau left the door open by going way above the red line in their first leg, Gregory Bauge needed no second bidding and shot through to win. Sireau's superior power won through in the end however, as he took the final two legs.
The race for fifth to eight places was decided by an early attack from Jason Kenny who managed to hold off the late challenge of Vynokurov. Theo Bos, obviously not interested in anything other than gold, allowed himself to be dropped early and finished the race at cruising speed..
French Sprint domination continues
Qualifying
The French team confirmed its current superiority in sprinting by posting the fastest three riders – with four in the top six – in qualification. Kevin Sireau, Gregory Bauge and Mickaël Bourgain, the three members of the French team sprint team that qualified fastest yesterday, blitzed the opposition to put their nation in pole position going into the knockout stages.
Chris Hoy (Great Britain) posted the provisional fastest time, getting close to his Scottish compatriot Craig MacLean's national record, but this was immediately eclipsed by Sireau's blistering sub ten second ride – setting a new Manchester track record in the process.
Hoy and defending champion Theo Bos (Netherlands) qualified both in fourth place with exactly the same time and had to draw lots to decide their positions for the next round.
Fastest Men confirm
All but the final two sprint 1/16 heats went with the order of qualification, with the fastest twelve drawn against the slowest from this afternoon's time trials. Only Ukrainian Andriy Vyinokurov and Italian Roberto Chiappa managed to overhaul a faster qualifier as their mid-table position meant their times had been quite similar.
The only real drama occurred when Chris Hoy allowed Teun Mulder a huge gap but managed to overhaul the Dutchman in the final straight to win fairly comfortably. Malaysian Azizulhasni Awang lifted his front wheel clear off the track in his lunge for the line, but was still unable to overcome the faster finishing Vynokurov.
Favourites advance
The surprise result of the 1/8th finals occurred in the very first heat when wily Italian veteren Roberto Chiappa beat fastest qualifier Kevin Sireau of France. The remaining rounds went mostly to form, aside from Great Britain's Jason Kenny holding off Sireau's team-mate Francois Pervis.
Defending champion Theo Bos (Netherlands) left it a bit late, but in the end comfortably made it around Australian Ryan Bayley and advance to the next round. There was drama when Maximilian Levy (Germany) moved off his line on the final bend, almost bringing down Great Britain's Chris Hoy. Levy crossed the line first, but was disqualified by the race commissaires. In the repechages, Sireau made up for his earlier defeat by beating Pervis and Bayley, while Ukrainian Andriy Vynokurov held off Shane Perkins (Australia) and Levy to take the last remaining place in the quarter-finals.
Results
1 KÚvin Sireau (France)                                     0.09.992 (72.057 km/h)
2 Gregory Bauge (France)                                    0.10.028
3 MickaŰl Bourgain (France)                                 0.10.029
4 Chris Hoy (Great Britain)                                 0.10.032
4 Theo Bos (Netherlands)                                    0.10.032
6 Franšois Pervis (France)                                  0.10.035
7 Jason Kenny (Great Britain)                               0.10.067
8 Maximilian Levy (Germany)                                 0.10.073
9 Ryan Bayley (Australia)                                   0.10.126
10 Shane Perkins (Australia)                                0.10.150
11 Azizulhasni Awang (Malaysia)                             0.10.160
12 Edgar Ross (Great Britain)                               0.10.178
13 Roberto Chiappa (Italy)                                  0.10.187
14 Andriy Vynokurov (Ukraine)                               0.10.201
15 Kazunari Watanabe (Japan)                                0.10.275
16 Carsten Bergemann (Germany)                              0.10.276
17 Sergey Ruban (Russian Federation)                        0.10.287
18 Kiyofumi Nagai (Japan)                                   0.10.292
19 Mark French (Australia)                                  0.10.296
20 Teun Mulder (Netherlands)                                0.10.310
21 Lukasz Kwiatkowski (Poland)                              0.10.312
22 Michael Blatchford (United States Of America)            0.10.313
23 Filip Ptacnik (Czech Republic)                           0.10.316
24 Tsubasa Kitatsuru (Japan)                                0.10.340
25 Josiah Ng Onn Lam (Malaysia)                             0.10.352
26 Hodei Mazquiaran Uria (Spain)                            0.10.366
27 Tim Veldt (Netherlands)                                  0.10.373
28 Daniel Ellis (Australia)                                 0.10.377
29 Sergey Borisov (Russian Federation)                      0.10.379
30 Adam Duvendeck (United States Of America)                0.10.419
31 Ricardo Lynch (Jamaica)                                  0.10.439
32 Alvaro Alonso Rubio (Spain)                              0.10.456
33 Wen Hao Li (People's Republic of China)                  0.10.460
34 Travis Smith (Canada)                                    0.10.475
34 Giddeon Massie (United States Of America)                0.10.475
36 Stefan Nimke (Germany)                                   0.10.500
37 Denis Dmitriev (Russian Federation)                      0.10.512
38 Qi Tang (People's Republic of China)                     0.10.539
39 Christos Volikakis (Greece)                              0.10.592
40 Vasileios Reppas (Greece)                                0.10.617
41 Maciej Bielecki (Poland)                                 0.10.638
42 Tomas Babek (Czech Republic)                             0.10.647
43 Salvador Melia Mangrinan (Spain)                         0.10.684
44 Athanasios Mantzouranis (Greece)                         0.10.736

1/16 Heats
 
Heat 1 
1 KÚvin Sireau (France)                              0.10.55
2 Tsubasa Kitatsuru (Japan)                                 
 
Heat 2 
1 Gregory Bauge (France)                             0.11.29
2 Filip Ptacnik (Czech Republic)                            
 
Heat 3 
1 MickaŰl Bourgain (France)                          0.10.57
2 Michael Blatchford (United States Of America)             
 
Heat 4 
1 Theo Bos (Netherlands)                             0.10.74
2 Lukasz Kwiatkowski (Poland)                               
 
Heat 5 
1 Chris Hoy (Great Britain)                          0.10.75
2 Teun Mulder (Netherlands)                                 
 
Heat 6 
1 Franšois Pervis (France)                           0.10.90
2 Mark French (Australia)                                   
 
Heat 7 
1 Jason Kenny (Great Britain)                        0.10.57
2 Kiyofumi Nagai (Japan)                                    
 
Heat 8 
1 Maximilian Levy (Germany)                          0.10.94
2 Sergey Ruban (Russian Federation)                         

1/8 heats
 
Heat 1 
1 Roberto Chiappa (Italy)                            0.10.57
2 KÚvin Sireau (France)                                     
 
Heat 2 
1 Gregory Bauge (France)                             0.10.72
2 Andriy Vynokurov (Ukraine)                                
 
Heat 3 
1 MickaŰl Bourgain (France)                          0.10.46
2 Shane Perkins (Australia)                                 
 
Heat 4 
1 Theo Bos (Netherlands)                             0.10.57
2 Ryan Bayley (Australia)                                   
 
Heat 5 
1 Chris Hoy (Great Britain)                          0.10.92
REL Maximilian Levy (Germany)                                 
 
Heat 6 
1 Jason Kenny (Great Britain)                        0.10.77
2 Franšois Pervis (France)                                  

1/8 repechage
 
Heat 1 
1 KÚvin Sireau (France)                              0.11.00
2 Franšois Pervis (France)                                  
3 Ryan Bayley (Australia)                                   
 
Heat 2 
1 Andriy Vynokurov (Ukraine)                         0.10.68
2 Shane Perkins (Australia)                                 
3 Maximilian Levy (Germany)                                 

Quarterfinal

Heat 1    
1 Roberto Chiappa (Italy)         0.10.62   10.613
2 Andriy Vynokurov (Ukraine)                
    
Heat 2    
1 Kévin Sireau (France)           0.10.31   10.749
2 Gregory Bauge (France)          0.10.74   
    
Heat 3    
1 Mickaël Bourgain (France)       0.10.73   10.636
2 Jason Kenny (Great Britain)               
    
Heat 4    
1 Chris Hoy (Great Britain)       0.10.56   10.424

Semifinal

Heat 1
1 Chris Hoy (Great Britain)       0.10.955  10.669     
2 Roberto Chiappa (Italy)              
 
Heat 2
1 KÚvin Sireau (France)           0.10.44   10.481
2 MickaŰl Bourgain (France)            

Final

1 Chris Hoy (Great Britain)                   0.10.43
2 KÚvin Sireau (France)                              
3 MickaŰl Bourgain (France)                   0.10.54
4 Roberto Chiappa (Italy)                            
5 Jason Kenny (Great Britain)                        
6 Andriy Vynokurov (Ukraine)                         
7 Gregory Bauge (France)                             
8 Theo Bos (Netherlands)                             
9 Franšois Pervis (France)                           
10 Maximilian Levy (Germany)                         
11 Ryan Bayley (Australia)                           
12 Shane Perkins (Australia)                         
13 Azizulhasni Awang (Malaysia)                      
14 Ross Edgar (Great Britain)                        
15 Kazunari Watanabe (Japan)                         
16 Carsten Bergemann (Germany)                       
17 Sergey Ruban (Russian Federation)                 
18 Kiyofumi Nagai (Japan)                            
19 Mark French (Australia)                           
20 Teun Mulder (Netherlands)                         
21 Lukasz Kwiatkowski (Poland)                       
22 Michael Blatchford (United States Of America)     
23 Filip Ptacnik (Czech Republic)                    
24 Tsubasa Kitatsuru (Japan)                         
25 Josiah Ng Onn Lam (Malaysia)                      
26 Hodei Mazquiaran Uria (Spain)                     
27 Tim Veldt (Netherlands)                           
28 Daniel Ellis (Australia)                          
29 Sergey Borisov (Russian Federation)               
30 Adam Duvendeck (United States Of America)         
31 Ricardo Lynch (Jamaica)                           
32 Alvaro Alonso Rubio (Spain)                       
33 Wen Hao Li (People's Republic of China)           
34 Travis Smith (Canada)                             
35 Giddeon Massie (United States Of America)         
36 Stefan Nimke (Germany)                            
37 Denis Dmitriev (Russian Federation)               
38 Qi Tang (People's Republic of China)              
39 Christos Volikakis (Greece)                       
40 Vasileios Reppas (Greece)                         
41 Maciej Bielecki (Poland)                          
42 Tomas Babek (Czech Republic)                      
43 Salvador Melia Mangrinan (Spain)                  
44 Athanasios Mantzouranis (Greece)