2008 UCI Track Cycling World Championships - CM
Great Britain, March 26-30, 2008
Day 5 - March 30: Men's omnium 200m TT, scratch race, individual pursuit, points race & 1000m time trial
All Black takes Gold
By Ben Atkins and Shane Stokes in Manchester
Hayden Godfrey (New Zealand)
Photo ©: AFP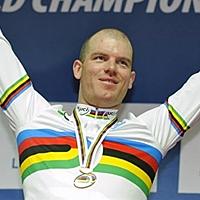 New Zealander Hayden Godfrey has taken his country's first gold medal of these World Championships with victory in cycling's "pentathlon".
"I first heard about the event a couple of years ago," said a delighted Godfrey. "I thought that would really suit me, because I am quite good at all disciplines. One of the most important things is being right up there in everything. You can't afford to have a bad ride on one event, otherwise you lose your opportunity of doing it."
"Well, that's the thing. I am sort of like a jack-of-all-trades and master of none, I suppose," he said modestly, "and that is why when this event came along I slotted in well. Last year I never got to do it because I had an injury, so I felt like I had to have another year to have a crack at it. I am just really happy it has worked out."
Taking silver for Australia, 18 year-old Leigh Howard was ecstatic with his medal: "It's fantastic. I went into this saying that top five would be fantastic, so to come away with silver is unbelievable."
"I started off doing a personal best time for the flying 200," he continued, "so I couldn't have asked for anything more. The pursuit and the kilo were also personal best times, so for me it was fantastic and showed I had good form."
Entering the second stage of the competition with a five-point lead over nearest rival Howard, Godfrey merely needed to maintain his earlier consistency to take the title. The remaining events consisted of a Points race and a Kilometre time trial though, requiring entirely different characteristics.
Victory in an action packed went to Ukrainian Roman Kononenko, already out of contention after a disastrous afternoon session. Godfrey himself consolidatd his position with a creditable seventh after taking first in the fifth sprint. However, a second place for Aliaksandr Lisouski of Belarus saw him move up the table into second place above Howard. Disasters for Robert Bartko of Germany and Bobby Lea of the United States saw them drop from third and fourth places respectively down to fifth and seventh, but more importantly widened the gap between them and the lead to fourteen and nineteen points, removing any chance of gold.
Going in to the final event of the kilometre, Godfrey needed only to finish eighth or higher to guarantee the gold medal, even in the event of a Lisouski victory. In the event, a fourth place behind a popular home win from Great Britain's Steven Burke was more than enough. Howard finished third to make up for his twelfth in the points race and leapfrog Lisouski to take silver, who despite only managing eleventh took the bronze.
2007 champion Alois Kankovsky of the Czech Republic rode a strong Kilometre to finish equal on points with Lisouski, but the Belarusian took the medal by virtue of having two second places to the Czech's one.
Morning session: Southern Hemisphere sitting pretty
Third place in the 200 metres Sprint time trial and victory in the 5km Scratch Race put New Zealander Hayden Godfrey on top of the Omnium standings after two events. A strong fourth place in the 3km pursuit behind German six-day specialist Robert Bartko means that Godfrey now holds the lead with two races to go.
Australian eighteen year-old Leigh Howard currently trails Godfrey by five points. He finished second behind the New Zealander in the Scratch race and ahead of him in the pursuit, but tails due his eighth place finish in the 200 metres. He should do well in this evening's Points race and put pressure on Godfrey for the medals.
Bartko sits a further two points back, while the United States' Bobby Lea trails by another five after consistent placings in all three events. Fourth placed finisher from last year, Aliaksandr Lisouski of Belarus currently lurks in fifth place, fourteen points behind Godfrey, but should feel disappointed with his lowly seventh in the Scratch race after taking that gold medal on day one. He will fancy his chances of moving up in this evenings points race though.
2007 champion Alois Kankovsky of the Czech Republic currently sits in seventh place, fifteen points back. He should do well in the Kilometre – the competition's final event – but may be too far back at this stage to challenge for the medals.
Results
200m TT
 
1 Ghislain Boiron (France)                10.481 (68.695km/h)
2 Travis Smith (Canada)                   10.489
3 Hayden Godfrey (New Zealand)            10.569
4 Vasileios Galanis (Greece)              10.664
5 Bobby Lea (United States Of America)    10.688
6 Alois Kankovsky (Czech Republic)        10.701
7 Steven Burke (Great Britain)            10.854
8 Leigh Howard (Australia)                10.857
9 Gianpaolo Biolo (Italy)                 10.926
10 Robert Bartko (Germany)                10.937
11 Tim Mertens (Belgium)                  10.944
12 Robert Slippens (Netherlands)          11.132
13 Aliaksandr Lisouski (Belarus)          11.171
14 Unai Elorriaga Zubiaur (Spain)         11.213
15 Reona Sumi (Japan)                     11.354
16 Walter Fernando Perez (Argentina)      11.376
17 Evgeny Kovalev (Russian Federation)    11.413
18 Roman Kononenko (Ukraine)              11.441

Scratch race
 
1 Hayden Godfrey (New Zealand)          
2 Leigh Howard (Australia)              
3 Walter Fernando Perez (Argentina)     
4 Robert Bartko (Germany)               
5 Tim Mertens (Belgium)                 
6 Gianpaolo Biolo (Italy)               
7 Aliaksandr Lisouski (Belarus)         
8 Bobby Lea (United States Of America)  
9 Alois Kankovsky (Czech Republic)      
10 Ghislain Boiron (France)             
11 Unai Elorriaga Zubiaur (Spain)       
12 Travis Smith (Canada)                
13 Vasileios Galanis (Greece)           
14 Steven Burke (Great Britain)         
15 Robert Slippens (Netherlands)        
16 Roman Kononenko (Ukraine)            
17 Evgeny Kovalev (Russian Federation)  
18 Reona Sumi (Japan)                   

Individual pursuit
 
1 Robert Bartko (Germany)                 3:17.078
2 Aliaksandr Lisouski (Belarus)           3:17.464
3 Leigh Howard (Australia)                3:18.080
4 Hayden Godfrey (New Zealand)            3:18.248
5 Robert Slippens (Netherlands)           3:19.355
6 Bobby Lea (United States Of America)    3:20.123
7 Tim Mertens (Belgium)                   3:21.410
8 Alois Kankovsky (Czech Republic)        3:22.184
9 Roman Kononenko (Ukraine)               3:23.263
10 Steven Burke (Great Britain)           3:23.439
11 Gianpaolo Biolo (Italy)                3:24.000
12 Walter Fernando Perez (Argentina)      3:25.365
13 Unai Elorriaga Zubiaur (Spain)         3:25.729
14 Evgeny Kovalev (Russian Federation)    3:26.880
15 Reona Sumi (Japan)                     3:29.598
16 Ghislain Boiron (France)               3:30.088
17 Travis Smith (Canada)                  3:34.299
18 Vasileios Galanis (Greece)             3:40.991

Points race
 
1 Roman Kononenko (Ukraine)               11
2 Aliaksandr Lisouski (Belarus)            9
3 Evgeny Kovalev (Russian Federation)      8
4 Tim Mertens (Belgium)                    8
5 Walter Fernando Perez (Argentina)        7
6 Steven Burke (Great Britain)             6
7 Hayden Godfrey (New Zealand)             5
8 Gianpaolo Biolo (Italy)                  3
9 Robert Slippens (Netherlands)            3
10 Alois Kankovsky (Czech Republic)        3
11 Reona Sumi (Japan)                      2
12 Unai Elorriaga Zubiaur (Spain)          0
13 Leigh Howard (Australia)                0
14 Robert Bartko (Germany)                 0
15 Bobby Lea (United States Of America)    0

One lap behind

16 Ghislain Boiron (France)              -20

Two laps behind

17 Travis Smith (Canada)                 -40
18 Vasileios Galanis (Greece)            -40

1000m time trial

1 Steven Burke (Great Britain)            1.03
2 Alois Kankovsky (Czech)                 1.03
3 Leigh Howard (Australia)                1.04
4 Hayden Godfrey (New Zealand)            1.04
5 Bobby Lea (United States Of America)    1.05
6 Ghislain Boiron (France)                1.05
7 Travis Smith (Canada)                   1.05
8 Robert Bartko (Germany)                 1.05
9 Gianpaolo Biolo (Italy)                 1.05
10 Robert Slippens (Netherlands)          1.06
11 Aliaksandr Lisouski (Belarus)          1.06
12 Tim Mertens (Belgium)                  1.06
13 Roman Kononenko (Ukraine)              1.07
14 Reona Sumi (Japan)                     1.08
15 Evgeny Kovalev (Russia)                1.08
16 Walter Fernando Perez (Argentina)      1.09
17 Unai Elorriaga Zubiaur (Spain)         1.10
DNS Vasileios Galanis (Greece)  

Final standings  

1 Hayden Godfrey (New Zealand)            19 pts
2 Leigh Howard (Australia)                28
3 Aliaksandr Lisouski (Belarus)           35
4 Alois Kankovsky (Czech Republic)        35
5 Robert Bartko (Germany)                 37
6 Steven Burke (Great Britain)            38
7 Bobby Lea (United States Of America)    39
8 Tim Mertens (Belgium)                   39
9 Gianpaolo Biolo (Italy)                 43
10 Ghislain Boiron (France)               49
11 Robert Slippens (Netherlands)          51
12 Walter Fernando Perez (Argentina)      52
13 Travis Smith (Canada)                  55
14 Roman Kononenko (Ukraine)              57
15 Evgeny Kovalev (Russian Federation)    66
16 Unai Elorriaga Zubiaur (Spain)         68
17 Reona Sumi (Japan)                     73
DNF Vasileios Galanis (Greece)