2008 UCI Track Cycling World Championships - CM
Great Britain, March 26-30, 2008
Day 5 - March 30: Men's 1000m time trial
Mulder's K-Files: Dutchman completes medal collection
By Ben Atkins in Manchester
Teun Mulder (Netherlands)
Photo ©: AFP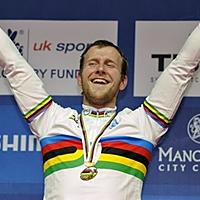 Teun Mulder of the Netherlands now has a complete set of medals after his bronze in the Team Sprint and silver in the Keirin. Third from last to ride, the Dutchman was fastest at all the splits and finished almost two-tenths of a second quicker than Michael D'Almedia and Franšois Pervis of France.
"It feels great," a still breathless Mulder told Cyclingnews. "One week ago, I heard I [would] race the kilo. I did no special training for this, only for Keirin and Team Sprint, and then this morning I picked up a [time trial handlebar] from a youth rider. The formation was just: put it on, I race, and then I do the fastest time and I win the gold medal here. It's unbelievable for me"
Off at a lowly number four, Great Britain's Matthew Crampton smashed his own personal best to set a time of 1:01.822 in front of a home crowd. For a long time it looked as though the unthinkable might happen and the host nation would capture yet another title. Finally though, thirteenth man off D'Almedia went three-hundredths of a second faster to push Crampton off the top of the standings.
Australia's Scott Sunderland flew round the first lap, almost half a second quicker than any previous fastest time, but faded to eventually finish eighth. World Cup winner Yevhen Bolibrukh of the Ukraine couldn't quite reproduce the form that won him that competition, finishing sixth, and the expected challenge from France's Didier Henriette didn't materialise and he finished a lowly fifteenth.
Almedia's lead lasted until Mulder's winning ride, and last man off, French favourite Franšois Pervis led until 750m, but faded in the final lap. He still managed to hold on to take the bronze medal though, and knock Crampton off the podium.
Crampton was obviously disappointed to be finally pushed off the podium after being in a medal position for so much of the competition. He explained to Cyclingnews, "Definitely, you have that little dream, you know, standing up there on the top of the podium, but it's just how it goes isn't it, that's racing"
A personal best time for the 21 year-old was of some consolation though. "It's really good," he continued. "I'm really happy. I had a bit of a big knock early in the season, I really under performed and lost my place in the team sprint, so I kind of tried to make the kilo my own and get some good rides in there. It's a great confidence boost now."
He will now concentrate all his efforts to regain his place in the Great Britain Team Sprint team, but doesn't rule out a return to the Kilometre in future. "I'll train more for man three in the team sprint, which is similar to the kilo. I probably will ride it again"
Results
1 Teun Mulder (Netherlands)                  1.01.332 (58.696 km/h)
2 MichaŰl D'almeida (France)                 1.01.514
3 Franšois Pervis (France)                   1.01.579
4 Matthew Crampton (Great Britain)           1.01.822
5 Mohd Rizal Tisin (Malaysia)                1.02.409
6 Yevhen Bolibrukh (Ukraine)                 1.02.432
7 Wen Hao Li (People's Republic of China)    1.02.503
8 Scott Sunderland (Australia)               1.02.515
9 Tim Veldt (Netherlands)                    1.02.757
10 Edward Dawkins (New Zealand)              1.02.893
11 Yong Feng (People's Republic of China)    1.02.955
12 David Daniell (Great Britain)             1.03.018
13 Robert Forstemann (Germany)               1.03.179
14 Ben Kersten (Australia)                   1.03.330
15 Didier Henriette (France)                 1.03.395
16 Michael Seidenbecher (Germany)            1.03.428
17 Kamil Kuczynski (Poland)                  1.03.482
18 Hodei Mazquiaran Uria (Spain)             1.03.512
19 Tomas Babek (Czech Republic)              1.03.612
20 Sergey Polynskiy (Russian Federation)     1.04.025
21 Athanasios Mantzouranis (Greece)          1.04.202
22 Vasileios Reppas (Greece)                 1.04.888