2008 UCI Track Cycling World Championships - CM
Great Britain, March 26-30, 2008
Main Page Results Previous Day Next Day
Day 2 - March 27: Men's team pursuit, sprint; Women's individual pursuit, team sprint
Great Britain smash World record and throw down Beijing gauntlet
By Ben Atkins in Manchester
Bradley Wiggins leads the Great Britain team
Photo ©: John Pierce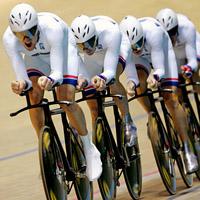 The figure of 3:56.610, set by Australia at the Athens Olympics nearly four years ago has finally been consigned to the history book. The Great Britain team of Ed Clancy, Bradley Wiggins, Paul Manning and Geraint Thomas smashed it by more than a quarter of a second in setting a time of 3:56.322 on their way to retaining the World title.
Concerned by the super-fast qualifying time set by opponents Denmark, the British quartet began their ride on record pace and kept going. "It was all about Shane [Sutton, Great Britain's Australian coach]," said a glowing Wiggins. "He stands one pace over the line for every second we're under record pace and one pace this side for every second over, and he was right on the line the whole time so we knew the record was on."
"Ecstatic," exclaimed a breathless Geraint Thomas, just moments after climbing off his bike. "That was something else, that was…"
The Danish team were well beaten, but were in no way out of their depth against the charging Britons. In fact, the Danish time of 3:59:381 made this final the first race ever where both teams have finished below four minutes. All eyes were on the British though as their half second lead at the first kilometre was stretched to over a second at kilometre two, more than two seconds at kilometre three and then finally three at the finish.
In the earlier ride off for the bronze, the Australian team marked a return to the top level of the sport with a dominant ride over rivals New Zealand. Their finishing time of just over four minutes would have been much faster had confusion in a changeover when Graeme Brown didn't spot that Luke Roberts had dropped off not left them split and disorganised in the final few laps.
"I think we've taken a great step today anyway," an upbeat, but slightly embarrassed Brown said. "We're definitely not at 100 percent, we've done 11 track sessions and we've done four minutes, so going into Beijing I think we're in a very strong position.
"It could have maybe been under four minutes if it wasn't for me, but I like a little bit of controversy so I couldn't just let it slide," joked Brown. No doubt though, the form shown in the early part of this ride surely means that Australia will be there in Beijing to pick up the gauntlet so spectacularly thrown down by Great Britain tonight.
Great Danes take team pursuit qualification
Denmark celebrated the entry into the final
Photo ©: Nick Rosenthal

Winners of the last World Cup race in its native Copenhagen, the Denmark team eclipsed Great Britain, the local favourites, to take the fastest qualifying time to set up a gold medal final against the defending champions. Smashing its own national record – set in that Copenhagen race – by nearly five seconds, Denmark will now be fancying its chances of surprising the local fans in tonight's final.
The Great Britain team, racing without squad regulars Rob Hayles and Chris Newton, started last and was faster than Denmark over the first two kilometres but gradually faded over the final two. This may have been a case of doing just enough to qualify as team member Bradley Wiggins had done in the individual event yesterday, as it was only necessary to beat the New Zealand time to qualify for the gold medal final and it was obvious from early on that a sub four minute time was on the cards.
The race for bronze will be an all Australasian affair between New Zealand and Australia. Both teams recorded times below 4:01 – the New Zealanders just over a tenth of a second quicker – so a close race can be anticipated this evening. This performance marks a return to the big time for the Australian team, which welcomes back ProTour riders Bradley McGee and Graeme Brown, both members of the World record breaking team in Athens four years ago.
Meet the new boss; it won't be the old Bos
By Ben Atkins in Manchester
Chris Hoy (Great Britain) showed defending champion
Photo ©: John Pierce

There will be a new Men's World Sprint champion this year for the first time since 2005 as Theo Bos (Netherlands) was knocked out in three rounds by current reigning Kilometre and Keirin champion Chris Hoy (Great Britain).
Bos won the tactical battle over Hoy after a cagey pedestrian first lap where he went left while Hoy was looking over his right shoulder. Hoy couldn't react in time and in the end decided to let the Dutchman go. The second leg was much closer, Hoy had the inside line and pipped the Dutchman on the line, just as it looked like he might get past. In the deciding third leg, Bos went early again, but Hoy spotted his move this time and overhauled him just as they go to the line.
Italy's Roberto Chiappa's experience showed as he made short work of Unkrainian Andriy Vynokurov in two legs. Mickael Bourgain of France also needed just two legs to beat Great Britain's Jason Kenny, despite the first round going right to the line in a close side-by-side contest.
The other two Frenchmen proved much harder to separate though, as Kevin Sireau left the door open by going way above the red line in their first leg, Gregory Bauge needed no second bidding and shot through to win. Sireau's superior power won through in the end however, as he took the final two legs.
The race for fifth to eight places was decided by an early attack from Jason Kenny who managed to hold off the late challenge of Vynokurov. Theo Bos, obviously not interested in anything other than gold, allowed himself to be dropped early and finished the race at cruising speed.
French Sprint domination continues
Qualifying
The French team confirmed its current superiority in sprinting by posting the fastest three riders – with four in the top six – in qualification. Kevin Sireau, Gregory Bauge and Mickaël Bourgain, the three members of the French team sprint team that qualified fastest yesterday, blitzed the opposition to put their nation in pole position going into the knockout stages.
Chris Hoy (Great Britain) posted the provisional fastest time, getting close to his Scottish compatriot Craig MacLean's national record, but this was immediately eclipsed by Sireau's blistering sub ten second ride – setting a new Manchester track record in the process.
Hoy and defending champion Theo Bos (Netherlands) qualified both in fourth place with exactly the same time and had to draw lots to decide their positions for the next round.
Fastest Men confirm
All but the final two sprint 1/16 heats went with the order of qualification, with the fastest twelve drawn against the slowest from this afternoon's time trials. Only Ukrainian Andriy Vyinokurov and Italian Roberto Chiappa managed to overhaul a faster qualifier as their mid-table position meant their times had been quite similar.
The only real drama occurred when Chris Hoy allowed Teun Mulder a huge gap but managed to overhaul the Dutchman in the final straight to win fairly comfortably. Malaysian Azizulhasni Awang lifted his front wheel clear off the track in his lunge for the line, but was still unable to overcome the faster finishing Vynokurov.
Favourites advance
The surprise result of the 1/8th finals occurred in the very first heat when wily Italian veteren Roberto Chiappa beat fastest qualifier Kevin Sireau of France. The remaining rounds went mostly to form, aside from Great Britain's Jason Kenny holding off Sireau's team-mate Francois Pervis.
Defending champion Theo Bos (Netherlands) left it a bit late, but in the end comfortably made it around Australian Ryan Bayley and advance to the next round. There was drama when Maximilian Levy (Germany) moved off his line on the final bend, almost bringing down Great Britain's Chris Hoy. Levy crossed the line first, but was disqualified by the race commissaires. In the repechages, Sireau made up for his earlier defeat by beating Pervis and Bayley, while Ukrainian Andriy Vynokurov held off Shane Perkins (Australia) and Levy to take the last remaining place in the quarter-finals.
Romero hammers Hammer
By Ben Atkins and Shane Stokes in Manchester
Rebecca Romero (Great Britain) qualified fastest
Photo ©: CJ Farquharson

It really must be time to stop referring to Rebecca Romero as "former rower" after she showed defending champion Sarah Hammer who is now the undisputed number one in this discipline. Romero rode the first kilometre over a second faster than Hammer and never looked like relinquishing anything as Hammer was visibly tiring.
The Briton maintained the pressure throughout - and had the American in sight in the final laps - to punch the air as she finished six an a half seconds clear, less than a second slower than her national record breaking qualification time.
"I had no idea what was going on, to be honest," Romero told Cyclingnews. "My plan was just to ride my pace. In the race I developed it to two kilometres and then from that point I really just raced it home.
"It doesn't matter where it is," she continued. "It is basically an individual time trial. I had discussed with my coach that he would stand on one side of the line or the other in the last kilometre, depending on where I was, but I didn't believe that he was giving me the right information. He might have been telling me I was up, but she could have been right up my backside. So I didn't know."
Despite having now completed the crossover to cycling, her rowing roots are difficult to ignore. "The foundations of the athlete I am came from rowing, that is part of me and without that I wouldn't have got to where I am at the moment," said Romero.
However, the partisan home crowd definitely spurred the new champion on, and is something she never experienced on the water. "In rowing you would never get that," explained Romero. "To be here in our home world championships and have such a big crowd, that is unbelievable. I have rowing medals but there was never such a crowd. The winning is awesome but it is the sharing it with everyone, which makes it worthwhile.
"This was phenomenal," she concluded.
The Bronze medal run was decided by Australian Katie MacTier, who beat local Wendy Houvenaghel in a tight run. In the end, less than two seconds separated the two.
Women's pursuit qualifying ends in déjà vu final
Rebecca Romero from the host nation qualified with the fastest time
Photo ©: Nick Rosenthal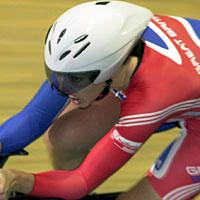 The qualifying rounds of the women's pursuit ended in a near repeat of last year, with the same four women qualifying for the gold and bronze medal finals. The times, however, were much closer between the top four places, with Great Britain's Rebecca Romero using the home town crowd to propel her to the top seed, smashing the national record in the process.
The final two heats provided the most excitement, with the four fastest women saved for last. In the penultimate heat, Katie Mactier (Australia) led from the first lap, pulling over half a second out of Wendy Houvenaghel (Great Britain), but the British woman stayed in touch throughout and managed to overhaul the Australian on the final lap and break the British record in the process. Houvenaghel had just a few minutes to enjoy her new record, as the next –and final – pair on the track was the gold and silver medallists from Mallorca last year, and the two fastest women in the world.
After a slow start, both Sarah Hammer (USA) and Romero started to pile on the pressure and soon eclipsed the current fastest split times. After 2000m, the pair were in a near dead-heat, but in the final kilometre, Romero pulled a steady 0.4 seconds per lap out of her opponent, and went on to not only smash Houvenaghel's new national record but break the track record too.
The medal finals will be repeats of the final two heats with Romero taking on Hammer once again, and Houvenaghel against Mactier.
With a British rider in both races it should be a real treat for the very partisan Manchester crowd. World Cup Winner Vilija Sereikaite looked to be on for a strong ride, but her very fast first thousand metres couldn't be sustained and she faded rapidly in the latter stages and ended up a lowly 11th.
Great Britain victorious: Pendleton's first defence successful
By Ben Atkins in Manchester
Pendleton and Reade looked in danger at one point
Photo ©: John Pierce

Victoria Pendleton and Shanaze Reade successfully defended their World Team Sprint championship in front of a hysterical home crowd, already stirred up by British victories in he men's team and women's individual pursuit.
Despite a blistering start from Reade, Jinjie Gong put in an even faster first 250 metres and it looked like the unthinkable might happen and Great Britain not win. Pendleton however, stormed around the final lap to finish more than half a second ahead of Lulu Zheng to take the title, just half a second slower than their World record qualifying time.
"I'm really, really pleased," said Pendleton, ecstatic after successfully defending the first of her three jerseys. "I had a couple of injuries, as all athletes have in their careers, and it held me aback a little bit and I wasn't sure if I was on target [for the Beijing Olympic Games], but now I feel quite happy. I wasn't sure because I couldn't really feel my legs, but I know that's a good sign now!"
Shanaze Reade - accustomed to winning World titles, but less so on the track than her team-mate - was more emotional. "I am just speechless again to break the world record with such an amazing athlete like Victoria," said the BMX star. "It is a massive achievement from me to come here and win, and also to get a personal best in my own lap as well. I feel like I am part of the team and me and Vicky have set a world record again. It is just unbelievable."
On top of the world: Great Britain's Victoria Pendleton
Photo ©: John Pierce

This victory sets Pendleton up nicely for tomorrow and what should prove to be the main event for the fast women - the Sprint - as it will be the only race for them in the Beijing Olympic Games.
"It's the hardest event; it's the one that I'm probably most nervous about because it's the one that's most important," said Pendleton. "Obviously I would love to retain my title and go into Beijing as somebody everybody else is watching rather than the other way around.
"There would be a huge psychological advantage on my opponents if I was to win but with the nature of the sprint - as you saw Theo Bos go out just then," she added. "Anything can happen so you just have to focus on each race as it comes and with a little bit of luck, I think, make your way through the rounds."
Jinjie Gong and Lulu Zheng of the People's Republic of China were forced to settle for second place. In third was German duo Dana Glöss and Miriam Welte who took bronze over France's Sandie Clair and Virginie Cueff.
New World record for Great Britain in women's team sprint qualifier
Defending World champions Victoria Pendleton and Shanaze Reade have broken the World record in qualifying for the Women's Team Sprint final. The Great Britain pair took the lead against qualifying opponents France thanks to Reade's outstanding first lap speed, and Pendleton's endurance increased the gap to finish a long way ahead of the French, who could only finish third fastest.
The Chinese team of Jinjie Gong and Lulu Zheng will meet Great Britain in the final as their victory over the Germans in the second to last heat turned out to be second fastest. The German pair will go up against France for the bronze.
The expected dual between Great Britain and the Netherlands – which made up last year's ultra close final – had no chance of occurring as, despite both being present at this year's championships, Yvonne Hijgenaar and Willy Kanis did not enter the event.
Photography
For a thumbnail gallery of these images, click here
Images by John Pierce/Photosport International
Images by WomensCycling.net/WomensCycling.net
Images by Nick Rosenthal/fatnick.com
Images by Stephen McMahon
Results
Men's team pursuit
Qualifying
1 Denmark                  3.57.73 (60.571 km/h)
 Michael Faerk Christensen        
 Casper Jorgensen                 
 Jenserik Madsen                  
 Alex Rasmussen                   

2 Great Britain            3.58.98
 Edward Clancy                    
 Geraint Thomas                   
 Paul Manning                     
 Bradley Wiggins                  

3 New Zealand              4.00.83
 Sam Bewley                       
 Westley Gough                    
 Hayden Roulston                  
 Marc Ryan                        

4 Australia                4.00.95
 Jack Bobridge                    
 Graeme Brown                     
 Mark Jamieson                    
 Bradley Mcgee                    

5 Russian Federation       4.04.31
 Mikhail Ignatiev                 
 Alexei Markov                    
 Alexander Petrovskiy             
 Alexander Serov                  

6 France                   4.04.58
 Damien Gaudin                    
 Matthieu Ladagnous               
 Nicolas Rousseau                 
 Fabien Sanchez                   

7 Spain                    4.05.14
 Sergi Escobar Roure              
 Asier Maeztu Billelabeitia       
 David Muntaner Juaneda           
 Antonio Tauler Llull             

8 Netherlands              4.05.30
 Levi Heimans                     
 Jenning Huizenga                 
 Jens Mouris                      
 Peter Schep                      

9 Germany                  4.06.94
 Robert Bartko                    
 Daniel Becke                     
 Henning Bommel                   
 Patrick Gretsch                  

10 Ukraine                 4.07.09
 Lyubomyr Polatayko               
 Maksym Polischuk                 
 Vitaliy Popkov                   
 Vitaliy Shchedov                 

11 Colombia                4.09.96
 Carlos Eduardo Alzate Escobar    
 Juan Esteban Arango Carvajal     
 Arles Antonio Castro Laverde     
 Jairo Perez Suarez               

12 Korea                   4.14.16
 Jong Gyun Choi                   
 Sun Jae Jang                     
 Jae Wan Jung                     
 Dong Hun Kim                     

Final
  
1  Great Britain                  3.56.32   (60.933 km/h) WR
 Edward Clancy (Great Britain)              
 Bradley Wiggins (Great Britain)            
 Paul Manning (Great Britain)               
 Geraint Thomas (Great Britain)             

2 Denmark                         3.59.40   
 Michael Faerk Christensen (Denmark)        
 Alex Rasmussen (Denmark)                   
 Jenserik Madsen (Denmark)                  
 Casper Jorgensen (Denmark)                 
    
3 Australia                       4.00.10   
 Graeme Brown (Australia)                   
 Luke Roberts (Australia)                   
 Bradley McGee (Australia)               
 Mark Jamieson (Australia)               
 
4 New Zealand                     4.01.99
 Sam Bewley (New Zealand)                
 Marc Ryan (New Zealand)                 
 Hayden Roulston (New Zealand)           
 Westley Gough (New Zealand)             

Men's sprint
Qualifying

1 Kévin Sireau (France)                                     0.09.992 (72.057 km/h)
2 Gregory Bauge (France)                                    0.10.028
3 Mickaël Bourgain (France)                                 0.10.029
4 Chris Hoy (Great Britain)                                 0.10.032
4 Theo Bos (Netherlands)                                    0.10.032
6 François Pervis (France)                                  0.10.035
7 Jason Kenny (Great Britain)                               0.10.067
8 Maximilian Levy (Germany)                                 0.10.073
9 Ryan Bayley (Australia)                                   0.10.126
10 Shane Perkins (Australia)                                0.10.150
11 Azizulhasni Awang (Malaysia)                             0.10.160
12 Edgar Ross (Great Britain)                               0.10.178
13 Roberto Chiappa (Italy)                                  0.10.187
14 Andriy Vynokurov (Ukraine)                               0.10.201
15 Kazunari Watanabe (Japan)                                0.10.275
16 Carsten Bergemann (Germany)                              0.10.276
17 Sergey Ruban (Russian Federation)                        0.10.287
18 Kiyofumi Nagai (Japan)                                   0.10.292
19 Mark French (Australia)                                  0.10.296
20 Teun Mulder (Netherlands)                                0.10.310
21 Lukasz Kwiatkowski (Poland)                              0.10.312
22 Michael Blatchford (United States Of America)            0.10.313
23 Filip Ptacnik (Czech Republic)                           0.10.316
24 Tsubasa Kitatsuru (Japan)                                0.10.340
25 Josiah Ng Onn Lam (Malaysia)                             0.10.352
26 Hodei Mazquiaran Uria (Spain)                            0.10.366
27 Tim Veldt (Netherlands)                                  0.10.373
28 Daniel Ellis (Australia)                                 0.10.377
29 Sergey Borisov (Russian Federation)                      0.10.379
30 Adam Duvendeck (United States Of America)                0.10.419
31 Ricardo Lynch (Jamaica)                                  0.10.439
32 Alvaro Alonso Rubio (Spain)                              0.10.456
33 Wen Hao Li (People's Republic of China)                  0.10.460
34 Travis Smith (Canada)                                    0.10.475
34 Giddeon Massie (United States Of America)                0.10.475
36 Stefan Nimke (Germany)                                   0.10.500
37 Denis Dmitriev (Russian Federation)                      0.10.512
38 Qi Tang (People's Republic of China)                     0.10.539
39 Christos Volikakis (Greece)                              0.10.592
40 Vasileios Reppas (Greece)                                0.10.617
41 Maciej Bielecki (Poland)                                 0.10.638
42 Tomas Babek (Czech Republic)                             0.10.647
43 Salvador Melia Mangrinan (Spain)                         0.10.684
44 Athanasios Mantzouranis (Greece)                         0.10.736

1/16 Heats
 
Heat 1 
1 Kévin Sireau (France)                              0.10.55
2 Tsubasa Kitatsuru (Japan)                                 
 
Heat 2 
1 Gregory Bauge (France)                             0.11.29
2 Filip Ptacnik (Czech Republic)                            
 
Heat 3 
1 Mickaël Bourgain (France)                          0.10.57
2 Michael Blatchford (United States Of America)             
 
Heat 4 
1 Theo Bos (Netherlands)                             0.10.74
2 Lukasz Kwiatkowski (Poland)                               
 
Heat 5 
1 Chris Hoy (Great Britain)                          0.10.75
2 Teun Mulder (Netherlands)                                 
 
Heat 6 
1 François Pervis (France)                           0.10.90
2 Mark French (Australia)                                   
 
Heat 7 
1 Jason Kenny (Great Britain)                        0.10.57
2 Kiyofumi Nagai (Japan)                                    
 
Heat 8 
1 Maximilian Levy (Germany)                          0.10.94
2 Sergey Ruban (Russian Federation)                         

1/8 heats
 
Heat 1 
1 Roberto Chiappa (Italy)                            0.10.57
2 Kévin Sireau (France)                                     
 
Heat 2 
1 Gregory Bauge (France)                             0.10.72
2 Andriy Vynokurov (Ukraine)                                
 
Heat 3 
1 Mickaël Bourgain (France)                          0.10.46
2 Shane Perkins (Australia)                                 
 
Heat 4 
1 Theo Bos (Netherlands)                             0.10.57
2 Ryan Bayley (Australia)                                   
 
Heat 5 
1 Chris Hoy (Great Britain)                          0.10.92
REL Maximilian Levy (Germany)                                 
 
Heat 6 
1 Jason Kenny (Great Britain)                        0.10.77
2 François Pervis (France)                                  

1/8 repechage
 
Heat 1 
1 Kévin Sireau (France)                              0.11.00
2 François Pervis (France)                                  
3 Ryan Bayley (Australia)                                   
 
Heat 2 
1 Andriy Vynokurov (Ukraine)                         0.10.68
2 Shane Perkins (Australia)                                 
3 Maximilian Levy (Germany)                                 

Quarterfinal

Heat 1    
1 Roberto Chiappa (Italy)         0.10.62   10.613
2 Andriy Vynokurov (Ukraine)                
    
Heat 2    
1 Kévin Sireau (France)           0.10.31   10.749
2 Gregory Bauge (France)          0.10.74   
    
Heat 3    
1 Mickaël Bourgain (France)       0.10.73   10.636
2 Jason Kenny (Great Britain)               
    
Heat 4    
1 Chris Hoy (Great Britain)       0.10.56   10.424
2 Theo Bos (Netherlands)          0.13.33   


Semifinal

Heat 1
1 Chris Hoy (Great Britain)       0.10.955  10.669     
2 Roberto Chiappa (Italy)              
 
Heat 2
1 Kévin Sireau (France)           0.10.44   10.481
2 Mickaël Bourgain (France)            

Final

1 Chris Hoy (Great Britain)                   0.10.43
2 Kévin Sireau (France)                              
3 Mickaël Bourgain (France)                   0.10.54
4 Roberto Chiappa (Italy)                            
5 Jason Kenny (Great Britain)                        
6 Andriy Vynokurov (Ukraine)                         
7 Gregory Bauge (France)                             
8 Theo Bos (Netherlands)                             
9 François Pervis (France)                           
10 Maximilian Levy (Germany)                         
11 Ryan Bayley (Australia)                           
12 Shane Perkins (Australia)                         
13 Azizulhasni Awang (Malaysia)                      
14 Ross Edgar (Great Britain)                        
15 Kazunari Watanabe (Japan)                         
16 Carsten Bergemann (Germany)                       
17 Sergey Ruban (Russian Federation)                 
18 Kiyofumi Nagai (Japan)                            
19 Mark French (Australia)                           
20 Teun Mulder (Netherlands)                         
21 Lukasz Kwiatkowski (Poland)                       
22 Michael Blatchford (United States Of America)     
23 Filip Ptacnik (Czech Republic)                    
24 Tsubasa Kitatsuru (Japan)                         
25 Josiah Ng Onn Lam (Malaysia)                      
26 Hodei Mazquiaran Uria (Spain)                     
27 Tim Veldt (Netherlands)                           
28 Daniel Ellis (Australia)                          
29 Sergey Borisov (Russian Federation)               
30 Adam Duvendeck (United States Of America)         
31 Ricardo Lynch (Jamaica)                           
32 Alvaro Alonso Rubio (Spain)                       
33 Wen Hao Li (People's Republic of China)           
34 Travis Smith (Canada)                             
35 Giddeon Massie (United States Of America)         
36 Stefan Nimke (Germany)                            
37 Denis Dmitriev (Russian Federation)               
38 Qi Tang (People's Republic of China)              
39 Christos Volikakis (Greece)                       
40 Vasileios Reppas (Greece)                         
41 Maciej Bielecki (Poland)                          
42 Tomas Babek (Czech Republic)                      
43 Salvador Melia Mangrinan (Spain)                  
44 Athanasios Mantzouranis (Greece)                  

Women's Individual pursuit
Final1 Rebecca Romero (Great Britain)      3.30.501 (51.306 km/h)       
2 Sarah Hammer (United States Of America)              3.37.006

Bronce medal run

1 Katie MacTier (Australia)                            3.32.347 (50.860 km/h)
2 Wendy Houvenaghel (Great Britain)                    3.34.168

Qualifying

1 Rebecca Romero (Great Britain)              3.29.59 (51.528 km/h)
2 Sarah Hammer (United States Of America)     3.31.04
3 Wendy Houvenaghel (Great Britain)           3.31.75
4 Katie Mactier (Australia)                   3.32.04
5 Eleonora Van Dijk (Netherlands)             3.32.51
6 Lesya Kalitovska (Ukraine)                  3.33.93
7 Alison Shanks (New Zealand)                 3.35.21
8 Maria Luisa Calle Williams (Colombia)       3.35.51
9 Karin Thürig (Switzerland)                  3.36.23
10 Verena Joos (Germany)                      3.36.36
11 Vilija Sereikaite (Lithuania)              3.36.37
12 Lada Kozlikova (Czech Republic)            3.37.93
13 Elena Chalykh (Russian Federation)         3.39.08
14 Yelizaveta Bochkarova (Ukraine)            3.40.42
15 Leire Olaberria Dorronsoro (Spain)         3.41.56
16 Tara Whitten (Canada)                      3.42.93
17 Tatiana Guderzo (Italy)                    3.44.24
18 Min Hye Lee (Korea)                        3.44.93
19 Olga Slyusareva (Russian Federation)       3.45.30
20 Svetlana Paulikaite (Lithuania)            3.48.25

Women's team sprint
Finals
 
1 Great Britain                          0.33.66 (54.239 km/h)
 Victoria Pendleton (Great Britain)             
 Shanaze Reade (Great Britain)                  
 
2 People's Republic of China             0.34.22
 Jinjie Gong (People's Republic of China)       
 Lulu Zheng (People's Republic of China)        
 
3 Germany                                0.34.04
 Dana Glöss (Germany)                           
 Miriam Welte (Germany)                         
 
4 France                                 0.34.23
 Sandie Clair (France)                          
 Virginie Cueff (France)                        

Qualifying

1 Great Britain      0.33.186
 Victoria Pendleton      
 Shanaze Reade            


2 China              0.33.943
 Jinjie Gong               
 Lulu Zheng                


3 Germany            0.34.135
 Dana Glöss               
 Miriam Welte             

4 France             0.34.165
 Sandie Clair             
 Virginie Cueff           

5 Russia             0.34.867
 Swetlana Grankowskaja    
 Oksana Grishina          

6 Italy              0.35.414
 Valentina Alessio        
 Elisa Frisoni            

7 Thailand           0.37.752
 Wathinee Luekajorh       
 Jutatip Maneephan