Track Cycling News, March 30, 2008
Edited by Sue George
Vos looks towards Beijing
By Shane Stokes in Manchester
Marianne Vos (Netherlands), 20, making history by being the first woman to win World Championship titles for road competition, cyclo-cross and track
Photo ©: Nick Rosenthal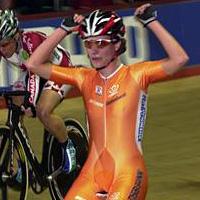 Having made history on Saturday by being the first woman to win World Championship titles for road competition, cyclo-cross and track, 20 year-old Dutchwoman Marianne Vos has said that her points race victory has boosted her expectations for the Olympic Games.
"This race gives me a lot of confidence," she stated. "It [the Olympics] won't be until August but I will do my best to be 100% there. I will ride both the road race and then track... the road race is a week before the points race, so I plan to compete in two of them and hope to do well in both."
Vos' past victories plus her well-know talent meant that she went into the points race as one of the big favourites. She was closely watched by her rivals early on, but as the race progressed she proved too strong and ripped clear on two occasions. The first of these saw her collect maximum points for sprint five and then gain a full lap on the rest of the field. She then finished second in sprint eight, moving into the overall lead, and then went away from the bunch once more inside the final five laps, hitting the finish line alone and thus making sure of her win.
"I felt good although in the first few sprints I didn't have enough speed to sprint with the best," she continued. "So I had to do it another way. That was to take a lap.
"To win the race is great. After my cyclo-cross and road title, I couldn't imagine that I would do it on the track. But here it happened, I can't believe it."
The Dutch team were also very happy with the success. The dominant Great Britain team has mopped up most of the gold medals on offer in Manchester but Vos' showing means that Netherlands is also on the scoreboard as having won a world title.
"We have silver and bronze medals but didn't get a gold until now," she said, clearly happy to have helped relieve some of that pressure. "This is our first gold but I hope that there will be more.
"I did some speed-work prior to this [to get ready for track racing]. I tried to be in good shape for the road so I did a very good winter and put in a good base. That is what helped me win here."
Given her past success in cycling plus the World Cup points race in Beijing in December, many were predicting that she was capable of adding another rainbow jersey to her collection. She appears to have been less sure, telling her family not to expect too much.
"They didn't make the trip over here," she said. "They usually are at my big races but I said to them that it didn't matter, I am not going to win [laughs - ed.]."
She's undoubtedly happy to have proved herself wrong.
See full coverage of the women's points race.
Great Britain wins record numbers of medals at Worlds
Great Britain team-work wins record numbers of medals at Worlds; Cavendish (l) and Wiggins after Madison win
Photo ©: Nick Rosenthal

Riding for Great Britain, Mark Cavendish and Bradley Wiggins won the men's Madison Title at the World Track Championships on Saturday. The duo scored 16 points in the 50 kilometre race and clinched the gold medal by taking back a lap in the last part of the event. Germany finished with silver after taking 13 points, whilst Denmark were bronze with 11.
For Wiggins, this is his third gold medal in the World Track Championships in Manchester, following victories in the team and individual pursuit races. The duo's victory converted Great Britain into all-time record holder of gold medals in a World Championships – with eight, one more than France's total in 1999. Great Britain's total was later increased on Saturday afternoon to nine when Chris Hoy won the keirin.
"It's a massive relief." Wiggins said afterwards. "The pressure will be 10 times as great now at the Olympics but I'm very happy nevertheless. I wanted three wins, but I didn't know if it was going to happen. The Madison is always a lottery event."
Wiggins dedicated the victory to his father, who died two months ago.
"We were going perfectly throughout even though we'd taken a lot of flak over the winter," said Cavendish afterwards. "I got criticised during the Six Day racing because I was coming off a tough road campaign. Today we proved a point."
Referring to the atmosphere in Manchester, Cavendish commented that it was "great, just brilliant. The support really kept us going throughout." Cavendish now returns to the road to ride the Classics for High Road, racing in the Three Days of De Panne, Gent-Wevelgem and the Scheldeprijs in Belgium. It was in Scheldeprijs last year where Cavendish took his first win as neo-professional.
Pollack amazed with Madison
By Susan Westemeyer
Olaf Pollack on his way to silver with Roger Kluge
Photo ©: Nick Rosenthal

Olaf Pollack of Team Volksbank took a silver medal in the men's Madison for Germany on Saturday at the World Track Championships in Manchester, England. "[It's] unbelievable that we were able to finish second in this chaotic race," he said. "It was fast and hard to know what was going on. Total craziness, or as the British say, 'it's amazing.'" Pollack and Roger Kluge finished behind Britain's Mark Cavendish and Bradley Wiggins.
Thomas Kofler, manager of the Austrian Professional Continental team, said, "Olaf worked hard for this World Championships. That is the payoff for his uncompromising preparations, and I am happy that he was able to turn his freedom with the team into a silver medal and so justify it. Now his whole concentration will be on the road again."
Pollack will ride the Driedaagse van De Panne and then take a break before preparing for the Tour de Suisse and the Österreich Rundfahrt.
Australia with talent but work expected before Beijing
Katie Mactier working hard for Australia
Photo ©: CJ Farquharson

Team Australia has work to do to rise to the level of Great Britain, who has dominated the competition in the Olympic events at this week's track World Championships; however, National Performance Director Shayne Bannan believes the "talent is there" for his riders to perform well in Beijing.
After day four of competition, all of the Olympic events had been contested with Australia claiming two bronze medals through the team pursuit and Katie Mactier in the individual pursuit, but the team has been off the mark – particularly compared with Great Britain, who have claimed nine gold medals (seven in Olympic events) and eclipsed Australia's team pursuit World Record mark.
"We're not far out of the medals but we do realise and understand that we have a fair amount of work to do, a fair amount of commitment to take place to achieve medal status," said Bannan. "I believe we do have enough time, the talent is there, they've really worked hard up until this point.
"[It's in] a few tactical areas and some riders are a little bit down on where they should be but the training that they've shown leading up to this has been world class so that tends to indicate that the possibility of them picking up is realistic."
However, Bannan noted he's been impressed with several of the performances this week, including the team pursuit who took bronze with a promising time on day two.
"On limited preparation and to get some of the older members back was quite pleasing with the time that they did," said Bannan. "We've had some good discussions with the team pursuit with regards to monitoring the preparation leading into the training camp prior to Beijing so I'm quite confident that can come together quite well."
Bannan is also hopeful Brad McGee can continue to improve after he placed fifth in the individual pursuit this week, but in a time ten seconds faster than his World Cup performance in Los Angeles. While youngster Cameron Meyer again proved he can be competitive with his more experienced rivals with his fourth place, for the second year running, in the points race.
"He didn't have the best of nights but his performances over the past twelve months show the character of the person so Cameron's looking toward a really good effort and result in Beijing," continued Bannan.
"Katie Mactier has been really consistent over the past five years and there is a percentage of improvement that needs to take place if she is going to be standing on top of the [podium] in Beijing, but we're definitely very pleased with her preparation."
The sprint events have highlighted the strength of Great Britain and France, with the Australia off the pace against the Northern Hemisphere speedsters.
"There have been flashes of brilliance, but there's also been areas that we really need to improve on so the objective is for the coaches and riders to have some good discussion about those areas."
Bannan rejected suggestions this championships has been a 'wake up call' for the Australian camp. "I think last year was probably the wake-up call and I think in most areas we're a little bit down on where we feel we should be, but not that far down that we can't do anything about it," he countered. "That's what we'll be working pretty hard towards.
"It's all about the process and if we get that right the results will come."
The men's keirin began well for Australia with Shane Kelly and Shane Perkins both qualifying through to the second round on their first attempt. Ryan Bayley did it the hard way, missing out in the first round, but winning his repechage heat to rejoin the competition. Unfortunately for the Australians, the draw for round two saw all three in the same heat with some tough competition.
"I said jokingly to 'Perko' (Perkins) I bet the 'Aussies' will all draw the same semi, and as it turned out we did," said Kelly, who is vying for selection in his fifth Olympic Games.
With Olympic selection at stake, team tactics were not an option for the Australian trio, but the combination of newly crowned sprint World Champion, Chris Hoy (GBr), former keirin World Champion Teun Mulder (Ned) and in-form Greek Christos Volikakis proved too strong, with Kelly fourth, Perkins fifth and Bayley sixth across the line and so out of the medal final.
"I misjudged and didn't do the exact ride I would have loved to and I paid for it in the end," commented Kelly, a four-time World Champion, who has one silver and two bronze medals from his previous four Olympic campaigns.
All three went into the ride off for seventh to twelfth places, where Kelly refocused to steam home by a clear winning margin to claim seventh place while Bayley finished ninth and Perkins snuck into eleventh after the relegation of the Malaysian starter. Kelly acknowledged his effort was a bid to regain some pride and to send a message to selectors.
"Definitely – I certainly have to make my presence felt and being the best finished 'Aussie' goes in my favour, but I would have loved to have been in the final," said Kelly whose passion for the Olympic dream remains as strong as ever.
Sunday's final day of competition will see Australians in action in all four events. Ben Kersten and Scott Sunderland will line up in the kilometre time trial, teenager Leigh Howard takes on the omnium, Kaarle McCulloch will contest the women's keirin and Belinda Goss will be out to score a medal in the women's scratch race.
European Masters Track Championships to go on
The first European Masters Track Cycling Championships will go ahead as planned at Manchester Velodrome between Monday, July 28, and Saturday, August 2. Uncertainty surrounded the future of the championships following the sad and untimely death of organiser Brian Cossavella, but after discussion with many of the long time World Masters Championships officials, Martin Bridgwood will move over from Technical Manager to promote the championships as Cossavella and he had been planning.
Riders and officials have shown overwhelming support for continuing on with the championships as a tribute to Cossavella. The championships are expected to be run along the lines of the World Masters that were promoted at Manchester for 12 years and will also include a scratch race finale on the last day of competition in honour of Cossavella.
More information will be posted soon on www.cyclingmasters.com.
(All rights reserved/Copyright Future Publishing Limited 2008)