2008 UCI Track Cycling World Championships - CM
Great Britain, March 26-30, 2008
Day 4 - March 29: Women's points race
Vos makes history
By Ben Atkins and Shane Stokes in Manchester, England
Marianne Vos (Netherlands) shows her delight
Photo ©: Nick Rosenthal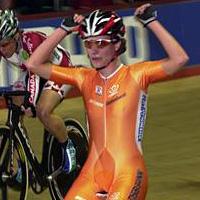 Netherlands cycling phenomenon Marianne Vos has made history at the World championships in Manchester by becoming the first elite woman ever to win rainbow jerseys in cyclo-cross, road and track disciplines.
When she spoke to Cyclingnews' Ben Atkins yesterday, she wasn't confident of victory over such an unpredictable event, but as it turned out the race looked all too easy for the 20 year-old Dutchwoman.
"It is great," said an amazed Vos. "After my cyclo-cross and road titles, I couldn't imagine that I would do it on the track. But here it happened. I can't believe it."
"I felt good," she said of her chosen race tactics, "and in the first few sprints I didn't have enough speed to sprint with the best. So I had to do it another way. That was to take a lap."
Women's points podium: Marianne Vos, Trine Schmidt and Vera Carrara.
Photo ©: Nick Rosenthal

"This race gives me a lot of confidence," she said of her chances of repeating this success in Beijing. "Of course, it won't be until August but I will do my best to be 100% there."
The first action of the race happened almost straight away when Mexican Belem Guerrero Mendez fired off the front, followed by Charlotte Becker of Germany. Defending champion Katherine Bates of Australia was having none of this though and led the pack back up to the pair.
A big move from United States' Rebecca Quinn just after the first sprint quickly got half a lap, but this was quickly countered by Denmark's Trine Schmidt and Svetlana Paulikaite of Lithuania who went on alone. Schmidt quickly dropped the Lithuanian and continued alone and finally managed to latch on to the back of the pack to take a lap and twenty valuable points.
Paulikaite continued and at one point was agonisingly close to the rear of the string, but as they began to accelerate she couldn't match its pace and faded rapidly.
Defending champion Katherine Bates (Australia)
Photo ©: Nick Rosenthal

The next big move came from Lesya Kalitovska of Ukraine, quickly followed by Great Britain youngster Lizzie Armitstead and Vos. The other two faded again, but Vos set out alone taking first place in the next sprint and a full lap - and twenty points - a few laps further on. Vos now held the joint lead with Schmidt, but behind her the highly experienced Vera Carrara took a lap seemingly without much trouble at all.
There were more attacks as the race moved in to the closing stages, none of which came to anything, but at the twenty laps to go sprint Vos took second place - and three points - to assume the outright lead.
With fourteen laps to go, Bates attacked to join a small breakaway group and went over the top of them after the penultimate sprint. Her move came to nothing though, but it provoked a flurry of activity from the rest. With Vos watching Schmidt, Wan Yiu Wong of Hong Kong attacked. Vos recognised a good move and followed Wong, overtaking her with five laps to go and continuing alone to take the final sprint and win the race in magnificent style.
Results

1 Marianne Vos (Netherlands)                 33 pts (46.899km/h)
2 Trine Schmidt (Denmark)                    25
3 Vera Carrara (Italy)                       20
4 Olaberria Dorronsoro (Spain)               11
5 Yoanka Gonzalez Perez (Cuba)               10
6 Svetlana Paulikaite (Lithuania)             8
7 Olga Slyusareva (Russian Federation)        7
8 Rebecca Quinn (United States Of America)    7
9 Pascale Jeuland (France)                    6
10 Jarmila Machacova (Czech Republic)         6
11 Wan Yiu Wong (Hong Kong, China)            6
12 Katherine Bates (Australia)                6
13 Yan Li (People's Republic of China)        5
14 Belem Guerrero Mendez (Mexico)             5
15 Maria Luisa Calle Williams (Colombia)      5
16 Charlotte Becker (Germany)                 4
17 Gina Grain (Canada)                        2
18 Lesya Kalitovska (Ukraine)                 2
19 Elizabeth Armitstead (Great Britain)        
20 Aksana Papko (Belarus)                      
21 Catherine Cheatley (New Zealand)            
22 Min Hye Lee (Korea)                       18 pts