2008 Australian Senior Track Championships - CN
Dunc Gray Velodrome, Sydney, February 4-10, 2008
Main Page Results Previous Day Next Day
Day 5 - February 8: Men, Men U19 team sprint, points race, Women, Women U19 sprint, LC & CP team sprint
Teams sprint: The future is bright for NSW junior men
By Paul Verkuylen in Sydney
NSW riders
Photo ©: John Veage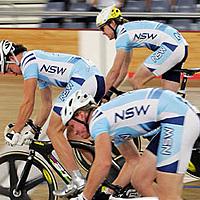 NSW riders Scott Law and Paul Fellows picked up their third and second gold medal of this year's Australian track nationals. The members of the Under-19 team sprint helped to take the win from rivals Victoria.
Law and Fellows – the first and second placed riders in the sprint earlier this week – teamed up with Peter Lewis to show that NSW sprinting has a lot to look forward to in the coming years as they progress to the elite ranks.
"Peter took us out really well in the first lap, then Paul was really quick in the next," Law explained of their winning ride.
"I am really happy," the ecstatic continued after winning his third gold medal. "We will be up against each other again in the Keirin, but there will be no working together there."
The team was confident going into the final, with the two fastest sprinters in the country at the moment; it was looking unlikely they would be defeated. Coping well under the pressure, the three young riders held their composure to deliver yet another gold medal to the NSW squad to the delight of the large crowd assembled in the stands.
Women's Sprint: McCulloch too strong for Meares
By Paul Verkuylen in Sydney
Karlee McCulloch (NSW)
Photo ©: John Veage

After an epic battle with Cassandra Kell in the semi-final, which saw them go to three rounds, Kaarle McCulloch met Kerrie Meares in the final of the women's sprint. The first heat saw the defending Commonwealth champion, Meares, take the win after forcing her rival to work hard in the first two laps, before moving into the sprinters line to power away to take the win.
Just ten minutes later, the two meet once again, but this time it was McCulloch who gained the advantage over Meares in the last lap to win the heat by a wheel's length.
The two ladies, who ride as part of a successful teams sprint, know each other well and, and were faced to ride the do or die third heat after taking a heat each.
Meares was forced to take the lead in the final heat, and, showing the crowd her skills, spent more time looking back at her rival than where she was going, possibly in an attempt to destroy her opponent's confidence. However, McCulloch was too strong in the end, diving down the track to take a small advantage, which she built into a bike's length by the time she hit the finish line to take the gold medal and coveted national championships jersey.
"I am definitely very happy, I really wanted to win this one tonight and I have," McCulloch said, while warming down. "I knew that I was the fittest one here tonight; I have been working really hard on my fitness. In the last two sprints, once I hit the back straight I knew that I was going to win."
McCulloch took the tough route to the final after going to three heats in her semi-final, but was confident that her fitness would take her all the way. "I wasn't tired, but the lactic was definitely different than what I was used to," she stated before explaining that the hard work that she has put in recently has definitely paid off.
Next, McCulloch is hoping to qualify for the World Championships, and this win puts here in a good position to not only qualify, but to attend as one of the favourites.
I "definitely hope that I get into the team now, we will soon find out after Copenhagen. But I definitely think that I am in with a good chance."
Proving too strong for Kell, Emily Rosemund easily took out the final two heats of their bronze medal ride off to take the final spot on the podium.
South Australia dominate under-19 women's sprint
By Paul Verkuylen in Sydney
Annette Edmondson and Stephanie Morton South Australia
Photo ©: John Veage

Annette Edmondson showed her class for the second time this week by easily taking the gold medal in the sprint, needing just two heats to relegate Stephanie Morton to the silver medal.
Edmondson, who took out the 500-metre time trial in a time that was less than a tenth of a second slower than the world record earlier this week, confirmed her good form and versatility when she won the sprint after progressing to the final by taking both heats in her semi-final as well.
The young South Australian explained that she trains almost everyday with Morton, which made the final a little easier – knowing that little more about her opponent.
"We are quite lucky that we are good mates, as it really helps to have a training partner who is at that level as it just helps the both of us go better," Edmondson explained.
"I was a bit embarrassed by my ride in the semi-final, but it made me concentrate and focus on the final," the 16 year old said, referring to her semi-final ride off where Sinead Cosgrove was disqualified in the second heat for coming into the sprinters' line.
In the ride for the bronze medal, Philippa Hindmarsh was too good for Sinead Cosgrove, taking her place on the podium in the minimum two heats.
Men's 40km points race: Finning returns to form
By Paul Verkuylen in Sydney
Victory for Sean Finning
Photo ©: John Veage

In a display of power that rivalled his Commonwealth Games gold medal, Sean Finning was aggressive from the start of the race, taking points during the early sprints before lapping the field with Mark Jamieson three times to take an unassailable lead by the time they reached the final ten laps.
The fast-paced race was dominated by Victoria, with Glenn O'Shea making most of the early running difficult for the rest of the field. However, once Finning got moving there was no stopping him as he rode the rest of the field off his wheel. At one stage, the 23 year-old was away on his own for almost ten laps and looking like he would lap the entire field alone, before being reeled back in by bunch as they prepared for one of the 16 sprints during the event.
His solo effort did little to dampen his speed as he proceeded to not only lap the field on three occasions but also take points in many of the sprints, amassing 89 points by the finish.
"It's great to be getting back into form again, it has been a long time since I have been really competitive in these, and it's just great to have a good ride, especially with the quality field that we had out here, it great," a tired but very happy Finning said shortly after collecting his second national jersey in the event since his first win in 2005.
Finning launched his final attack of the night in the last ten laps, with no one able to react to the move. Unfortunately his legs were not as strong as his determination, and he was reeled in just two laps later. "I just wanted to keep the tempo going, if you slow down too much other guys will have ago," was his explanation of the move.
He has been suffering from some buldged discs in his back since the Commonwealth Games in 2006.
"It's just one of those injuries that I am never going to get rid of. It's just a matter of managing it. Luckily I have found a way to do that, and the performances are starting to come again."
Jamieson was also visibly exhausted by his effort that brought his silver medal in what was his first point's race at national level in three years, but was nothing but praise for Finning.
"I couldn't have expected as much as I got. Credit to Sean, he had 12 points up on me even before I had an attack and when I went away with him. Sean and I have been friends for a long, long time, and he deserved the win," Jamieson said.
Third place went to Finning's Victorian team-mate Glenn O'Shea, who held off Richard Lang. Lang lapped the field aboard the Finning/Jamieson express late in the race to move himself to within striking distance of the podium.
Dennis dominates Under-19 points race
By Mal Sawford in Sydney
South Australian Rohan Dennis
Photo ©: John Veage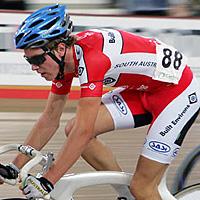 South Australian Rohan Dennis, winner of the individual pursuit in near world record time, dominated the points race to take his second individual gold medal ahead of New South Wales team-mates Luke Davison and Alex Carver.
"I was hoping for a medal in this, but first is definitely a surprise. I wasn't feeling that good after the pursuit; it was a pretty hard ride. I was worried about the West Australians, they were strong, but I was more concerned about NSW, they're so strong in the sprints, especially Alex and Luke," noted Dennis after the run.
The early sprints were shared between three riders. Jordan van der Togt (Western Australia) took the opening sprint by a clear margin, but was caught midfield as the second sprint approached and was unable to find his way clear. Team-mate Michael Freiberg took the second, and Carver the third to move into the early lead. At that point, both Dennis and Davison sat on four points.
The remaining 70 laps were characterized by repeated attacks immediately after each sprint, but none of the attackers were able to take a lap. Dennis powered around the outside with a turn of speed not normally expected from a pursuit specialist to take the fourth sprint and move into the lead. "I've been doing a lot of endurance, long rides over the past couple of months," he said later. "That probably would have helped!"
Thomas Richards (Queensland) countered after the sprint and took Daniel McIntyre (Victoria), Luke Durbridge (WA), Alastair Louitt (ACT) and team-mate Micheal Hepburn clear, but the South Australians combined to close the break down. Davison capitalized on Dennis' efforts to claim the mid race sprint, but Dennis hung tough to finish third and keep a two point buffer on the New South Welshman.
When Dennis held off Davison to take the sprint at 40 laps to go, and backed up ten laps later with his third sprint win, he had accumulated 21 points to Davison's 12. The eighth sprint was the only time Dennis finished out of the points, but Davison only managed fourth, leaving him eight points adrift with two sprints remaining.
Davison took the penultimate sprint, but a second place to Dennis gave him a virtually unbeatable six point buffer, and despite a last ditch effort from Richards to take a lap, the chase by Carver to win the final sprint and overhaul Freiberg to claim the bronze medal allowed Dennis to follow Davison home in third place and wrap up an impressive win.
Dennis admitted he was never sure if his lead was big enough to hold on. "I thought I had to get a few points in the last sprint to make sure. I knew I was six points up before the last one but I still wasn't 100 percent sure at the end – I thought it might be double points for the last sprint."
French leads Victorian in men's team sprint
By Mal Sawford in Sydney
Mark French produced two extraordinary opening laps to put his Victorian team-mates into almost unbeatable positions in both the qualifying and gold medal finals of the men's team sprint.
Despite feeling "a bit tired" after his gold winning efforts in the individual sprint the previous day, French recorded a personal best standing lap in the afternoon's qualifying round, and lowered that time further in the final, producing a 17.663 – a time which would have won him the one lap final!
Shane Perkins rode the second lap with Shane Kelly, anchoring the Victorians to a comfortable win over the West Australian trio of Jason Holloway, Ryan Bayley and Scott Sunderland. The ACT team of Daniel Ellis, Alex Bird and Gary Ryan was awarded the bronze medal based on its qualifying time. Ellis opted to ride in second wheel, to ensure his less experienced team-mates wouldn't lose contact with his blistering opening lap.
French was a little surprised to have gone so quickly. "Because I knew I was tired, maybe I was more relaxed, because I knew I had got out of the gate really well both times. It was good. Good lap, got out of the gate well and we won. That's all that matters."
While his times must put him in serious contention for the starting spot at the Olympics, he knows there is still a lot of work to do. "I'll just keep on riding, keep putting scores on the board that's all I can do. I look forward to letting Martin and the selectors put the best team on the track in Beijing."
Both Perkins and Kelly admitted to being a little disappointed with their splits. "I'm a little disappointed," Perkins revealed. "But things are heading in the right direction. I'm only young and I've got a lot to learn. This is my first race in about a month and a half, so to come away with a bronze in the sprint and now this I'm pretty happy with the way I'm going."
Kelly is now in two minds whether to pursue a team sprint spot at the World Championships in Manchester. "I'm pretty well undecided at this point; I'm pretty well definite for the keirin, but as far as team sprint that'll have to be looked at, what my splits were, they weren't as good as I hoped. It'll be up to the selectors to see who's in the best spot to be the third rider.
For Ryan Bayley, just getting on the track today after his heavy fall in the sprint semi-finals was an achievement. Bayley took silver behind French in the final, but needed oxygen soon after.
"After the final, before I went to the podium, just cooling down – suddenly things just started feeling a bit weird, my head was just wandering. People were talking to me and I didn't understand what was going on. I wasn't that worried, but everyone kept saying there's something wrong, so the guys gave me some oxygen and I started to feel a bit better.
"When I came out this morning, I felt good, my hip was still a bit sore, but everything seemed to go all right and I didn't really feel like letting my team-mates down. I thought Scott had a shot at getting a really good run at third wheel, and Jason Holloway comes down here and really supports the team, and I didn't want to let him down either.
"I knew I wasn't going to injure myself in any way, it's just a bit of bruising and a little bit of pain every time I pedal, but I knew that as long as warmed up alright I could just get out there and have a bit of fun with it."
Photography
For a thumbnail gallery of these images, click here
Images by John Veage
Results
M19 Team Sprint 

Qualification      
       
1 Paul Fellows (NSW)             0.46.96   (57.5 km/h)   
 Scott Law (NSW)                              
 Peter Lewis (NSW)                            
       
2 Toby Dite (VIC)                0.47.33   (57.05 km/h)   
 Trevor Griffiths (VIC)                       
 Ben Sanders (VIC)                            
       
3 Matthew Meisel-Dennis (ACT)    0.49.17   (54.91 km/h)   
 John-Paul Orchison (ACT)                     
 Michael Phelan (ACT)                         
       
4 Ivan Cook (QLD)                0.49.24   (54.83 km/h)   
 Michael Hepburn (QLD)                        
 Ethan O'Dell (QLD)                           

Final      
       
Gold & Silver Medals      
1 Paul Fellows (NSW)             0.47.27   (57.12 km/h)   
 Scott Law (NSW)                              
 Peter Lewis (NSW)                            
       
2 Toby Dite (VIC)                0.47.56   (56.77 km/h)   
 Trevor Griffiths (VIC)                       
 Ben Sanders (VIC)                            
       
Bronze Medal      
3 Matthew Meisel-Dennis (ACT)    0.49.01   (55.09 km/h)   
 John-Paul Orchison (ACT)                     
 Michael Phelan (ACT)                         
       
4 Ivan Cook (QLD)                0.49.12   (54.96 km/h)   
 Ethan O'dell (QLD)                           
 Michael Hepburn (QLD)                        
        
Men Team Sprint 

Qualification      
       
1 Mark French (VIC)              0.44.77   (60.31 km/h)   
 Shane Kelly (VIC)                            
 Shane Perkins (VIC)                          
       
2 Ryan Bayley (WA)               0.45.51   (59.33 km/h)   
 Jason Holloway (WA)                          
 Scott Sunderland (WA)                        
       
3 Alex Bird (ACT)                0.46.81   (57.68 km/h)   
 Daniel Ellis (ACT)                           
 Gary Ryan (ACT)                              

Final      
       
Gold & Silver Medals      
       
1 Mark French (VIC)              0.44.88   (60.16 km/h)   
 Shane Kelly (VIC)                            
 Shane Perkins (VIC)                          
       
2 Ryan Bayley (WA)               0.45.62   (59.18 km/h)   
 Jason Holloway (WA)                          
 Scott Sunderland (WA)                        
       
M19 1000m Tandem Time Trial Final      
       
1 Jonathan Dunlop (WA)           1.10.60   (50.99 km/h)   
 Samuel Harding (WA)                          
       
Women 1000m Tandem Time Trial Final      
       
1 Felicity Johnson (SA)          1.11.10   (50.66 km/h)   
 Katie Parker (SA)                            
       
2 Lindy Hou (NSW)                1.13.60   (48.89 km/h)   
 Toireasa Gallagher (NSW)                     
       
3 Jayne Parsons (NZL)            1.13.90   (48.69 km/h)   
 Annalissa Farrell (NZL)                      
       
Men 1000m Tandem Time Trial Final      
       
1 Ben Demery (NSW)               1.05.50   (54.93 km/h)   
 Shaun Hopkins (NSW)                          
       
2 Bryce Lindores (QLD)           1.05.80   (54.71 km/h)   
 Steven George (QLD)                          

W19 Sprint

Semi Finals      
       
Heat 1      
1 Annette Edmondson (SA)         0.14.33      
2 Sinead Cosgrove (NSW)                       
       
Heat 2      
1 Stephanie Morton (SA)          0.12.33   12.585   
2 Philippa Hindmarsh (QLD)                    
       
Final      
       
Gold & Silver Medals      
1 Annette Edmondson (SA)         0.12.74   13.348   
2 Stephanie Morton (SA)                       
       
Bronze Medal      
1 Philippa Hindmarsh (QLD)       0.12.97   12.779   
2 Sinead Cosgrove (NSW)                       
       
Women Sprint 

Semi Finals      
       
Heat 1      
1 Kaarle Mcculloch (NSW)         0.11.97      12.339
2 Cassandra Kell (NSW)                     12.11   
       
Heat 2      
1 Kerrie Meares (QLD)            0.12.49   12.643   
2 Emily Rosemond (QLD)                        
       
Final      
       
Gold & Silver Medals      
1 Kaarle Mcculloch (NSW)                   12.628   12.403
2 Kerrie Meares (QLD)            0.12.34      
       
Bronze Medal      
1 Emily Rosemond (QLD)                     12.671   12.433
2 Cassandra Kell (NSW)           0.12.33
       
M19 25km Points Race Final      
       
1 Rohan Dennis (SA)                   26 pts      
2 Luke Davison (NSW)                  21      
3 Alex Carver (NSW)                   14      
4 Michael Freiberg (WA)               12      
5 Sean Boyle (SA)                      7      
6 Michael Matthews (ACT)               7      
7 Jamie Crass (VIC)                    6      
8 Trevor Griffiths (VIC)               6      
9 Luke Durbridge (WA)                         
10 Matthew Meisel-Dennis (ACT)                
11 Daniel Mcintyre (VIC)                      
12 Jordan Van Der Togt (WA)          -14      
13 Andrew Dolan (TAS)                -17      
DNF Michael Hepburn (QLD)                    
DNF Alastair Loutit (ACT)                     
DNF Aaron Donnelly (NSW)                      
DNF Ethan O'Dell (QLD)                        
DNF Thomas Richards (QLD)                     
DNF Peter Loft (TAS)                          
       
Men 40km Points Race Final      
       
1 Sean Finning (VIC)                  88 pts      
2 Mark Jamieson (TAS)                 69      
3 Glenn O'shea (VIC)                  46      
4 Leigh Howard (VIC)                  30      
5 Richard Lang (NSW)                  28      
6 Jack Bobridge (SA)                  25      
7 Travis Meyer (WA)                   13      
8 Jackson-Leigh Rathbone (NSW)         7      
9 Kyle Bateson (QLD)                          
10 Douglas Repacholi (WA)            -18      
DNF Dale Scarfe (NSW)                         
DNF Thomas Robinson (TAS)                 
DNF Stephen Rossendell (TAS)                  
DNF Duane Johansen (WA)                    
DNS Steven George (QLD)